2019 Fantasy Football Week 8: Starts/Sits
---
QUARTERBACKS
START Matthew Stafford, DET vs. NYG
Without Kerryon Johnson for the rest of the season (you'd think he likely won't be designated to return in Week 16 or 17), the Lions likely become what they were before Johnson. That would be a passing team that uses the run as a change of pace. While the combination of Ty Johnson and J.D. McKissic could be useful at times given the matchup (this is a good one too!), Matthew Stafford should have a field day against a leaky Giants secondary. The Giants allow 8.92 yards per attempt, which is 31st in the NFL, so putting that into Stafford's 36 passing attempts per game thus far in 2019, you've got a good shot for the Lions QB to hit the 300 yard benchmark at least. Add in a couple touchdowns and for Stafford, the floor is high, but the elevator that is the Giants may take that to the roof this week.
SIT Carson Wentz, PHI @ BUF
Eat a Snickers, Carson Wentz, you're not yourself. #onbrand
The head of an offense that is struggling mightily against the likes of the Jets and Cowboys two of the last three weeks, Carson Wentz heads to Orchard Park to face off against the stingy Bills, who have allowed the 4th least fantasy points to opposing quarterbacks. Add in the fact that Buffalo also has not allowed a quarterback to throw for more than 1 passing touchdown and that Wentz will likely be without his blindside protector, Jason Peters, for another week, and this is an easy fade for me in Week 8.
RUNNING BACKS
START Austin Ekeler, LAC @ CHI
It's a fact, the Bears hate seeing multi-faceted running backs and Austin Ekeler is certainly that. It's also a face that the Chargers offense just hasn't been the same since the keys were handed back to Melvin Gordon. While the offensive line woes have been a big reason, the offense itself just hasn't been in sync. The Bears have allowed the 2nd most receptions and 3rd most receiving yards to opposing running backs this season in fantasy. For the Chargers' sake, let's hope Ekeler gets the larger slice of the pie he earned at the beginning of the season.
SIT Carlos Hyde, HOU vs. OAK
With a sneaky run defense lately for the Oakland Raiders (2nd best run defense over the past month), Carlos Hyde deserves to be sat in a majority of leagues. With Deshaun Watson distributing the ball to DeAndre Hopkins, Keke Coutee, Duke Johnson, Kenny Stills, Nash (there's no Nash, I just make 80's band references) and company, they will look to exploit that pass defense weakness in the Oakland secondary. With Hyde a Halloween-ready ghost on that side of the offense, Hyde won't have the opportunity to capitalize there. A TD may salvage his day, but expecting anything more is tough.
WIDE RECEIVERS
START Tyler Lockett, SEA @ ATL
We continue to talk about the regression for the Seahawks, namely Russell Wilson and Tyler Lockett, but this has been going on for a season and a half, so why continue the fight it? This just is what it is at this point. Lockett in the slot against converted safety and now slot corner (for some reason) Demontae Kazee is a dream matchup. Just look at the nuclear wasteland Will Fuller left on the Falcons (14-217-3). There's no chance in hell you're leaving Lockett out of lineups this week.
SIT Alshon Jeffery, PHI @ BUF
Congratulations, Alshon Jeffery, you get to be joined at the hip with Tre'Davious White for 60 minutes on Sunday. The Eagles have had enough issues attempting to move the ball and finding any sort of rhythm, but as said before, with Wentz' blindside exposed with the absence of Jason Peters and likely another week without DeSean Jackson, Jeffery will be the one of the key targets for the Bills to keep tabs on, limiting any sort of upside for Jeffery this week. If you have better options, I'd say use those and leave Jeffery on the bench this week.
TIGHT ENDS
START Hunter Henry, LAC @ CHI
There's no hotter tight end (production wise, he's not going to be on the cover of Tiger Beat anytime soon) than Hunter Henry. Since his return in Week 6, all Henry has done is rack up 14 catches, 197 yards and a couple touchdowns. He's attained a 21.3% target share within the Chargers offense since he's returned and he should continue that fast start in Chicago. He's a set and forget tight end at this point, even in a middle of the road matchup such as this, but I like his chances at achieving top-8 numbers at the position this week.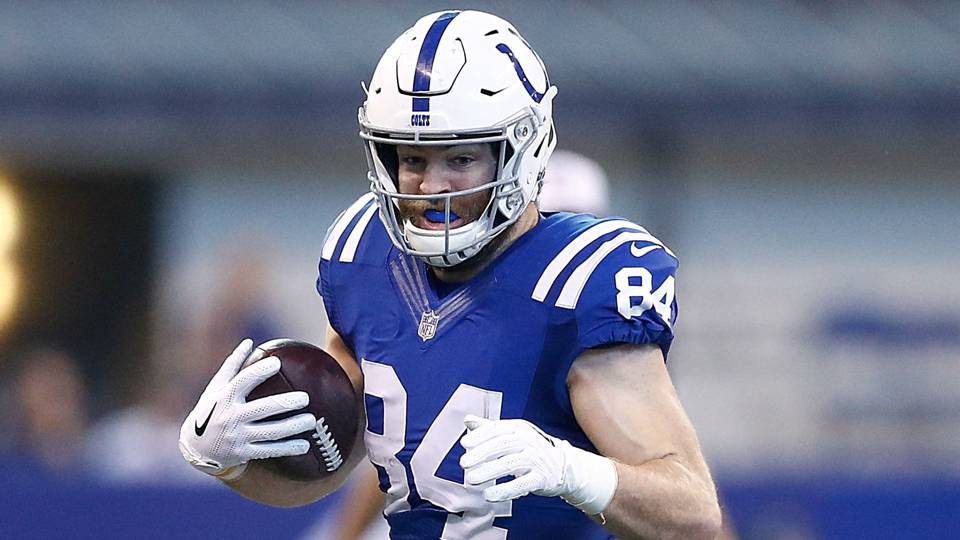 SIT Jack Doyle, IND vs. DEN
I don't think you know how much this hurts me to put annual mancrush Jack Doyle in the sit column for TE this week. Simply put, there aren't a lot of TE to sit anymore given the lack of depth at the position, even more highlighted by the bye weeks here. Facts are facts though and Jack Doyle just hasn't been able to string together any sort of rhythm within the Colts' passing game. Even Eric Ebron has been disappointing but at the very least, he's catching touchdowns. Doyle only has one and that was his only contest above 10 PPR points. The snaps are there, but the touchdowns flow through Ebron, and there's just not enough meat on the bone in the offense as currently constructed for Doyle to get a consistent piece.
---