2019 Fantasy Quarterback Tier List
---
We're actually in the midst of training camp with the Denver Broncos reporting today... so football is ALMOST HERE! To celebrate, this article is the first of a four part series with my positional tier lists! Today, we kick off the series with my quarterback tier list!
All ADP numbers listed and graphs come directly from Fantasy Football Calculator or from FantasyPros where denoted!
TIER 1 – The "#1 OVR QB Candidates" Tier
Patrick Mahomes, KC (ADP: 31)
Deshaun Watson, HOU (ADP: 60)
Andrew Luck, IND (ADP: 50)
Aaron Rodgers, GB (ADP: 56)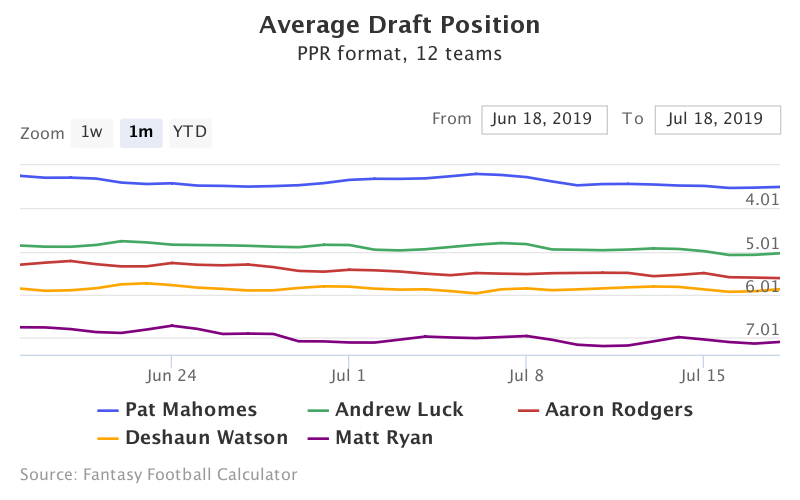 Even within this top tier and the next "tier", there are over 3 rounds of separation between Patrick Mahomes and the bottom line, Matt Ryan. Home drafts are where you'll see the earlier drafting of Mahomes, while in expert leagues, you'll see him slide to the 4th round in most drafts. Andrew Luck, Aaron Rodgers, and Deshaun Watson can go in any order between the mid-5th into the 6th round and nobody will bat an eyelash,
Originally, I had Patrick Mahomes all by himself in Tier 1, but as I started to think about this more, there's really not much separation between the first 4 quarterbacks in terms of their chances to finish as the #1 overall QB in fantasy football this season. Obviously with Mahomes, the question lies in his ability to repeat 50 touchdowns and 5000 yards passing. With Tyreek Hill's availability still up in the air and less than certain ability of Damien Williams to hold up as the starting running back for a full season, coupled with the sheer rarity of a quarterback attaining those lofty numbers for a 2nd straight season, that's why I have Mahomes grouped with the rest.
Concerns about Andrew Luck's shoulder were wiped away after reeling off 9 wins in his last 10. He's got elite weapons, a strong offensive line, and should flirt with overall QB1 this season.
Deshaun Watson turned the ball over much less (2 interceptions in the final 10 games of 2018) and still kept his great rushing fantasy floor. We haven't seen the best of Watson yet and he's my pick to finish as QB1 this season.
Aaron Rodgers can still finish as a QB1 this year, now that he's out of the Mike McCarthy offensive funk and should feel no more effects from his tibial plateau fracture and sprained MCL that he played the entirety of the 2018 season with. It wasn't the "classic Rodgers" we were accustomed to, but a 25:2 TD/INT ratio, while breaking in a host of young pass catchers in addition to all-world receiver Davante Adams, this is as "buy-low" as it gets for Rodgers in fantasy.
TIER 1.5 – The "If Everything Falls Into Place" Tier
Full disclosure, I love Matt Ryan in fantasy. Ryan doesn't garner the same kind of respect as his upper tier brethren, but in my opinion, he should. Ryan typically goes in the QB5-QB8 range which to me, is a bargain. He's paired once again with OC Dirk Koetter, he has weapons galore, his offensive line was revamped and restocked during the NFL Draft, and get this, he plays 13 of his 16 games INDOORS. He finished QB2 last season behind Mahomes' transcendent 2018 season, and as long as "everything falls into place", he could finish as QB1 in 2019.
TIER 2 – The "Set It and Forget It" Tier
Russell Wilson, SEA (ADP: 95)
Baker Mayfield, CLE (ADP: 66)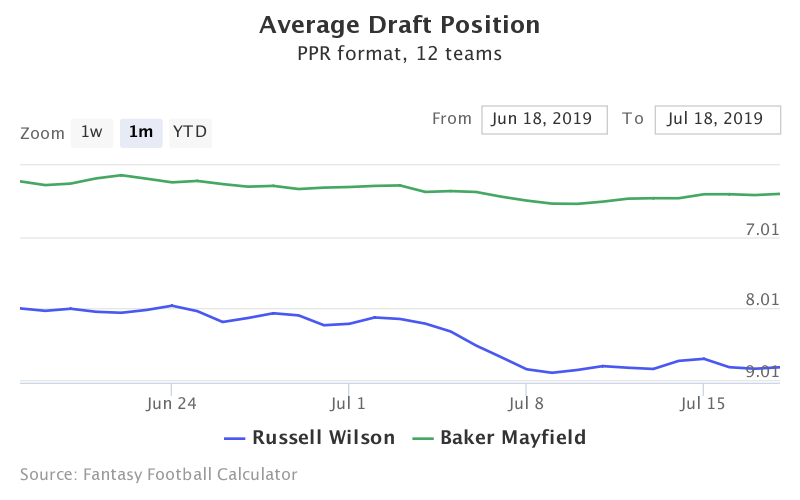 In the graph above, we can really see the value pronounced. If you believe in the Browns this season, you'll have to pay a bit for Baker Mayfield. As for Russell Wilson, the trepidation about the fact that Russell Wilson despite a heavy run offense, has to continue his high efficiency to keep him in the top half of the QB ranks , well that is baked into his current ADP.
These two are the rest of the guys I'm comfortable with and feel like I don't have to worry with them plugged into my lineup. I've loved Russell Wilson (affectionately known as Rusty in my inner circle) for years as I've always seemed to find a way to own him at some point and haven't regretted it. The only difference is this year and last, his offense has been run heavy, so to produce his top 5-6 numbers, he's going to have to be hyper efficient. After the "happy trails" to Doug Baldwin, the only know threat in the passing game is Tyler Lockett, so this season may be a tough one to project based on those factors but he should return solid QB1 numbers in fantasy.
As for Baker Mayfield, the stars have now aligned, the talent is there, and in his sophomore season, Baker should vault up the fantasy quarterback leaderboard. With Freddie Kitchens calling the shots, he allowed Mayfield to throw 33 times a game on average, so adding Odell Beckham Jr. to the fold can only help matters. The only thing keeping him in this tier is seeing what he can do with this talent around him and having Kitchens for a full season. At the absolute worst, it should be very entertaining.
TIER 3 – The "I'll Start Them, But I Have Some Questions" Tier
Cam Newton, CAR (ADP: 101)
Carson Wentz, PHI (ADP: 83)
Philip Rivers, LAR (ADP: 116)
Ben Roethlisberger, PIT (ADP: 125)
Jared Goff, LAR (ADP: 107)
Drew Brees, NO (ADP: 78)
Dak Prescott, DAL (ADP: 131)
Kirk Cousins, MIN (ADP: 145)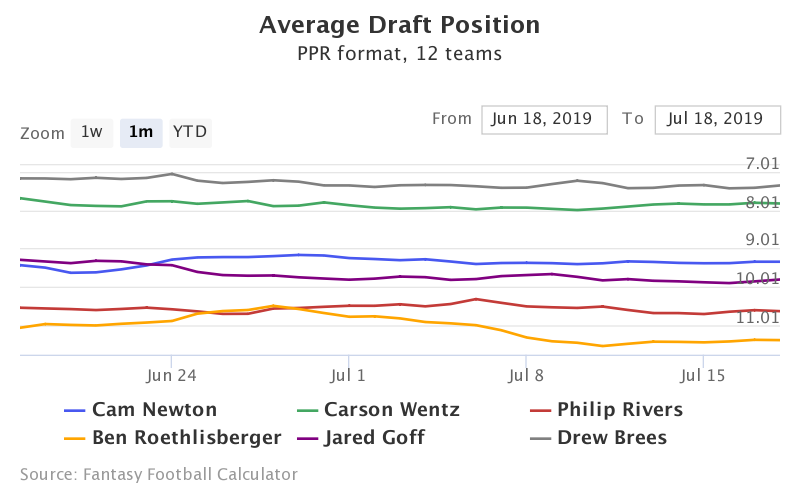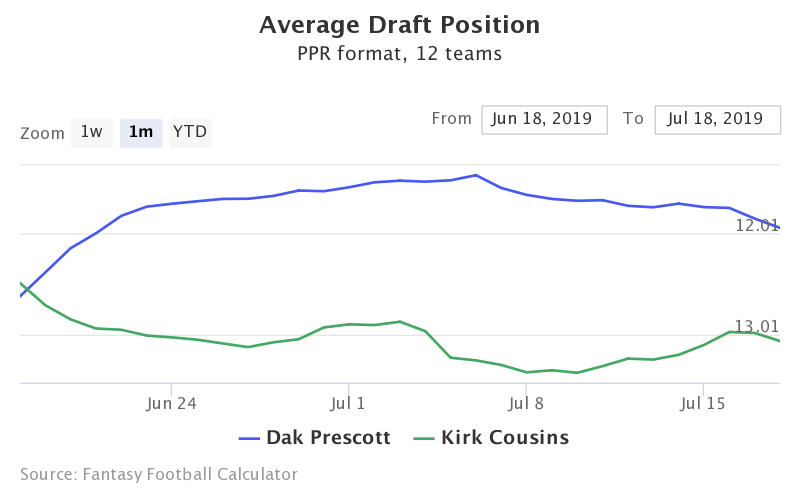 The value becomes even pronounced here. Drew Brees with a 7th round ADP versus Kirk Cousins with a 13th round ADP. Cousins, who passed 64% of the time last season, with two top 15 receivers in Adam Thielen and Stefon Diggs, as well as spending high draft capital on a tight end, Irv Smith Jr., and re-signing Kyle Rudolph. That, versus Brees into his 40's in a run first offense who added a short area tight end in Jared Cook.
The rest of these quarterbacks do represent a good value relative to draft position. Carson Wentz' draft stock is very volatile, because of the injury history the last couple of seasons. You may be able to snag him in the 9th round in some leagues. Philip Rivers, Ben Roethlisberger, Jared Goff, Dak Prescott, even Cam Newton whose shoulder could slide him in some drafts, all represent solid value getting into the double digit rounds.
We start to get into some very populated tiers with the third tier. Any of the names on this list I have no problem starting as my QB1 but they aren't set and forget players. Take Cam Newton for example. He had offseason shoulder surgery but the good thing is that all reports have him on track for training camp on July 24th. Cam also did just turn 30, so we could see him scale back on the rushing attempts and be a bit more judicious with them as he gets older.
Another injury concern lies with Carson Wentz. The elite traits are there, but is he starting to become a bit injury prone? A full season in 2019 would do greatly to quiet those concerns, but they certainly are valid. Wentz has a cadre of options at his disposal in Philadelphia, and with a healthy season, should show that his 2017 was not a "what could have been" season.
Jared Goff has taken major steps the last 3 seasons to become a quality NFL starting quarterback but was noticeably more ineffective once Cooper Kupp went down with an ACL tear and Todd Gurley had his knee issues.
Dak Prescott has a lower ceiling than a lot of these quarterbacks but the rushing floor (6 touchdowns in each of his last three seasons) is evident as well. His play really ramped up once the Cowboys acquired Amari Cooper and hopefully we see the continuation of that Dak and not the one that had 8 passing touchdowns in his first 7 games.
Kirk Cousins has two top 15 wide receivers but has a high fantasy floor and a low ceiling. If you like your quarterback vanilla, Cousins is the man for you. For being vanilla, he does represent some of the best value among ALL quarterbacks in fantasy.
Philip Rivers' floor is as high as any quarterback and he's cut down on turnovers (22 total last two seasons, 21 in 2016 alone). He's as safe a QB value as ever and now has Hunter Henry healthy as well as Keenan Allen and Mike Williams.
Ben Roethlisberger won't throw 670 times like he did last season, nor will he throw to Antonio Brown, who was jettisoned to Oakland. The balance that the Steelers offense should have in 2019 should help give Ben more room to break in a new complementary receiver to Juju Smith-Schuster, whether it's Donte Moncrief, James Washington, or Diontae Johnson.
The shift the last couple seasons to a run heavy offense for the Saints has taken a lot of pressure off of Drew Brees, but has capped his ceiling for fantasy owners. Gone are the years of 5000 yards, and last year brought Brees finishing 16th in pass attempts last season.
TIER 4 – The "Land Of Misfit Toys" Tier
Jameis Winston, TB (ADP: 112)
Kyler Murray, ARI (ADP: 91)
Josh Allen, BUF (ADP: 148)
Tom Brady, NE (ADP: 122)
Lamar Jackson, BAL (ADP: 138)
Mitchell Trubisky, CHI (AP: 155)
Jimmy Garoppolo, SF (ADP: 138)
Sam Darnold, NYJ (ADP: 183 - FantasyPros)
Andy Dalton, CIN (ADP: 229 - FantasyPros)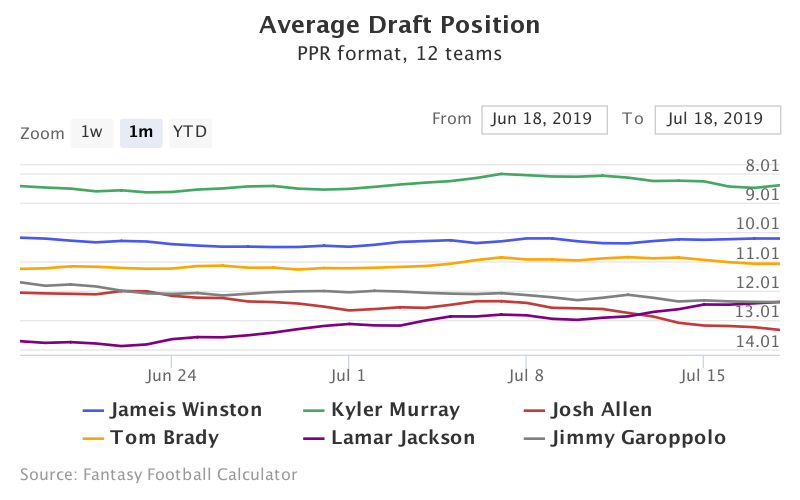 With these quarterbacks, it really hinges on who you're willing to take a chance on late. It may be a solid strategy to take a bunch of WR/RB, a TE, and then take two of these guys back to back in the hopes that you can either cobble together a QB1 by playing matchups or hit on a breakout, ala Patrick Mahomes last season.
Potential, rejuvenation, and arguably the most accomplished quarterback of all time... the talent level here is undeniable, but if you're trusting them after your draft as a QB1, you may regret that come October. Jameis Winston is in the final year of his contract and we'll see what he can do with Bruce Arians at the helm. We sure know he's going to throw a lot and has the targets to succeed. In a contract year, he's going to have to show something to stick around, but this is his best situation in his career.
Kyler Murray hasn't played a snap, but the Air Raid offense new HC Kliff Kingsbury brings with him to the desert should set Murray up to at least be competent in year one. Kingsbury likely won't throw a lot at Murray at the outset but he has a solid rushing floor to fall back on to mitigate some of the turnovers.
Josh Allen is an athlete playing quarterback. Perhaps he'll be more judicious with his rushing attempts? Buffalo surrounded Allen with some receiving talent and some offensive line reinforcements so even with some regression to his rushing yards, improvement to his passing and limiting turnovers could make for a sneaky fringe QB1.
Tom Brady will be 42 by the start of the season and he lost Rob Gronkowski as a target. Father Time ALWAYS wins, so while he put up a usable fantasy line last season, don't get caught with your pants down drafting Brady as your QB1.
Lamar Jackson is blessed with athleticism and the worst receiving corps in the league. The Ravens should be run heavy in 2019, but he could flirt with 1000 yards rushing. He's a great stash as your QB2 that you can hope for a breakout an cash in accordingly.
Mitchell Trubisky makes a great stash in year two of the Matt Nagy offense. Provided he continues to refine his passing skills, the rushing floor he provides could combine to make Trubisky a sneaky upside play at the end of drafts.
Jimmy Garoppolo can hopefully capitalize on the burgeoning crop of pass catchers in San Francisco after playing only three games in 2018 before tearing his ACL. He makes an excellent bench stash alongside a QB1... Sam Darnold is another solid upside bench stash. New HC Adam Gase gave him some upgrades (Le'Veon Bell, Jamison Crowder, Kelechi Osemele) and could be on the cusp of a breakout, but we need to see it first... Andy Dalton has the weapons, a new offense, a breakout running back, but... he's just milquetoast. We will see if he's a fit in new HC Zac Taylor's new offense and could potentially be replaced midseason.
TIER 5 – The "Break Glass In Case of Emergency" Tier
Matthew Stafford, DET (ADP: 165)
Derek Carr, OAK (ADP: 162)
Marcus Mariota, TEN (ADP: 235 - FantasyPros)
Nick Foles, JAX (ADP: 166)
These quarterbacks will likely be found on your waiver wire, but will be readily available for most of the season. Matthew Stafford, Marcus Mariota, and Nick Foles are the quarterbacks of run first offenses and likely won't be in a position to have much fantasy value outside of the best of matchups... Stafford had much better value in the past when Detroit was more pass heavy, but Marcus Mariota could return some value provided he, you know, can stay on the field... Nick Foles gets to throw to Dede Westbrook and a pile of randoms behind an aforementioned run first approach. We'll see how Foles will fare outside of Doug Pederson and Philadelphia... Derek Carr now gets a revamped group of pass catchers with Antonio Brown and Tyrell Williams but like Jameis Winston, Carr is on the last year of his contract, so it's go time for Carr in 2019.
TIER 6 – The "Writing Is On The Wall" Tier
Eli Manning/Daniel Jones, NYG
Case Keenum/Dwayne Haskins, WAS
Josh Rosen/Ryan Fitzpatrick, MIA
Joe Flacco/Drew Lock, DEN
The situations for these 8 quarterbacks are very fluid. The veterans could be supplanted at any time by their younger counterpart. None of these quarterbacks should be considered in drafts and have low upside even in the most favorable matchups.
After going through these quarterbacks to me, the clear value is late in drafts, where you can stock up on skill position players and then take a quarterback late or take QB/QB in consecutive rounds to corner the market and hopefully hit on a breakout option.
Thank you for reading! Stay tuned to Fighting Chance Fantasy as this series continues next with the Running Back Tier List! As always, you can find me on Twitter @ktompkinsii!
---