2020 Fantasy Football: Starts, Sits, and Sleepers for Week 10!
---
We're into the double-digit weeks now in the NFL season, so it's starting to get into crunch time with your squads. Tomorrow, I'll be coming out with a Playoff Forecast as trade deadlines approach in your leagues for potential acquisitions and pickups you should be making to set yourselves up for the end of season and playoff success!
Each week here in this column, you'll find a start, a sit, and a sleeper for each position in fantasy football at the end of every week to get you options in your starting lineups. The starts will be players I typically have ranked higher than the consensus, the sits will be players I have ranked lower than consensus, and the sleepers will be lower ranked options that when the week is said and done, they'll be ranked much higher than initially thought.
ALSO, if you're in need of some start/sit advice on Sunday morning, myself and Gary Haddow will be co-hosting another show, called "Fighting Chance Kickoff" from 10AM to 11AM CT each week. We'll be sorting through the inactives, weather, start/sits, and the latest roster news to get your prepared for the week's matchups! We'll be putting up a tweet on Saturdays about submitting your starts/sits to us to answer live on the show, so keep tabs on us on Twitter @ktompkinsii, @garyhaddow1, and @FCFantasySports!
Now that we've gotten the housekeeping portion out of the way, let's get into the Starts, Sits, and Sleepers for Week 10!
QUARTERBACK
START Carson Wentz, PHI @ NYG
⚫ QB4 in FCF Rankings, QB9 in FantasyPros ECR
It feels good to get everybody back and healthy! Now that Carson Wentz is getting health amongst his pass-catchers, it's no wonder that his play is markedly improved. Before Week 8's dud against the Dallas Cowboys, Wentz had four QB1 weeks in five starts with only one start under 35 pass attempts. Finding Travis Fulgham was the perfect time for a receiving corps that desperately needed it. Now with Jalen Reagor, Dallas Goedert, Miles Sanders, and potentially Alshon Jeffery back, it's time to buy into the Eagles' offense again.
Against these Giants, who have been improved on offense themselves, if they put up some points against the Eagles, it's only going to raise the floor for Wentz. In games where teams have thrown more than 32 times against the Giants, quarterbacks have scored at least 17.7 fantasy points and finished no worse than QB16.
Stable floor, high ceiling, that's what you want out of your quarterback and what you'll get from Wentz this week.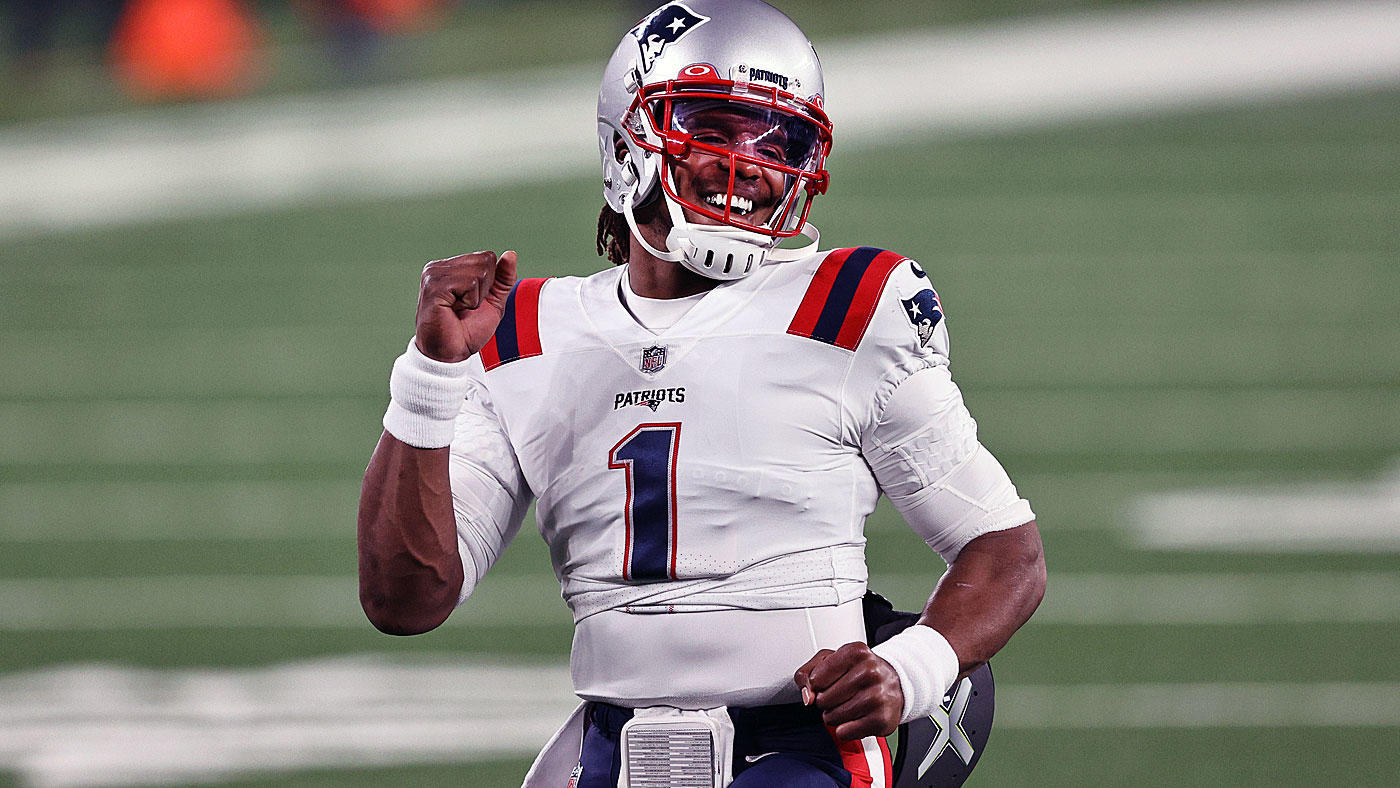 SIT Cam Newton, NE vs. BAL
⚫ QB23 in FCF Rankings, QB19 in FantasyPros ECR
Cam Newton hasn't thrown a touchdown pass since Week 3. YIKES.
He looked pretty competent against the Jets last Monday night, but... it was the Jets. The Baltimore Ravens are another animal altogether. Baltimore has allowed only two quarterbacks to post 20 or more fantasy points and one of them was Patrick Mahomes. With the state of this offense supporting one pass receiver who has been relevant in fantasy only recently (Jakobi Meyers), the Ravens should be able to take him away and then focus on stopping the run.
Speaking of the run, that's where Newton has made his mark, with six rushing touchdowns to only two passing touchdowns on the year. TWO. In THIS economy.
Cam is just so difficult to trust despite the rushing ability in single-quarterback leagues. He's a QB2 in Superflex leagues and that's about the only format I'd trust him this week.
DON'T SLEEP ON Derek Carr, LV vs. DEN
⚫ QB11 in FCF Rankings, QB15 in FantasyPros ECR
Six of the eight quarterbacks who have faced the Denver Broncos this season have thrown the ball at least 35 times. That bodes well for Derek Carr as he should be able to move the ball through the air against this defense. Teams have gone away from running the ball against the Denver defense but they can be exploited through the air, allowing at least 18 fantasy points to each fantasy quarterback who has faced them. Sam Darnold was a QB8 against the Broncos. That should tell you everything you need to know.
In a climate-controlled Allegiant Stadium (aka "The Big Roomba"), Carr should be a solid bet for quality numbers against the Broncos in a game that should put up points, given the 51.5 over/under designated to the matchup by bettors.
RUNNING BACK
START J.D. McKissic, WAS @ DET
⚫ RB12 in FCF Rankings, RB20 in FantasyPros ECR
Remember James White in his prime glory years with the Patriots? He'd see a few carries but make his bones in the passing game with usable fantasy numbers from that alone?
Well, you're looking at the new James White in our nation's capital, in the Washington Football Teams' J.D. McKissic. He's seen at least six receiving targets in four of his last five contests and seen at least 10 PPR fantasy points just on receiving alone in that same span. Now installed at quarterback after Kyle Allen's brutal ankle injury and subsequent trip to season-ending injured reserve is the future 2020 NFL Comeback Player of the Year, Alex Smith.
We know Alex Smith, he's "Captain Checkdown". He loves to target the running backs in the passing game (36.7% target share with Smith at QB) and this is absolutely a dream scenario for McKissic to just rack up points in PPR to the point where just based on that, he can be an RB2. Heck, he has TWO finishes as an RB1 in the past three games.
He racked up an astounding 14(!) targets last week and should be able to handle a bunch of targets in what should be a very competitive game against the Lions in Detroit. I love McKissic as a high-floor RB2 this week. In my opinion, he's not being talked about enough this week.
SIT Melvin Gordon, DEN @ LV
⚫ RB31 in FCF Rankings, RB16 in FantasyPros ECR
As it turns out, Phillip Lindsay is clearly the more effective back in the Denver Broncos stable (pardon the pun) in 2020. The split between these two backs is making neither really too relevant despite what we've seen from Lindsay.
We're talking about two timeshare backs on a low-scoring (27th-ranked scoring offense) offense that isn't exciting for anybody. Melvin Gordon doesn't excite me. When the Broncos get into positive game-scripts (which is rare), then Gordon might have a smidgen of excitability, just like when they played the Jets. Gordon received 23 carries in that game and parlayed that into two touchdowns and over 100 yards on the ground. Since then? 31 carries combined in his last three contests. The passing game is where Gordon has the advantage, as he's run more routes than Lindsay at just over a 2:1 ratio, but the Broncos and Pat Shurmur decided not to take advantage against the Falcons last week, with Gordon receiving just one target.
With almost a dead-even split and the passing game at least looking like it's working a bit with Drew Lock and his receiving corps, it's best to sit Gordon at this point.
DON'T SLEEP ON Duke Johnson, HOU @ CLE
⚫ RB13 in FCF Rankings, RB19 in FantasyPros ECR
With David Johnson sidelined for Week 10 against the Browns with a concussion, the other, more diminutive Johnson will take the reins of the Houston rushing game, namely Duke Johnson. The former Miami Hurricane, who just happens to be their all-time leading rusher, will get the start for the Texans and should be able to have a stranglehold on not just the passing game work, but most of the carries as well. Weather is likely to play a big factor in this game with an homage to Week 8's wind.
Duke received 20 touches last week once David Johnson left the contest and Duke should receive that same workload with the potential for more in Duke's "revenge game" this week. The Browns give up the third-highest rate in yards per target (7.23 yds.) so if the Texans want to dump it off and use that as a running game, they have somebody well-versed in that. He's a high-end RB2 for me with potential for more, which is mostly weather-dependent.
WIDE RECEIVER
START Terry McLaurin, WAS @ DET
⚫ WR1 in FCF Rankings, WR6 in FantasyPros ECR
"Hey Kevin, I heard you ranked Terry McLaurin as your top receiver this week!"
Yup. Sure did! When you see plays like this, you begin to see why:
McLaurin has the most advantageous wide receiver/cornerback matchup in the entire Week 10 slate against Detroit's Desmond Trufant. One will make mention of Alex Smith being the quarterback and his propensity to check down. Terry McLaurin isn't necessarily a burner or a deep-ball receiver, but what he does is catch the ball, make a man miss and make a house call. His 366 YAC (yards after catch) leads all wide receivers in the NFL. Alex Smith just might be the guy to continue to unlock McLaurin. That would be the ultimate comeback story for Smith.
With the Washington target tree so narrow at the top end with... well, just McLaurin and potentially J.D. McKissic (or Steven Sims Jr., who returned last week), McLaurin should continue to monopolize the targets and air yards, with McLaurin's air yard up to 44%, the highest percentage in the NFL.
The sky is the limit for F1, and he could just take his place in the penthouse against the lowly Lions in Week 10.
SIT Adam Thielen, MIN vs. CHI
⚫ WR19 in FCF Rankings, WR12 in FantasyPros ECR
The Chicago Bears have been tough on, well everybody on offense that's gone up against them. Even before this week's matchup, Adam Thielen has seen only nine combined targets, resulting in just five receptions for 65 yards. Frankly, the Vikings just haven't needed the services of Thielen and Justin Jefferson. Why need them when you have Dalvin Cook to put the entire team on his back as he's done the last couple of weeks?
This week, the Vikings travel to Soldier Field to face the Bears and Thielen will likely see a combination of Kyle Fuller and Jaylon Johnson, who has been a fantastic duo of defenders this season. The Bears as a whole have only allowed three total touchdowns on the season to pass-catchers so with the current iteration of the Vikings offense the way it is, why go away from it? Thielen and Jefferson lose their ceiling this week and the floor stays dangerously lower than we're used to, so you can't expect a high-end WR2 performance out of Thielen this week.
DON'T SLEEP ON Tim Patrick, DEN @ LV
⚫ WR35 in FCF Rankings, WR42 in FantasyPros ECR
Tim Patrick came back from injury to play in 60 of a possible 73 snaps with no setback, so that's great news and now we can plug him into our flex slots and reap the benefits.
Patrick, who has been pretty much Courtland Sutton-lite for most of this season, saw seven targets last week against the Falcons and while the 4/29 line wasn't stellar, he did snag a touchdown. The air yards are there for him (106 last week) so Drew Lock has zero reservations about chucking up to somebody, whether it's Jerry Jeudy, K.J. Hamler, or Patrick. Jeudy has proven himself to be at the head of the table, really emerging and becoming that alpha target in the second half of the 2020 season.
While Patrick has been boom or bust this season, he is likely to match up with either Nevin Lawson or Trayvon Mullen, neither of whom have been great in coverage the entirety of 2020.
There's plenty of room for pass-catchers outside of Noah Fant and Jeudy to eat at the table. Tim Patrick has done it before and the peripherals are there in a hyper-aggressive offense with Lock not afraid to throw the ball deep and see what happens. You just want the opportunities to be there for Patrick and they absolutely are in this matchup with the Raiders.
TIGHT END
START Evan Engram, NYG vs. PHI
⚫ TE3 in FCF Rankings, TE5 in FantasyPros ECR
Don't look now, but Evan Engram has scored double-digit fantasy points in six of nine games this season! Engram has averaged just shy of 10 targets per game during the last three weeks with three TE12 or better finishes in a row. Engram and Sterling Shepard have been the main engines of this offense in the bit of an offensive run the Giants have had these last few weeks and we can start to treat Engram as that 2nd tier of fantasy tight end we're wishing he could have been "if he could have stayed healthy." Which he has.
For now.
The Eagles have allowed a very healthy baseline of 9.3 PPR points to tight ends this season, so while the matchup the Giants have this week against Philadelphia may not look the greatest on paper, Engram can be trusted as long as he's getting this steady stream of volume from quarterback Daniel Jones.
SIT Jared Cook, NO vs. SF
⚫ TE16 in FCF Rankings, TE11 in FantasyPros ECR
Before Week 9's dud, Jared Cook had three straight 10+ PPR point performances with a touchdown in each game. Now that Michael Thomas is back, the volume may dry up for the secondary and tertiary pieces of the Saints offense, which is narrow at the high-end and split very wide between everybody else. We saw fellow tight ends Josh Hill and Adam Trautman (fish play) grab touchdowns in the Saints' dominant victory of Tampa Bay and not only that, Trautman out-snapped Cook.
While that last stat could be misleading, it could be a bit of a harbinger. Trautman was taken in the third round in April's NFL draft, so he could find more snaps and opportunities coming up here. Cook should be at the very least involved as far as a fantasy option going forward but not this week against the 49ers, who have not allowed any tight end to top over 8.6 PPR points so far in 2020.
DON'T SLEEP ON Jimmy Graham, CHI vs. MIN
⚫ TE8 in FCF Rankings, TE15 in FantasyPros ECR
While this isn't the Jimmy Graham we knew in New Orleans, Jimmy Graham is TE6 right now in PPR. That's astounding to me from somebody that most fantasy football analysts had completely written off, including myself.
With at least six targets in four games in a row, Graham should be able to make that five games as the Bears are likely to pass much more with David Montgomery still in concussion protocol and an iffy proposition for Monday night. The Vikings have also allowed at least 12 PPR points in three straight games to an opposing tight end. Add that to Graham's propensity for drawing targets inside the 10-yard line (eight targets, second-most in the NFL among pass-catchers) and we've built up a really nice floor play here for Graham this week. He's a solid top-10 play for me on Monday night.
You can find Kevin Tompkins on Twitter @ktompkinsii. and co-hosting both Fighting Chance Live! and Fighting Chance Kickoff on Sunday mornings with Gary Haddow, also of fightingchancefantasy.com. In Kevin's free time, he likes to draft wide receivers, ignore running backs until the 9th round, and snap up the occasional elite tight end.
---