2020 Fantasy Football: Starts, Sits, and Sleepers for Week 12!
---
Hope everybody had a great Thanksgiving if you celebrated yesterday! There were two games (down from three) on the slate and both provided some fireworks, including Deshaun Watson, Will Fuller, Antonio Gibson, and more!
Even if you played against one of these players, or a couple of them, no need to worry! There's going to be plenty more of these players that go off as we get down the stretch here to the fantasy playoffs in just two short weeks.
Each week here in this column, you'll find a start, a sit, and a sleeper for each position in fantasy football at the end of every week to get you options in your starting lineups. The starts will be players I typically have ranked higher than the consensus, the sits will be players I have ranked lower than consensus, and the sleepers will be lower ranked options that when the week is said and done, they'll be ranked much higher than initially thought.
ALSO, if you're in need of some start/sit advice on Sunday morning, Gary Haddow and I will be co-hosting another show, called "Fighting Chance Kickoff" from 10:00 AM to 11:00 AM CT each week. We'll be sorting through the inactives, weather, start/sits, and the latest roster news to get you prepared for the week's matchups! We'll be putting up a tweet on Saturdays about submitting your starts/sits to us to answer live on the show, so keep tabs on us on Twitter @ktompkinsii, @garyhaddow1, and @FCFantasySports!
Now that we've gotten the housekeeping portion out of the way, let's get into the Starts, Sits, and Sleepers for Week 12!
QUARTERBACK
START Derek Carr, LVR @ ATL
⚫ QB6 in FCF Rankings, QB8 in FantasyPros ECR
The ever-efficient Derek Carr has been pretty solid this year and his two best games for fantasy have been against the Chiefs. Last week's outing only netted 31 pass attempts but he still ended the day with 275 passing yards and three touchdowns.
I'd wager to say this week's matchup could be another quality outing for the Raiders' signal-caller as they go on the road to face the Atlanta Falcons, who just gave up 24 fantasy points to Taysom Hill in his first start at quarterback and also allow the most fantasy points to the quarterback position in total.
Let's not forget the implied total of 29 points for the Raiders in this matchup as well, so there should be plenty of opportunities here as well. Carr's floor is sky-high for Week 12 and his ceiling? Magnificent.
SIT Ryan Tannehill, TEN @ IND
⚫ QB22 in FCF Rankings, QB19 in FantasyPros ECR
A look back to the Week 10 game the Titans played against the Indianapolis Colts should give you a bit of a preview of how bad it will look for Ryan Tannehill this Sunday in Indianapolis:
147 yards passing, one touchdown, and 11 fantasy points.
Tannehill finished as QB21 on the day in fantasy and things don't look much better against one of the best defenses in the NFL in the Colts. While Tannehill put up a remarkable effort against the Ravens last week (259 yds., two touchdowns) to finish as QB6 on the week, it's very telling that since the Titans' QB lost left tackle Taylor Lewan to a season-ending knee injury, he just has not been the same quarterback. He's fallen outside of QB1 pace since Week 8 and the upside has just not been there given the weapons at his disposal.
If I have better options, I'm starting that quarterback, but just know if you do start Tannehill, it might be a tough pill to swallow for Week 12.
DON'T SLEEP ON Philip Rivers, IND vs. TEN
⚫ QB12 in FCF Rankings, QB18 in FantasyPros ECR
It's time to start feeling pretty good about Philip Rivers again. No, he's not going to outright win you weeks with volume like we were accustomed to in his heyday with the Chargers, but he's very relevant at this current stage of his career.
Rivers has finished no worse than QB13 in four of his last five starts and gets to face a Titans' pass-rush that hasn't been able to pressure anybody this season with a league-worst pressure rate of 17.5%. They have also allowed multiple pass touchdowns in seven of ten games, though Rivers was not one of them in his first outing.
He delivers a solid floor and mid-range QB1 upside based on how he's been performing lately. I'm perfectly content with Rivers as my fantasy quarterback for Week 12.
RUNNING BACK
START Wayne Gallman, NYG @ CIN
⚫ RB13 in FCF Rankings, RB16 in FantasyPros ECR
Over the last four games for the New York Giants, Wayne Gallman has been what they were hoping the mid-season acquisition of Devonta Freeman would be. Albeit a bit touchdown-dependent, Gallman has not finished below RB18 in fantasy over that aforementioned timeframe. Even more impressive is that those four matchups were against Philadelphia twice, Washington, and the vaunted Tampa Bay rush defense.
Gaining more usage and trust in this offense despite the three-headed backfield share, Gallman is still seeing roughly 60% of the snaps and will continue plenty of volume to take advantage of what could be a deflated Bengals' defense after losing their quarterback in Week 11.
While he doesn't profile as a "workhorse" running back, he actually has taken the opportunity afforded to him and ran with it. He has a pretty stable floor and should finish among the RB2 grouping at worst in Week 12.
SIT Raheem Mostert, SF @ LAR
⚫ RB43 in FCF Rankings, RB32 in FantasyPros ECR
With the 49ers taking Raheem Mostert off of injured reserve presumably to start in Week 12 against the Rams, his fantasy managers are probably chomping at the bit to throw Mostert into their lineups like it's 2019 again, right?
Well, I'm sorry, but I have some pause for Week 12.
It's a Kyle Shanahan offense. While Mostert will be the primary ball-carrier with the news that Tevin Coleman will be out again for Week 12, you have to figure Mostert won't just be thrust into 20 carries. He'll work in with McKinnon against a stout Rams' run defense that despite being the weakest part of their defense, it's still graded 11th in the NFL per PFF.
With Mostert, you're just hoping for a touchdown this week, but with no clue how the split will work out in Mostert's first game back, he's a sit for me until we get a bit of clarity.
DON'T SLEEP ON James White, NE vs. ARI
⚫ RB24 in FCF Rankings, RB29 in FantasyPros ECR
With Rex Burkhead now out for the season with a knee injury, James White comes in to reclaim the role that made him so fantasy-relevant over the past few seasons. We know Damien Harris and Sony Michel do not profile to take any of that passing-down work so it's fairly confident that White now has his brand of high-floor, moderate ceiling PPR work all to himself.
White's 6/64 line on nine targets that he accrued in Week 11 should be a nice baseline for him to remain in the RB2 landscape for the rest of the season. That performance was good enough to finish as RB15 for the week, so with the Patriots' passing game starting to find a bit of a groove and some exploitable matchups on the horizon, White needs to be in your lineups.
WIDE RECEIVER
START Antonio Brown, TB vs. KC
⚫ WR19 in FCF Rankings, WR29 in FantasyPros ECR
What a world we live in.
It was going to take time for Antonio Brown to get acclimated to his surroundings in Tampa Bay but he's seemingly done that over the last couple of weeks.
His targets have risen each week up to 13(!) last week as Tom Brady and Bruce Arians have made a concerted effort towards getting Brown the football.
With as high of an over/under there will be in this game (56), there's going to be plenty of offensive fireworks and while the passing-game work is split in three with Chris Godwin and Mike Evans in tow, Brown should have a ton of success against this Chiefs defense who last week had a bit of trouble on the outside against the Raiders. Also, a feather in Brown's cap is the ninth-most advantageous matchup of the slate against Charvarius Ward per Pro Football Focus.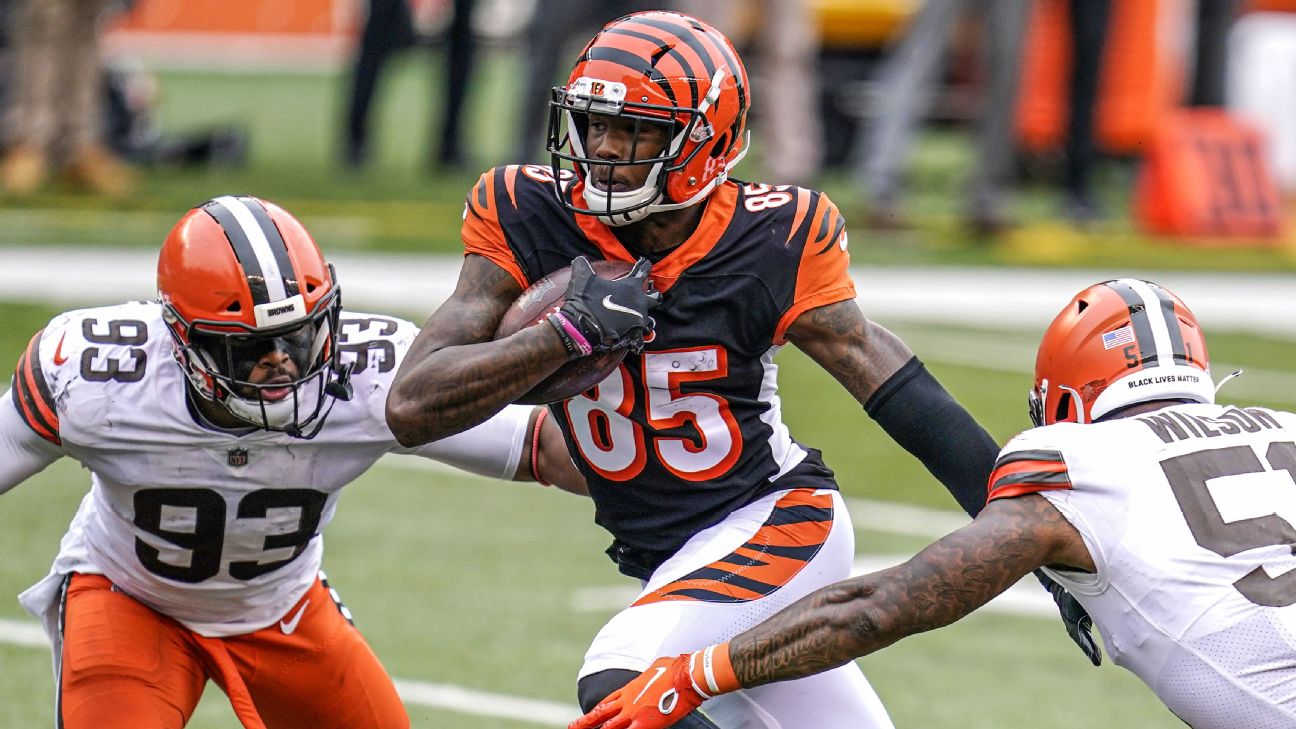 SIT Tee Higgins, CIN vs. NYG
⚫ WR48 in FCF Rankings, WR42 in FantasyPros ECR
From the penthouse to the outhouse in the span of a week, very impressive!
We certainly can't say it's Tee Higgins' fault though. A brutal knee injury from Joe Burrow ended his season prematurely in Week 11, and Ryan Finley was not the answer filling in mid-game. Of the four targets that Higgins received from Finley in place of Burrow, none were deemed catchable. So in comes journeyman quarterback Brandon Allen (tentatively).
How does this affect the Cincinnati Bengals' passing game?
Well, Higgins is not a receiver I'm likely to be starting anytime soon. It's fair to say Brandon Allen just might be the worst starting quarterback in the league and the Giants have been surprisingly solid on defense up to this point, especially against fantasy quarterbacks, of which they've given up the sixth-fewest fantasy points against.
While Higgins has seen at least eight targets in six of his last contests including his last three games, we just don't know how this offense operates (IF it operates) so right now, Higgins (and all non-Tyler Boyd Bengals for that matter) will be a speculative hold for me until we see more.
DON'T SLEEP ON Michael Pittman Jr., IND vs. TEN
⚫ WR24 in FCF Rankings, WR36 in FantasyPros ECR
The emerging Michael Pittman was bailed out a bit last week given his 49-yard touchdown against the Packers which put him on the WR2 fringes for Week 11. He only received three targets against Green Bay.
Before that, he had seen a combined 15 targets in his previous two games. One of those being the Week 10 contest in Tennessee where he saw eight targets and converted seven of those into 101 yards receiving.
In this second contest versus the Titans? Well, let's hope that the Colts remember that Pittman is the highest-upside target they have in the passing game and make it a point to utilize him more. The wide receivers have been targeted against the Titans on just over 63% of passes, which is the second-highest mark in the league. While that does go against the current philosophy of the Colts' offensive attack, the shots will be there for Pittman to make a splash.
I'm continuing to ride the wave here with Pittman and I'll bet he finishes among the WR2 yet again this week.
TIGHT END
START Kyle Rudolph, MIN vs. CAR
⚫ TE5 in FCF Rankings, TE27 in FantasyPros ECR
With Adam Thielen (COVID-19) and Irv Smith Jr. (groin) out for this Sunday's matchup against the Carolina Panthers, it's not going to be just Justin Jefferson and Dalvin Cook.
Enter Kyle Rudolph, who is dusting himself off as we speak to be a top-12 option at the tight end position. I honestly like him much more than a top-12 tight end, maybe creeping into top-8 territory given the woes and scarcity of the position.
Keep in mind that in the eight-game stretch in 2019 when Thielen was out, Kyle Rudolph was TE5 with six touchdowns and double-digit fantasy points in 5-of-7 contests. The floor and ceiling are there, even in the 2020 iteration of the Minnesota Vikings.
Give me a dose of "Run, Run, Rudolph" on loop on Sunday afternoon.
SIT Jonnu Smith, TEN @ IND
⚫ TE22 in FCF Rankings, TE13 in FantasyPros ECR
Jonnu Smith is a tough sit for me given the touchdown-dependency of the tight end position as a whole, but while he's scored in three consecutive games, it has accounted for literally over half of his fantasy output. He has a combined 66 receiving yards over that span with just eight receptions on 14 targets.
The Colts are the sixth-most difficult matchup for tight ends per Football Outsiders' DVOA as well, so you're literally banking on Smith to score a touchdown because his ceiling is crawl-space low.
I get it if you have to start him, but if you don't, I'd rather grab better options, like Rudolph above.
DON'T SLEEP ON Austin Hooper, CLE @ JAX
⚫ TE8 in FCF Rankings, TE2 in FantasyPros ECR
While the Cleveland Browns passing attack hasn't inspired any sort of confidence in their pass-catchers (mostly in part to their weather), I have a bit of confidence in Austin Hooper this week thanks to their opponent, the Jacksonville Jaguars.
The Jaguars have allowed a league-most eight touchdowns to the tight end position so far in 2020 and Cleveland could throw a bit more to the tight end position given the state of their wide receivers right now.
As gross as the tight end position has been this season outside of the top-6, you want a player who is out there all the time to provide a solid floor, and that, plus this matchup with Jacksonville, sets Hooper into top-12 range for the week for me.
--
You can find Kevin Tompkins on Twitter @ktompkinsii. and co-hosting both Fighting Chance Live! and Fighting Chance Kickoff on Sunday mornings with Gary Haddow, also of fightingchancefantasy.com. In Kevin's free time, he likes to draft wide receivers, ignore running backs until the 9th round, and snap up the occasional elite tight end.
---