2020 Fantasy Football: Starts, Sits, and Sleepers for Week 13!
---
Well, it's the last week of the regular season for fantasy football for most leagues in Week 13, so it's put up or shut up. If you're looking to get some quality starts to get into the playoffs, look no further.
Each week here in this column, you'll find a start, a sit, and a sleeper for each position in fantasy football at the end of every week to get you options in your starting lineups. The starts will be players I typically have ranked higher than the consensus, the sits will be players I have ranked lower than consensus, and the sleepers will be lower ranked options that when the week is said and done, they'll be ranked much higher than initially thought.
ALSO, if you need some start/sit advice on Sunday morning, Gary Haddow and I will be co-hosting another show, called "Fighting Chance Kickoff" from 10:00 AM to 11:00 AM CT each week. We'll be sorting through the inactives, weather, start/sits, and the latest roster news to get you prepared for the week's matchups! We'll be putting up a tweet (and fleet!) on Saturdays about submitting your starts/sits to us to answer live on the show, so keep tabs on us on Twitter @ktompkinsii, @garyhaddow1, and @FCFantasySports!
Now that we've gotten the housekeeping portion out of the way, let's get into the Starts, Sits, and Sleepers for Week 13!
QUARTERBACK
START Mitch Trubisky, CHI vs. DET
⚫ QB8 in FCF Rankings, QB19 in FantasyPros ECR
Mitch Trubisky has a hot date with the Detroit Lions and for some reason, this is a date that ol' Mitch is always fond of.
Maybe it's not so much a date but "friends with benefits".Though, not sure what the benefit Detroit is getting, so Trubisky is clearly getting the better side of the deal here.
Detroit just fired their former head coach Matt Patricia, so yes, the "we just fired our head coach, let's go out and ball out" narrative is in play, but that's usually reserved for teams that have a modicum of talent. The remaining talent on the team is on offense and the defense is pretty much non-existent, as they're the seventh-worst defense against fantasy quarterbacks. Can they turn it around for interim head coach Darrell Bevell?
Trubisky has scored no worse than 24 fantasy points in his last four matchups against the Lions and I like him here as a beautiful streaming option in Week 13.
SIT Matt Ryan, ATL vs. NO
⚫ QB22 in FCF Rankings, QB18 in FantasyPros ECR
If I'm being honest, this seems like low-hanging fruit for most regarding the matchup that Matt Ryan has with the New Orleans Saints. The Saints have allowed the third-fewest fantasy points per game and while their defense had a bit of a slow start, they're back now. They just held Ryan to a zero-touchdown, two-interception clunker in Week 11, where he finished as QB26 on the week. Not great, Bob.
While he may have Julio Jones back, I think Ryan's ceiling in Week 13 is just getting up to the QB1 fringe, but finishing in the middle of the QB2 range is far more realistic.
DON'T SLEEP ON Kirk Cousins, MIN vs. JAX
⚫ QB9 in FCF Rankings, QB10 in FantasyPros ECR
The main point of contention in the offseason for Kirk Cousins has been the volume he'd have throwing the ball. It looks like the Justin Jefferson breakout wasn't factored into that.
Over the last three games, Cousins has thrown the ball 30 or more times in each game with at least 292 yards passing and two touchdowns. Cousins has finished as QB5 or better in his last two and now gets a Jacksonville defense that isn't going to impede him or his stable of pass-catchers in the slightest, allowing at least 258 passing yards and two touchdowns to the last five opposing quarterbacks to face them as well as being the third-worst fantasy defense to opposing quarterbacks.
Adam Thielen is off the COVID list so he's back in play with the rest of this offense who should put up some points this Sunday. It wouldn't surprise me if Kirk Cousins finished as a top-5 QB in fantasy for a third straight week.
RUNNING BACK
START Miles Sanders, PHI @ GB
⚫ RB6 in FCF Rankings, RB9 in FantasyPros ECR
The Green Bay Packers have given up top-10 fantasy numbers to all but three running back groups this season, so this is a spot for Miles Sanders to absolutely feast the Pack, who sport the third-worst defense to opposing running backs in fantasy and have allowed 41.3% of the fantasy production to the position, worst in the NFL.
As for last week's 6 carries against Seattle? Well, I have no problem throwing that out, though understand it's likely more of the workload goes to guys like Boston Scott, but in this matchup, Sanders should be able to find a ton of room and make a big impact. Every back who has played the Packers has either scored a touchdown or notched 100 total yards, so that baseline is hard to ignore, even if there could be some workload questions.
Sanders is still head and shoulders the best option in this offense for the Eagles to move the ball and he's going to be the focal point this week.
SIT ALL Atlanta Falcons RBs, ATL vs. NO
⚫ Todd Gurley: RB63 in FCF Rankings, RB55 in FantasyPros ECR
⚫ Brian Hill: RB50 in FCF Rankings, RB44 in FantasyPros ECR
⚫ Ito Smith: RB69 in FCF Rankings, RB71 in FantasyPros ECR
The availability of Todd Gurley is still up in the air for Week 13 as the Atlanta Falcons host the New Orleans Saints. Frankly, it may not matter who is getting snaps in this backfield, especially this week.
If Gurley can't go, expect more of the same from Brian Hill and Ito Smith in terms of a true workload split. Hill and Smith both received double-digit carries, but Ito Smith was the one who got the receiving work with four carries.
New Orleans has allowed the lowest PPR points per game total to fantasy backfields, so this is a bad matchup worth social-distancing yourself from.
This just reeks of a murky, hard-to-predict run game that while the line is only -3 as a traveling favorite for the Saints, it could easily blow up here to take the position out of the equation with the Falcons going to the heavy pass.
No thanks to this backfield.
DON'T SLEEP ON Frank Gore, NYJ vs. LV
⚫ RB23 in FCF Rankings, RB30 in FantasyPros ECR
The 37-year-old elder statesman of the running back position, Frank Gore is somebody I'm believing in this week to put up RB2 numbers in Week 13.
We know the modus operandi here with Gore. A low points floor on a decent number of opportunities with a sliver of touchdown upside. Against the Las Vegas Raiders' fourth-worst defense against fantasy running backs? This could be one of the best spots to play Gore. Sam Darnold is back in at quarterback, and whether or not you want to call that an upgrade over Joe Flacco is totally fair. The Jets also have their full complement of pass-catchers with Jamison Crowder, Breshad Perriman, and the "Air Yards King of New Jersey", Denzel Mims in tow.
That's the best set-up for Frank Gore in quite a bit and if Frank Gore can be a bit of a factor here in Week 13, the Jets might just get their first win of the season. I like his chances here.
BONUS!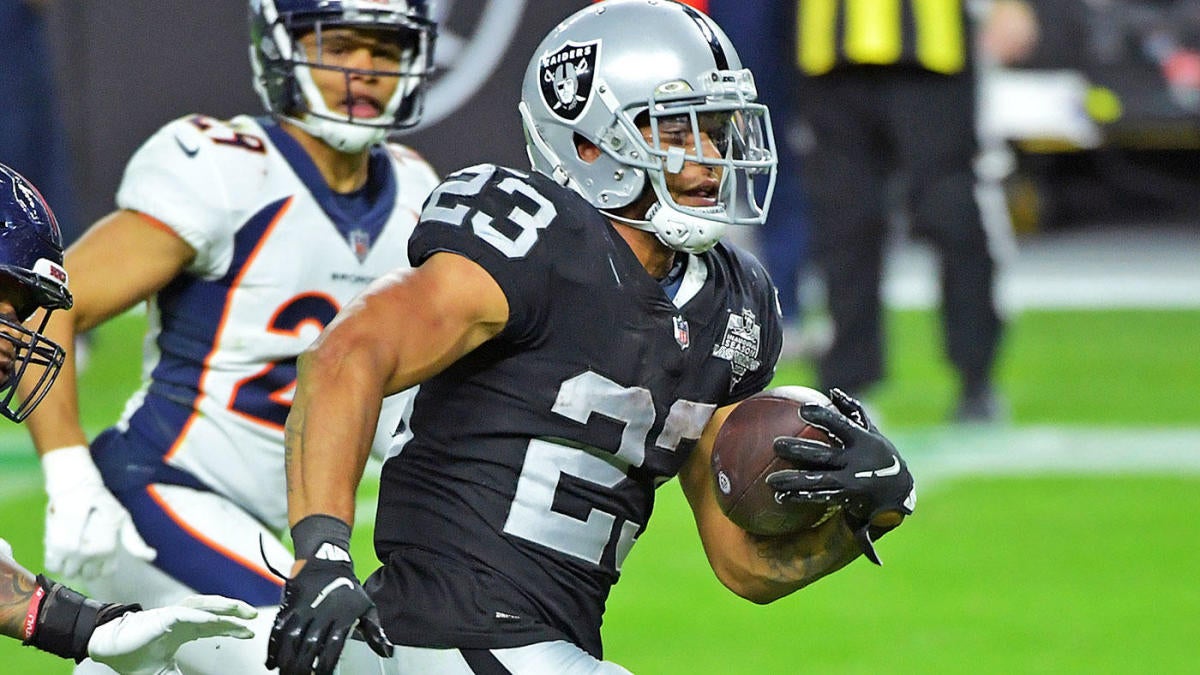 DON'T SLEEP ON Devontae Booker, LVR @ NYJ
⚫ RB14 in FCF Rankings, RB20 in FantasyPros ECR
The news came out today that Josh Jacobs has been ruled out of this Sunday's east coast jaunt to New Jersey to play the Jets. That locks Devontae Booker into an easy 15-20 touch role against a team that they should be able to get into a positive game script with.
In games that Booker has received eight or more touches, he's scored at least 12 points in PPR. As a touchdown favorite heading east, the Raiders should have that game script in their favor. Jalen Richard and even Theo Riddick could get involved here too, but this is going to likely be Booker's show to run.
Booker is a mid-range RB2 with upside here in Josh Jacobs' stead.
WIDE RECEIVER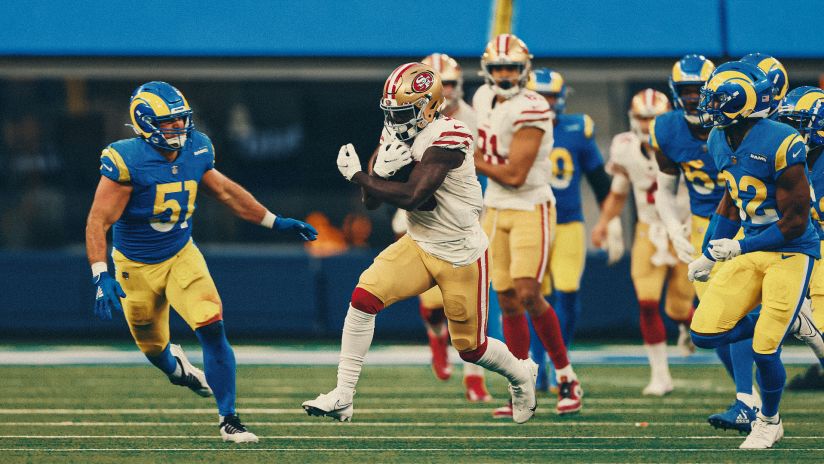 START Deebo Samuel, SF vs. BUF
⚫ WR15 in FCF Rankings, WR22 in FantasyPros ECR
Deebo Samuel has just an absolutely PRIMO matchup when he lines up into the slot this week against the Bills. He sees Taron Johnson and all Johnson has done in coverage is give up 462 yards on 45 receptions to just a shade over 75% completion percentage. Per Pro Football Focus, Deebo has the 10th best WR/CB matchup against Johnson of the entire slate
Samuel saw 13 targets in his return against the Rams last week, with 11 catches and 133 yards, finishing as WR8. So I do happen to think he's pretty healthy right now. We will see Brandon Aiyuk come back which should certainly help matters to not focus as much on Deebo, but let's face it: Samuel and Aiyuk are going to monopolize the target share here. I think both combining for 70-75% is not out of the question here.
Deebo is back, the Niners are feisty and looking to get back into the playoff discussion and I'm absolutely delighted to toss him into my lineup as a WR2 with mega upside in Week 13.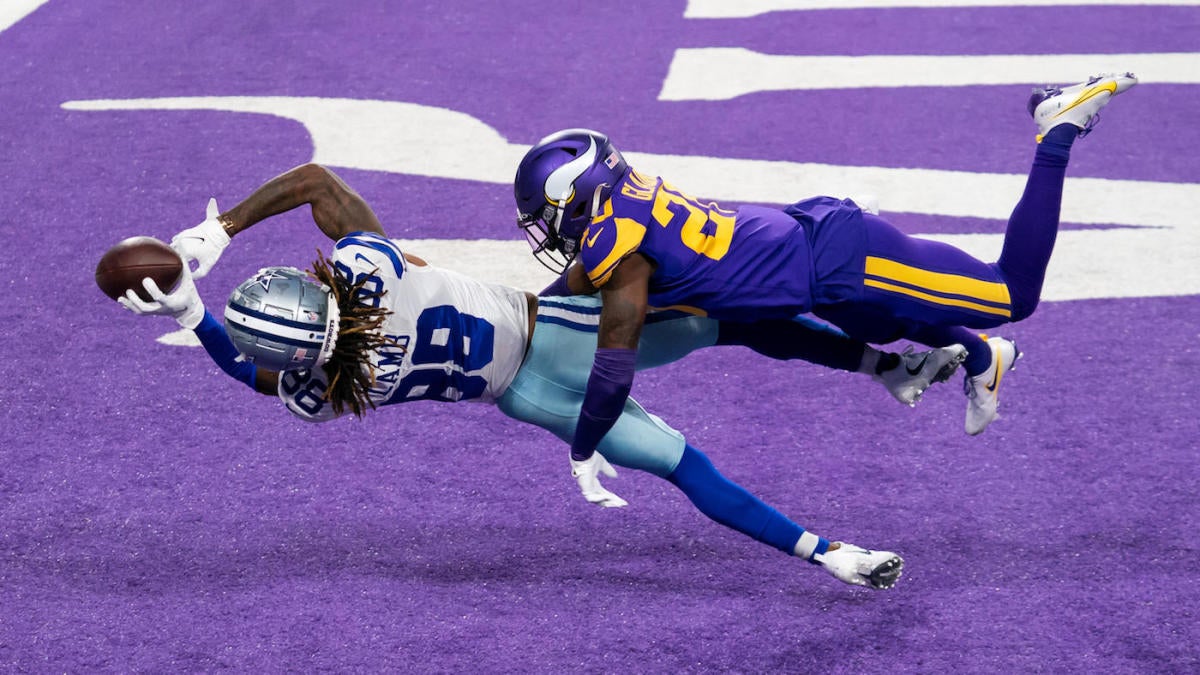 SIT CeeDee Lamb, DAL @ BAL
⚫ WR40 in FCF Rankings, WR29 in FantasyPros ECR
If the Baltimore Ravens' defense is right, this should put a huge damper on quite a few fantasy pieces for the Dallas Cowboys, including CeeDee Lamb, who would likely see a healthy dose of Marlon Humphrey in the slot.
Only catching nine balls and 55 yards from Andy Dalton the past two weeks, the floor is very shaky for Lamb. Shaking things up more is the fact that the Ravens have allowed the fewest touchdowns to the wide receiver position with a total of five.
While Lamb does have a ceiling each week, the gap between the floor and ceiling in this offense, in the matchup, in this economy, is not something I want to mess around with.
DON'T SLEEP ON Michael Pittman, IND @ HOU
⚫ WR21 in FCF Rankings, WR26 in FantasyPros ECR
Michael Pittman is the clubhouse leader for me to lead the Colts the rest of the way in fantasy points. There literally aren't any pieces that are even consistent or targeted enough to trust weekly outside of Trey Burton and even then, I'm not totally enamored. The target distribution is just so annoyingly shallow.
Ian Hartitz had a fantastic stat on Michael Pittman this week, as Pittman has gained only 64 yards when not considered open or wide open, ranking seventh... on his own team.
Pittman won't be shadowed by Bradley Roby, as he was suspended with Will Fuller, so Pittman either goes up against Keion Crossen or absolutely sieve Vernon Hargraves. Both are plus matchups, so Pittman could access a very high ceiling this week with Philip Rivers targeting him plenty over the last month.
TIGHT END
START Dallas Goedert, PHI @ GB
⚫ TE3 in FCF Rankings, TE6 in FantasyPros ECR
"You know Zach Ertz is coming back this week, right?"
I've heard that a couple of times this week when mentioning the former South Dakota State Jackrabbit, Dallas Goedert.
A lot of people think that just because Ertz is coming back, that Goedert will just go back to his sporadic receiving role with some elite blocking thrown in. Lord knows that Carson Wentz could use it right now.
But little do people know that not only has Dallas Goedert been TE1 the last three weeks, but Richard Rodgers has been TE5 in PPR? Now Rodgers is no longer relevant with both tight ends active, but Goedert isn't going to just go away. I mean, unless Doug Pederson actually follows through and benches Carson Wentz for Jalen Hurts. I don't think that happens this week but who knows.
I still think Dallas Goedert has an accessible ceiling this week and at a barren position like tight end, you can't ignore Goedert. He can absolutely make his mark this week and help buoy your roster.
SIT Jared Cook, NO @ ATL
⚫ TE33 in FCF Rankings, TE24 in FantasyPros ECR
We'll keep this one fairly simple.
Since Taysom Hill has been the quarterback for the Saints, Jared Cook has been targeted a total of three times. That's two games.
It's fairly clear that Hill doesn't prioritize the tight end as a receiving option, so Jared Cook should really be dropped at this point. He's definitely not somebody to consider despite the name value and offense he's in.
DON'T SLEEP ON Mike Gesicki, MIA vs. CIN
⚫ TE8 in FCF Rankings, TE10 in FantasyPros ECR
This matchup is excellent in a lot of ways for Mike Gesicki.
To set this up, Malcolm Perry played primarily in the slot in Week 12 until he left the game with a chest injury to miss the rest of the game. Gesicki played a total of 48 snaps at WR - 26 slot snaps and 22 wide snaps. His in-line snaps were drastically reduced to just two. With that, the Dolphins played the most 12 personnel (two tight ends, two wide receivers, one back) of any team last week, so if this usage for Gesicki continues, we could have some fireworks here among the streaming tight ends. Huge thank you to Andrew Cooper over at FantasyAlarm for uncovering a lot of the usage here to use!
With some of the most upside among any tight end outside of the top-5, Gesicki gets the Cincinnati Bengals this week, who have allowed the most fantasy points to the position this season and with Ryan Fitzpatrick likely to be under center, the Dolphins' passing attack gets a lot more potent. I'm happy firing up Gesicki as a TE1 this week with the upside of a top-5 week definitely in play here.
--
You can find Kevin Tompkins on Twitter @ktompkinsii. and co-hosting both Fighting Chance Live! and Fighting Chance Kickoff on Sunday mornings with Gary Haddow, also of fightingchancefantasy.com. In Kevin's free time, he likes to draft wide receivers, ignore running backs until the 9th round, and snap up the occasional elite tight end.
---