2020 Fantasy Football: Starts, Sits, and Sleepers for Week 14!
---
Welcome to Week 14 and the fantasy playoffs!
If you're reading this, you're playing for something. Whether it be money, pride, both, or just fun, we're going to help you do what you're looking to do: win!
Each week here in this column, you'll find a start, a sit, and a sleeper for each position in fantasy football at the end of every week to get you options in your starting lineups. The starts will be players I typically have ranked higher than the consensus, the sits will be players I have ranked lower than consensus, and the sleepers will be lower ranked options that when the week is said and done, they'll be ranked much higher than initially thought.
I'm not going to tell you to start Patrick Mahomes, Dalvin Cook, Tyreek Hill, or Travis Kelce. That's too low of hanging fruit. Conversely, I won't say to sit the obvious players. My recommendations for starts will be mid-tier players who have the chance with their matchup and environment to rise into a top player at their given position for the week. On the flip-side, my sits will be higher-rostered, typically "set and forget" players that are likely to disappoint for the week.
If you need some start/sit advice on Sunday morning, Gary Haddow and I co-host "Fighting Chance Kickoff" from 10:00 AM to 11:00 AM CT each week. We'll be sorting through the inactives, weather, start/sits, and the latest roster news to get you prepared for the week's matchups! We'll be putting up a tweet (and fleet!) on Saturdays about submitting your starts/sits to us to answer live on the show, so keep tabs on us on Twitter @ktompkinsii, @garyhaddow1, and @FCFantasySports!
Now that we've gotten the housekeeping portion out of the way, let's get into the Starts, Sits, and Sleepers for Week 14!
QUARTERBACK
START Philip Rivers, IND @ LVR
⚫ QB9 in FCF Rankings, QB14 in FantasyPros ECR
Philip Rivers is turning back the clock here on us over the last five weeks, as he's thrown at least 35 passes in each game and thrown for 285 yards or better in four of the last five contests. Meaning that he's been perfectly usable in fantasy during this timeframe. He still doesn't get the respect he deserves but you don't get fantasy points for that.
What you do get points for though is the damage he can do against the Raiders, who are the ninth-worst defense against fantasy quarterbacks, and with a 26.8 implied point total for the Colts, it won't all be with the run. We saw T.Y. Hilton dust himself off and now Rivers has at least two outside weapons to target with regularity, as well as the cadre of tight ends he has at his disposal.
I think he's a sneaky fringe-QB1 play this week in the confines of the "Big Roomba" and if there's a place to bet on that, it's in Las Vegas.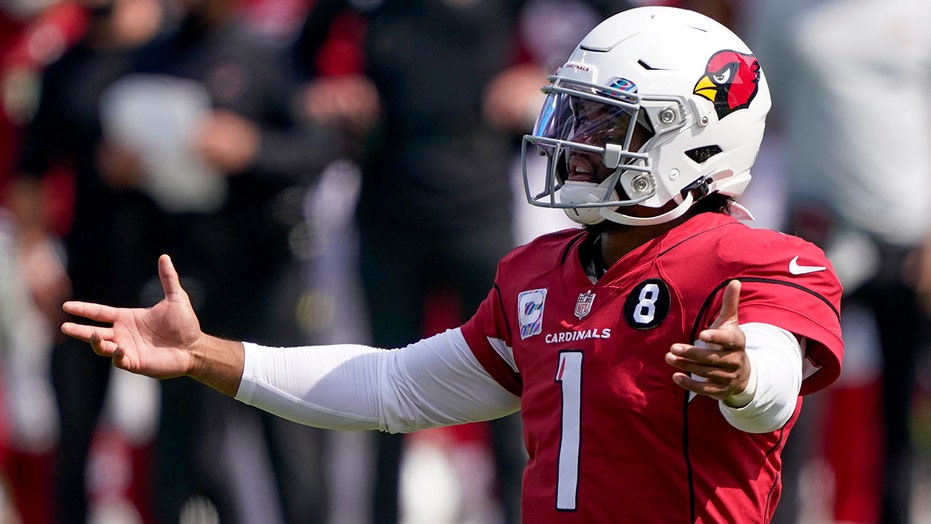 SIT Kyler Murray, ARI @ NYG
⚫ QB15 in FCF Rankings, QB10 in FantasyPros ECR
The Arizona Cardinals' offense looked quite ordinary the last two games and Kyler Murray's struggles the last two games stand out even further. His shoulder injury is certainly affecting how this offense operates and functions, so to start him right now is an iffy proposition because you're not getting the Murray of the last 11 weeks, where he was a bonafide MVP candidate.
Does Murray carry weekly top quarterback upside in any matchup? Absolutely. I'm just not trusting his shoulder to be fully-healed for the rest of the season. The Cardinals face the New York Giants, who just bottled up Seattle's Russell Wilson to the tune of just one touchdown and 263 yards passing.
In most cases, you're starting Murray and yes, it's true to dance with who brought you. All I'm saying if you have a better option, it could be a worthwhile pivot off of Murray because of how low his floor is with all things considered.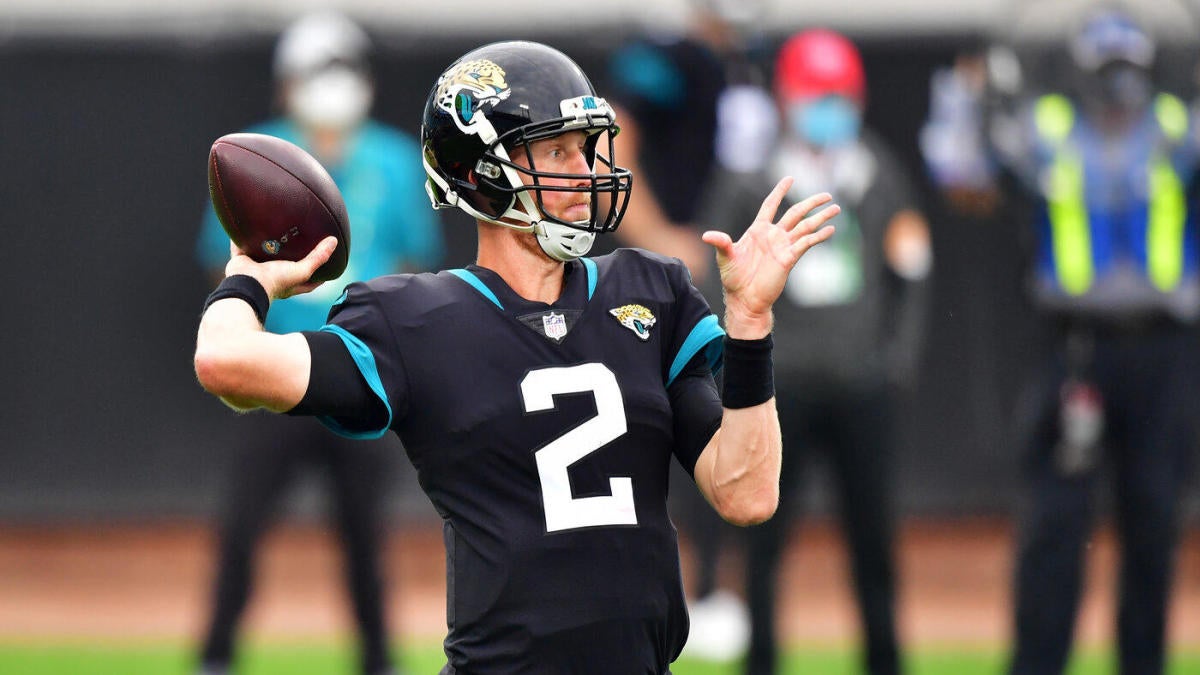 DON'T SLEEP ON Mike Glennon, JAX vs. TEN
⚫ QB12 in FCF Rankings, QB27 in FantasyPros ECR
"You've gotta risk it for the biscuit!"
That's one of my favorite phrases uttered by one of the preeminent Madden YouTubers, TokeNasty.
The reason I'm leading off with that in regards to Mike Glennon this week is because of how gross some of the streaming candidates are this week, and well, the Titans are terrible against quarterbacks in fantasy football. They've given up at least two passing touchdowns to nine of their last 12 opponents and have given up just shy of 250 passing yards to all but two. Add in the fact that the Titans have the second-worst pressure rate percentage in the NFL and that's a recipe for some fantasy goodness out of the Jaguars.
As we saw last week with Baker Mayfield's four-touchdown first half, even the dustiest of quarterbacks can be pristinely polished and made new and shiny again. I'm not saying to start Mike Glennon as a QB1 this week in single quarterback leagues or to start him over establish solid quarterbacks like Josh Allen or Tom Brady this week, but if you're lacking options, Glennon is an avenue to take with an exploitable matchup that should set up to shoot out (53.5 O/U) and sets up well for continues passing volume.
RUNNING BACK
START Giovani Bernard, CIN vs. DAL
⚫ RB7 in FCF Rankings, RB17 in FantasyPros ECR
The Dallas Cowboys rank dead last in rushing defense and the Baltimore Ravens just toasted them for 294 rushing yards. While it's fair to say the Bengals' rushing attack hasn't been one to identify as a start most weeks, this is a spot where a sharp play like Giovani Bernard could pay big dividends.
While Bernard (and his mustache) hasn't inspired much confidence over the last month (Bernard's highest weekly finish was RB35 in Week 10), the Cowboys allow one of the craziest statistics I've seen this season. Dallas has allowed an insane 4 yards per carry before contact. have allowed at least 60-plus rushing yards to 11-of-12 of running backs this season. In fact:
Sub-optimal.
I love Gio way more than the Expert Consensus this week and while the Bengals are a shell of themselves on offense after losing Joe Burrow for the season, I think they can take advantage of the Cowboys' deficiencies (and the fact that they would be playing their second road game in FIVE days) and for Bernard, in particular, to be a big focal point of that to limit the exposure to Brandon Allen, Ryan Finley, or whoever they decide to trot out there at quarterback this Sunday.
SIT Miles Sanders, PHI vs. NO
⚫ RB29 in FCF Rankings, RB24 in FantasyPros ECR
From the penthouse to the outhouse, the curious case of Miles Sanders. What a difference a week makes, right? Last week, I touted him in an awesome matchup against the Packers, but then Carson Wentz had to ruin things.
Now we're on to Jalen Hurts at quarterback for the Eagles and well, we just don't know how that's going to play out. What I do know is that where I have Miles Sanders, I'll be sitting him down like a bad habit.
What else do we know? Well, the New Orleans Saints have not given up a 100-yard rusher in 50 games. FIFTY. That's just over three full NFL seasons' worth. The Saints also have given up a league-low three rushing touchdowns in 2020. Sanders himself hasn't scored a touchdown since Week 5 and has only put up 18 fantasy points in PPR since Week 11. That's three games.
Not this week, Sanders. You'll be Miles away from my starting lineup.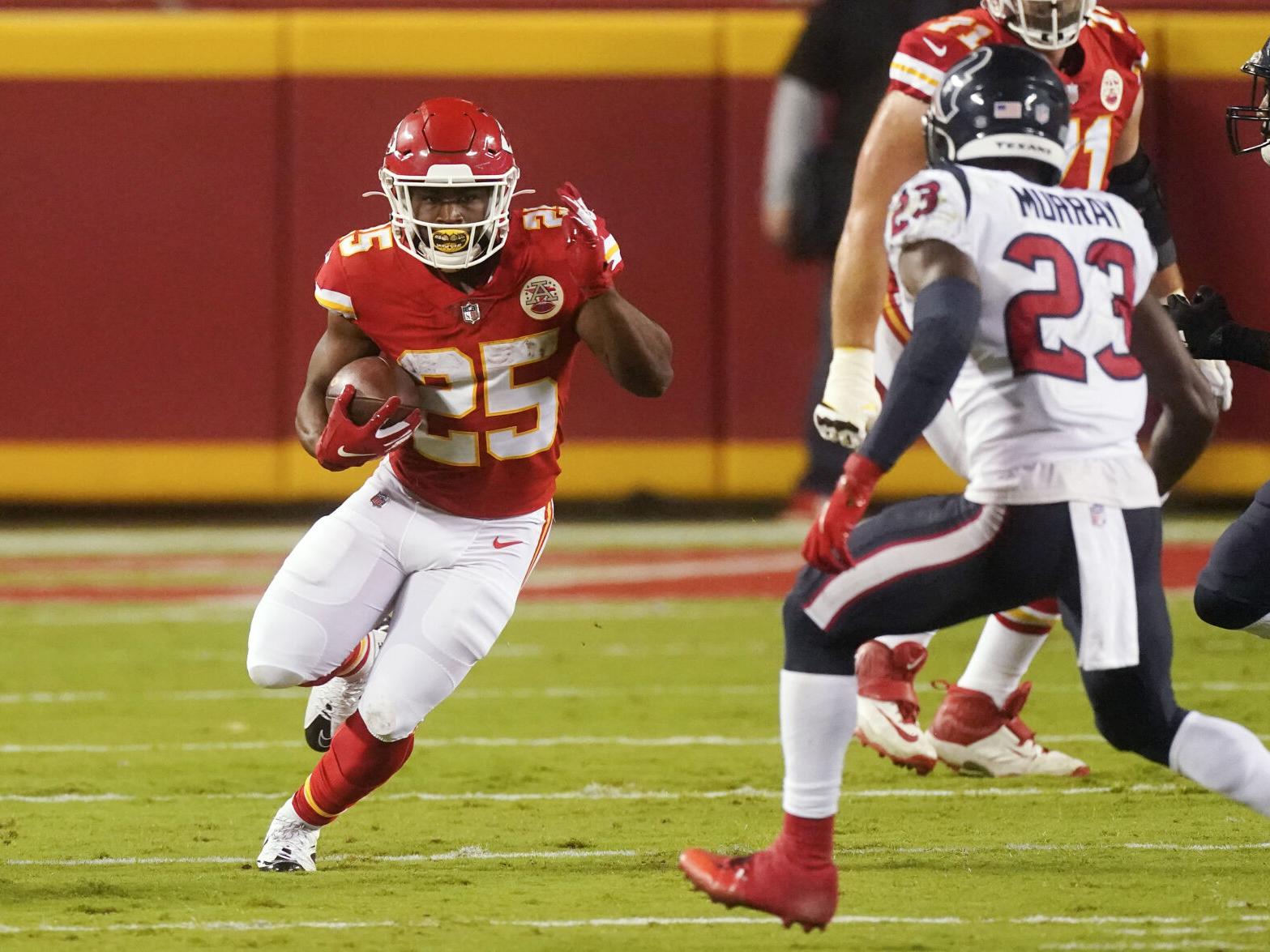 DON'T SLEEP ON Clyde Edwards-Helaire, KC @ MIA
⚫ RB14 in FCF Rankings, RB19 in FantasyPros ECR
So it's not like anybody could have known what happened last Sunday was going to happen to Clyde Edwards-Helaire. Understandably, the fantasy football "Twitterati" went ballistic.
Anyway, after seeing what Le'Veon Bell did last week in an advantageous matchup (11 carries, 40 yards), CEH should be able to do some damage this week against a run-funnel in Miami. While the volume for Edwards-Helaire is certainly in question, a 28-point implied total for the Chiefs and a well-rested Edwards-Helaire should be a quality play this week, as an upside RB2.
WIDE RECEIVER
START Corey Davis, TEN @ JAX
⚫ WR13 in FCF Rankings, WR19 in FantasyPros ECR
It's not quite DeVante Parker 2019 stuff, but Corey Davis has been a post-post-post hype sleeper in the same vein as Parker this season for the Tennessee Titans. Davis has been WR26 in total points but in PPR points per game, he's been WR16 with 15.7/gm. Since Week 11, Davis has been WR5. When Davis has been in the lineup, great things have happened. As in last week where he was the top-scoring receiver in fantasy football.
Those great times should be continuing with a matchup against the Jaguars who have allowed the most fantasy points at where Davis lines up over the past eight weeks. Davis has scored double-digit points in every single game he's played in 2020 except one, where he was held scoreless against Chicago.
No matter A.J. Brown's status for this week, Davis needs to be in your lineup as a WR2 or better.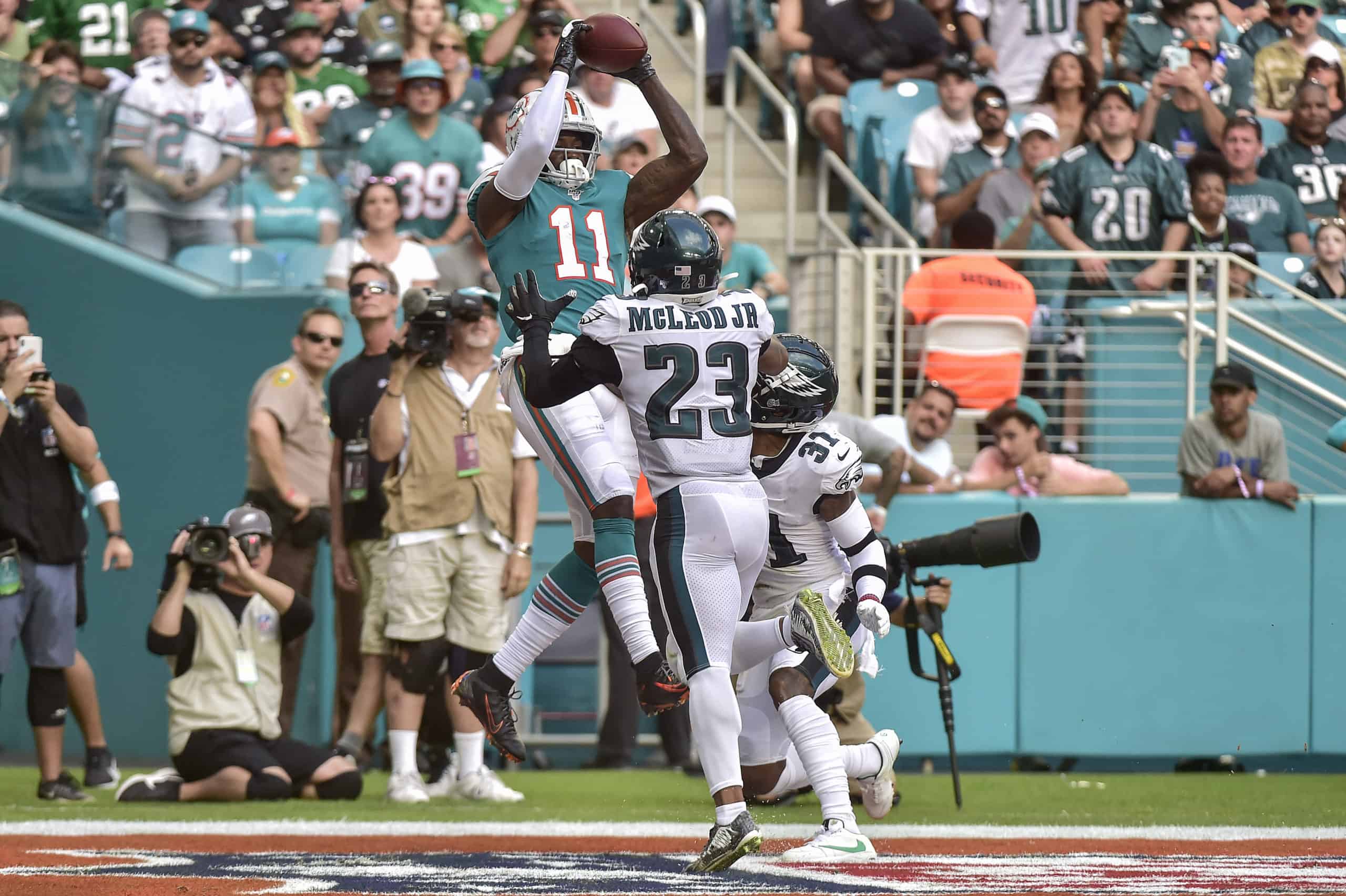 SIT DeVante Parker, MIA vs. KC
⚫ WR40 in FCF Rankings, WR24 in FantasyPros ECR
Don't let DeVante Parker's Week 12 lull you into some falls sense of security regarding how to properly value him moving forward, because that was the return of Ryan Fitzpatrick and we know Harvard Man has a crush on Parker.
With Tua installed at quarterback yet again, we must downgrade the pass-catchers yet again for the Dolphins. Parker had only four catches for 35 yards on eight targets before being ejected against the Bengals last week. It's difficult to trust Tua being able to get the ball to his playmakers against the Chiefs, who rank as the second-best defense against wide-receivers.
Parker is a clear fade here for me in Week 14.
DON'T SLEEP ON Tim Patrick, DEN @ CAR
⚫ WR34 in FCF Rankings, WR40 in FantasyPros ECR
With actual quarterbacks in Denver (minus the Kendall Hinton experiment), Tim Patrick has been a WR3 or better in 7-of-9 matchups. He's also established a real rapport with Drew Lock, almost fungible with Courtland Sutton. Patrick has been the receiver to target in fantasy circles for the Broncos, not Jerry Jeudy.
Patrick has more receptions, receiving yards, touchdowns, and a 94.0 passer rating when targeted. By comparison, Jerry Jeudy has a passer rating of just 46.0 when targeted.
If there was one Bronco to target, the overachieving Patrick would be it.
TIGHT END
START Dalton Schultz, DAL @ CIN
⚫ TE9 in FCF Rankings, TE13 in FantasyPros ECR
With the tight end position in 2020 being as gross as it has been, we're looking for players in good matchups with a healthy floor to just not cripple you, versus massive upside every week. Only the top couple guys can sniff upside, but Dalton Schultz has been consistently solid since not only Blake Jarwin went out for the season during Week 1, but even when Dak Prescott was lost for the season. Schultz has been TE11 overall this season and he hasn't had many boom weeks, but he's contributed quite a bit to this Cowboys offense and for fantasy managers looking to keep the ship afloat at the position.
Against the Bengals this week, well, they've given up a whopping 233 receiving yards to the position over the last couple of weeks and Schultz ranks seventh in routes run going back to a few weeks ago in Week 11. There's a lot of correlating factors here, so instead of scanning through typing babbling, go toss him into your lineup.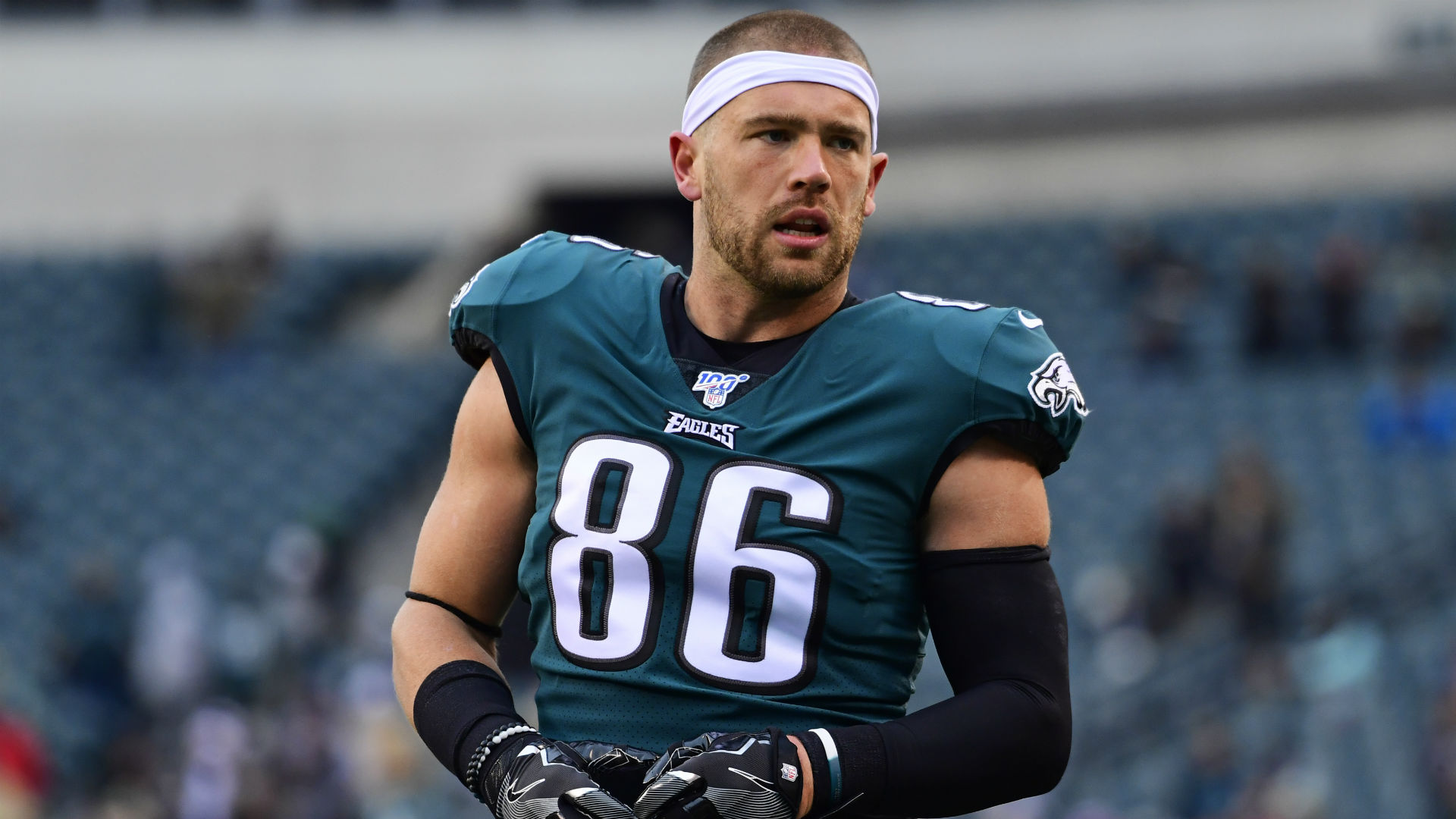 SIT Zach Ertz, PHI vs. NO
⚫ TE27 in FCF Rankings, TE24 in FantasyPros ECR
It's hard to place any sort of bet of certainty on anybody's usage in this offense, much less one easing himself back into the offense. Zach Ertz saw four targets last week and when the Eagles changed over to Jalen Hurts from Carson Wentz, he saw two of the 11 balls thrown his way from the rookie quarterback.
Now, in a week to gameplan against the New Orleans Saints, who allow the third-lowest yards per target to the position and haven't allowed more than 62 yards receiving to a tight end since Week 2, that's dicey. With a dangerously low 19.5 implied point total, it's best to leave most Eagles out of your lineup, especially one like Ertz where it's a good idea to wait and see how Hurts operates this offense.
DON'T SLEEP ON Cole Kmet, CHI vs. HOU
⚫ TE12 in FCF Rankings, TE22 in FantasyPros ECR
Guess which former Notre Dame tight end has out-snapped and run more routes than Jimmy Graham the last three weeks as well as out-target, out-catch Graham two of those three weeks?
Well... just humor me. I know I'm typing this out in the "Cole Kmet" blurb, okay?
We saw Kmet get one of those touchdown things (I heard that's good?) on his way to a TE7 finish last week in PPR. He saw a season-high in targets and receptions as well, so it looks like the Bears are finally giving a realistic look to Kmet to see what they have.
With Kmet getting these looks, he enters the streaming conversation and it's not a bad idea to chase the talent here, considering he was a second-round selection this past April. It's not out of the realm of possibility that Kmet could work his way into being a 2A/2B with Darnell Mooney for the next pass-catcher after Allen Robinson, so with that all said, Kmet is somebody I like buying into and because he plays for the Bears, he's not highly sought after.
I did try to tell everybody on December 1st, but there's still time to get in on the bandwagon! Against the backdrop of streaming tight ends with little to no upside, Kmet offers something different, so I'm buying the bit of a breakout here and hoping to capture a bit of magic here late in the season and in Week 14 against the Texans.
--
You can find Kevin Tompkins on Twitter @ktompkinsii. and co-hosting both Fighting Chance Live! and Fighting Chance Kickoff on Sunday mornings with Gary Haddow, also of fightingchancefantasy.com. In Kevin's free time, he likes to draft wide receivers, ignore running backs until the 9th round, and snap up the occasional elite tight end.
---