2020 Fantasy Football: Starts, Sits, and Sleepers for Week 15!
---
Week 15, the semi-finals.
If you're reading this, you're playing for something. Whether it be money, pride, both, or just fun, we're going to help you do what you're looking to do: win!
Each week here in this column, you'll find a start, a sit, and a sleeper for each position in fantasy football at the end of every week to get you options in your starting lineups. The starts I list will be players I typically have ranked higher than the consensus, the sits will be players I have ranked lower than consensus, and the sleepers will be lower ranked options that when the week is said and done, they'll be ranked much higher than initially thought.
I'm not going to tell you to start Patrick Mahomes, Dalvin Cook, Tyreek Hill, or Travis Kelce. That's too low of hanging fruit. Conversely, I won't say to sit the obvious players. My recommendations for starts will be mid-tier players who have the chance with their matchup and environment to rise into a top player at their given position for the week. On the flip-side, my sits will be higher-rostered, typically "set and forget" players that are likely to disappoint for the week.
If you need some start/sit advice on Sunday morning, Gary Haddow and I co-host "Fighting Chance Kickoff" from 10:00 AM to 11:00 AM CT each week. We'll be sorting through the inactives, weather, start/sits, and the latest roster news to get you prepared for the week's matchups! We'll be putting up a tweet (and fleet!) on Saturdays about submitting your starts/sits to us to answer live on the show, so keep tabs on us on Twitter @ktompkinsii, @garyhaddow1, and @FCFantasySports!
Now that we've gotten the housekeeping portion out of the way, let's get into the Starts, Sits, and Sleepers for Week 15!
QUARTERBACK
START Tom Brady, TB @ ATL
⚫ QB6 in FCF Rankings, QB9 in FantasyPros ECR
The Atlanta Falcons are the worst team vs. the quarterback position in fantasy football this season. They've given up the most fantasy points to the position and have given up at least 17 fantasy points to such quarterback stalwarts as *checks notes* Nick Foles and Teddy Bridgewater. Yeeeeeeeeeeeeeesh.
I think it would be very fair to say Tom Brady is a pretty good quarterback and is probably a step (or a couple of flights of stairs to the penthouse) above those quarterbacks previously mentioned, so this shouldn't be too difficult to prognosticate that Brady should have one of the safest fantasy points floors this week in what should be an absolute gimme of a matchup if all goes right.
There won't be a 28-3 deficit to have to come back from this week. Lock and load Brady for your playoff matchup and ride the wave.
SIT Matt Ryan, ATL vs. TB
⚫ QB25 in FCF Rankings, QB19 in FantasyPros ECR
When the Atlanta Falcons are going well, they're going WELL. When the Atlanta Falcons are going bad, they're like a cocktail of spoiled milk and regret.
I apologize for that visual, but that's essentially Matt Ryan in the last month.
Ryan hasn't finished as a weekly top-12 quarterback in fantasy football since Week 9 and has more interceptions thrown (six) than touchdowns thrown (four) over the past four weeks. He also will be without the services of Julio Jones this Sunday.
Simply, you can't trust Matt Ryan for the duration of 2020. The days of Ryan being a locked-in top-10 fantasy football quarterback are through.
DON'T SLEEP ON Mitch Trubisky, CHI @ MIN
⚫ QB13 in FCF Rankings, QB17 in FantasyPros ECR
Apparently, I can't quit you, Mitch Trubisky. A punch-line quarterback in real football and a moderately decent fantasy quarterback on occasion, Trubisky had his best game of the season against the Bradley Roby-less Texans. Finishing QB7 on the week, Trubisky should be able to follow that performance with something similar against the Minnesota Vikings.
Considering the Bears can actually move the ball with Trubisky installed at quarterback, it's no wonder their offense has been solidly competent from a fantasy standpoint. The Vikings are in the bottom-half as far as defending the quarterback in fantasy, so with Trubisky and the offense playing well, I'd be very happy streaming him this week as a semifinal playoff quarterback play.
RUNNING BACK
START J.K. Dobbins, BAL vs. JAX
⚫ RB9 in FCF Rankings, RB18 in FantasyPros ECR
Over the past three games, the Jaguars have faced a who's who of stud running backs and predictably, have wilted against them. The Browns (Nick Chubb and Kareem Hunt), Vikings (Dalvin Cook), and Titans (Derrick Henry) all combined for 689 total yards and four touchdowns over the past three contests.
Enter J.K. Dobbins, who if this was a "100-Yard Rush" would be the last horse to cross the finish line in terms of rookie running backs taking over their backfields, but it may just be a "better late than never" scenario.
This Baltimore backfield is down to a two-headed monster with Dobbins and Gus Edwards as Mark Ingram received zero carries and only a 2% snap share in Week 14. Dobbins, on the other hand, played 61% of the snaps and over the last three weeks has scored and finished no lower than RB20 each week.
With the backfield whittled down to just two, Dobbins really only has to worry about the touchdown vulture Edwards. That said, Dobbins carries rare overall RB1 upside this week against the Jaguars, who have allowed an average of 30 PPR points per game to the running back position this season.
SIT Ezekiel Elliott, DAL vs. SF
⚫ RB27 in FCF Rankings, RB21 in FantasyPros ECR
The one thing that hasn't changed for Ezekiel Elliott is the volume of work he gets within the Dallas Cowboys' offense. He still gets the majority of the work, though the offense in question he's running in is merely a shell of what they were with injury after injury to key players on the offensive line and namely, Dak Prescott.
Elliott has finished as a weekly RB2 just twice in the past seven contests and has scored just once since Week 6. It's time we back away from the "name-value" that Elliott has carried for so long as in this current iteration of the offense and treat him like a low-to-middling RB2 for the rest of 2020.
Against San Francisco, Elliott is on the low-end of the RB2 spectrum, as the 49ers have allowed the second-lowest figure in terms of yards per carry in 2020. Add to that a nagging calf injury that Elliott has worked through, and I'm hands-off Zeke for Week 15 and likely the rest of the season.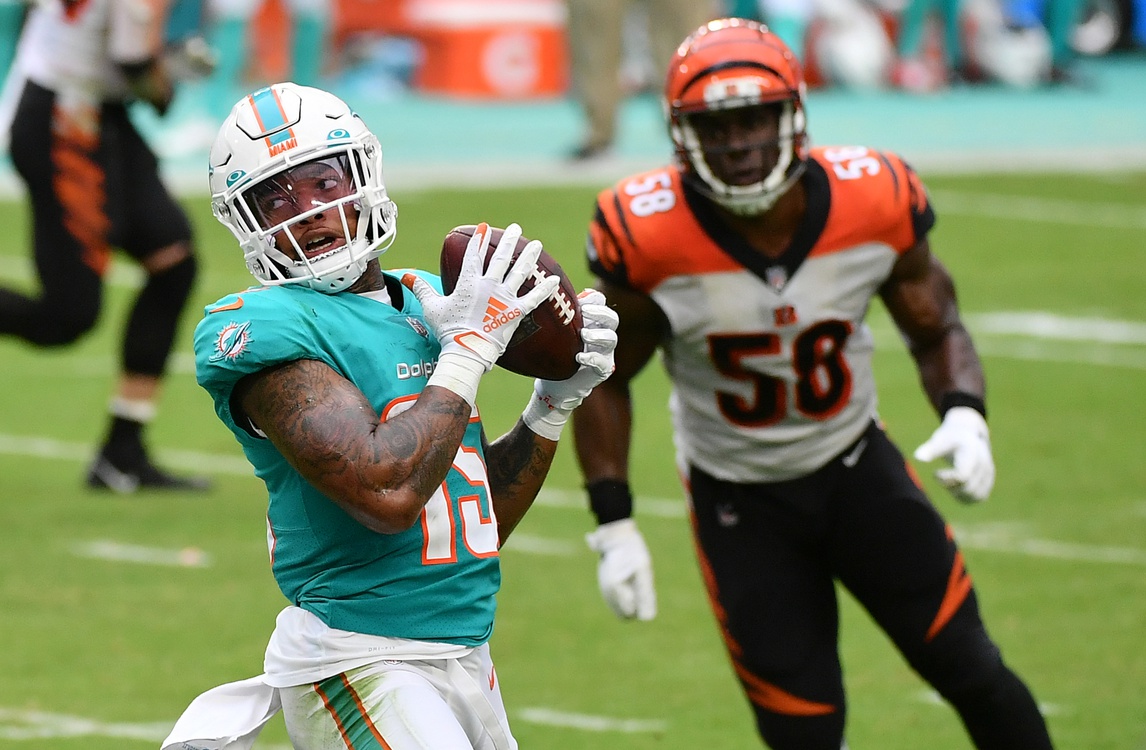 DON'T SLEEP ON Lynn Bowden, MIA vs. NE
⚫ RB23 in FCF Rankings, RB38 in FantasyPros ECR
So Lynn Bowden can fit into your lineups at running back OR wide receiver in several formats, but either way, Bowden is a worthwhile start this week against the Patriots.
Over the last month and change, the Dolphins have essentially been holding live in-game tryouts to fill their slot role, with Jakeem Grant, Malcolm Perry, and Mike Gesicki all working their way in at different points. Well right now, they're all injured to some degree. In these last two weeks, Bowden has taken that slot mantle and caught on very well, leading the Dolphins in snaps from the slot, targets (tied), receptions, and receiving yards.
Not only are those aforementioned players missing, but they could also be without DeVante Parker and Myles Gaskin as well, so right now, the Bowden show might take center stage here. The Patriots' inability to cover the slot position also works in Bowden's favor.
Bowden is somebody that may not outright win you a league, but as a sharp play, could give your team that scoring baseline to get you over the hump to a championship.
WIDE RECEIVER
START Brandon Aiyuk, SF @ DAL
⚫ WR7 in FCF Rankings, WR11 in FantasyPros ECR
With four games in a row of 20 PPR fantasy points or more, Brandon Aiyuk is on another planet right now with his play. Averaging just over 12 targets per game in that span, Aiyuk is primed for a matchup with the Dallas Cowboys, who have given up the second-most fantasy points to the wide receiver position.
The wide receiver position for the San Francisco 49ers now has Aiyuk as the clear alpha and top of the food chain with Deebo Samuel injuring his hamstring and likely out for the season, so with the cornerback position in flux for the Cowboys, this is a set and forget spot for Aiyuk to dominate as a high-end WR2 that could very well finish as the best fantasy wide receiver of Week 15 when all is said and done.
SIT Tyler Boyd, CIN vs. PIT
⚫ WR46 in FCF Rankings, WR38 in FantasyPros ECR
Expecting Tyler Boyd to keep up his brand of PPR goodness with Brandon Allen in at quarterback?
In this economy?
In the three games in 2020 A.B. (After Burrow), Tyler Boyd's highest weekly finish among wide receivers in PPR was WR36. BARELY a WR3 and that was on a 72-yard touchdown.
Boyd has caught only nine passes in the past three weeks and now gets the Steelers where he struggled to get the ball WITH Joe Burrow the last time these two teams played. Boyd will be targeted in Week 15; we know that to be true. The Bengals will be in a negative game-script (implied total of just 14 points) with the Steelers' pass-rush ready to pounce, I'm not looking to rush Boyd into my semi-final lineups with everything at stake.
DON'T SLEEP ON Keke Coutee, HOU @ IND
⚫ WR29 in FCF Rankings, WR33 in FantasyPros ECR
It's easy to be deterred by Keke Coutee's Week 14, where he had an early touchdown but only saw three targets in total. The last time Coutee faced these Indianapolis Colts was just two weeks ago, where he torched slot corner Kenny Moore for eight catches and 141 yards en route to a WR7 finish.
The Texans will have Brandin Cooks back in action this week after missing last week, so that should take a bit of pressure off of Coutee and by association, Chad Hansen to shoulder the entire receiving load.
Expecting another monstrous game as we saw in Week 13 from Coutee is a little rich, but a high-end WR3 finish is certainly not out of the question this week.
TIGHT END
START Cole Kmet, CHI @ MIN
⚫ TE7 in FCF Rankings, TE16 in FantasyPros ECR
"First of His Name" Cole Kmet, has seen the seventh-most targets for the Chicago Bears over the past two weeks, as well as the third-most yards after catch (YAC) with a 2.7-yard average depth of target (aDOT), so right now he's "catch and rumble" Kmet. He's also seeing a 22% target share in that same timeframe so right now, he's definitively the secondary target in this passing game over Darnell Mooney, Anthony Miller, Jimmy Graham, David Montgomery, and anybody else in the Bears offense.
If the Bears make a concerted effort to design some of the offense around him, he could have a Mark Andrews-ian leap. High praise for sure, but it's something to keep in your mind for 2021.
For 2020, he needs to be started for the rest of the season without question given this kind of utilization. SIT Hayden Hurst, ATL vs. TB
⚫ TE23 in FCF Rankings, TE15 in FantasyPros ECR
Hayden Hurst has been working with an ankle injury for almost a month now and his production has tailed off considerably since Week 11. Hurst has a combined six receptions for 64 yards on 17 targets over the last four games with zero touchdowns.
Given the trending down of this entire offense, his ankle injury, and a formidable matchup with the Tampa Bay Buccaneers in Week 15, I don't see how you can trust Hayden Hurst going forward.
DON'T SLEEP ON Irv Smith Jr., MIN vs. CHI
⚫ TE9 in FCF Rankings, TE17 in FantasyPros ECR
Take a wild guess what Minnesota Vikings tight end is out for this Sunday's tilt with the Chicago Bears?
"Well, you're writing this in the Irv Smith Jr. section, so... Kyle Rudolph?"
...yes.
Smith should be locked into your lineups this week as a starting tight end for the fantasy playoffs and hopefully the first of many going forward for the 22-year-old tight end. Smith put up a 4/63/1 line against the Bucs last week and while that was only on four targets, he obviously made them count.
We know the talent is there, the athleticism is there, and Smith has a quarterback who can get him the ball when the defense is clearly looking out for Dalvin Cook, Adam Thielen, and Justin Jefferson. This could be a ready-made smash spot for Irv, so get him in your lineups yesterday! If not yesterday, then right after you read this sentence.
You can find Kevin Tompkins on Twitter @ktompkinsii. and co-hosting both Fighting Chance Live! and Fighting Chance Kickoff on Sunday mornings with Gary Haddow, also of fightingchancefantasy.com. In Kevin's free time, he likes to draft wide receivers, ignore running backs until the 9th round, and snap up the occasional elite tight end.
---