2020 Fantasy Football: Starts, Sits, and Sleepers for Week 4!
---
Week 4 kicked off with a... dubious matchup of 0-3 teams. The Broncos and Jets both seemed to wanted to lose, but the Jets wanted to lose much more and that's just what happened. As for the rest of the slate, we've got some great matchups that don't involve 0-3 teams.
As previously reported, the Steelers/Titans matchup slated to happen on Sunday will be moved later into the season because of multiple positive COVID-19 tests on the Tennessee side. It will essentially act as a Week 4 bye for both squads. Hopefully, we don't see any added positive tests and we can get on with our NFL season as normal.
Each week, you'll find a start, a sit, and a sleeper for each position in fantasy football at the end of every week to get you options in your starting lineups. The starts will be players I typically have ranked higher than the consensus, the sits will be players I have ranked lower than consensus, and the sleepers will be lower ranked options that when the week is said and done, they'll be ranked much higher than initially thought.
ALSO, if you're in need of some start/sit advice on Sunday morning, myself and Gary Haddow will be co-hosting another show, called "Fighting Chance Kickoff" from 10AM to 11AM CT each week. We'll be sorting through the inactives, weather, start/sits, and the latest roster news to get your prepared for your Week 1 matchups! We'll be putting up a tweet later on today about submitting your starts/sits to us to answer live on the show, so keep tabs on us on Twitter @ktompkinsii, @garyhaddow1, and @FCFantasySports!
Now that we've gotten the housekeeping portion out of the way, let's get into the Starts, Sits, and Sleepers for Week 3!
QUARTERBACK
START Deshaun Watson, HOU vs. MIN
⚫ QB5 in FCF Rankings, QB8 in FantasyPros ECR
Just last week, I was completely out on Deshaun Watson, and how did that go? With a brutal start to the season that included matchups in Kansas City, at home vs. Baltimore, and in Pittsburgh, Watson has still managed 17.5 fantasy points per game.
The Texans' schedule softens up considerably, starting Week 4 at home versus the Minnesota Vikings, who have been a turnstile to opposing quarterbacks. They allowed Aaron Rodgers and Ryan Tannehill to throw for over 320 passing yards each and let's face it: Watson is absolutely due for a smash spot. He hasn't been running too much either, but with those defenses, who can blame him? The Texans have an implied point total of 27.8 points this week, the Vikings' opponents have averaged 72 plays per game (third-most in the NFL), and that is a recipe for Watson's Week 4 success.
SIT Carson Wentz, PHI @ SF
⚫ QB24 in FCF Rankings, QB21 in FantasyPros ECR
I just got a phone call and I'm on the next plane to San Francisco to meet the Eagles and suit up at wide receiver. THAT is how dire the situation is for Carson Wentz' pass-catchers. Yes, we saw it last season when they were trotting out J.J. Arcega-Whiteside, Greg Ward, and company, but at least Wentz was boosting those guys up to his level and making it work.
Here in 2020? In this economy? Not so much.
Right now, they have Greg Ward. He was the ONLY pass-catcher who practiced on Thursday. They should have Zach Ertz as well, but other than that, it's anybody's guess. DeSean Jackson is no lock and Dallas Goedert is out for some time.
They'll be facing San Francisco, who has been snake-bitten themselves on the injury front, but despite that has still given up the least passing yards per attempt, tied for fewest touchdown passes allowed, and second-fewest passing yards allowed.
In a matchup where there is one of the bottom-third over/under totals of the entire slate, it's best to fade Wentz as a whole. I've dropped him for other higher-upside options. He's not an option for me this week.
DON'T SLEEP ON Gardner Minshew, JAX @ CIN
⚫ QB13 in FCF Rankings, QB16 in FantasyPros ECR
It's very understandable to dismiss Gardner Minshew after a let-down spot against the Dolphins last Thursday. Not many people saw that coming, but Minshew gets to right the ship and gets back into everybody's good graces against as equally moribund a defense as Miami in the Cincinnati Bengals.
Minshew has thrown 40+ passing attempts in his last two games and adding to that, the Bengals have allowed a total average of 146 plays per game, which would speak to the pace and allow more fantasy production. Also helping Minshew's case is the likely return of D.J. Chark to the lineup. Hopefully, Chark can get right back into his 2019 form and provide a spark to the passing game.
The Jaguars and Minshew have had 10 days to prepare for this game, so look for them to come out firing.
RUNNING BACK
START Darrell Henderson, LAR vs. NYG
⚫ RB15 in FCF Rankings, RB19 in FantasyPros ECR
There may not be a running back in the NFL with more forward momentum than Darrell Henderson right now. He's left Malcolm Brown and the injured Cam Akers in the dust on his way to being RB10 over the last two weeks.
He now gets the New York Giants, who haven't been able to stop much of the bleeding this season, allowing three different running backs to finish in the top-15.
Malcolm Brown will still mix in, but Henderson will still be a lock for 16-18 touches and should have a good line when all is said and done.
SIT Every Detroit Lions Running Back, DET @ NO
⚫ Adrian Peterson: RB37 in FCF Rankings, RB31 in FantasyPros ECR
⚫ Kerryon Johnson: RB60 in FCF Rankings, RB42 in FantasyPros ECR
⚫ D'Andre Swift: RB47 in FCF Rankings, RB36 in FantasyPros ECR
Ugh. I'm not even sure if Nostradamus himself could accurately forecast this backfield.
What do we know so far?
Adrian Peterson leads the backfield in touches with 47, to Kerryon Johnson's 19 and D'Andre Swift's 17. Take this into account versus the opponent, the New Orleans Saints, who should be in a positive game script this week, which will effectively negate Adrian Peterson. His carries account for 91.5% of his touches.
Johnson and Swift just can't be counted on for any fantasy relevance. Johnson saw just four touches against the Cardinals in a competitive, close game and Swift saw just six(!) snaps and only one touch last week.
Though the Lions are likely to be down, you can't pin down the latter two options with any certainty, especially in a matchup that sees them going up one of the better defenses against the run.
No thanks.
DON'T SLEEP ON Ronald Jones, TB v. LAC
⚫ RB21 in FCF Rankings, RB24 in FantasyPros ECR
The matchup on paper for Ronald Jones isn't great, but he will be playing the majority of snaps and getting the majority of touches with Leonard Fournette ruled out with an ankle injury.
The Chargers are heading east to play an early-afternoon game and are missing five defensive starters. You're not playing either Jones or Fournette with both active unless you're desperate because we all know how much HC Bruce Arians loves to toy with fantasy managers with his backfield.
If there was a week you can start Jones, this is pretty much it. He's locked into at the very least RB2 production and shouldn't see too much competition for it.
WIDE RECEIVER
START Keenan Allen, LAC @ TB
⚫ WR12 in FCF Rankings, WR18 in FantasyPros ECR
Since the installation of Justin Herbert at quarterback for the Chargers two weeks ago, the main beneficiary of this move has been Keenan Allen. All Allen has seen in this timeframe is a spike up to a 35% target share (29 targets). While there some obstacles to the passing game this week, like the Chargers going cross-country to Tampa with a rookie quarterback, this kind of target share is salivating for a fantasy manager.
The Chargers may also not have Mike Williams this week due to a hamstring, which would further narrow the target distribution at the top-end. Per Ian Hartitz of PFF.com, Justin Herbert "is basically averaging the same per-target efficiency with Herbert under center (7.9 yards per target) as he did with Philip Rivers in 2019 (8.0)."
With top-5 WR level opportunity waiting for Allen if Mike Williams doesn't go, he's a quality play.
SIT T.Y. Hilton, IND @ CHI
⚫ WR37 in FCF Rankings, WR27 in FantasyPros ECR
Right now, T.Y. Hilton is WR69 in PPR. Not "nice".
He hasn't even improved his standing with Parris Campbell and Jack Doyle going down to injury. He hasn't even improved with his grandmother giving him a pep talk.
If he can't do it for grandma, he's not going to do it for fantasy manager who spent upwards of a fifth-round selection in drafts. He hasn't eclipsed four catches and 53 receiving yards, both of which he put up in Week 1. He hasn't finished above WR52 in any of his weeks so far.
His opponent, the Chicago Bears, has not allowed a touchdown to a wide receiver yet this season and also has not allowed any receiver to put up more than 13.1 fantasy points so far in 2020.
Based on draft capital, he's still worth starting in hopes of bigger things, but I'm not convinced this week will be that bounce-back week for Hilton.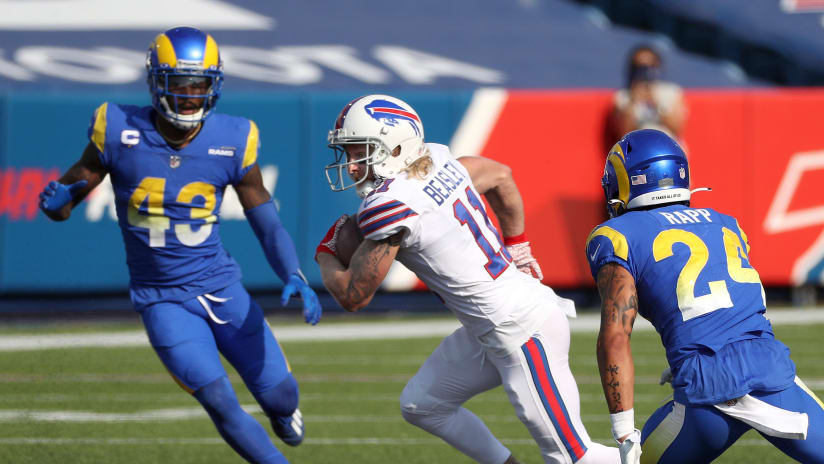 DON'T SLEEP ON Cole Beasley, BUF @ LV
⚫ WR35 in FCF Rankings, WR48 in FantasyPros ECR
Solid, dependable Cole Beasley gets a bump with John Brown likely out with a calf injury. He's seen a consistent 6-7 targets each contest so far with no fewer than 58 yards receiving, adding on a 100-yard performance last week against the Rams.
He gets a plus matchup in the slot with LaMarcus Joyner, who according to Andrew Erickson of PFF, has allowed a target rate of 22% covering the slot, which is third-highest among slot cornerbacks.
Beasley has continually had a "low-end WR" stink on him, but make no bones about it, Beasley is startable as your WR3 this week for sure with the way the passing game is operating with an improved Josh Allen at the helm.
TIGHT END START Dalton Schultz, DAL vs. CLE
⚫ TE8 in FCF Rankings, TE14 in FantasyPros ECR
Quick, guess who leads the Cowboys in red-zone targets this season... Any of the three receivers? Ezekiel Elliott? No. It's Dalton Schultz. Shocked, right?
He leads the pass-catchers in Dallas with 4 red-zone targets and now gets a Cleveland Browns team that hasn't defended the tight end position very well thus far in the early going of 2020. Mark Andrews, C.J. Uzomah, and Drew Sample lit up this defense for 21 targets, 16 receptions, 145 yards, and three touchdowns in the first two weeks. Last week, Logan Thomas was relatively held in check with a four catch, 31 yard line on seven targets, but the offensive environment in Washington certainly had something to do with that.
It's going to be a bit different from last week to this week with all the attention focused on the Dallas trio of receivers. That could very beneficial for Schultz, who could smash this week. As my TE8 this week, I'm predicting just that.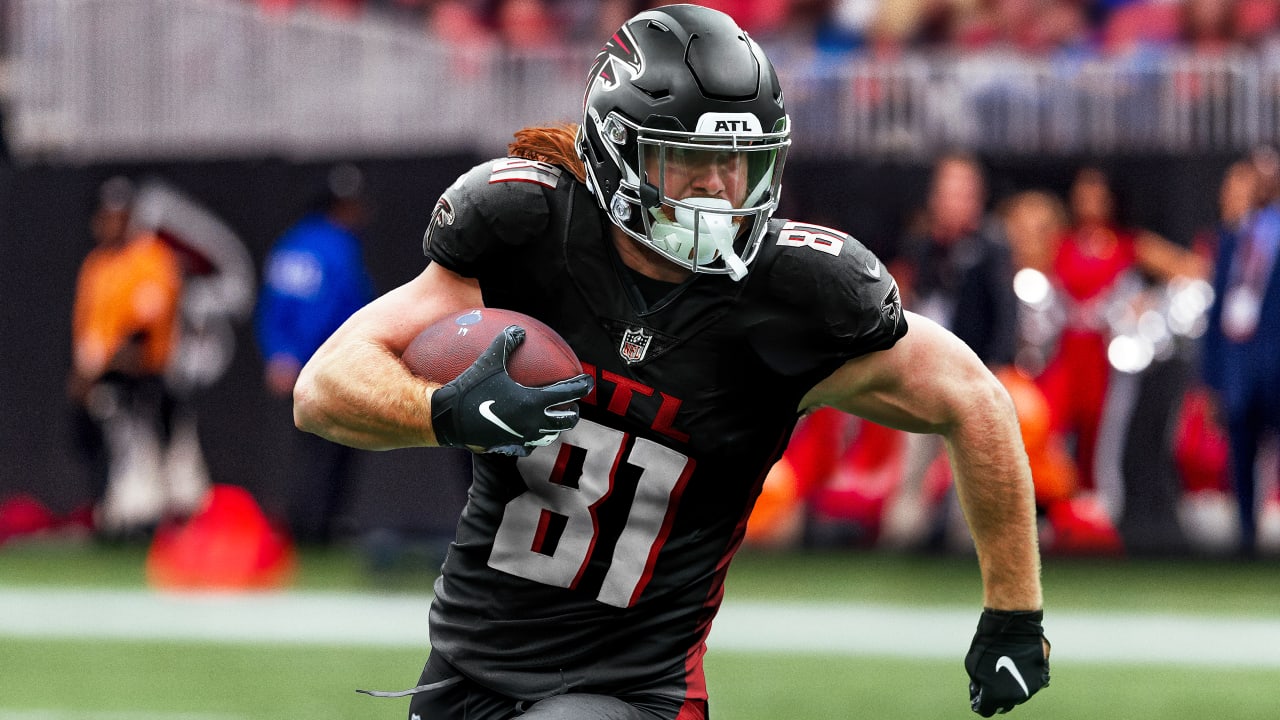 SIT Hayden Hurst, ATL @ GB
⚫ TE17 in FCF Rankings, TE11 in FantasyPros ECR
Coming into the start of 2020, Hayden Hurst was the tight end breakout everybody predicted (including myself). With three weeks in the books, Hurst has just one top-12 finish at the position. He's scored touchdowns in consecutive weeks, but last week he only caught one ball for one yard with that touchdown. All this passing being done by the Falcons and Hurst is only picking up scraps including touchdowns that can't be counted on with any sort of certainty. Receiving only three targets last week in a matchup against Chicago where Julio Jones and Russell Gage were missed for either the whole or a large portion, that should raise a red flag.
Hurst and the Falcons get the Green Bay Packers on Monday night, who have allowed the ninth-fewest points to the tight end position. It's hard to bank on any consistency with Hurst, so he should be sat if you have better options.
DON'T SLEEP ON Robert Tonyan, GB vs. ATL
⚫ TE16 in FCF Rankings, TE26 in FantasyPros ECR
You could have missed the boat on tight end streamers like the aforementioned Dalton Schultz, Logan Thomas, or Jordan Akins. You're reeling at the position. There's one man out there rostered by only 3.1% of ESPN leagues... that man? Robert Tonyan.
When everybody was anointing Jace Sternberger as the future and present of the position during the abbreviated offseason, Tonyan was named the starter and for what we're looking for in terms of fantasy, Tonyan is a solid option now for those fantasy managers looking to recover at the position or that are streaming.
Compared to Sternberger, Tonyan has the clear edge in routes run at the position (67 to 17) and in snap percentage (61% to 21%).
Tonyan is coming off of the best game of his career last Sunday night, with a five reception, 50-yard stat line including a touchdown in his second-straight game. While "Big Bob" may profile as a low-end streamer, the Falcons have given up some eye-opening performances to the tight end position thus far in 2020, with Greg Olsen's four catch, 24 yards, and a touchdown in Week 1, Dalton Schultz' nine catch, 88-yard effort and a touchdown effort, and the apparent renaissance of Jimmy Graham with a two-touchdown game on top of six catches for 60 yards.
You can do MUCH worse than Tonyan.
You can find Kevin Tompkins on Twitter @ktompkinsii. and co-hosting both Fighting Chance Live! and Fighting Chance Kickoff on Sunday mornings with Gary Haddow, also of fightingchancefantasy.com. In Kevin's free time, he likes to draft wide receivers, ignore running backs until the 9th round, and snap up the occasional elite tight end.
---