2020 Fantasy Football: Starts, Sits, and Sleepers for Week 7!
---
We're almost to the half-way point of the fantasy season... already! It's crazy with a global pandemic sweeping the world starting in late-February and how slow time seemed to crawl and now here we are coming up to the finish line in the month of October. Time flies with football every week! We're starting to get some answers to some of the questions we asked in the offseason like:
Can Tyler Higbee keep up the torrid end of 2019 pace in 2020? (Nope.)
Can the Titans remain efficient and will their skill-position players reap the benefits like they did in 2019? (YUP.)
There are so many more questions to be answered and new questions to pop up in the weeks ahead, that's what makes fantasy football and the NFL season as a whole so enthralling.
Each week here in this column, you'll find a start, a sit, and a sleeper for each position in fantasy football at the end of every week to get you options in your starting lineups. The starts will be players I typically have ranked higher than the consensus, the sits will be players I have ranked lower than consensus, and the sleepers will be lower ranked options that when the week is said and done, they'll be ranked much higher than initially thought.
ALSO, if you're in need of some start/sit advice on Sunday morning, myself and Gary Haddow will be co-hosting another show, called "Fighting Chance Kickoff" from 10AM to 11AM CT each week. We'll be sorting through the inactives, weather, start/sits, and the latest roster news to get your prepared for the week's matchups! We'll be putting up a tweet on Saturdays about submitting your starts/sits to us to answer live on the show, so keep tabs on us on Twitter @ktompkinsii, @garyhaddow1, and @FCFantasySports!
Now that we've gotten the housekeeping portion out of the way, let's get into the Starts, Sits, and Sleepers for Week 7!
QUARTERBACK
START Matt Ryan, ATL vs. DET
⚫ QB2 in FCF Rankings, QB7 in FantasyPros ECR
I think I mentioned it on Week 6's Fighting Chance Kickoff, Matt Ryan is just a different quarterback without Julio Jones in the lineup. Ryan got his long-time playmaker back and after three weeks of finishing no higher than QB25, Ryan reeled off a QB2 performance with 371 yards passing and four touchdowns, leading them to their first win of the season.
The Detroit Lions come into Week 7 giving up the ninth-most fantasy points to the quarterback position so far in 2020. Even in all of those losses with Julio Jones (and without), the Falcons are averaging 35 points per game with him in the fold, so no matter what, you're looking at points scored and overall fantasy goodness.
With a 56 point over/under this week, on the fast surface in Detroit, it should be yet another optimal matchup for fantasy purposes. Lock in Matt Ryan as a QB1 this week.
SIT Derek Carr, LVR vs. TB
⚫ QB25 in FCF Rankings, QB21 in FantasyPros ECR
With the issues at offensive line for the Raiders (you know, the whole COVID thing), it might be on veteran Derek Carr to lead the charge if the Raiders are going to come away with a victory against the surging Buccaneers.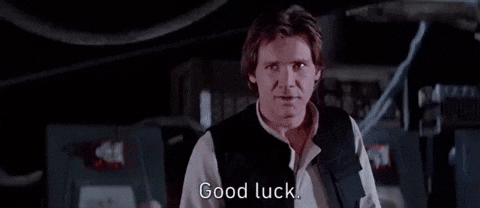 The Buccaneers sport the NFL's #1 pass defense in Defense-adjusted Value Over Average (DVOA) by a WIDE margin, so it was going to be tough sledding anyway with their regular complement of offensive lineman. Now? It's going to be as uphill a climb as you'll see.
There is the potential for all five starting offensive linemen to be cleared on Sunday morning, but even then, they don't have much practice in them for the week, which puts them behind the 8-ball.
What does this mean for Derek Carr, who is going up against a Bucs' defense that has given up the third-fewest fantasy points per game and the fourth-fewest fantasy points per play so far?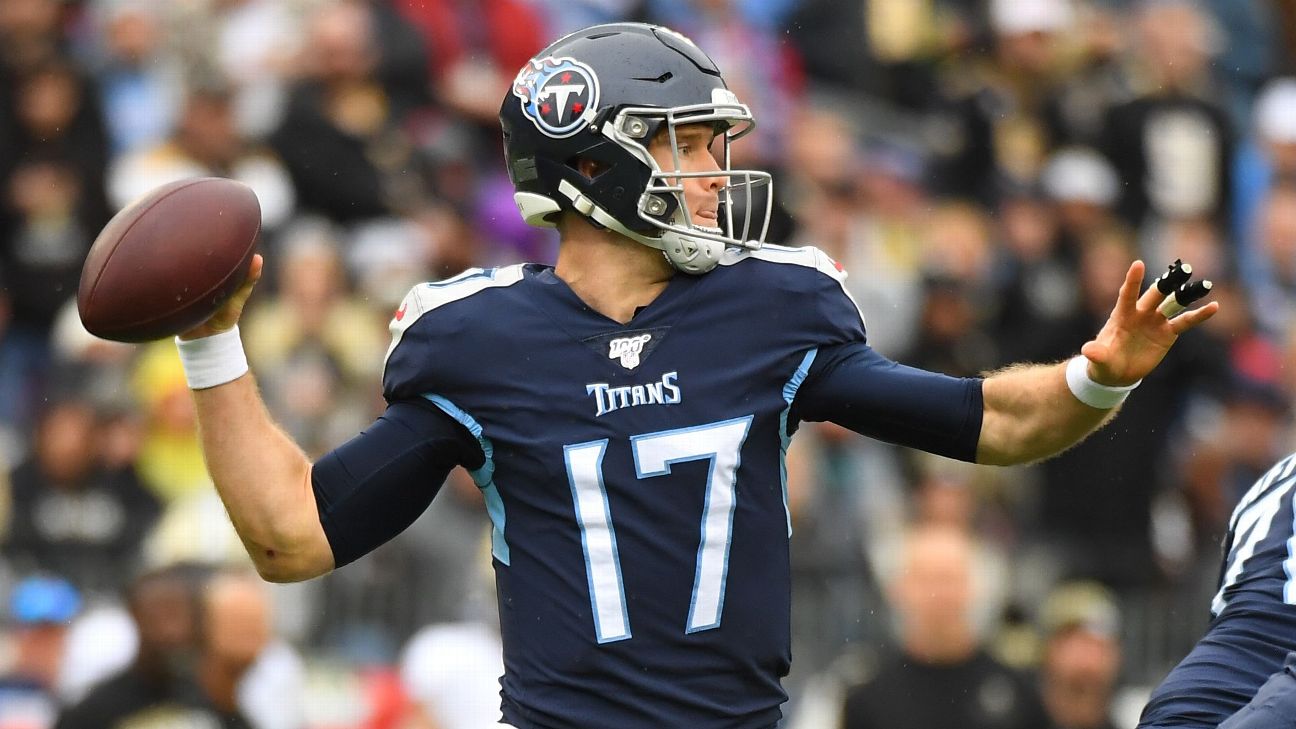 DON'T SLEEP ON Ryan Tannehill, TEN vs. PIT
⚫ QB10 in FCF Rankings, QB13 in FantasyPros ECR
If we're taking a look at Tennessee's matchup with the Pittsburgh Steelers in a vacuum, then sure, it certainly looks daunting. The Steelers' defense! Pressure everywhere you look. Do you think Pittsburgh took notice of Derrick Henry's blowup game against the Houston Texans where he ran for 212 yards and two touchdowns? I bet they did, they do have the highest-graded rushing defense in the NFL per PFF, after all.
That's where we bring in Ryan Tannehill, who with continual disrespect for his talents on a weekly basis continues to let his play do the talking. Tannehill has been best quarterback in fantasy football since the bye week, gets to face a Steelers' defense, who yes, thrives on bringing pressure (50.7% pressure rate, tops in the NFL) while having the second-most frequent blitz rate (47.8%). It also helps that Ryan Tannehill has a better passer rating under pressure than with a clean pocket so far this season (110.5 to 110.3).
The Titans did lose starting left tackle Taylor Lewan to a torn ACL, so that puts another obstacle in the way of Tannehill, but with the focus of the Steelers on the run game, look for Tannehill (who gets the returning Corey Davis back from the COVID list) to put up the quality numbers we're starting to expect on the regular.
RUNNING BACK
START Ronald Jones, TB @ LVR
⚫ RB7 in FCF Rankings, RB11 in FantasyPros ECR
Ronald Jones has been fantastic this season for Tampa Bay as pretty much the only game in town with Leonard Fournette either inactive or active but used in an emergency capacity. This week, Fournette should get some carries as he did practice fully, but even perennial curtain-jerker and dasher of running back hopes and dreams Bruce Arians has to ride the hot hand here. Right?
RIGHT?
Fact is, Jones has three-straight 100 yard performances (the only running back in football that can make that claim), garnered 20 touches or more in each of those three contests, and the Raiders have allowed 5.2 yards per carry this season, the third-highest mark in the NFL.
This isn't one to overthink.
SIT Josh Jacobs, LVR vs. TB
⚫ RB25 in FCF Rankings, RB14 in FantasyPros ECR
It's bad enough that Josh Jacobs and the Raiders get to face the surging and momentum-laden Tampa Bay Buccaneers after they dismantled arguably the top team in the NFC, the Green Bay Packers, last Sunday. What about if the Raiders put their ENTIRE STARTING OFFENSIVE LINE ON THE COVID LIST?
No, that actually happened. The Raiders will potentially scrounge up practice squad bodies and reserve lineman to patch together a makeshift offensive line to give it a go this weekend.
The Bucs' defense has been awesome all season, giving up at worst, 59 yards on the ground to Christian McCaffrey in Week 2. Besides that? 16, 26, 29, and 15 yards rushing to Alvin Kamara, Melvin Gordon, David Montgomery, and Aaron Jones respectively.
Outright sitting a back of Jacobs' caliber is very rare even in predicted negative game-scripts, but this is one time I'll recommend it. Even if their regular offensive line plays in this. The Bucs have been that good.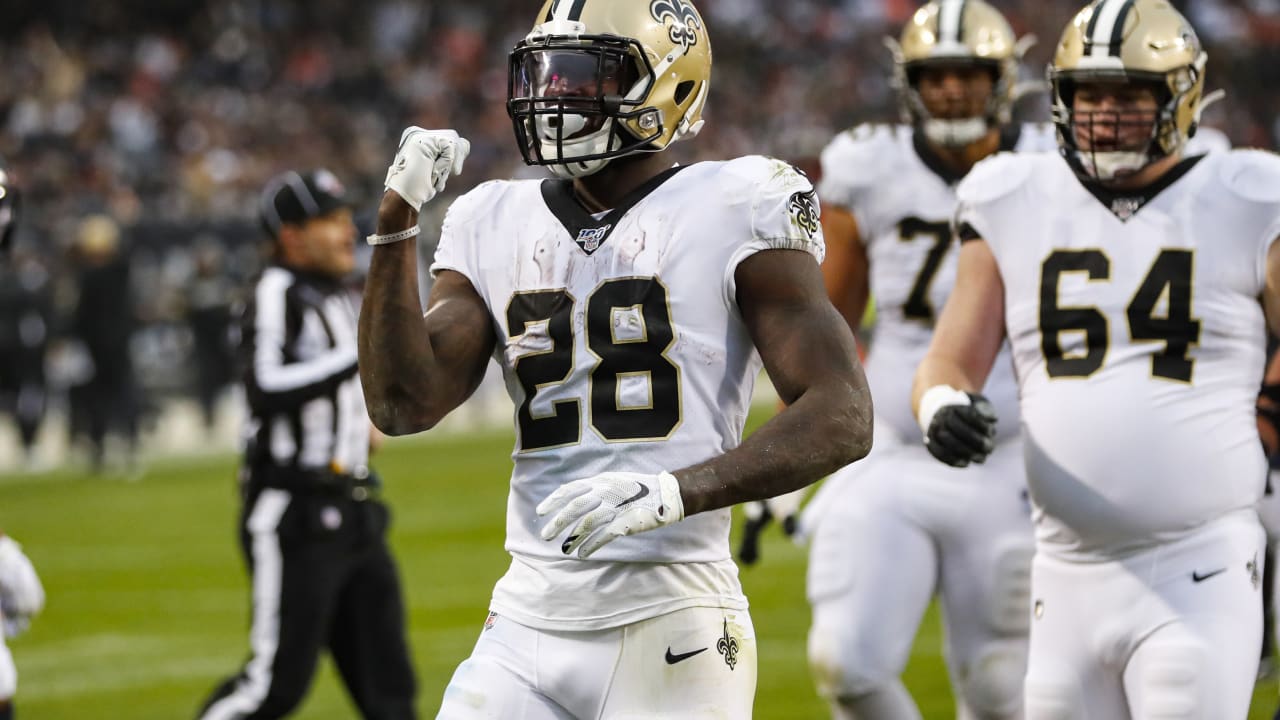 DON'T SLEEP ON Latavius Murray, NO vs. CAR
⚫ RB16 in FCF Rankings, RB34 in FantasyPros ECR
With more and more news coming out that Michael Thomas could miss yet another game because of a tweak to his hamstring, the outlook isn't super rosy for the Saints' passing game and Drew Brees. Luckily, this matchup screams running the ball and lock-down defense.
The Saints, a veteran team needing to get healthy, got their bye week at a perfect time and now look to assert themselves in a wide-open NFC.
I'm very confident in firing up the obvious Alvin Kamara but Latavius Murray as well. Of the 71.95 PPR points per game the Carolina Panthers have allowed to skill-position players, running backs have accounted for 44.9 percent of it, which is a league-high. Kamara and Murray have been pretty close to equals in terms of rushing attempts (61 for Kamara, 52 for Murray). If the Saints get ahead in this game, I like Murray to get a sizable portion of the work on the ground, with 14-16 touches and a good shot of a touchdown.
WIDE RECEIVER
START Brandin Cooks, HOU vs. GB
⚫ WR11 in FCF Rankings, WR32 in FantasyPros ECR
With an over/under of 57 points this weekend, the sharps in Las Vegas clearly think the Sunday tilt between the Packers and Texans has shootout potential. The Texans' offense has been flying high since dismissing former head coach and general manager Bill O'Brien two weeks ago.
Texans' WR Will Fuller will see plenty of shadow coverage against PFF's top-graded cornerback, Jaire Alexander. On the other side, it will be Brandin Cooks against Josh Jackson with Kevin King listed as "doubtful" on the injury report. Cooks against either would be a mismatch considering how Cooks is playing at the moment.
Two monster performances (8-161-1 and 9-68-1) in a row helps boost the profile for Cooks, who could lead the Texans' receivers in targets and tack on a third huge game in a row on a reeling Packers defense.
The overall WR2 since O'Brien was fired, Cooks should continue his remarkable roll and be a top-12 option at the position this week.
SIT Julian Edelman, NE vs. SF
⚫ WR45 in FCF Rankings, WR36 in FantasyPros ECR
We may have seen the best of Julian Edelman in 2020, which happened to be the opening two weeks of the season (5/57. 8/175). In the subsequent three games, Edelman has only averaged six targets per game, with a combined 7/64. Yikes.
Normally, I'd defer to the veteran and hope he can get back on track, but right now, we're seeing ridiculously low impact from the Patriots receivers as a whole, with Edelman at the head of that table.
As the top receiver, who happens to be 34 years old, on a run-first team with Cam Newton delivering the ball, and going up against a defense that's starting to get back into their 2019 form, I'm sitting Edelman where I can.
DON'T SLEEP ON Tim Patrick, DEN vs. KC
⚫ WR27 in FCF Rankings, WR39 in FantasyPros ECR
Pop quiz, hotshot: Who led the NFL in Air Yards last week?
Well, obviously, you're reading this under the blurb for Tim Patrick so the answer is... Tim Patrick. Patrick indeed led the NFL in Air Yards in Week 6 with 212. Broncos QB Drew Lock currently has the highest average depth of target (aDOT) in the NFL (13.9).
Those two facts together? Potential fireworks.
Last week, Tim Patrick had his second 100-yard game in as many games. The Kansas City Chiefs are a daunting matchup on paper, but Patrick doesn't get enough love in fantasy circles these days and I like him as a WR3 this week. it's a matchup that can be exploited.
Lock and OC Pat Shurmur aren't afraid to throw the ball deep, so with Lock's Week 6 18.6 aDOT and seeing what the Las Vegas Raiders did to the Chiefs through the air in Week 5, I'm confident in the Broncos at least testing the waters and seeing what they can do with not only Patrick, but the returning K.J. Hamler. They get Atlanta and Las Vegas in the next two weeks as well. For this week? Don't be afraid. Patrick is the new Courtland Sutton. Treat him as such.
TIGHT END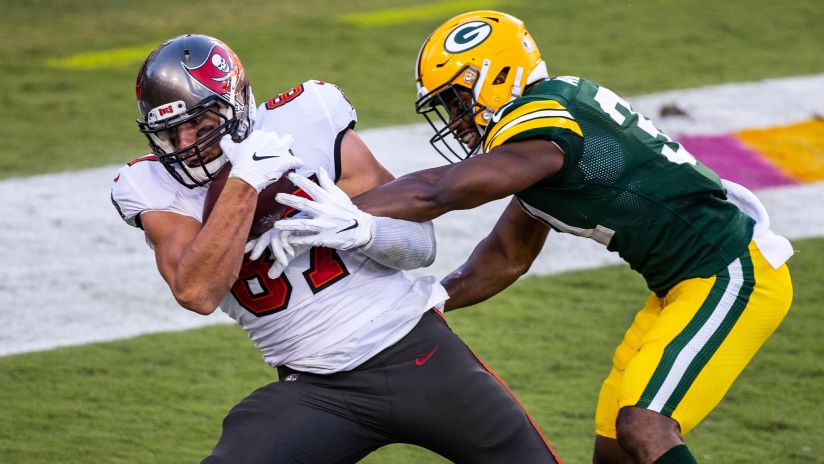 START Rob Gronkowski, TB @ LVR
⚫ TE4 in FCF Rankings, TE8 in FantasyPros ECR
All it took was an O.J. Howard injury to give Rob Gronkowski a little bit of juice to become fantasy-relevant once again!
(Editor's note: That was sad, Kevin.)
Gronkowski finished as TE6 last week and currently sits as TE4 in Air Yards at the position, despite not getting a ton of snaps and opportunities to begin the 2020 season. Gronk has also led the Bucs in targets and that rapport with Tom Brady is working it's way back into our consciousness.
Both tight ends to garner at least five targets against the Raiders - Jared Cook and Travis Kelce - have scored as well. Gronkowski has a great shot to be the third tight end to do that this week.
SIT Tyler Higbee and Gerald Everett, LAR vs. CHI
Higbee: ⚫ TE19 in FCF Rankings, TE15 in FantasyPros ECR
Everett: ⚫ TE26 in FCF Rankings, TE23 in FantasyPros ECR
It's hard to trust even one of these tight ends, so start neither.
If Tyler Higbee and Gerald Everett could fuse together and become Tyrald Higbrett, we'd be cooking with gas. I've also gone off the damn rails here.
With the way the duo's routes have shaken up the last four weeks, it's anybody's guess as far as who will run more routes.
| | | | | | |
| --- | --- | --- | --- | --- | --- |
| PLAYER | WEEK 3 | WEEK 4 | WEEK 5 | WEEK 6 | TOTAL |
| HIGBEE | 14 | 19 | 15 | 19 | 67 |
| EVERETT | 12 | 15 | 7 | 18 | 52 |
You can't spend on one tight end here to provide TE1 numbers, and certainly not Higbee, who hasn't finished above TE16 in any of the last four games.
Avoid them both.
(I still love you, Johnny Mundt.)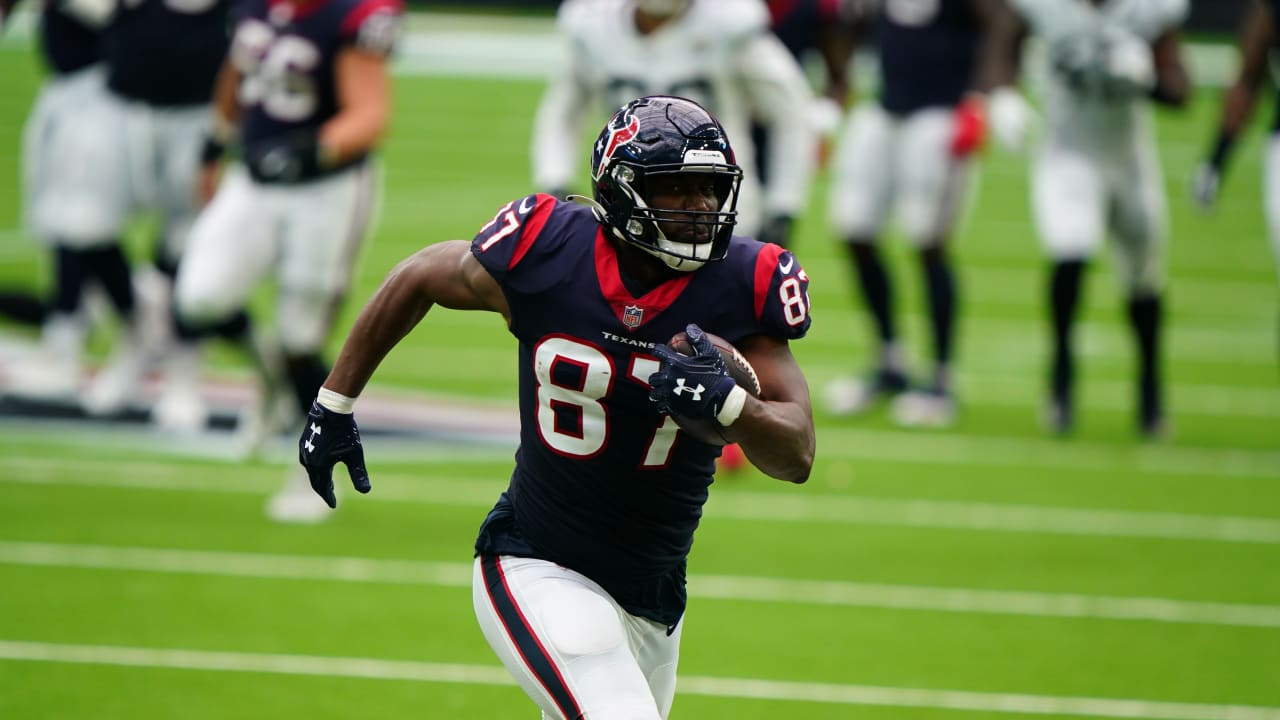 DON'T SLEEP ON Darren Fells, HOU vs. GB
⚫ TE12 in FCF Rankings, TE14 in FantasyPros ECR
As long as Jordan Akins remains out with a concussion, Darren Fells is one of the best tight end streamers you can find. Over the last couple of weeks that Akins has been out, all Fells has done is combine for 8/142/2 and be the TE2 in Weeks 5 and 6 combined.
In a great matchup at home against the Green Bay Packers, whose linebackers and safeties have been plenty banged up, Fells can absolutely give you a solid, usable stat line at absolute worst.
Isn't that what you're looking for in a tight end streamer anyway?
You can find Kevin Tompkins on Twitter @ktompkinsii. and co-hosting both Fighting Chance Live! and Fighting Chance Kickoff on Sunday mornings with Gary Haddow, also of fightingchancefantasy.com. In Kevin's free time, he likes to draft wide receivers, ignore running backs until the 9th round, and snap up the occasional elite tight end.
---