2020 Fantasy Football: Starts, Sits, and Sleepers for Week 9!
---
Week 9 is upon us and with that, we're past the halfway point of the season. You should have a good idea where your fantasy team is at as far as contending, pretending, or somewhere in between.
For any of you looking to get over the hump as a pretender or in the playoff hunt, this article is for you.
For those contending, you're in good shape, but you want to keep that advantage over your league-mates, right? I know I do.
Each week here in this column, you'll find a start, a sit, and a sleeper for each position in fantasy football at the end of every week to get you options in your starting lineups. The starts will be players I typically have ranked higher than the consensus, the sits will be players I have ranked lower than consensus, and the sleepers will be lower ranked options that when the week is said and done, they'll be ranked much higher than initially thought.
ALSO, if you're in need of some start/sit advice on Sunday morning, myself and Gary Haddow will be co-hosting another show, called "Fighting Chance Kickoff" from 10AM to 11AM CT each week. We'll be sorting through the inactives, weather, start/sits, and the latest roster news to get your prepared for the week's matchups! We'll be putting up a tweet on Saturdays about submitting your starts/sits to us to answer live on the show, so keep tabs on us on Twitter @ktompkinsii, @garyhaddow1, and @FCFantasySports!
Now that we've gotten the housekeeping portion out of the way, let's get into the Starts, Sits, and Sleepers for Week 9!
QUARTERBACK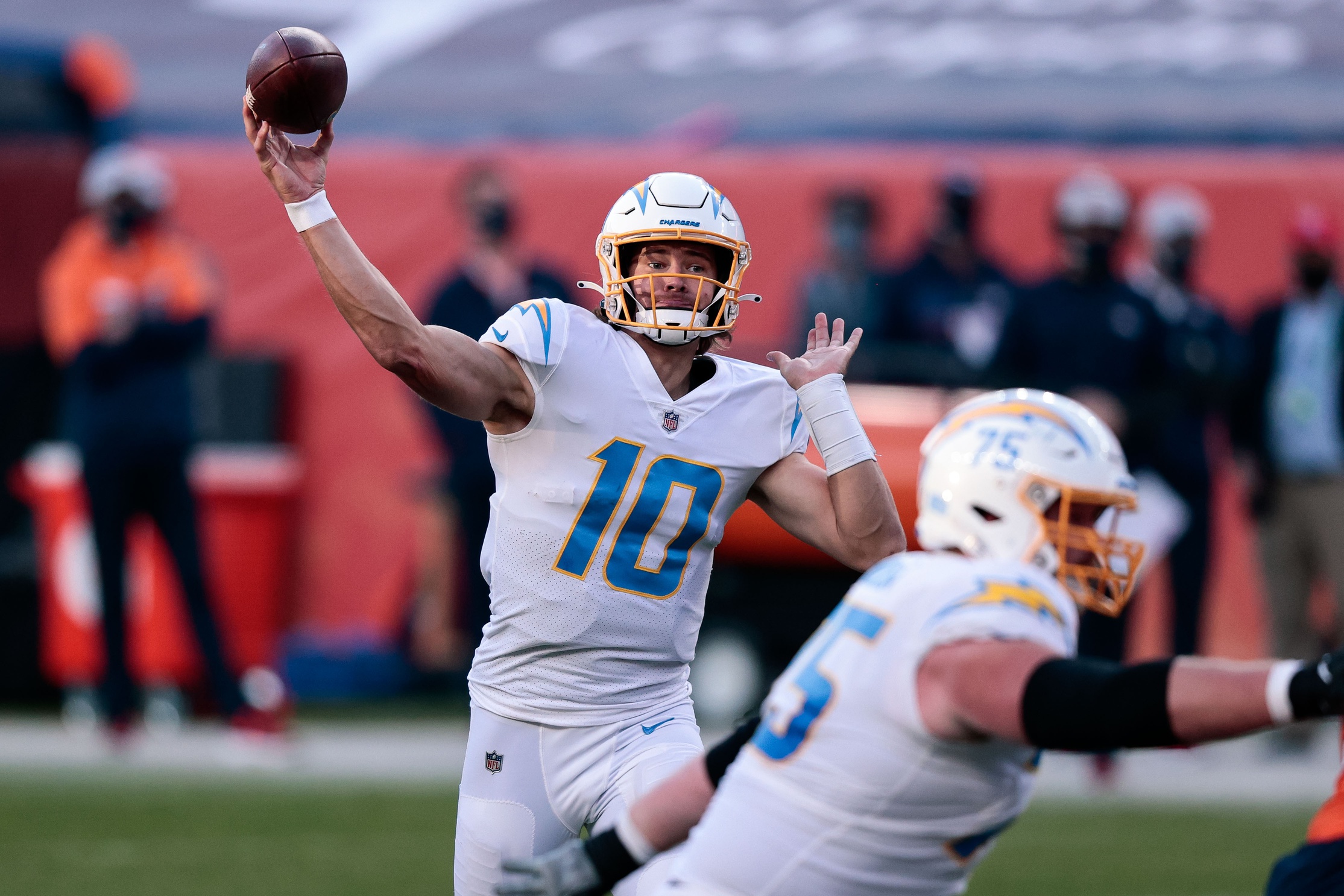 START Justin Herbert, LAC vs. LV
⚫ QB3 in FCF Rankings, QB6 in FantasyPros ECR
Simply put, Justin Herbert has been a revelation this season, and he only got a fair shake at the opportunity to be that revelation because of a team doctor accidentally puncturing starting quarterback Tyrod Taylor's lung. While I thought Herbert would eventually become the starting quarterback for the Chargers in 2020, I didn't think it would be because of circumstances pulled out of "Days of Our Lives".
All Herbert has done so far this season is throw for no less than 278 yards in any of his starts, throw at least three touchdowns in his last four starts, and finish no worse than QB4 in his last three starts. That's simply amazing for any rookie quarterback.
In Week 9, Herbert gets to face the Las Vegas Raiders, who have been middle of the road against quarterbacks in fantasy (16th against the position) but for a rookie quarterback on a roll at home, I like him to keep that roll going and finish as a top-4 QB yet again.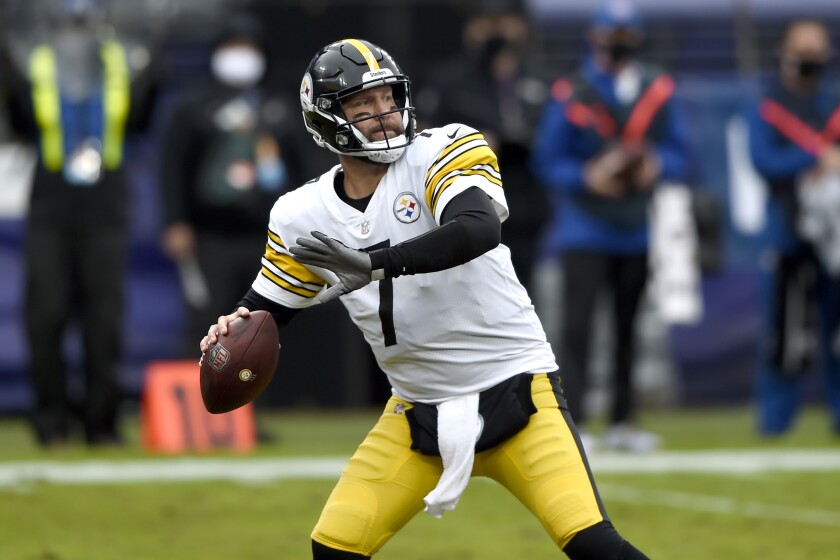 SIT Ben Roethlisberger, PIT @ DAL
⚫ QB16 in FCF Rankings, QB10 in FantasyPros ECR
Now don't get it twisted: Ben Roethlisberger has a fantastic matchup on tap with the Dallas Cowboys. My only question with Roethlisberger this week is: How much are they going to need him?
In the last three weeks, we haven't seen any better than a QB18 finish from him and that was last week where he only needed to throw the ball 32 times. If you gave me an over/under of 31.5 pass attempts this week against a Cowboys team that is currently over-matched by virtually every team in terms of scoring potential, I'd take that under for sure.
Whoever is under center for the Cowboys will not only have his hands full with the Steelers' ferocious pass rush, but when the Steelers do get the ball, especially later on in the game, you have to figure they will try to take the air out of the ball with James Conner and the run game.
While Ben should be moderately efficient on Sunday, don't expect a QB1 performance this week.
DON'T SLEEP ON Lamar Jackson, BAL @ IND
⚫ QB4 in FCF Rankings, QB9 in FantasyPros ECR
If it seems awfully weird for Lamar Jackson to be in this part of the article, that's because it absolutely is. Jackson has only had three top-12 finishes at the position in seven games this season, and the Ravens' offense as a whole just has not been as fantasy-friendly as it was last season when Lamar Jackson was the league MVP and willed most who drafted him in the double-digit rounds to likely fantasy championships. That said, the Ravens are still 5-2 with their lone losses to the 7-1 Kansas City Chiefs and 7-0 Pittsburgh Steelers. They're playing better real-life football than fantasy football.
"Great Kevin, thanks for the history lesson. How does that help us managers who still have to start Jackson each week?"
It's about time Jackson, and by extension, Marquise Brown and Mark Andrews get into the swing of things and that could start on a fast track indoors in Indianapolis. The Colts have allowed eight receivers to post WR3 or better games in the past three contests and Brown will likely see most of the coverage from Rock Ya-Sin, who has allowed almost 15 yards per reception in his coverage so far in 2020. This particular matchup ranks inside the top 15 for biggest WR advantage in Pro Football Focus' WR/CB Matchup Chart. Brown is also 9th in total air yards on the season and sixth in air yards share, so when he's targeted, he's targeted on the highest of high leverage passing attempts outside of red-zone targets. That bodes well to boost Jackson's stats in combination with the other factors.
We didn't draft Jackson just for his passing through, we drafted him for the added value rushing the football, and in his last two contests, he's put up 9-108-1 and 16-65-0 performances. The Ravens are using him a ton in that department and there's no reason to expect that to not continue.
If Jackson can finally get Hollywood Brown unlocked after this week where a deleted tweet expressed Brown's frustrations towards not getting the ball after a Week 8 in which he garnered only two targets, a catch for three yards and a touchdown and Jackson can do what he does best with his legs, Jackson will be a top-8 quarterback easily.
RUNNING BACK
START Chase Edmonds, ARI vs. MIA
⚫ RB6 in FCF Rankings, RB8 in FantasyPros ECR
The Chase is on. (And so are the puns.)
Kenyan Drake was ruled out earlier on Friday, so as the kids say, "EdmondsSZN" is completely in play this week.
Chase Edmonds should get a gigantic workload against the Miami Dolphins, who happen to allow a healthy clip of almost five yards per tote to opposing rushers, fourth-worst in the NFL. The passing-game work pretty much in the corner of Edmonds as well (at least six targets in three of his last four games) and that has propelled him to RB5 and RB7 PPR finishes in two of his last three games.
Any dent into the workload will likely be by former Arizona St. product Eno Benjamin, but besides injury, there isn't a likely role for Benjamin other than as a spell for Edmonds.
Lock Edmonds in as a top-10 play with upside to be the top running back in fantasy for Week 9. Zero-RB truthers rise up!
SIT Jonathan Taylor, IND vs. BAL
⚫ RB35 in FCF Rankings, RB23 in FantasyPros ECR
So here's the thing(s) about Jonathan Taylor:
He's dealing with an ankle injury. He's been very close to being out-performed by the other backs on his own team, Nyheim Hines (out-scored by eight PPR points since Week 6), and Jordan Wilkins (Taylor is out-scoring Wilkins by one point in PPR).
What we thought was going to be Jonathan Taylor time after Marlon Mack went down with a season-ending Achilles' injury has turned into a full-blown committee, folks. That full-blown committee gets to face the stout defense of the Baltimore Ravens on Sunday, and if it was a single running back getting the vast majority of snaps, they would be faded in some capacity.
Against the Ravens? In this economy? I'm not starting any of them, especially Taylor with an ankle injury ceding touches to the other two backs.
DON'T SLEEP ON Justin Jackson, LAC vs. LV
⚫ RB13 in FCF Rankings, RB18 in FantasyPros ECR
Until Austin Ekeler is back for the Chargers, Justin Jackson looks to have taken over this backfield over Joshua Kelley and someone called Troymaine Pope.
The Popemobile is in the shop this week, still in concussion protocol, and is listed as doubtful. So while Kelley may siphon off some opportunity, it's going to be Jackson doing a lot of the heavy lifting for the Chargers against the Las Vegas Raiders.
WEEK 8:
| | | | | | | |
| --- | --- | --- | --- | --- | --- | --- |
| PLAYER | SNAPS | CARRIES | RUSH YARDS | TARGETS | REC. | REC. YARDS |
| Jackson | 41 | 17 | 89 | 5 | 3 | 53 |
| Kelley | 21 | 7 | 32 | 1 | 1 | -7 |
| Pope | 25 | 10 | 67 | 7 | 5 | 25 |
With Pope out for this game, Jackson should take on the vast majority of the receiving work. Whether Pope's great game was a one-off remains to be seen. Kelley is really only a spell right now and seems to have fallen out of favor a little bit and not getting significant touches to make himself fantasy relevant as he was trending towards being early in the season.
The Raiders have allowed the second-highest fantasy points total per touch to running backs as well as allowing the highest target share to the position, so this definitely will benefit somebody of Jackson's skill-set.
Look for Jackson to be a solid RB1 this week against a defense that while they have tightened up against the run, can still be exploited, especially when you have to account for the aerial assault Justin Herbert, Keenan Allen, Hunter Henry, and Mike Williams provide.
WIDE RECEIVER
START Marvin Jones Jr., DET @ MIN
⚫ WR17 in FCF Rankings, WR23 in FantasyPros ECR
This does hinge on Matthew Stafford's availability but provided he tests negative on his COVID-19 tests, he should be cleared Sunday morning to go for the Lions in Minnesota against the Vikings. If Stafford is a go, Marvin Jones Jr. should benefit big time from not only the great matchup but should be the 1A target because Kenny Golladay will miss Week 9 with a hip injury suffered last week.
Jones took advantage of that opportunity afforded to him when Golladay left the game against the Colts and scored two touchdowns on 3/39 from seven targets. It did take Jones a little bit longer to get going this season, but he's strung together two quality performances in a row and should make it a trifecta on Sunday.
The Vikings have allowed the second-most fantasy points to the wide receiver position and with the possibility of double-digit targets headed Jones' way, (as well as a 53 point over/under from Vegas) that trifecta is looking awfully good for fantasy purposes.
SIT D.J. Chark, JAX vs. HOU
⚫ WR38 in FCF Rankings, WR26 in FantasyPros ECR
It's very difficult to see a quarterback change take place and continue to have any trust in D.J. Chark in that starter's first NFL start. ESPECIALLY when Chark has been running hot and cold through the first half of this season.
His dud in Week 5 (3/16 on four targets) and his dud last week (1/26 on seven targets) sandwiched what was a great target day (14 targets) but minimal production (7/45). Chark has one finish over WR34 this season and that was where he scored two touchdowns to buoy his line against the Bengals.
While the targets have been all over the map, so are the range of outcomes for Chark, including a zero floor if the Jake Luton experiment doesn't pan out. Houston is an exploitable defense for offenses to pick apart, but even then, I can't put forth any sort of confidence in Chark this week with so many factors at play.
DON'T SLEEP ON Jakobi Meyers, NE @ NYJ
⚫ WR24 in FCF Rankings, WR42 in FantasyPros ECR
The Jets were just picked apart by Patrick Mahomes and now get to host the New England Patriots on Monday night. Now while these aren't the Patriots we've been accustomed to seeing, Jakobi Meyers has been the best passing game option in the offense the last two weeks.
Meyers has 10/118 combined the last two weeks, but more impressively, he's been far and away the most explosive player in this offense in that span. He's tied for third in the NFL with a 35% target share, 17th in air yards, but third in air yards share, which in turn puts him behind only Terry McLaurin in the WOPR metric, which weighs target share and air yards share.
If Meyers can continue to see eight targets a game with the air yards he's been getting, he's going to be an under-the-radar darling for fantasy championships and potentially a league-winner. That seems crazy to say, but opportunity knocks without N'Keal Harry and Julian Edelman in tow.
TIGHT END
START Noah Fant, DEN @ ATL
⚫ TE4 in FCF Rankings, TE6 in FantasyPros ECR
"DGAF" season is in full effect for Drew Lock and his two young, dynamic pass-catchers are in play, especially Noah Fant.
Fant proved his ankle was healthy last week, as he ran 33 routes (second-most among TE in Week 8) and saw nine targets en route to a 7/47 line. This week, he gets the dream matchup for tight ends: a date with the Atlanta Falcons.
The Falcons have allowed the most fantasy points to the tight end position this season and every single tight end they have faced outside of Ian Thomas has either scored a touchdown or put up 55 yards receiving on the Falcons.
Fant is a mortal lock for TE1 production this week. Book it.
SIT Dalton Schultz, DAL vs. PIT
⚫ TE25 in FCF Rankings, TE19 in FantasyPros ECR
While Dalton Schultz had the best fantasy scoring week in the last four weeks in PPR for Week 8 with 11.3 fantasy points, that was in the Ben DiNucci regime.
In the Garrett Gilbert/Cooper Rush regime? Pain. Lots of it. Especially this week, against the Pittsburgh Steelers defense, when they might need all hands on deck to keep what's left of their third-string quarterback upright. Keep in mind too, the Steelers held much more formidable tight ends like Jonnu Smith and Mark Andrews to a combined 10 targets and four catches for 41 yards in back to back contests leading up to this one.
The Dak Prescott regime seems so long ago...
DON'T SLEEP ON Logan Thomas, WAS vs. NYG
⚫ TE12 in FCF Rankings, TE17 in FantasyPros ECR
I'm taking full responsibility for lighting the fire under Logan Thomas the last couple of games he's played. I've called him "Logan Ballage", I've called him dust on Fighting Chance Live!, I've said so much. Clearly, he heard me.
In Thomas' last two contests, he's found the end zone and put up consecutive top-10 weeks at the tight end position. He's had four targets the last four games, but he's doing much more with them now. Whether it's an anomaly or not and he'll going back to being the dust magnet we've known him as; we don't know. At a thin position during bye weeks, we have to make some concessions. Thomas is a worthy start against a New York Giants defense. There. Happy?
You can find Kevin Tompkins on Twitter @ktompkinsii. and co-hosting both Fighting Chance Live! and Fighting Chance Kickoff on Sunday mornings with Gary Haddow, also of fightingchancefantasy.com. In Kevin's free time, he likes to draft wide receivers, ignore running backs until the 9th round, and snap up the occasional elite tight end.
---