2020 Fantasy Football Week 1: Starts, Sits, and Sleepers!
---
We did it. We're here. It's Week 1, the Thursday opener dust is starting to settle and we're back into a familiar fall/winter swing here with NFL football and on Fighting Chance Fantasy, the content grind and cycle begins anew for another season.
As for what you'll find here each week, you'll find a start, a sit, and a sleeper for each position in fantasy football at the end of every week to get you options in your starting lineups. The starts will be players I typically have ranked higher than the consensus, the sits will be players I have ranked lower than consensus, and the sleepers will be lower ranked options that when the week is said and done, they'll be ranked much higher than initially thought.
ALSO, if you're in need of some start/sit advice on Sunday morning, myself and Gary Haddow will be co-hosting another show, called "Fighting Chance Kickoff" from 10AM to 11AM CT each week. We'll be sorting through the inactives, weather, start/sits, and the latest roster news to get your prepared for your Week 1 matchups! We'll be putting up a tweet later on today about submitting your starts/sits to us to answer live on the show, so keep tabs on us on Twitter @ktompkinsii, @garyhaddow1, and @FCFantasySports!
Now that we've gotten the housekeeping portion out of the way, let's get into the Starts, Sits, and Sleepers for Week 1!
QUARTERBACK
START Josh Allen, BUF vs. NYJ
⚫ QB4 in FCF Rankings, QB7 in FantasyPros ECR

Lots of things are working in Josh Allen's favor this week. Not only does he get a Jets defense without Jamal Adams and C.J. Mosley who opted out for 2020, but he gets some new weapons in the offense in Zack Moss and Stefon Diggs. Allen did not play particularly well in Week 1 last season against the Jets and was sat down in Week 17 as the Bills had secured a playoff berth.

That said, Buffalo should be primed to roll over the Jets at home this Sunday. While the over/under for this matchup is a slate-wide low at 40 ½ points, there should be enough in the tank for Josh Allen to do some damage both throwing and running. Diggs should make life easier for Josh Allen and don't forget John Brown and Cole Beasley are still there to make for a sneaky trio of quality targets for Allen to lean on.

Bereft of talent on the defensive side of the ball for the Jets, look for Allen to start off the 2020 season on a positive note, and continue that with his juicy early-season schedule that includes the Raiders and Dolphins in the first 4 contests.
SIT Joe Burrow, CIN vs. LAC
⚫ QB28 in FCF Rankings, QB25 in FantasyPros ECR
Let's not get this twisted: I love Joe Burrow as a talent and he's going to be an excellent quarterback in this league and for a long time. Now that we've got that out of the way, his Week 1 looks incredibly dicey given the opponent. Sure, the Chargers are without Derwin James, but they boast arguably the best cornerback trio in the game in Casey Hayward, Chris Harris Jr., and Desmond King.
Burrow will be throwing to A.J. Green who hasn't played a down in the NFL since 2018, and his other target, Tyler Boyd, will see Harris in the slot, who should definitely improve the Chargers' slot coverage as they were third-worst in the NFL in slot completion percentage as well as the 5th worst yards per slot target. I didn't even mention the pass rush coming after an unproven offensive line. I'd still play Burrow in Superflex formats as a QB2, but in single-quarterback leagues, I'd look elsewhere for this week.
DON'T SLEEP ON Mitch Trubisky, CHI at DET
⚫ QB13 in FCF Rankings, QB27 in FantasyPros ECR
No, really.

RUNNING BACK
START Jonathan Taylor and Marlon Mack, IND at JAX
⚫ Taylor - RB17 in FCF Rankings, RB25 in FantasyPros ECR
⚫ Mack - RB22 in FCF Rankings, RB30 in FantasyPros ECR
The Jacksonville Jaguars were already terrible at stopping the run, finishing in the bottom four in the NFL in several categories, including rushing yards allowed, rushing yards after contact, and rushing yards per attempt. Enter the Indianapolis Colts who travel to Jacksonville, with an offensive philosophy of just wanting to run the ball, run the ball, and run the ball some more.
Jonathan Taylor and Marlon Mack will both have sizable roles and will each get the opportunities necessary to finish as RB2 this week. Philip Rivers won't have to do a lot of hefty lifting, aside from handing the ball off to both of these running backs and letting them feast on a barren shell of a defensive front that is missing Calais Campbell, Marcell Dareus, and now, Yannick Ngakoue. Start both with confidence.
SIT Le'Veon Bell, NYJ at BUF
⚫ RB33 in FCF Rankings, RB21 in FantasyPros ECR
At least when you rostered Le'Veon Bell in year's past, you could depend on almost guaranteed volume. Even that hope is for the most part extinguished with the addition of 87-year old Frank Gore into the equation. In likely a low-scoring affair, a slow pace by both teams, and the near-certain outcome of the Jets playing from behind, I'm avoiding most Jets anyway, but certainly not in this awful matchup.
We all know Adam Gase loves to play musical chairs with the running back position. We also know Gase never wanted Bell in the first place. I have zero shares of Bell in any of my leagues because I did not want this headache. If you're rostering Bell, you can't feel very comfortable with Bell as even a flex option.
DON'T SLEEP ON Chris Thompson, JAX vs. IND
⚫ RB30 in FCF Rankings, RB39 in FantasyPros ECR
All the hype is going to James Robinson in the Jaguars backfield, but my money is on Chris Thompson to outproduce Robinson in every facet but carries. Likely playing from behind, Thompson could be the garbage-time hero you need as your RB2 or FLEX option. Keep in mind Jacksonville is playing the same Colts that allowed the most receptions to running backs in 2019. With Devine Ozigbo placed on short-term IR and Dare Ogunbowale unlikely to provide any meaningful utility in Week 1, the options are narrowed in the backfield and with the certain likelihood of a negative game-script this Sunday, Thompson should be able to capitalize and provide a healthy PPR floor.
WIDE RECEIVER
START D.J. Moore, CAR vs. LV
⚫ WR5 in FCF Rankings, WR8 in FantasyPros ECR
While the rest of the offense outside of Christian McCaffrey has question marks regarding their roles within new OC Joe Brady and HC Matt Rhule's offensive scheme, with the one non-CMC player that has no such questions being D.J. Moore. Keep in mind that in 2019, he played with awful quarterbacks like Kyle Allen and Will Grier and managed to still put up over 1200 yards.
Now, he gets Teddy Bridgewater at quarterback who should certainly be an upgrade and faces a youthful but relatively untested Raiders secondary which includes last year's second-round pick Trayvon Mullen and first-rounder Damon Arnette from this latest NFL draft. We know Moore tends to fill up the stat sheet in every area except for touchdowns, but the volume should absolutely be there for Moore to have a huge week going up against either of those aforementioned cornerbacks. This game has sneaky shootout potential and that's only going to benefit everybody for fantasy purposes, especially Moore.
SIT Odell Beckham Jr., CLE at BAL
⚫ WR30 in FCF Rankings, WR23 in FantasyPros ECR
As much as I love wide receivers being a guy that typically drafted either Zero-RB or modified Zero-RB, I never drafted Odell Beckham Jr. in one draft outside of a best-ball. "Odell is a value!", they said. I'm just not sure anymore with Kevin Stefanski likely employing a run-heavy scheme to cap the upside of the passing game in Cleveland. Not only that, but Baltimore should put Marlon Humphrey or Jimmy Smith on Beckham. He combined for 6-64-1 on 13 targets in both matchups last season, so there's some big downside here for the Cleveland passing game. While I wouldn't mind starting OBJ in most matchups, I'm considering him more of a WR3 this week.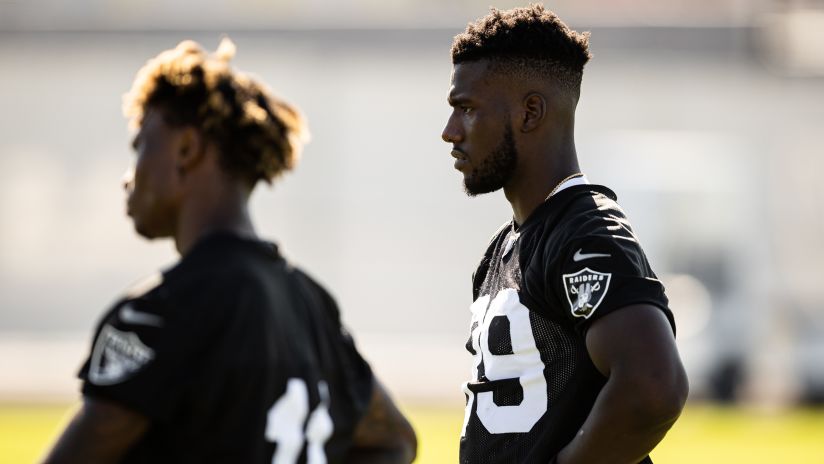 DON'T SLEEP ON Henry Ruggs and Bryan Edwards, LV @ CAR
⚫ Ruggs - WR35 in FCF Rankings, WR43 in FantasyPros ECR
⚫ Edwards - WR48 in FCF Rankings, WR59 in FantasyPros ECR
Both Henry Ruggs and Bryan Edwards will start for the Raiders against a very porous Carolina secondary. With Ruggs as the "Z" slot receivers and Edwards as the "X" split end, they both present mismatches based on their individual athleticism and physical profiles.
Ruggs can take any ball to the house and may not need many targets to be fantasy relevant, akin to an A.J. Brown. Very few receivers have top-16 upside at the wide receiver position from day one, but Ruggs absolutely does and if you have room in your lineup, he's definitely worth a start.
Meanwhile, Edwards is a prototypical athletic marvel at receiver with a 6-foot-3 frame that is now getting the opportunity because of a torn labrum by the previous starter, Tyrell Williams. Boasting some of the worst cornerback depth ever seen, the Panthers will likely trot out a fourth-round rookie in Troy Pride Jr. with Donte Jackson.
Both are worth a spot in your lineup if you have the room. You could have the next potential dynamic duo at the position with both of these rookies.
TIGHT END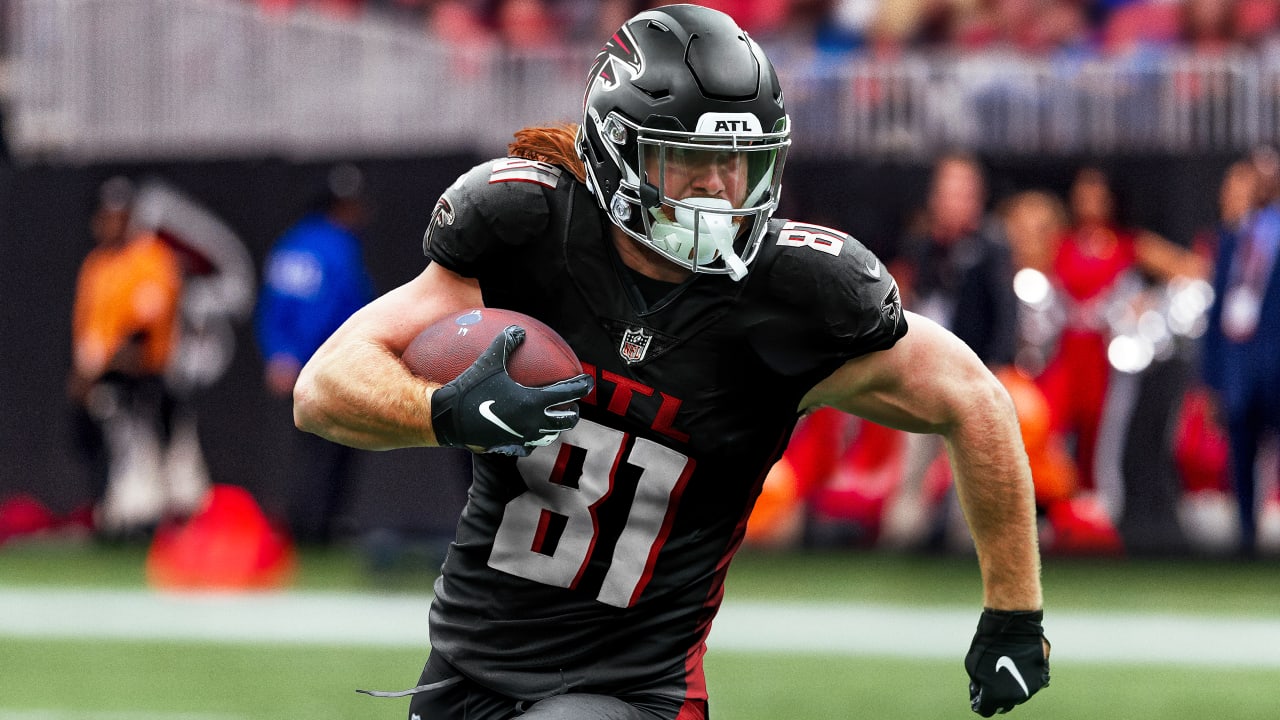 START Hayden Hurst, ATL vs. SEA
⚫ TE6 in FCF Rankings, TE8 in FantasyPros ECR
The Falcons' brass traded a second-round pick to acquire Hayden Hurst this past offseason, so clearly, there are big plans for him in the Atlanta offense. While the Seahawks did acquire Jamal Adams, Rome wasn't built in a day. It's going to take time to get used to his new surroundings, so this is a spot where volume is king and Hurst should certainly get his share. According to PFF, Hurst had an 82.9 receiving grade versus man coverage last season(5th best in the NFL), something the Seahawks are very likely to deploy in their Cover 3 looks. Ask Austin Hooper, who had a great game that same look last season (6-65-1 on 7 targets).
This will be a fun matchup with shootout potential indoors, so considering the price you paid to draft Hurst, you should be starting him anyway. It won't be long until you don't even have to consider whether or not to start Hurst, you just will set it and forget it.
SIT Mike Gesicki, MIA at NE
⚫ TE19 in FCF Rankings, TE15 in FantasyPros ECR
While the New England Patriots lost a lot of defensive talent due to opt-outs with COVID-19, their secondary has been affected the least, without only Patrick Chung missing, Still, that secondary remains the strength of their defense. That does not bode too well for Mike Gesicki, who could play off the line or in the slot. He's been limited all week in practice but likely plays when Sunday rolls around. We will see what type of utilization OC Chan Gailey will have for this supremely gifted tight end, but for this week, I'm keeping Gesicki out of my lineups for Week 1, and with the depth chart listing Durham Smythe as the first tight end, who knows what kind of snap percentage we may see out Gesicki.
DON'T SLEEP ON Eric Ebron, PIT
⚫ TE16 in FCF Rankings, TE20 in FantasyPros ECR
Eric Ebron is one of my favorite upside plays of the entire slate and by most accounts, he's been one of the stars of the camp period for the Steelers. The fact that Giants safety Xavier McKinney was placed on injured reserved certainly bodes well. He gets Ben Roethlisberger as his quarterback and while he's getting pretty long in the tooth, he can still distribute the ball and the lack of any sort of notable backup quarterback signing only promotes that theory.
With the options in that offense like Juju Smith-Schuster, James Conner, Diontae Johnson (whose availability could be in question with a toe injury) attracting the attention of defenses, Ebron can take advantage of that. While he won't be flirting with the 13 touchdowns he scored just two years ago in Indianapolis, he can be a quality option for your Week 1 lineup.
You can find Kevin Tompkins on Twitter @ktompkinsii. and co-hosting Fighting Chance Live!, with Gary Haddow, also of fightingchancefantasy.com. In Kevin's free time, he likes to draft wide receivers, ignore running backs until the 9th round, and snap up the occasional elite tight end.
---