All-Star Fantasy Roundtable Week 3
---
It is Week 3 of the NFL season, and the Roundtable is back! Rick Wolf was the star of the show this week, getting his responses in early, and a couple of us had busy weeks. But never fear, dear readers, we still have some great questions and answers, so let's get right to the action for Week 3!
How do you see the Vikings backfield playing out? Would you rather have Cam Akers or Alexander Mattison?
Rick - Can we say neither? Cam Akers has a ton of talent, so I guess if I must choose, that would be the long-term pick. Remember that he is still only 24 years old. When healthy, he finds the end zone. The offensive line is not bad, and he is a clear upgrade to Alexander Mattison.
Steve - If you ask me who I'd rather see get a majority of touches, I would tell you Cam Akers. Sometimes a player needs a change of scenery or a new motivator to get his game back on track, and I'd like to see what he can do in Minnesota. However, if you ask me how I see this situation play out, I predict it will be a timeshare, with Mattison getting 60-70 percent of touches and Akers picking up the rest. This situation was yucky with just Mattison there, and it's even more yuckier now. (Yeah, I said more yuckier on purpose).
Ryan - I'm not saying I didn't draft Alexander Mattison at all, because I did in a few leagues, but I did it with some skepticism because even in some games where Dalvin Cook was hurt for the Vikings, he didn't always excel. While Cam Akers certainly seems to be a pain in the ass, at least for the Rams, I think he is the fantasy back you want for the rest of the season.
Leo - I would rather have Cam Akers than Alexander Mattison any day of the week. Since Mattison has been with the Vikings, he has had good games like one or two games when needed in a pinch if Dalvin Cook was out injured. Unfortunately, when Mattison is called upon to be the main back, he cannot be a workhorse. He is more of a change of pace back, and this season's start has only highlighted his inefficiency as the lead running back for the Vikings.
Due to his inconsistency, the Vikings were forced to make a move and trade for Akers. All they had to give up was a sixth-round draft pick and a bag of peanuts. Unlike, Mattison, Akers has proven that he can be an RB1 for a team if given a chance. In the final six games of last season, Akers averaged 17 carries, 85.3 rushing yards, and five total touchdowns. That totaled 104 carries for 512 yards. The most yardage Mattison has rushed for in any season is 491 yards. Where Mattison excels better than Akers is in the receiving game. There was only one season that Mattison totaled 32 receptions, otherwise in his other four seasons, the most receptions he had was 15. Therefore, I will go with Akers and hope they involve Ty Chandler more in the receiving game to utilize his 4.3 speed.
Which disappointing receiver are you most concerned about? AJ Brown, Ja'Marr Chase, or Garrett Wilson?
Ryan – Not overly worried about any, but if I had to pick one, it would be Garrett Wilson, and it comes down to one factor. Zach Wilson. Take away that long catch and run last week, and he had another pretty ordinary day, considering where he was drafted.
Leo - For this season, it has to be Garrett Wilson. He lost Aaron Rodgers for the season and now has Zach Wilson throwing him the ball, which will be less accurate passes coming his way. A.J. Brown will get it going soon enough with his stud quarterback Jalen Hurts, and Ja'Marr Chase needs Joe Burrow to get healthy to start rolling as well. It all comes down to who has the worst quarterback, and the winner by a landslide is Wilsooooooon.
Rick - People. It is two weeks. Yes, Garrett Wilson lost his quarterback, but his talent will come out long-term this year. A.J. Brown was whining for the ball last week and will get it this week and going forward. No problems there. Don't panic.
I worry about Joe Burrow's health. I worry about Joe Mixon's usage if Burrow's injury becomes serious. Therefore, Ja'Marr Chase is the one to worry about in this group.
Steve - The Philly offense is just too good for A.J. Brown to struggle all season, and once Joe Burrow is healthy, I see Ja'Marr Chase getting back on track. That leaves Garrett Wilson and…Zach Wilson. Personally, I would try to trade Garrett Wilson after he has a big game and sell high when you can because I worry it's going to be a long season for him.
Which surprising running back do you have the most faith in? Brian Robinson, Raheem Mostert, or Kyren Williams?
Steve - Give me Kyren Williams for the win! While Raheem Mostert has looked great, we all know his checkered history with injuries, and I worry it's only a matter of time before he gets hit by that injury bug again. I like Brian Robinson, but the Rams have shown their support for Williams by shipping off Cam Akers, and I think he will get a lot of play for the Rams this season.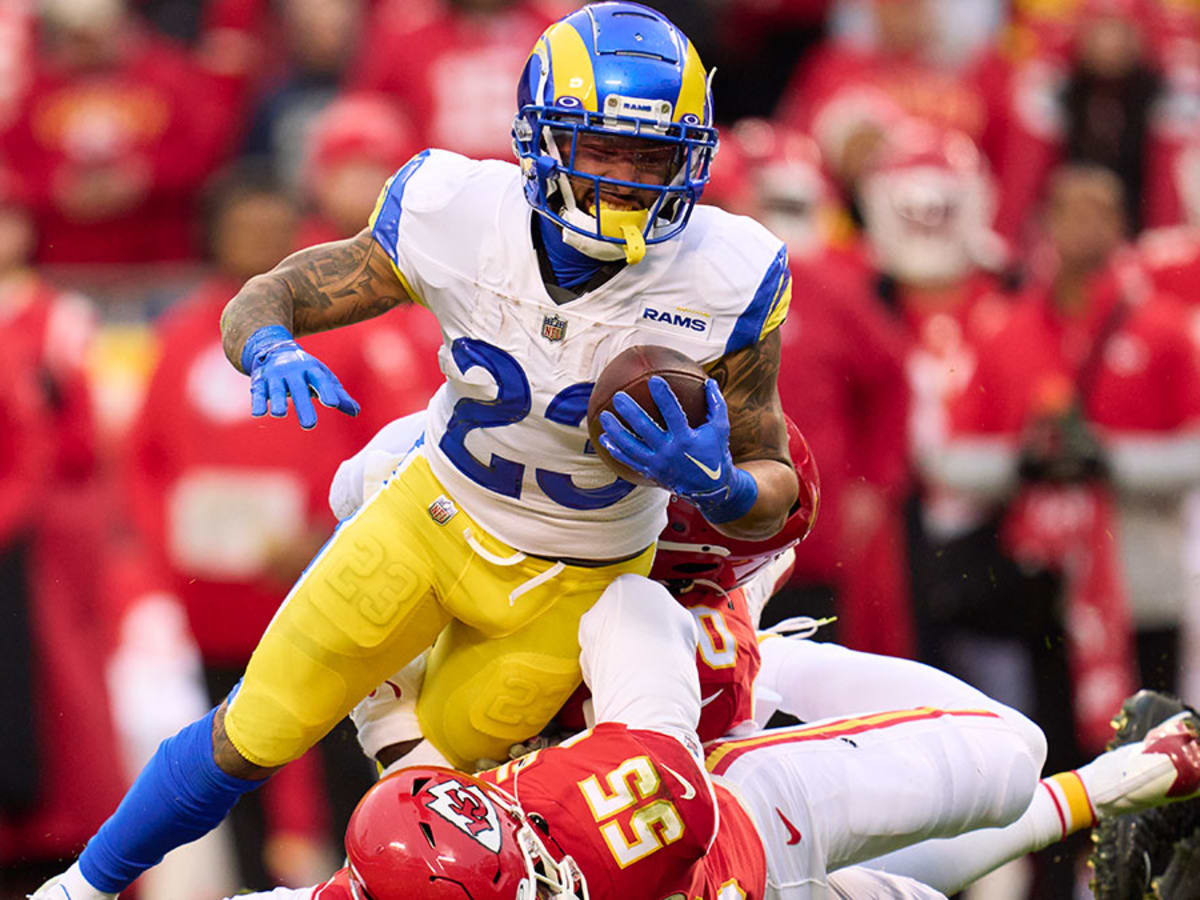 Ryan – It is very close for me, but I will say Brian Robinson. The Brian Robinson resurgence just isn't happening, and Robinson is dominating touches. Put that together with a better offense in Washington with Eric Bienemy and I see this being a fine season for him. I also like Kyren Williams a lot, and Raheem Mostert will get hurt sometime soon.
Leo - For me, I will ride with Kyren Williams. How much more of an example do you need than the team trading away his main competition in Cam Akers? Although it's a small sample size, Williams has already proven that he is an all-purpose back for the Rams and will be heavily involved in the passing game. Williams was just targeted ten times when Akers was ruled out for last week's game, so get your popcorn ready. Brian Robinson is carrying the full load for the Commanders, too, but he will not get as many targets and receptions as Williams will. As for my beloved Dolphins' running back Raheem Mostert, he has all the touches right now, but De'Von Achane is starting to get more touches since he just returned from a shoulder injury. Also, Jeff Wilson Jr. will be coming off IR soon. If that wasn't enough, his injury history scares me most about Mostert. He cannot seem to stay healthy for an entire year.
Rick - I love the dark side. Kyren Williams ("Ky-lo-ren") has the most important stats on his side: age and usage. With Cam Akers gone, he will likely get 1,000 yards this season for the Rams. He won't score as many touchdowns as Brian Robinson Jr., and Raheem Mostert will miss five games at age 31. Easy call here for me as a Rams fan.
Who do you have in the Battle of Surprising 0-2's? Chargers or Vikings?
Leo - I think the Vikings will pull out the win at home. The Chargers allow the most yardage in the passing game, and Kirk Cousins and the Vikings lit up the Eagles' secondary last week for 364 yards and four touchdowns. If Austin Ekeler were playing, I would have said the Chargers, but without him, they are not the same offense, period!
Rick - The Vikings will beat the Chargers in a fun shootout. Jordan Addison is coming on as a strong number two to the all-world Justin Jefferson. Keenan Allen has difficulty stringing great games together, and the running game is banged up. I predict "pain" from Joey Bosa, but a 41-31 victory for the Vikings.
Ryan - Two teams that are great at passing the ball but have no defenses. I like them both, but I will keep it simple and say give me the home team in a game like this. I'll take the Vikes.
Steve - I picked the Chargers to win the AFC West, so I can't abandon them this soon in the season. Give me the Chargers over the Vikings 35-31!!!
If you could travel to one city you have never been to before, which would it be?
Leo - Since I'm part Italian, I would love to visit Rome, Italy. It would be amazing to see all the historic landmarks that I have only seen in pictures and television, and experiencing that atmosphere in person would be epic.
Steve - Whatever city your mom lives in.
Ryan – I'll go with Tokyo, which from all accounts is amazing, but ooooooof that travel!
Rick - Easy one. Mos Eisley on the planet Tatooine. It is a spaceport, so if I get bored, I can head off to another planet for a bit, like hopping from one Hawaiian Island to another. The city is the most diverse of the seven galaxies. It is a lawless city. Fantastic nightlife and no rules, what more could you want, but you better be careful or "you'll be dead."
---