All-Star Roundtable
---
Welcome to the Fighting Chance Fantasy Roundtable! Each week, we will ask our panels of esteemed colleagues a series of questions based on the upcoming week's games and probably some goofy stuff along the way. We hope this article helps you win some fantasy leagues or at least is a different read than the thousands of waivers and start/sit articles on the internet. So, before I ramble forever, here are our participants, my friends and some of my favorite people.
Jen Smith (@theonlyjensmith) – Steelers fan and fantasy rock star. Jen formerly wrote for the Fantasy Authority and was a pioneer for the great influx of women in the fantasy space that we have today.
Rick Wolf (@rickwolf1) – Rams fan and fantasy sports hall of famer. Rick was creating fantasy leagues before the internet existed and is still at it. Take his decades of knowledge (and Dad jokes) to your fantasy championship.
Steve Rapin (@fantasygeek37) – Lions fan and my former podcast partner, and the man who helped me build up Fighting Chance to its biggest heights. Former Kings Classic participant, I dragged his ass out of retirement because I knew I needed him for this article.
Leo Grandio – (@Smooth1074) - Dolphins homer and Miami resident. He's doing more and more articles here at Fighting Chance and is on the fast track to big things.
Brian Drake (@DrakeFantasy) – Eagles fan, he answered a random tweet of mine to join a mock draft I was running, and the next thing I knew, he was writing for Fighting Chance. Now writing for some of the best sites out there, Drake has also been a successful host on Sirius/XM Fantasy Sports Radio.
Ryan Hallam (@fightingchance) – Oh, that's me. 49ers fan and general stooge. I've been around and done some things, but mostly I enjoy talking fantasy with great people. So let's do that!
WHAT IS AARON RODGERS IMPACT ON THE NY JETS THIS SEASON?
Steve - Last season, the Jets finished dead last in the AFC East with a 7-10 record, and with the addition of Aaron Rodgers, I can see them flipping those totals and wrapping up 2023 with roughly ten wins. While I think they get into the playoffs, I feel like too many teams are still better than them for the Jets to advance very far. Rodgers makes them a better team–just not good enough to seriously compete for a championship. 
Leo - This pains me to say as a Dolphins fan, but the addition of Aaron Rodgers undoubtedly makes the Jets playoff contenders . The Jets went from Huey, Dewey, and Louie at quarterback last season to a future Hall of Famer in 2023. With the help of Garrett Wilson and his old pals Allen Lazard and Randall Cobb, Rodgers will return to MVP form this season. Wilson is a rising star and last year brought in 83 receptions for 1,103 yards and four touchdowns. The quality of his targets will be on point with Rodgers behind center, so if you stack these two in your fantasy teams, you will be sitting pretty this season. 
Ryan - As a New Yorker, I will say that the hype surrounding the Jets is SO overblown that it has caused me to hate them even more. Rodgers is overrated; he sucked last year, is almost 40, and said he was 80% retired before he went into that black hole, and the offensive line is kinda trash. They start 1-3, and the NY media will eat him alive, and with his sensitive ass, the season spirals. They won't be an embarrassment, but aren't making the playoffs. 7-10 for Gang Green, and their fans remain perpetually disappointed.
Jen - Rodgers disappointed many fantasy drafters last year, with his average fantasy points per game falling below 20 for the first time in a LONG time (17.9). Off-field drama and distractions, including issues with the team and flirting with retirement, all factored in, and Rodgers' performance declined. I think the juice of Gang Green nation and a new system is reinvigorating the Future Hall of Famer, and I expect his performance to bounce back into the top 10 in 2023. He has a mix of young, talented receivers and veteran WRs that he trusts (Allen Lazard and Randall Cobb) and chemistry with his coaching staff. The run game led by Dalvin Cook and Breece Hall and the defense led by Sauce Garnder will help Rodgers make his comeback. Yes, I believe the Jets will win their division and make the playoffs for the first time since 2010. If that happens, it will be on the shoulders of Rodgers, so that alone will put his name in MVP contention. 
Rick - Remember Peyton Manning. He brought the Broncos to a Super Bowl late in his career after his talent was gone.  Rodgers has the smarts and a lot more talent left than Manning did.  He will be a great quarterback for a Jets team with a strong defense and two good rushers.  Dalvin Cook is elite in space and will help Rodgers evade the rush with quick check-downs.  Rodgers has an ELITE wide receiver talent in Wilson as well.  I would look for Rodgers to do better as a real quarterback than a fantasy football quarterback, where he will be 12th or 13th overall.
Drake - The plan is simple: win the Super Bowl. That's why Aaron Rodgers was brought to New York, and that's how he will be measured. The defense is elite. The O line is intact. His skill players are as good as he's ever played with. There are no more excuses for the Jets. It's put up or shut up time.
WHICH PLAYER WILL MAKE THE BIGGEST LEAP FORWARD IN 2023?
Jen - QB: Trevor Lawrence. Last year, we saw Lawrence get more comfortable and adjust to his new system and coach successfully (he finished with 387 completions for 4113 yards and 25 TDs). This season, he will take another step forward in year two, with receiving options Christian Kirk, Zay Jones, and Evan Engram returning and Calvin Ridley joining the receiving corps during this off-season. I think we will continue to see Lawrence succeed and grow in 2023, and don't forget those handfuls of rushing TDs and 300-400 yards on the ground that he will get for you. 
Drake - Kenny Pickett. While I don't trust the OC Matt Canada, I do believe in the weapons around Pickett. We've heard coming out of camp about the expanded route tree for George Pickens. Diontae Johnson is his usual uncoverable self. The OL is improved, and the running backs are healthy. In a division where you have to outscore the Bengals, Ravens, and Browns, It's a perfect time to bet on Pickett as the breakout player of the year.
Steve - Last season, Chris Olave finished 35th in the NFL in receptions (72), 18th in receiving yards (1042), and was tied for 46th in touchdowns with four. Now, he has one year of experience under his belt and a new quarterback that I think will help propel him to superstar status. My daughter is now a junior at the University of Michigan, so it is my duty to hate Ohio State and their players with all my lifeblood, but even I can't deny the talent this former Buckeye possesses.
RB: Rachaad White. After slowly edging out Leonard Fournette as the season progressed last year, White takes over the Tampa Bay backfield in 2023 with  only Ke'Shawn Vaughn and Chase Edmonds behind him on the depth chart. I particularly like White in PPR leagues, as his pass-catching proficiency landed him 11th among all RBs in 2022 (50 catches), and that was when he was still sharing snaps with Fournette, who finished 3rd among all RBs with 73 catches as well last season. The offensive line and opportunity with the TB offense are issues, but if White gets 60-70% of the snap count with Fournette gone and plenty of receiving opportunities, I think he will blow his 2022 stats out of the water. 
WR: Garrett Wilson - He finished 2022 with 83 receptions for 1103 yards and 4 TDs with mostly Zach Wilson under center. This year, he gets future Hall of Famer Aaron Rodgers. As I said above, I think a new system, city, and team gave new energy to a slumping Rodgers and Garrett Wilson (among others) will greatly benefit. The largest difference will likely come in regards to TDs, as Wilson stands to be one of Rodgers' favorite (and very talented) receiving options in the red zone. Wilson has a top-10 WR finish within his reach in 2023. 
TE: Darren Waller - Please stay healthy. That's all he has to do. The Giants WR room consists of the who's who of the usually injured or disappointing, including Darius Slayton, Parris Campbell, and Wan'Dale Robinson. They added Waller and Isaiah Hodgins to try to help increase available weapons for Daniel Jones. Waller stands to be heavily involved, especially in the red zone, as the Giants TE in 2022 (Daniel Bellinger) led the team in red zone targets (25% target share). 
Honorable Mention: Brian Robinson, RB, Washington; Gabriel Davis, WR, Buffalo; Tua Tagovailoa, QB, Miami 
Rick - Top tier - Calvin Ridley.  He has elite talent with a team that will have a great offense and will not be able to double him all the time.  A string-enough running game for the Jag will make him elite again.
Middle tier - JuJu Smith Schuster.  Playing in the slot will help JuJu get volume from a Patriots offense looking to move the chains.  He will get many a target and lots of receptions.  The main question is how that will translate to yards and touchdowns.
Sleeper Tier - Odell Beckham Jr.  Staying healthy is the key for the former pro bowler in a prolific run-first offense that will see 8 in the box a lot.  When that happens, unleash the KRAKEN!
Leo - The easy answer for this one is Calvin Ridley being paired up with Trevor Lawrence, but let's dig a little deeper. Last season as a rookie. George Pickens illustrated some amazing catches but could not be counted on as a consistent fantasy contributor for fantasy managers. Although Pickens did deal with a few injuries that slowed his progress, rookie quarterback Kenny Pickett was still trying to get in a groove with the offense. During the pre-season, Pickett and Pickens have been steadily building great chemistry with each other, which should lead to a big year for the talented wide receiver and the general Steelers offense. 
Steve - I was tempted to say that the Rams would be the most boring team this season, but I can't deny how much Arizona stinks. Marquise Brown is the only exciting player on this offense, and I don't feel confident they will win more than two or three games this year. If I could insert a fart noise into this written article, this is the place I would put it. 
Ryan - Javonte Williams – He missed a lot of last year with the ACL tear, so maybe he doesn't fit here, but he is all set for Week 1, and he is a guy I have planted my flag on all over my drafts! Sean Peyton will run him like crazy, and I am not afraid of Samaje Perine. Williams is great both as a runner and a receiver, and he has a nose for the endzone. Look for him to outperform his ADP this season VASTLY.
WHO WILL BE THE MOST BORING TEAM TO WATCH IN 2023?
Ryan - Gotta go with the New England Patriots. They have been unwatchable since Tom Brady left, and 2023 should be no different. They added JuJu Smith-Schuster and Ezekiel Elliott, but what the hell does that excite you? They are ground, and pound, and Mac Jones can't throw it more than 10 yards down the field with any accuracy. They are due to score 17 points a game if they are lucky and somehow finish close to .500.
Rick - The Los Angeles Rams.  With the loss of Cooper Kupp for an undetermined amount of time, all they have on offense are Cam Akers and Van Jefferson.  This will be super boring football.  The Rams are only two years removed from being a top 5 most exciting team in the NFL.  Now they are relegated behind the Cardinals; who will be more interesting because who doesn't love a good DUMPSTER fire?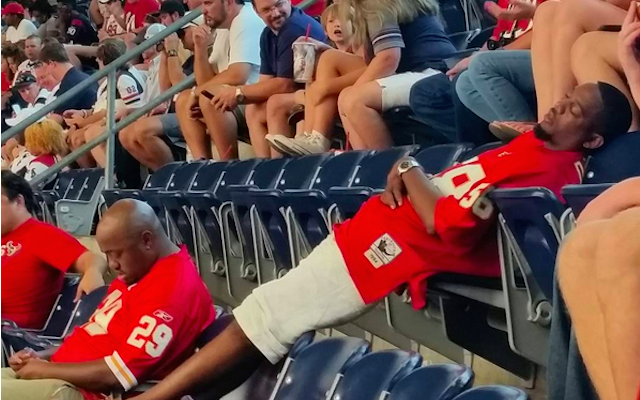 Jen – New England Patriots. This feels pretty self-explanatory, so I'll keep it short. This off-season excitement around New England began and ended quickly when they seemed in the mix to land DeAndre Hopkins. Though they added JuJu Smith-Schuster for some help over the middle and Zeke for RB depth, it likely won't be enough to excite us from week to week. They'll run run run with Rhamondre Stevenson and Ezekiel Elliott, leaving Mac Jones to be a game manager. I am curious to see how they use Zeke, but otherwise, I won't be paying much attention. I'm a Steelers fan who was repeatedly kicked out of the playoffs by Brady and the Patriots, so …I MAY be biased. But, also…..snooze. 
Leo - I have to say it has to be the Cardinals. No DeAndre Hopkins, no Kyler Murray to God knows when, and a team that is about to be treated like a red-headed stepchild by the NFL. Tank mode is in full effect.
Drake - Arizona and the LA Rams will be so pitiful this year that the NFC West will be unwatchable most weeks. There is so little talent on these two teams; if they combined rosters, they would still stink. Caleb Williams is already planning his class schedule for 2024.
HOW DO YOU SEE THE EAGLES BACKFIELD FOR FANTASY?
Jen - The most likely scenario to happen is that Rashaad Penny gets early down work and the opportunity for the goal line, with D'Andre Swift being seen as a versatile weapon that can run and catch and contribute where the Eagles need him. Philly kept the cost of their running-back-by-committee pretty low, getting Swift on the back end of his contract and Penny on a cheap one-year deal. Penny likely won't be able to play all 17 games (injury prone), so Swift will get more opportunities as they try to manage Penny's reps and keep him healthy.  Kenny Gainwell will mix in way more than Boston Scott, but they trust both of these backs (they have been in the Eagles system for years), so we might see them in clutch situations or to spell Penny/Swift. I think Swift has the most upside, but Penny might be on the field more to start the season (with it moving toward a more even split as the season progresses and health starts to play a role). If anything, it's a headache, but there aren't going to be many "bell cow" running backs in the NFL in the current climate, and most teams likely will be moving towards an RBBC approach overall (the RB market is undervalued). I didn't mention Jalen Hurts and his 763 rushing yards and 13 rushing TDs last season.  My interest in this backfield in order: Hurts, Swift, Penny, Gainwell, Scott 
Rick - Maybe I am the only one, but I see it as D'Andre Swift's job to lose.  Rashard Penny has more talent and could win the job, but I don't see Kenneth Gainwell or Boston Scott doing anything more than they did last season.  Predict that Swift carries the load at two-thirds to one-third on the carries and snaps through week 7 or 8.  Then they will have a good rotation with Swift and Penny distributing third down work to Gainwell and Boston Scott.
Leo - The Eagles' backfield is up for grabs with Miles Sanders in another area code. Is incumbent running back Kenneth Gainwell ready for the competition from Rashaad Penny and D'Andre Swift? It may be running back by committee early in the season, but I see Swift taking hold of the lead-back option for the Eagles. Swift is the most athletic running back of the three, has the best hands, and will be the best fit for this offense. The main thing against Swift has been his health, but Penny has not been a pillar of great health as well, and Gainwell has just shown a few flashes but nothing consistent. I say the pecking order will be Swift, Gainwell, Penny, and then Boston Scott for the two Giants games LOL. 
Ryan - They certainly have enough bodies, which they need because everyone is injury-prone. You hope that Philly takes the training wheels off of D'Andre Swift; the Lions refused to, but will he stay healthy if they do? Rashaad Penny is very talented, but it is offensive to glass to say he is as durable as glass. He will probably have 3-4 good games then be on IR. I think Kenneth Gainwell has a pass-catching role and is worth an add to the end of your roster if he wasn't drafted. Boston Scott will probably sneak on the field here and there, and I took him very late in a couple of best balls.
Steve - The Eagles backfield is a mystery wrapped up tightly in an enigma, but I see D'Andre Swift emerging as the best fantasy asset of the bunch. I think he, Gainwell, and Penny will all share the carries, but Swift should get a majority of the receiving work. Swift will finish in the top 20 in PPR leagues, and the others will be bench fodder on your fantasy roster. 
Drake - As the Eagles homer, I feel like I should have good insights, but honestly, I don't want any of these guys. The Eagles didn't throw a single touchdown pass to a running back a year ago. Now, that likely changes, but the team will need to scheme up some plays for Swift in the passing game because it's not a natural part of this offense. If you want the best Eagles running back, just draft Jalen Hurts.
GIVE ME YOUR DIVISION WINNERS:
Ryan - AFC – Bills, Bengals, Jags, Chiefs, please God, ANYONE but the Chiefs!
NFC – Cowboys, Lions, Falcons, 49ers
Steve - AFC East - Dolphins. AFC North - Ravens. AFC South - Jaguars. AFC West - Chargers. NFC East - Eagles. NFC North - Lions (Homer pick, but I believe it). NFC South - Falcons. NFC West - 49ers. 
Leo - Dolphins, Ravens, Jaguars, Chiefs, Eagles, Lions, Saints, 49ers. Super Bowl Champs Dolphins over the Eagles.
Jen – AFC – Jets, Bengals, Jags, Chiefs NFC – Eagles, Vikings, Saints, 49ers.
Rick - AFC - Bills, Ravens, Jags, Chiefs.  It's very chalky in the AFC, but these teams are the class.  Many think Cincy has to be in there, but I feel the Burrow injury could nag along and affect them adversely.
NFC - Eagles, Lions, Saints, 49ers.  Eagles are good.  The Cowboys have the talent, but the Eagles are better.  The Lions finally get a playoff win.  It has been too long.  The Saints have possibly the easiest road to a division title.  I had to pick the 49ers as they always handle the regular season well; it is the recent post-season where they choke like Chuck Rhodes in the first episode of Billions.
Drake - AFC - Dolphins, Bengals, Jags, Chargers. NFC - Eagles, Packers, Saints, 49ers.
LET'S FINISH WITH THE IMPORTANT STUFF: WHAT IS YOUR DRINK OF CHOICE DURING GAMES?
Rick - Vodka, Cointreau, Cranberry & Soda - This year, I will call it the Cardinal since it is the color of the worst team in football.  Their fans will need to drink a lot of these.
Ryan - I am a sucker for a Hazy IPA and a high-quality local brewery New England IPA at that. Although sometimes I am in the mood for wine, and then it is pinot grigio, football usually equals beer.
Jen - Beer. Usually light beer. Beer and football. It's just what is associated with me now….oh, and wings. 
Steve - I'm not ashamed to say it, but I've been trying to make better choices to shed a few pounds, and because of that, I've been drinking a lot of the zero-sugar seltzers. My favorite is the Smirnoff Ice Zero Sugar Red White and Berry seltzer, so while I still enjoy a Jack and Coke occasionally, my go-to will be the seltzers. I expect the ridiculing by Ryan Hallam to commence in three, two, one… (Editor's note: I wouldn't make fun of someone making good health choices, not even you, Steve.)
Leo - Depending on my mood, it could be one or two possibilities. Option one is a Rum called Flor de Cana, which could be enjoyed on the rocks or with some Coke/Sprite. Option two is a German beer called Schofferhofer Hefeweizen Grapefruit; it's super refreshing and delicious.
Drake - I'm a beer guy. I love IPAs. I'll typically only drink during the night games. I've got kids and too much going on to crack one at 1 p.m. on a Sunday.
---