Fighting Chance Fantasy Playoff Forecast
---
With the fantasy football playoffs only a few short weeks away, now is the prime time to set yourself up for future success. I go into quite a few options here to acquire, add on waivers, or stash if you have the room to do so.
As far as the selection of players, I chose players that either are available on waivers or can be traded for without giving up many premium assets.
As always, feel free to give me a follow on Twitter @ktompkinsii, and be sure to check in with my frequently updated PPR Rankings!
Without further adieu...
Note: Remaining Schedules listed up to Week 16
QUARTERBACKS
Jameis Winston, TB
Remaining Schedule: ARI, NO, @ATL, @JAX, IND, @DET, HOU
Yes, yes, THE TURNOVERS. He has more of those in stock than any local bakery, but Jameis Winston does have some of the juiciest matchups of any quarterback you can find. Despite those turnovers, Winston is STILL QB10 on the season. Winston plays 4 teams in the top ten of most fantasy points allowed to quarterbacks. None of the three remaining matchups scare me in the slightest and are neutral at best, so if you've been streaming quarterbacks, you may be able to acquire Winston cheaper than you'd think. I'm predicting you could get top-6 production at the QB position the rest of the way with a Winston add/acquisition down the stretch.
Ryan Tannehill, TEN
Remaining Schedule: KC, BYE, JAX, @IND, @OAK, HOU, NO
While Ryan Tannehill has left a sour taste in the mouth of fantasy football players for years from his days with Miami, he has been very useable in the games he's started. He's scored no less than 19 fantasy points in those 3 games and has been QB5 (!) in that stretch. While the Titans are no pass heavy offense by any stretch, being in 3 close games decided by less than a touchdown has allowed the offense to balance out and throw quite a bit more than they're used to. With pretty solid matchups across the board including the Chiefs, Jaguars, and Texans all at home, Tannehill could be a worthwhile, sneaky stash and start. He could be available in some leagues right now, so he's absolutely worth a waiver claim at this juncture. He may not last much longer on there if he continues this pace.
BARGAIN BIN QB
Nick Foles, JAX
Remaining Schedule: BYE, @IND, @TEN, TB, LAC, @OAK, @ATL
If you want to be sneaky sneaky, Nick Foles was just named the starting quarterback for the Jaguars when they come back from the bye, so aside from possibly two tough(ish) matchups at Tennessee and at home versus the L.A. Chargers, Foles has a pretty friendly schedule with Week 13, 15, & 16 against three of the bottom five pass defenses for fantasy quarterbacks in Tampa, Atlanta, and Oakland. Hopefully the growth D.J. Chark has shown can continue with Foles as well as having a healthy Dede Westbrook on hand. Foles is likely available in a vast majority of leagues so if you have the space and you're looking to get out ahead of the game, don't be afraid to take a shot on Foles. We've seen him have a lot of success late in the season.
Baker Mayfield, CLE
Remaining Schedule: BUF, PIT, MIA, @PIT, CIN, @ARI, BAL
I know. Baker Mayfield has been terrible. He's thrown multiple touchdowns in one game. Mayfield has tallied 8 touchdowns to 12 interceptions. He's been one of the biggest factors to the Cleveland malaise this season. There could be a little bit of light at the end of the tunnel to his sophomore slump and it comes back to his upcoming schedule, which intrepid fantasy owners could get in on the ground floor of. He's been dropped in a large number of leagues, but if you have a roster spot available, you could do worse in picking up Mayfield. In between both games against the Steelers, you have a home game against the Miami Tank For Tuas, and then the schedule opens up with the Bengals and a trip to Arizona. Do you want to pin your playoff hopes on Baker Mayfield? It could be a shrewd, forward thinking move that puts you in the best position to get you a win or two down the stretch.
RUNNING BACKS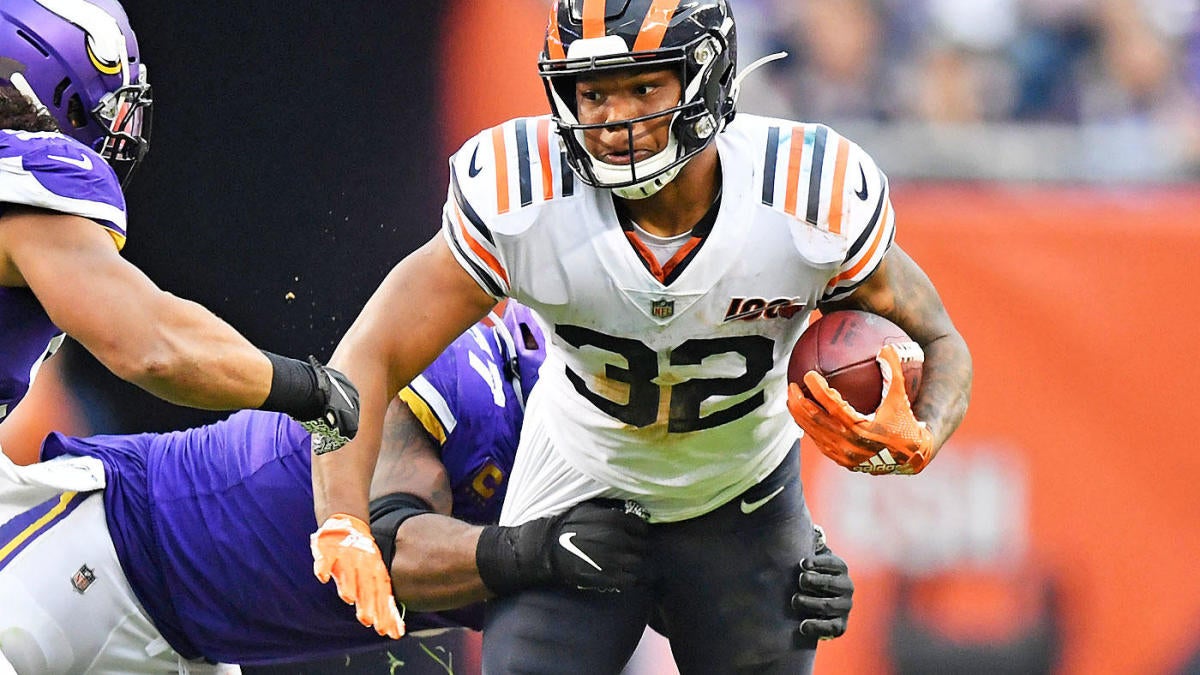 David Montgomery, CHI
Remaining Schedule: DET, @LAR, NYG, @DET, DAL, @GB, KC
Say what you will about the state of the Bears offense, but one of the pieces that doesn't mostly involve the skill of throwing the ball for fantasy relevance is David Montgomery in the run game. With the Bears' renewed interest in the running game as well as the likelihood of Matt Nagy doing what he can to coddle Mitch Trubisky and make sure he doesn't screw things up more than he has, Montgomery seems to be the main beneficiary of that "strategy". Montgomery had a breakout Week 8 with 31 touches, 135 yards and a touchdown, which was followed up in Week 9 by a modest effort gained on the ground but a bunch of touches (17) and two more touchdowns. Clearly, the first year back from Iowa State is in line to get the majority of touches. His schedule lines up great with Detroit twice, who happens to be the worst defense in the NFL against fantasy running backs plus Green Bay and Kansas City, who are both in the bottom six themselves against fantasy running backs. Depending on the owner, the state of the Bears offense may bring his cost down a little bit.
Jordan Howard, PHI
Remaining Schedule: BYE, NE, SEA, @MIA, NYG, WAS, DAL
As somebody who was absolutely sure Jordan Howard would be taking a backseat to Miles Sanders, certainly by now here in Week 10, I'll admit I was very wrong. His volume the last two weeks has spiked, from an average of 12 touches in weeks 1-7 to an average the past two weeks. Granted, the former Bear hasn't reached 100 yards rushing in any contest this season but he has 6 touchdowns in his last 6 games and is clearly a focal point of the Philadelphia offense. There's very little receiving work on Howard's plate, but if he's going to get this many touches in the offense, he's going to be a factor in fantasy as we get to playoff time. His three game stretch against the Dolphins, Giants, and Redskins is absolutely mouth-watering and he has the potential to be a slam-dunk RB2 those weeks, or more.
HANDCUFFS
With several of the big names (Latavius Murray, Jaylen Samuels, Jamaal Williams, Kenyan Drake, Kareem Hunt) owned in a majority of leagues, I'm going to list a few less-owned options:
Alex Mattison should be owned by every Dalvin Cook owner, and should be owned in 100% of fantasy leagues, as in the event of a Cook injury, Mattison is a low-end RB1 in that offense with that workload.
He hasn't shown much this season, but Rashaad Penny would be owned in 100% of leagues were Chris Carson to be shelved for any length of time with the volume the Seattle run game presents.
Tony Pollard falls in the same boat as the previous two but is equally as important a handcuff to have.
BARGAIN BIN RB
Other handcuffs I like and can provide a ton of value to owners are Gus Edwards, Ryquell Armstead, Raheem Mostert, Darrell Henderson, Darrel Williams, and Wayne Gallman. I wouldn't go out and pick every one up and fill your bench, but solidifying a stake in an run offense if you own for example Ezekiel Elliott or Leonard Fournette is definitely a worthwhile strategy.
WIDE RECEIVER
D.J. Chark, JAX
Remaining Schedule: BYE, @IND, @TEN, TB, LAC, @OAK, @ATL
Probably the costliest player in this entire article, D.J. Chark has been fantastic for fantasy owners, likely off of the Week 1 or 2 waiver wire. As the current WR8, he's fresh off of a 4-32 effort in London (he didn't use the cocktail stick). That could be fresh in the minds of owners during the bye here, and if you can, swoop in and make an offer for Chark. The change of QB from Gardner Minshew back to Nick Foles should be a slight upgrade, but hopefully he'll have the same kind of rapport Minshew had. Like Foles, the matchups are beautiful as the season winds down, with the three of four matchups against the worst three defenses against wide receivers in fantasy in weeks 13, 15, and 16. An acquisition of Chark could be a league winning move.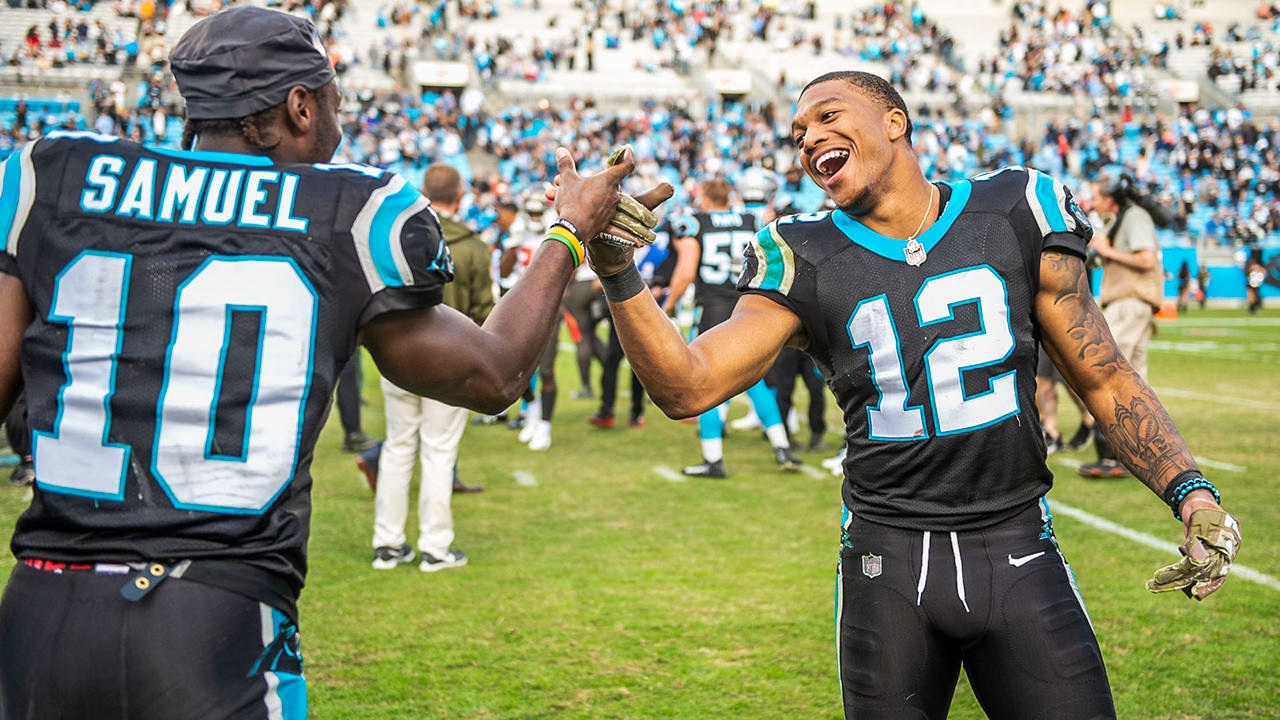 D.J. Moore & Curtis Samuel, CAR
Remaining Schedule: @GB, ATL, @NO, WAS, @ATL, SEA, @IND
Now that we have some stability in the quarterback situation, if you can acquire somebody like D.J. Moore or Curtis Samuel to bolster your WR3 or a flex spot, absolutely jump on that. Moore has flown under the radar this season, mostly because he's only caught one touchdown all season. He's had double digit points in every game but two and in those other two contest, he's scored 7.4 and 8.8. Despite the lack of touchdowns (positive regression is coming!), he's been WR23 so far and with some better luck in the scoring department, he can easily be a high-end WR2 or further. He still gets to play Atlanta twice, as well as some other high scoring offenses so Carolina will definitely be in the thick of it in most of their games.
Samuel has scored quite a bit more but hasn't had a game with more than 5 catches or a game without less than 6 targets since Week 2. He's maintained flex value, but with the air yards he gets (100 air yards in the last 3 games), he's due for some breaking out past what he's shown. I think with those matchups, the narrow target distribution in the Carolina passing attack, and the upcoming schedule, Samuel can be a viable WR3 or better. I'd ultimately say that both could be had for a middling RB2 or worse depending on the owner. It's worth a shot to bolster your receivers with this type of talent that will be in advantageous situations coming into the final quarter of the fantasy football season.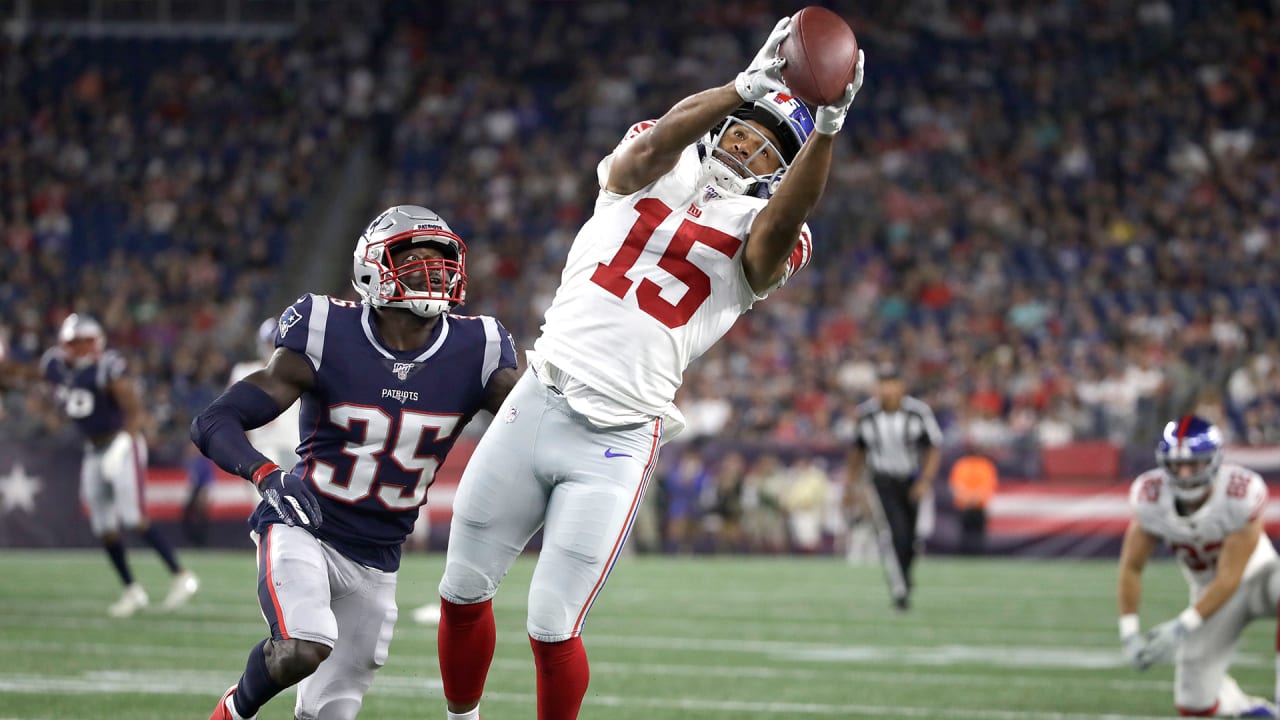 Golden Tate, NYG
Remaining Schedule: @NYJ, BYE, @CHI, GB, @PHI, MIA, @WAS
Golden Tate came off of a 4 game suspension to start 2019 and after a first week of shaking off the rust (3-13 on 6 targets), all Tate has done is at least 6 catches in every game, scoring double digit fantasy points in each contest. Tate has been a perfect receiver for young Daniel Jones and should continue that towards the end of the season and into the fantasy playoffs, with a great matchup this week with the Jets, as well as his final 4 games of the fantasy season, GB, @PHI, MIA, and @WAS. Those four matchups are games that Tate could be heavily utilized and featured even moreso. His price may be a bit discounted because of the team he plays on and his counting stats which are hampered because of the aforementioned suspension. He's a perfect set and forget WR3 and could be the glue that holds your lineup together heading into December.
BARGAIN BIN
Other players I like due to situations and offenses are Mecole Hardman (if something happens to Hill/Watkins, he provides immediate value), Diontae Johnson (shown a rapport with Mason Rudolph and if his role can expand even more, he's a WR3.), Josh Reynolds (could be getting into more value here with the Brandin Cooks/concussion stuff, Robert Woods hasn't been himself this season and the Rams could use a complement to Cooper Kupp), and Hunter Renfrow (role is expanding each week, stats are starting to show it. If he and Derek Carr can continue on the same page, the Raiders may have a slot machine on their hands.
---