Preemptive Strike: Week 14
---
Can you smell what the Rock is cooking? Well, what's cooking this week are fantasy football playoffs implications match-ups and now more than ever we need to be not only one step ahead of our league mates but we may need to be two steps ahead of them in order to make the playoffs. If you're interested in taking the necessary steps to make the playoffs, please take a look at this article Whatever it Takes to Bring Home the Championship, and if you, unfortunately, are out of the playoffs and want to dabble in a little DFS take a look at Britt Flinn's article Week 14 DFS Values for this week. Without further ado, here are some Preemptive Strike players for this week.
Quarterbacks
Taysom Hill, QB - New Orleans Saints 47% rostered
If last week's performance (264 yards passing, two passing touchdowns, and 101 yards rushing) was not enough evidence for you to add Taysom Hill, maybe facing the Jets this week will. Hill is a dual-threat and will always provide some nice rushing numbers and is a must-add player in all league formats.
Tua Tagovailoa, QB - Miami Dolphins 32% rostered
Tua Tagovailoa is on a bye this week but in Week 15 he gets to play the Jets and in Week 17 battles the Titans. In two of his last three weeks, Tagovailoa has scored at least 24 fantasy points and just got back one of his weapons last week with the return of DeVante Parker from injured reserve. Look to add Tagovailoa in 12-team leagues.
Jimmy Garoppolo, QB - San Francisco 49ers 30% rostered
The 49ers get their stud wide receiver back this week Deebo Samuel which is great news for Jimmy Garoppolo. All of Garoppolo's match-ups for the remainder of the season are very favorable (Bengals, Falcons, Titans, and Texans) and he should be added in 12-team leagues for the playoff stretch run.
Justin Fields, QB - Chicago Bears 19% rostered
All signs are pointing to Justin Fields returning to the Bears line-up this so if you are in need of another dual-threat quarterback add Fields add while you can in 12-team leagues.
Running Backs
Look to add these running backs if they still happen to be in your waiver wire: Michael Carter 64% rostered, Dontrell Hillard 60% rostered, and Rhamondre Stevenson 57%.
Jeff Wilson Jr., RB - San Francisco 49ers 49% rostered
With Elijah Mitchell out for this week, look for Jeff Wilson Jr. to get the majority share of touches in the 49ers backfield. The 49ers have shown that they want to establish the run every week and Wilson should be spearheading the 49ers running attack. In deeper leagues, you may want to add JaMycal Hasty as he is sure to get some carries as well.
Ty Johnson, RB - New York Jets 24% rostered
With Tevin Coleman out this week because of being in the concussion protocol, the door is wide open for Ty Johson to take over the Jets backfield until Michael Carter returns from injured reserve. Johnson should be added in all league formats.
Jermar Jefferson, RB Detroit Lions 17% rostered
With both D'Andre Swift and Jamal Williams both out this week, the next man up for the Lions' will be Jermar Jefferson who previously scored in two of his three appearances earlier this season. In deeper PPR league formats Godwin Igwebuike is another name to add.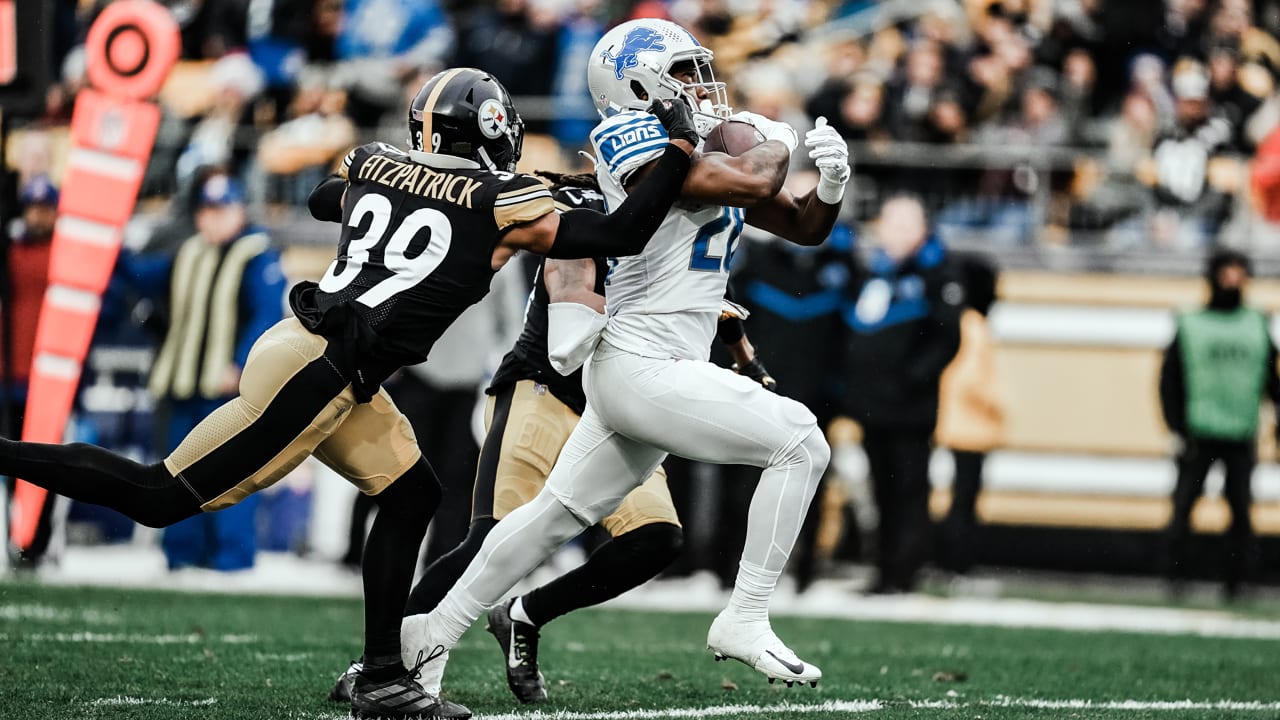 Phillip Lindsay, RB - Miami Dolphins 10% rostered
Currently, Phillip Lindsay is the only healthy running back for the Dolphins. Myles Gaskin and Salvon Ahmed are both out due to being in COVID protocols. The recently acquired Lindsay should start seeing an increase in his implementation in the Dolphins offense. The veteran running back to some to add in deeper leagues as a speculative add.
Matt Breida, RB - Buffalo Bills 20% rostered
Hey Buffalo Bills, please free Matt Breida. When given the chance Breida at times has shown that he may be the best running back in this Bills backfield. Breida is another speculative add in deeper league formats.
Running backs to stash that is an injury away from being league winners: Khalil Herbert 24% rostered, Samaje Perine 20% rostered, JaMycal Hasty 17% rostered, Kenneth Gainwell 13% rostered, and Carlos Hyde 10% rostered.
Wide Receivers
Look to add these wide receivers if they still happen to be in your waiver wire: Antonio Brown 65% rostered, Allen Robinson 56% rostered, and Russell Gage 51% rostered.
DeVante Parker, WR - Miami Dolphins 45% rostered
In his return from injured reserve, all DeVante Parker did was catch all five of his targets for 62 yards, which is very respectable in your first game back. With the Dolphins on a bye, look for Parker to make a splash for the stretch run as he is sure to get more targets as the season progresses. Parker should be added in all league formats.
Sterling Shepard, WR - New York Giants 25% rostered
Can this be the week that Sterling Shepard finally returns to the Giants lineup? Reports are that he is closer to probable than he is questionable so make a move to add the Giants' true WR1 now before it is too late.
Jalen Guyton, WR - Los Angeles Chargers 15% rostered
When you have Justin Herbert throwing you the ball, you know that player can blow up at any time. Well, last week was that time for Jalen Guyton, as he caught all four targets for 90 yards and a touchdown. With Keenan Allen out this week due to being in the COVID protocol, Guyton will have an opportunity to make plays once again. Guyton may be more of a streamer for this week, but nonetheless is a player to add in deeper league formats.
Amon-Ra St. Brown, WR - Detroit Lions 11% rostered
There has been an awakening in the force and that is Amon-Ra St.Brown. Last week St. Brown received 12 targets and produced 10 receptions for 86 yards and a touchdown. Now that's a very fine game right there. The Lions will always be down and Jared Goff will need to be throwing to keep them in the game. With T.J. Hockenson listed as doubtful add St. Brown in all league formats now while you still can.
Josh Reynolds, WR - Detroit Lions 8% rostered
Since joining the Lions, Josh Reynolds has produced two double-digit fantasy games with his ex-Rams teammate Goff. As mentioned above, the game script will be there every game to have plenty of targets to go around. Look to add Reynolds in deeper league formats.
Nick Westbrook-Ikhine, WR - Tennessee Titans 29% rostered
Julio Jones is finally set to return this week and should garner most of the defensive attention from the Jaguars. This should allow Nick Westbrook-Ikhine to make some plays in the Titans' offense. In his previous two games, Westbrook-Ikhine has averaged 6.5 targets.
Tight Ends
Cole Kmet, TE - Chicago Bears 26% roster
Prior to Justin Fields getting injured Cole Kmet was starting to build a great rapport with the rookie quarterback. So with the great news of Fields's return under center, Kmet should once again start seeing plenty of targets coming his way. The tight end should be added in 12-team league formats.
Ricky Seal-Jones, TE - Washington Football Team 18% rostered
Previously this season when Ricky Seal-Jones had to replace Logan Thomas in the Football Teams' line-up, he had a three-game stretch where he averaged 12 PPR fantasy points per contest. So if you recently lost Thomas or are missing Hockenson this week, Seal-Jones is a name to consider adding in 12-team leagues.
Evan Engram, TE - New York Giants 32% roster
Remarkably Evan Engram continues to be the healthiest of all of the receiving options for the Giants. Engram will have a tough match-up this week against the Chargers, but after that, he should be hovering around 10 fantasy points per week for the rest of the season. Engram is another tight end to add in 12-team leagues.
James O'Shaughnessy, TE - Jacksonville Jaguars 1% rostered
In deeper league formats or just really desperate to add a tight end, look no further than James O'Shaughnessy. At the beginning of the season, Trevor Lawrence was looking at O'Shaughnessy's way early and often but in the second game of the season, the tight end got injured and was sent to injured reserve. In the meantime all Lawerence did was prove that he loves throwing to tight ends as he threw plenty of targets to Dan Arnold until Arnold suffered a season-ending injury of his own. Now that O'Shaughnessy has returned from injured reserve look for Lawrence to start targeting the tight end once again.
Defenses
Dolphins Defense 46% rostered: After their bye this week the Dolphins have the pleasure of facing the Jets in Week 15.
49ers Defense, 67% rostered: Not only do the 49ers play the Falcons in Week 15 but also play the Texans in Week 17 which would be the Fantasy Football Finals.
Jaguars Defense, 1% rostered: If you are desperate and need a streaming defense in a deep league for Week 15 the Jaguars may be an option as they will be battling Texans next week at home.
If you would like to further discuss this or have any fantasy football questions you may reach me on Twitter @smooth1074.
Good luck this week in making the playoffs, and see you next week.
---