Scott Fish Bowl X Staff Draft Thread
---
The Scott Fish Bowl (SFBX) kicked off its tenth year of drafts. Over 1200 fantasy analysts and fans are selecting players to ultimately crown a champion. Last year, the winner was Gary Haddow of this very site. The fun part of this draft is every division goes at their own pace. Let's follow along with the Fighting Chance Fantasy staff as they choose their rosters in their own words:
Brian Drake (@DrakeFantasy):
1.06: Patrick Mahomes – I can't believe Mahomes fell to me at 6 overall. I was planning on taking Drew Brees anyways because of the QB scoring. Seeing Mahomes instantly changed that and I couldn't click his name fast enough.
2.07: Drew Brees – Again this is a super-flex league with insane scoring that hurts guys who get sacked a lot and throw incompletions. Drew Brees does neither. This is about gaining an edge at a premium position. While I could've taken Miles Sanders or Aaron Jones or Nick Chubb, I wanted to be elite at the QB position. With these two signal-callers, I am. Now I have to get to work on finding some RB's.
3.06: Clyde Edwards-Helaire – This is about the upside. I'm stacking the Chiefs first-round pick with Mahomes. Maybe he doesn't pan out, but who cares? I'm here to win. Give me what could be the starting running back in the league's best offense.
4.07: James Conner - I'm a fan of Conner. When healthy this offense runs through him. A capable receiver, foundation back, and nobody pushing him for touches. If he's on the field he's putting up top 12 numbers. In round four you have to take that shot.
5.06: Darren Waller - So a guy who caught 90 balls is available in round five of a league that rewards TE catches and first downs? Um, OK! This was like stealing.
6.07: Chris Carson - I've seen him going in round four. Landing a bell-cow RB in round six? Deal. Again, this is a guy who can't stay healthy so I'm happy he's only my third back.
7.06: Calvin Ridley - I guess I should draft a WR eventually. I was really torn here between a few guys like Robert Woods and Tyler Lockett but I went with Ridley because he's on a team that is going to throw the ball a ton every single week. He has what Woods seems to lack, the ability to find the endzone often. Welcome to the team.
Kacey Kasem (@thekaceykasem)
1.07: Dak Prescott - That was always my choice for the 1.07. I love his weapons, and I think he'll do brilliantly in this scoring.
2.06: Russell Wilson - Yep, I went QB/QB. I've been burned in the past at the QB position. Wanted to see how this worked out. I trust Russ.
3.07: Tyreek Hill - I wanted to go RB here, but I couldn't pass up this value. Hill is one of my fav WRs this year.
4.06: Amari Cooper - I did not want to draft Cooper. But then I had a change of heart when we got to the 4th. I love the Dak stack.
5.07: Melvin Gordon - Finally went RB. Went with a guy we've seen do it in the past. Yeah, new team. And yeah, it's "MelGo." But I valued a lot of RBs at this spot in the same tier, so pressed draft on him.
6.06: Raheem Mostert - Tons of people down on him in the 1.07 chat. I don't care. This seems like a great value for him. Might as well draft a few question mark RBs and hope a few hit.
7.07: David Montgomery - Can I cross my fingers here? We're already in the 7th round, and I want to make sure I pick up as many RBs with a shot as possible. Montgomery just seemed like a good fit. Plenty of WRs and TEs I like later, and I already have my 2 QB targets.
8.06: Stefon Diggs - Whoa value. We're drafting super fast, so I don't really have any SFB ADP data to go off of. Still, think Diggs here was a great pick. Was debating going TE or taking Diggs, and figured I'd wait on TE.
9.07:
A.J. Green
- If Green can stay healthy, he is money. I know wide receiver is deep, but I want top guys. This veteran receiver can mesh well with the new rookie QB, and I'm trusting that to happen.
10.06:
Ryan Fitzpatrick
- Well, I got my two top QBs with my first and second picks. Figured I needed a third guy for bye weeks and as injury insurance. It's superflex, not 2QB, so I don't always need to start him. Still, he's been a reliable guy in the past. Will I end up with Tua as well?
11.07:
Jordan Howard
- Another Miami Dolphin. I know! What am I doing? Thing is, Howard is my dude. I have been very high on him for the 2020 season. 11th round for a guy who could get a big chunk of the carries and has proved how good he is when healthy - I'll take that any day.
12.06:
Irv Smith Jr.
- I finally took a tight end. Some of the targets I had in mind went off the board before him (such as Blake Jarwin who I really wanted), but I like Irv here. Rudolph is there as well, but he's an old man now. Smith and Rudolph split duties last season, and Smith was impressive. Feels like year two will be his break out.
13.07:
Jack Doyle
- Got another tight end here. Figured I will take a few and hope one or two has a great season. These guys are all sort of hit or miss, so I'll take a guy who has shown he has skills. Plus, Ebron is gone... So that helps. I actually wanted Ebron here, but he went one pick before this pick.
14.06:
Tee Higgins
- I drafted A.J. Green and went with another Bengals wideout here. I hadn't taken a rookie yet, so why not get a guy who has a good quarterback throwing to him and tons of opportunity? And if Green does happen to go down yet again, at least I'll have Higgins on my roster now.
15.07:
Tua Tagovailoa
- Ryan Fitzpatrick in the 10th, and here I take Tua in the 15th. I knew I wanted to pick him up due to the uncertainty at the QB position in Miami. I'll take a dart throw on Tagovailoa. The last of the quarterbacks with an okay shot at doing something were getting taken in this area, so I pounced on him before someone else did.
16.06:
Dawson Knox
- This is my first pick where I really wasn't sure what I wanted to do. I decided to go with a tight end that may have some upside. Fingers crossed because TE is getting really thin here. I am happy I waited on tight end, even with the added TE scoring upside. Knox is a good athlete, he just has to have the right things happen to be of relevance. Not sure that will happen, but if he gets going... this pick will be money.
17.07:
Devonta Freeman
- So he fell to me here. I was not even thinking about taking him, but after the Mostert wants to be traded news... I jumped at the opportunity to draft him. This was one pick where I was anxiously waiting to see if I'd have a shot at drafting him. Pick after pick went by, and no one took him. Just like that, Freeman finds a home on my SFB roster. We will see if it works out for me, but at least I got him late.
18.06:
Chris Thompson
- I've been a big Chris Thompson fan for a while. I know he is no longer that same guy I once was high on, but I think he still has touchdown scoring potential on the Jaguars. Again, later round pick... why not go for some upside?
19.07:
Cole Beasley
- He has never been the sexy pick, but he has at least been pretty consistent. There are some games where Beasley puts up nice fantasy numbers. Don't really want to have to play him and hope it is one of those weeks, but he could be a nice bye week or injury fill in. I know the landscape with the Bills has changed, but we have seen what he can do. Hoping for some decent weeks.
20.06:
Kaden Smith
- Yep, another tight end here. Smith is on my radar as a deep sleeper this season. Evan Engram is a good tight end for the Giants, but he can never stay healthy. While Engram was out last season, Smith proved he could take over. Nice guy to have on the roster if Engram goes down.
21.07:
Jalen Richard
- He's another one of those whatever kind of picks. If he ends up playing a role on the Raiders' offense, especially in the passing game where he has stood out before, then it'll be golden for me. If he loses time because of the new assets on the team, at least I know I took him in the 21st round.
22.06: Mike Boone - Figured I'd take a shot on a running back here. Not expecting much (or anything) with this pick, but if (and when) Cook misses time, Boone could play a role in the Minnesota offense. Alexander Mattison would benefit more, but listen... he's not available here. Minnesota likes using two RBs, so took Boone with my last pick.

Steve Rapin (@fantasygeek37)
1.07: Deshaun Watson - I had the top six (CMC, Barkley, Lamar Jackson, Mahomes, Zeke, and Kamara) and Kelce in auto-draft, and site gave me Deshaun Watson who wasn't even in my queue. This was not how I envisioned this draft beginning and according to the Rotogrinders website tracking every pick, I now own the record high in selecting Watson.
2.06: Joe Mixon - My jaw dropped when Joe Mixon was still available here. He was in consideration for me at the seven pick, so this makes me feel better after my first pick fiasco.
3.07: Austin Ekeler - Another surprise he fell this far and very happy to get Austin Ekeler in the third round. There is a drop off in talent at the running back position so my strategy is to get two solid backs early. Mission accomplished.
4.06: Todd Gurley - I didn't plan on taking a third running back this early, but I couldn't pass on Gurley this late. According to the Rotogrinders site, I almost drafted Gurley at his low in the competition (lowest was 4.08). In a field of this size, you have to take chances and swing for upside, and Gurley has just that. He isn't too far removed from his overall RB1 days, so I'm hoping he has a monster season in Atlanta.
5.07: Odell Beckham Jr - Yes, Odell Beckham Jr had a down year last year, but as I said, you have to swing for the fences in a contest this large and OBJ has the skills to finish as a top five wide receiver.
6.06: Robert Woods - Last season Robert Woods finished as the WR14 in PPR leagues (in only 15 games), and now has no Brandin Cooks to steal his spotlight. This is one of the safest picks I can make to help offset the risks that come with Gurley and Beckham, and I am thrilled to get him as the 19th wide receiver off the board.
7.07: Daniel Jones - I had planned on taking my second quarterback before this point, but the way they fell, I'm glad I waited and thrilled to have the potential second year breakout candidate in Daniel Jones.
8.06: Hunter Henry - In a tight end premium league I should have taken a tight end a little sooner than this, but when the site gave me Deshaun Watson instead of Travis Kelce, my draft was turned a bit upside down. The king of the dump off, Philip Rivers is now gone, but I feel that Tyrod Taylor will lean heavily on Hunter Henry. However, with his injury history and shaky quarterback situation, I will likely taking my TE2 sooner rather than late.
9.07: Brandin Cooks - While he won't replace DeAndre Hopkins, Brandin Cooks should fit in well with Deshaun Watson in Houston.
10.06: Dwayne Haskins - Haskins was one of the last starting quarterbacks left at this point in the draft, and with this being a super-flex league, I wanted to have my third quarterback be someone that I could play if forced to, rather than a high upside backup/rookie quarterback. Mission accomplished.
11.07: Jack Doyle - I told you I wouldn't be waiting long to take my second tight and Jack Doyle was a target of mine. I referenced earlier that Philip Rivers loves to dump off the ball, so Doyle could be in line for a healthy amount of targets in 2020.
12.06: Sterling Shepard - I'm still waiting for this guy's breakout season and I really think that if Daniel Jones does what I think he could do, this could be the year he makes a huge leap forward.
13.07: Chris Herndon - Herndon has been hyped up by the Jets staff and if he stays healthy, could be a value as my third tight end in a tight end premium league.
14.06: Henry Ruggs - Man I love Henry Ruggs a ton, but that doesn't mean I'm scared to death of rookies because of the lack of time that they will be together with the team and quarterback. Damn you COVID-19!!!
15.07: Allen Lazard - Someone has to catch the ball other than Davante Adams, right???
16.06: Michael Pittman - He wasn't on my radar as I already my thoughts on rookies, but the position was thinning out something horrible and I needed another pass catcher with upside. The receiving corps aren't loaded in Indy, so Pittman has a chance to contribute from day one.
17.07: Gio Bernard - Being I took three running backs and waited so long to take any more, I feel like I should cover my ass in case any of them go down. If Mixon misses any time, Gio should have plenty of opportunity to be a productive fantasy running back.
18.06: Damien Harris - With Sony Michel recovering from a foot surgery, Damien Harris could be in line for work if Michel isn't at 100 percent to begin the season. Even if Michel is on the field, we all know that Bill Belichick loves to use multiple running backs.
19.07: Ito Smith - With the arthritic knee of Todd Gurley, I wanted to make sure to get Ito Smith should Gurley miss any time.
20.06: Benny Snell - Word out of Pittsburgh is that Benny Snell would be first in line to carry the load should anything happen to James Conner. Conner hasn't been the epitomy of good health, so Snell is a decent flier at this point in the draft.
21.07: Jarrett Stidham - Cam Newton is 31 years old and has a style of play that wears on a body. He missed all but two games last season due to foot and shoulder injuries...two things you kinda need as an NFL quarterback. I expect Stidham to get several starts in 2020.
Leo Grandio (@Smooth1074)

1.01: Christian McCaffrey - With the 1.01 I debated between three players Patrick Mahomes, Lamar Jackson, and Christian McCaffrey. Mahomes and Jackson are difference makers in super-flex leagues but ultimately, I chose CMC. I could not pass up locking up the number one player in this SFBX format. CMC should be a stud RB1 again this season and be the centerpiece of Matt Rhule's new offense.
2.12: Kyler Murray - I was really hoping that one of the top seven quarterbacks would make it back to me. Luckily, Murray was the one with a 50-50 chance of realistically falling to me in the draft and I couldn't press the draft button fast enough. I'm
really excited about Murray's second season in Kliff Kingsbury's high-octane offense. I believe he will take the next step and push to be a top-5 QB in the league this year. Oh, yea and he can run too.
3.01: DeAndre Hopkins - Now that I just selected Murray in the second round I was torn here at the turn to either pick-up my second RB or QB. Instead, I decided to pair him up with Hopkins, to form a lethal high-scoring stack. The newly acquired stud WR is sure to see plenty of looks in this offense.
4.12: Melvin Gordon - As I was licking my chops with the thought of Jonathan Taylor falling to me here at the end of the fourth round, he sniped from me at 4.11. Even though I debated grabbing Mike Evans here, I decided to select Gordon as my RB2. In my division running backs have been flying off the board, with seven being drafted in the fourth round alone and 23 overall. I felt that after Gordon there's a tier drop and I wanted to secure a solid RB2. When Gordon plays, he's proven that he can play at an All-Pro level and that's what I'm expecting this year.


5.01: Tom Brady - Going into SFBX, I wanted to come out of my top five picks with two solid running backs, a stud wide receiver, and two awesome quarterbacks. By drafting Brady here, I get to pair him up with Kyler Murray in this super-flex format. Brady should flourish in Bruce Arians' offense with all the weapons he has at his disposal. Coach Arians has rejuvenated veterans in the past to have a career year with Carson Palmer and the table is set for him to do the same with Brady.
6.12: Kareem Hunt - Hunt showed last season that he and Nick Chubb can coexist in the same backfield. They both were productive once Hunt returned from his suspension last season. Hunt scored 102 fantasy points in PPR leagues last year. Not only is he an essential handcuff for Chubb owners, but he has stand-alone value as well. If Chubb were to go down with an injury, Hunt would instantly become an RB1, and I will take that as my RB3.
7.01: A.J. Brown - With only having one wide receiver on my team so far I could not pass up drafting Brown. He was Ryan Tannehill's number one receiving option in the second half of last season. Brown will be a receiver on the rise in draft boards this summer. He's a WR2 with the talent to potentially end up as a WR1 by season's end.
8.12: Derrius Guice - To win SFBX you need to take some chances on talented players that have a chance of breaking out. Guice missed his entire rookie season in 2018 and most of the 2019 season due to injures. When healthy Guice has shown glimpses of what he could do. As my fourth RB, all I'm hoping for is a little luck with his health and enjoy the ride.
9.01: Teddy Bridgewater - In super-flex leagues, you need to have three solid quarterbacks. At this point in the draft, I thought it was time to grab my third QB. Bridgewater comes into Matt Ruhle's explosive offense with plenty of weapons. He illustrated last year that he has recovered from his devastating knee injury by guiding the Saints to a 5-1 record while subbing for an injured Drew Brees.
10.12: Rob Gronkowski - There's only one thing that's gone better together than peanut butter and jelly over the last 10 years, and that's Tom Brady and Rob Gronkowski. Who better to stack Brady with than Gronk, as he should be re-energized after taking a year off to heal his body. I will take my chances with the future Hall of Famer as my TE1. He should rack up plenty of first-downs and touchdowns this season.
11.01: Ke'Shawn Vaughn - Did someone say triple stack? The Buccaneers used high draft capital on the talented rookie by selecting Vaughn in the third round. Ronald Jones has been very inconsistent over his young career, so Vaughn will have every opportunity to grab ahold of the majority of the playing time in the Bucs backfield.


12.12: Irv Smith Jr. - In the second half of the draft I'm shooting for players that have the potential to breakout. Smith Jr. is an athletic tight end that will be in line for more targets with the departure of Stephon Diggs. Kyle Rudolph should stay and block more to allow the former Alabama product to roam around the offense and cause havoc on opposing defenses.
13.01: Tua Tagovailoa - It's going to be Tua Time in the 305. Ryan Fitzpatrick should start off the season as the starter for the Dolphins but there is no way if Tagovailoa is healthy that he will not be the starter before season's end. If that's the case he could be an X factor for me if one or two of my quarterbacks happen to go down. I wanted extra QB depth just in case one of them gets injured or gets COVID-19.
14.12:
Curtis Samuel
- Samuel should be one of the key players in Matt Rhule's new offensive scheme. Coach Rhule has already come out and said as much by saying "Curtis is going to be critical to our success". As my WR3, I believe Samuel will continue to improve on his career season from last year. Also if something were to happen to McCaffrey, Samuel is capable of playing a little running back, since he played the position in college.
15.01: Chris Herndon - SFBX is tight end premium, so I'm continuing to load up on athletic tight ends. Herndon was non-existent last year because he served a four-game substance suspension and then got injured once he returned. The tight end should be one of Sam Darnold main weapons and I'm hoping he can shine now that he's fully healthy.
16.12: Laviska Shenault - At this point of the draft I'm going to start taking fliers and hope I hit on a lottery ticket. Shenault was a highly touted prospect coming out of college last year and at one point was rated the number one wide receiver in college. He battled injuries throughout his college career but Shenault can climb up the depth chart fairly quickly for the Jaguars if he can stay healthy.
17.01: AJ Dillon - I noticed that Dillon was still available in the 16th round and I was ecstatic that he got back to me. I'm a firm believer that Aaron Jones is going to have major regression in his overall game especially his touchdown total. Dillon should pass Jamal Williams for second-string duties sooner rather than later. Dillon will then be just a Jones injury away from posting high RB2 numbers. Sign me up for that with my 17th round pick.
18.12: Russell Gage – At the beginning of last season Gage was buried down the Falcons depth chart and was barely involved in the offense. Once Mohammed Sanu was traded and Austin Hooper suffered an injury, Gage made his impact on the offense during the second half of the season. He compiled 49 receptions for 446 yards and one touchdown. Coming into this season Gage will be the third wide receiver of this explosive offense and should be a nice depth option for my SFBX squad.
19.01: Devin Funchess – At this stage of the draft, grabbing the Packers' possible number two wide receiver is a tremendous value. Funchess signed with the Packers during the offseason and looks like he will have all the opportunity in the world to claim that honor. The Packers once again did not do Aaron Rodgers any favors by not adding any receiving prospects in the draft. This will allow Funchess to battle for any targets available after Davante Adams get his.
20.12: Chris Thompson – Thompson will be a sneaky PPR play this year. The running back signed with Jaguars this offseason and will reunite with his former head coach Jay Gruden. When healthy Gruden utilized the talented receiving back often out of the backfield. He could be in line for an abundance of targets with gunslinger Gardener Minshew behind center. Leonard Fournette will get most of the early-down work, but Thompson will be implemented on third down. If Fournette should get injured than look out for Thompson to push for low-end RB2 to high-end RB3 numbers.
21.01: KJ Hamler – Hamler the dynamic rookie wide receiver from Penn State should be set to man the slot for the Broncos. Drew Lock's weaponry this year is loaded with playmakers all over this offense. With Courtland Sutton, fellow rookie Jerry Jeudy, newly acquired Melvin Gordon, Phillip Lyndsey, and Noah Fant on offense, will there be enough footballs to go around? I do not know where Hamler falls in that pecking order but if he has a chance in that offense with all these player makers getting opposing defenses' attention, it should leave Hamler wide open for underneath routes early and often.
22.12: Lynn Bowden Jr. - With Mr. Irrevelant of the Magna Doodle Division, I wanted to select someone that has a chance to make a splash on offense. I decided to take a flyer on Bowden, the talented rookie running back from the Raiders who is considered to be an offensive weapon. During his college career, Bowden played multiple positions including wide receiver, kick returner, quarterback, and of course running back. It should be interesting to see how coach Jon Gruden will use his new shiny toy in the offense. In his final season with the Kentucky Wildcats, he posted 1,468 yards rushing, 30 receptions for 348 yards receiving, 403 yards passing, and a total of 17 touchdowns.

Jane Baffi (@thebyeweekff)
1.02: Saquon Barkley - Workhorse running back for the Giants. Good chance he could be the RB1.
2.11: Kenyan Drake - Running back that proved he can do big things for fantasy with the opportunity he received once he was traded to the Cardinals. I think DeAndre Hopkins opens up the run game for him and I don't think Chase Edmonds will steal many touches.
3.02: Chris Godwin - High powered offense with a HOF quarterback. Top 5 WR upside. Although there were other WR's on the board still, like Tyreek Hill and Julio Jones, I wanted to take the risk on Godwin because they have a week 13 bye. I get my WR1 the entire season without needed to rest him for a bye during the fantasy regular season.
4.11: Derek Carr – After a small QB run I scrambled and grabbed Carr as my QB1. Based on the scoring for SFBX, I selected Carr because his pass completion percentage was 70.4% last season.
5.02: Raheem Mostert – First 'homer' pick of my draft. I am a 49ers fan and loved watching Mostert explode last year. Matt Breida, and his 8 rushing attempts per game, are no longer in the backfield, Mostert could become the RB1 in one of the best rushing offenses in the league. Hopefully, Mostert can repeat his 5.6 yards per carry.
6.11: Kareem Hunt – I was debating drafting Hunt at the 5.02 so I was shocked when he made it all the way back to me in the 6th round. I think Hunt is one of the best handcuffs in the NFL for the 2020 season. If Nick Chubb were to be sidelined for any reason, Hunt would immediately step in and have RB1 value. In addition to his handcuff value, he is the Brown's 1-2 punch with Nick Chubb and Hunt's 4.6 receptions per game adds weekly flex value.
7.02: Jimmy Garoppolo – Sticking to my initial draft strategy of locking down running backs and having 2 QB by round 6 or 7. I drafted Jimmy G along the same line as Carr; his completion percentage for 2019 with 69.1%. In addition, the 49ers were famous in 2019 for their yards after the catch numbers. I love the opportunity of Jimmy G earning fantasy points for those big yard plays without having to throw the ball far downfield. On the downside, he was sacked 36 times in 2019 but I am hoping the addition of Trent Williams to the offensive line will lower that number.
8.11: A.J. Green – I faded wide receiver in the draft so far, so I liked the upside of AJ. Green. In the seasons where he has played double-digit games, he has at least 7 games of WR2 finishes and at least 4 with WR1 finishes. With the first pick of the 2020 draft under center, I think the offensive could be explosive off the Burrow to Green connection.
9.02: Brandin Cooks - He seems to be a forgotten WR in the NFL and in the fantasy community. He has been traded around the league quite a few times during his short career but has put up 1,000-yard seasons 4 of his 6 years in the league with 3 different teams and 3 different quarterbacks. Although he is often described as injury prone, he has only missed 3 games in the last 5 years. With 150 vacated targets after the Hopkins trade, somebody has to catch the ball on that offense. Sign me up for the Cooks, and Bill O'Brian, 'prove it' season.
10.11: Jack Doyle – I waited a while to select my first tight end even though the scoring is TE premium. Since Frank Reich stepped up as head coach the Colts have been one of the heavier tight end passing teams in the NFL. The Colts have thrown 20% of passing targets to the tight end with Reich as the HC. With Eric Ebron now on the Steelers and, the often injured, Trey Burton behind Doyle on the depth chart, I anticipate Doyle to step up and collect the majority of that 20% passing targets.
11.02: Emmanuel Sanders – Moving on to his third team in two years, Sanders will upgrade at quarterback and complementary wide receiver with Drew Brees and Michael Thomas. Two years removed from his Achilles injury and a potential uptick in targets from last year I'm willing to take a chance on the team's clear WR2.
12.11: Gerald Everett – Everett started the year for the Ram with 37/408/2 before his injury in week 11. He was on track for a breakout season. Head Coach Sean McVay will run more 12-personal sets with 2 TE's on the field and said that Everett is a "difference-maker." Based on this information I think Everett could return to fantasy relevance if healthy.
13.02: Mike Williams – Another seemingly forgotten wide receiver in the NFL. He has had trouble finding the endzone in the previous few seasons and will have a new quarterback under center this year between Tyrod Taylor and Justin Herbert but his targets, receptions, and yards have increased each of the past three years. Sitting comfortably behind Keenan Allen as the team's WR2 I'm happy to see if he can create rapport with the new quarterbacks and bounce back into fantasy relevance.
14.11: Justin Jackson – Although he will be fighting for playing time with rookie Joshua Kelley, Jackson averaged 6.9 yards per carry in 2019 and should be the lead back when Ekeler lines up as a WR. With a limited to no offseason and training camp, I'm willing to bet Jackson wins the RB2 roles from Kelley, at least early in the season. If he keeps up his 5 yards per carry, which he has for his career, it will be tough for Kelley to steal playing time from him.
15.02: Tua Tagovailoa - Tua's NFL first start may be pushed back a few weeks due to his injury rehab however once he does take the field, he has the chance to elevate all the players around him. Hopefully, he can add some spark to my SFBX team midseason when he takes over for Fitzpatrick.
16.11: DeSean Jackson – Despite having to prove to his organization he has matured as a human being, Jackson can be a big receiving threat if he can stay healthy. If Alshon Jeffery does start the season on the PUP list Jackson has a chance to be the team's WR1 with only a rookie behind him competing for WR targets.
17.02: Devin Funchess – Seemingly dismissed after missing the 2019 season with a broken collar bone, Devin Funchess, who was the WR17 with Cam Newton in 2017, now finds himself on the Packers competing for the WR2 spot. If he develops chemistry with Aaron Rodgers to secure the WR2 role Funchess could be one of the sleeper league winners in 2020.
18.11: Steven Sims Jr – Sims had a great rookie season and has a good chance to be the WR2 on the team. Despite some competition from newly drafted wide receivers, I'm hoping Sims can pick up where he left off last season and provide great value to my SFBX team.
19.02: Marcus Mariota – This Mariota pick is pure insurance for my QB1, Derek Carr. If Tua doesn't end up taking the field this season and Carr gets benched I don't want to be left with only one quarterback in Jimmy G in a Superflex league.
20.22: DeeJay Dallas – I picked Dallas because he has a shot at playing the RB2 role this season if any of the running backs ahead of him on the depth chart deal with injuries.
21.02: Josh Oliver – Oliver will start the season behind newly acquired Tyler Eifert. Eifert has had troubles staying healthy and playing the entire season so Oliver has a chance to become the TE1 for the Jaguars if Eifert ever misses time.
22.11: Dion Lewis - With my last pick of the SFBX draft I grabbed an insurance player for my first pick. Lewis is now on the Giants, and if Barkley were to miss time, would be in a running back committee. Although I do not expect to start Lewis at any point this season, assuming Barkley stays healthy, it is nice to know I have one of his backups if he does miss time.
Gary Haddow (@GaryHaddow1) *SFB9 Winner*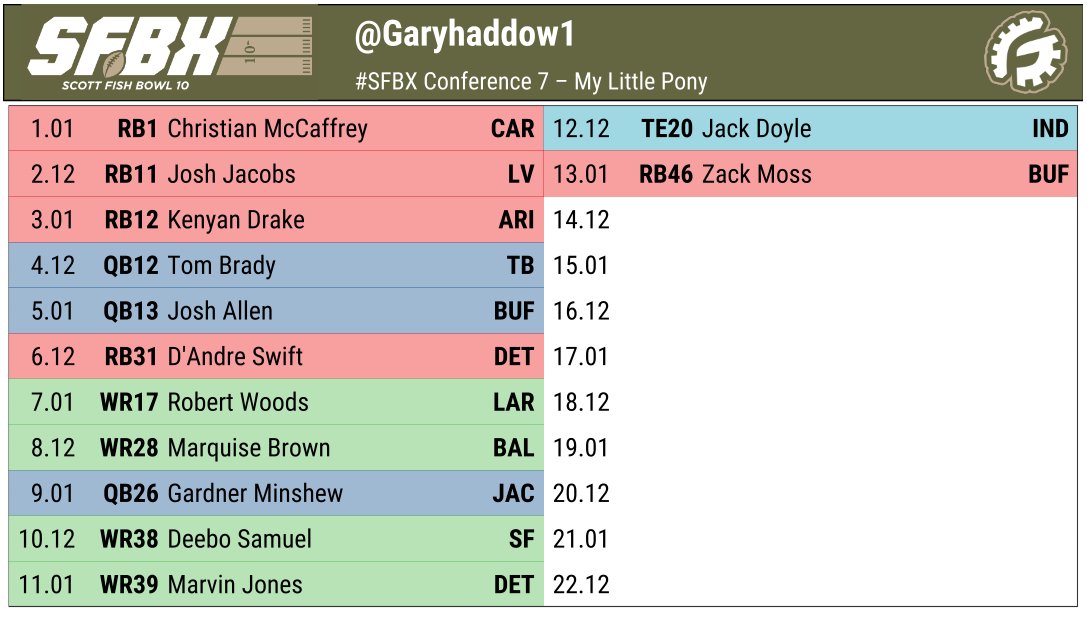 1.01: Christian McCaffrey - Overall consensus best running back and maybe the best overall fantasy player relative to their position.
2.12: Josh Jacobs - High floor, low challenge for touches. Second-year back with an ascending offense, that should have more catches and be healthier. Darkhorse to move up into the elite tier of RB by year-end.
3.01: Kenyan Drake - High powered offense who can catch and run the ball. Should have a high TD upside and has shown he can be a bell cow, even if only for the back half of last season. Should have clean running lanes in the most spread offense in the NFL.
4.12: Tom Brady - High-efficiency passer with possibly the best weapons he has had. Built-in upside given the new offense under Bruce Arians. Gotta love his weapons and the narrative that he wants cement being the GOAT without the strings of Bill Belichick.
5.01: Josh Allen - My biggest pivot of the draft so far - I was not a fan of Josh Allen at his third-round price tag, but as my QB2 I am quite excited. Will need to step up his efficiency to be a game-changer in the #SFBX format, but with the addition of true WR1 Stefon Diggs he has that potential. Diggs, Brown, and Beasley create a dynamic trio that should allow Josh Allen to thrive. Oh, and he can run with the best of the QBs and provides a TD rushing floor.
6.12: D'Andre Swift – This is looking like a split backfield, but Swift looked like a top prospect and the Lions picked him as the second RB in the 2020 draft. As a RB4 he has PPR and TD upside, but given what could be a slow start for rookies I'm pulling for a strong second half of the season. If Kerryon Johnson gets hurt again then Swift could be a massive advantage down the stretch.
7.01: Robert Woods – I finally succumbed the WR pressures and took what I believe is a top 10 WR in a strong offense. I like having a receiver with a strong PPR floor and positive touchdown regression coming his way. In the NFC West with 4 strong offenses, I hope to see shootouts that lead to Woods solidifying his place in the top 10 wide receivers.
8.12: Marquise "Hollywood" Brown – Should become one of the top deep threats in the league. He would have been drafted higher if not for his injuries lowering his 2019 production. Ravens offense is top notch and I want Hollywood's share of that production. Dude is blazing fast.
9.01: Gardner Minshew – I wasn't planning to go QB3 here, but since I took Josh Allen (bye week 11) I had to pivot away from my usual Foles/Fitzpatrick selections later in the draft. The Jaguars defense should put them in some holes that Minshew is forced to throw his way out of. Adding Shenault and Eifert should boost Minshew and the offense as a whole. Second year QBs make the biggest leap, so here's to hoping he does too.
10.12 Deebo Samuel – Yes, Deebo has to have foot surgery, but his return is expected sometime in September. Pre-injury he was a top 20WR. This pick is for the back half of SFBX, and because I am 49ers homer. Ironically, I think Deebo is better for the 9ers than your fantasy team. BUT, that was when he wasn't such a screaming value at WR38.
11.01 Marvin Jones Jr. – After going with an upside play like Deebo I wanted to solidify my WR Corps having waited on WR. Marvin Jones is a high TD total with consistent weeks in between his blow up games. As a WR3 I can set and forget as he is pretty much matchup proof to see solid targets. He is perennially forgotten about, and tends to end up closer to WR15 than WR35. Oh, Marvin finished WR25 in SFBX scoring for 2019 (He missed 2 games)…. Mic Drop.
12.12 Jack Doyle – I finally gave in an took a Tight End. Why? Because apparently, I had to despite my preferring to wait another 24 picks. Jack Doyle gets Philip Rivers as his QB who tends to love throwing to his TE. Target competition? Ailing TY Hilton, second year and ailing Parris Campbell, rookie Michael Pittman, Gigantor Mo-Allie Cox, and newly signed Trey Burton (he will be on my draft list later this tournament). Doyle has a high reception floor which is all you care about in a TE-Premium league and you're 12.12 is probably the latest a team will take their first tight end.
13.01 Zack Moss – I want the upside of a back in this system with Devin Singletary not being given the chance to be the goal line back. I "stacked" Moss with Josh Allen, and if Moss hits this is the type of pick that blows up my division. He is my RB5, the 46th RB off the board, and I love his upside to drastically surpass what Old Man Frank Gore did last year: RB46. Can I drop a second mic?
Kevin Tompkins (@ktompkinsii)
1.02: Saquon Barkley - Requested 1.02 with getting one of CMC or Barkley. Happy to get Barkley, who is the only back outside CMC with a realistic 1000-1000 upside. This ascending offense runs through him. Ecstatic.
2.11: Drew Brees - Initially went into SFBX wanting to stack multiple RB in the first three rounds, but my two targets (Drake and Ekeler) were picked the two picks before mine. Pivoted to Drew Brees, who should feast in this scoring. As of this writing, was taken the 2nd latest of the 112 drafts he was taken in.
3.02: Todd Gurley - Considered other backs available at 3.02 like CEH or Aaron Jones, but with questions on the opportunity for both, detoured slightly to Gurley. He looked like he had that burst again, but his offensive line did him no favors. Now in Atlanta with not much competition behind him, a healthy Gurley has a path to 300 touches behind what one would say is a younger but talent-rich offensive line that should begin to gel, and offensive weapons to take the focus off. I love this pick and it could pay big dividends in a 1440 team tournament like SFBX.
4.11: Chris Carson - A path to 275-300 touches in a run-heavy offense? Sign me up. Love the value of Carson here. Not super worried about the hip injury or the Carlos Hyde signing. That signing seems like an indictment of Rashaad Penny and not of Chris Carson's health. The trio of Barkley, Gurley, and Carson should net 900 touches or more and that is absolutely satisfying.
5.02: Robert Woods - Couldn't resist here, but Allen Robinson would've been the pick if he hadn't been selected the previous pick. All Woods has done the last two years is at least 85 catches, 1100 yards, and 130 targets in each season. If he were a sexier name, he'd be a top 8 options, but happy to get him here. He's safe, reliable, and consistent.
6.11: A.J. Brown - If Tennessee can bottle up some of that efficiency from A.J. Brown last season, then we're in for one heck of a season. Brown is the unquestioned top target for Ryan Tannehill and should be targeted early, often, and deep. Love the upside here as my WR2.
7.02: Ben Roethlisberger = Ben should be healthy after Tommy John surgery in his elbow. If the Steelers truly had concerns about his health, they would have done more to bolster the quarterback position aside from keeping the two incumbents Mason Rudolph and Duck Hodges. That gives me confidence as my QB2.
8.11: Gardner Minshew - SHEEWWWWWVALLLLL! Minshew-mania graces Kevin's team again this season! Last season, he was a high-dollar FAAB claim, now he's an 8th rounder. Behind two quarterbacks that are both almost old enough to be his father, Minshew should find his way to come starting opportunities should Ben or Brees go down.
9.02: Jordan Howard - Will get a ton of run in a Miami offense that is trending upwards. He looked great as an Eagle last season, so him in tandem with Matt Breida should be very solid.
10.11: Deebo Samuel - Should be back by Week 3 at the latest for the 49ers. A definite value as Kevin's WR3.
11.02: Zack Moss - I reached a bit, but I love Moss just as much as the Bills do. I think he can eat into Josh Allen's touchdown upside and eventually, wrestle the starting job away from Devin Singletary. This kind of upside in a double-digit round is rare, so I had to pounce on it.
12.11: Boston Scott - Very involved towards the end of last season, and we know Doug Pederson doesn't use just one back. Very underrated and a sneaky flex play in most weeks.
13.02: Blake Jarwin - A hot breakout candidate, Blake Jarwin could carve out a significant role with all of those vacated targets remaining in Dallas. As my first tight end, there's not a significant price paid to see what he's got, but an immense ROI could be on tap for 2020.
14.11: Antonio Gibson - Comparisons to Christian McCaffrey aside, if Washington can't figure out their backfield, they could look to Gibson as a spark. Well worth the price of admission in the 14th.
15.02: Eric Ebron - Why can't he catch 8-10 touchdowns this season with Ben Roethlisberger throwing the ball to him? Love the drop to me here in the 15th.
16.11: Breshad Perriman - A potentially #1 receiver in the 16th round? If Perriman builds on his end of 2019, he could be a top target for Sam Darnold and if things go perfectly, THE top target. The Jets gave him $6.5 million to see what he can do this season, they'll certainly find out.
17.02: Allen Lazard - Somebody has to win the WR2 job in Green Bay, why not the young 6'5" skyscraper in Lazard? He looked good in limited action last season and only has the corpse of Devin Funchess to contend with. In the 17th round, he's a quality dart throw.
18.11: DeSean Jackson - Off the field issues aside, if healthy, he's a big deal in this Eagles' offense. The Eagles' receiving corps need all the reinforcements they can get their hands on, so Jackson would play an enormous role when healthy.
19.02: Tyler Eifert - With familiarity to new OC Jay Gruden, Tyler Eifert moves on to Jacksonville and one would assume he takes charge of the lead tight end role there. If healthy (the key here), he could be on a pathway to sneaky value this season.
20.11: Kaden Smith - Evan Engram is no guarantee to stay healthy for an entire season, having played only 11 games and 8 games in 2018 and 2019, respectively. Enter Kaden Smith, who flashed in spot duty last season and stands to benefit in an ascending offense should Engram miss any time.
21.02: Rashaad Penny - A penny stock that could boom mid-2020, Penny is likely to hit the PUP list to start the season after tearing his ACL late in 2019. He looked great at times for the Seahawks, so if he can regain that burst on the field, he'll be pretty involved in the offense.
Pete Stitzinger (@peteystitz)
1.09: Derrick Henry - He signed his tag, there's no immediate threat to his workload, and he's a workhorse.
2.04: Josh Jacobs - Again, no real threat to his workload IMO. There's an injury concern, but not too worried about it.
3.09: Josh Allen - Probably a slight reach (especially when you see my next pick) but it's a put up or shut up year for him and I obviously like the system he's in. Sure, I may get dinged for incompletions and whatnot, but I'm hoping he makes it up with his legs and poaching TDs.
4.04: Baker Mayfield - I know, probably not the wisest decision to go QB/QB especially with the caliber of players, but again, it's a put up or shut up year for Mayfield and he's also in a good working system with a beefed-up O-line and targets galore (one of which I should be able to acquire for a nice stack - same with Allen).
5.09: Odell Beckham, Jr. - And there's the stack. Still available at 57th overall, Odell is the clear #1 WR on that offense, who better to pair with Mayfield? He's also now one year in with his new team, healthy, and more than 80% blonde (see my retweet on 7/8).
6.04: Cam Akers - I do have slight concerns about what kind of workload McVeigh will give him right out of the gate, but I expect him to be the lead back pretty quick for the Rams. He's coming off a 14 TD/1,144 yd/ 5.0 average YPC at Florida State.
7.09: D.K. Metcalf - I was very high on Metcalf for the back half of 2019 and I have nothing but confidence with the share I got, and love the value as the 19th WR off the board. Lockett is still there of course, but DK made his presence known in his rookie season, and I think Wilson will have a new favorite target of DK isn't that already.
8.04: Stefon Diggs - I homered again and selected Buffalo's newly acquired #1 WR. Huge gamble - new team, new QB (another pairing strategy here too having Allen on my squad), who needs to work on accuracy. And with everything going on now in the world, who knows how much actual practice Diggs will have with Allen before the season begins. But, a true #1 (finally) WR in Buffalo, who spent a 2020 first-round and more to get him... he'll get the lion's share of targets.
9.09: Ronald Jones - I really wanted some sort of share in this much-improved offense, and Jones being available here was too good to pass up. Although Tampa Bay spent a 3rd round draft pick on Kee'Shawn Vaughn, all signs are pointing to Jones being the starter in this offense.

10.04: Jack Doyle - This was my toughest pick to decide on. Doyle was arguably one of the best TEs available at the time. I probably could've held out for another 16 picks in lieu of adding depth at another position, but I think after seeing Gesicki and Hockenson go at the turn a few picks prior, I was smelling a run a TE coming (which 3 more did go in the subsequent 6 picks). But I'm confident in him as my TE1, especially now with Rivers as his QB who seems to love throwing to TEs.
11.09: Justin Herbert - I had to get my 3rd QB at this point. I didn't want to be caught without at least 1 QB option in my superflex spot for Allen and Mayfield's respective bye weeks. At this point, Herbert was the best remaining choice. I wasn't willing to gamble not having the option to select him even only 7 picks later (especially when 4 of the subsequent teams picking also only had two QBs rostered at that point).
12.04: Zack Moss - Last time homering, I swear. I considered taking a fourth WR here, but there is still a good amount to choose from, as are for TEs, but RB is beginning to dwindle and that's a position that needs depth. At 36, Frank Gore put up decent numbers in a shared backfield with Devin Singletary. Moss should serve well between the Tackles and even see some goal-line carries (provided Allen doesn't poach them...)
John Psilas (@JohnPsilas)
1.08: Michael Thomas - I took MT. An obvious WR1 that could repeat as THE WR1. I'm not worried about Emmanuel Sanders being there, Thomas is a beast. Gimme all the receptions and PPFD.
2.05: Miles Sanders - I was hoping to get Chubb on the way back but it didn't happen. After much mental debate and listening to Brian Drake wax poetic on the FF Hustle podcast ..... I took Miles Sanders. The talk is that he'll get tons of touches AND RECEPTIONS. Now I cross my fingers and hope they don't sign some trash FA.
3.08: Darren Waller - It took an entire day to get back around to this pick and by this time, 14 RBs, 8 QBs, and only 3 WRs. I went with Darren Waller here because there was a bevy of WRs still out there and Waller is a solid TE who will continue to catch short passes from check-down machine Derek Carr. Again, gimme all the receptions and PPFD.
4.05: Matthew Stafford - I was targeting Matthew Stafford here and I got him. Felt like he was the best option, given the fact that 11 QBs were gone by this time - the usual suspects as well as Tompa Brady, Carson Wentz, and Josh Allen. Stafford has QB1 upside with a familiar scheme and WR corps.
5.08: Jimmy Garappolo - Another full 24 hours passed in the slowest SFB draft in history. By this time, I felt like I needed to snag a second QB because they were flying off the board. I wanted Baker, but he was sniped at 5.07, so I went with Jimmy G. Another year in the Shanahan passer-friendly system and a healthy Kittle makes him a great QB2. The Deebo injury hurts though.
6.05: DeAndre Swift - Time to bulk up the roster a bit. I chose DeAndre Swift here. A pass-catching back the Lions drafted at 35th overall, I think he will eclipse Kerryon sooner than later and it gives me a sneaky Stafford-Swift stack that could produce a couple spiked weeks.
7.08: DK Metcalf - Time to get another WR. I got a bit worried here because WRs started going fast - Ridley, Chark, Woods, McLaurin, Lockett - gone! So it was between DKM and Cortland Sutton here… I chose DK. His rapport with Russell is one year stronger and his route-tree was expanding greatly by the end of 2019. Let's hope they #letRusscook.
8.05: Damien Williams - By this time, I have 2 QBs, 2 RBs, 2 WRs. I don't usually go into these drafts looking for balance as I think that severely limits upside, but every draft is different. I didn't feel like I needed a 3rd QB and WR is super deep, so I was elated to see Damian Williams here. In a year with zero preseason and limited reps altogether, a veteran RB that has familiarity with his Super Bowl-winning team is an easy choice.
9.08: Will Fuller - Pretty tough pick. I was targeting Fuller or Marvin Jones here and thought there was a slim chance of me getting either of them, but they were both available. I think Fuller carries huge upside as the likely WR1 on his team, and Nuk out of town. I realize the health downside is real. Jones would have been a nice stack with Stafford. Ultimately, I went with Fuller, favoring the upside, and forgoing the almighty stack. Let's hope I don't regret it.
10.05: Sam Darnold - In this superflex format, you need at least 3 QBs mainly as injury protection. If you carry 2 QBs and one goes down, you're toast. I was choosing between Sam Darnold and Teddy Bridgewater, but Teddy was snagged 2 picks before me. Sam Darnold carries a scary low floor, but also has the talent to produce spiked weeks. I was happy to get him because otherwise, it was guys like Tyrod, Tua, or Haskins.
11.05: Ian Thomas - I think I panicked a bit here. I liked guys like Hockenson, Fant, and Jarwin as my TE2, but they were all scooped up within the round. So I grabbed Ian Thomas. An athletic freak, Thomas is a great value in the 11th - a starter on a team with an awful defense, their offense will likely be playing from behind offering decent volume.
12.05: Marlon Mack - At this point, I have my starters and some depth. These rounds are used for playing the room, paying close attention to how other people are building their teams while building depth on my squad. I drafted Marlon Mack here as my 4th RB. SFB has extra flex spots and you only need to start 2 RBs, so having a (likely) starter in Mack as my RB4 was impossible to pass up.
13.08: John Brown - I knew I was going to hammer wide receivers in these mid/late rounds. I really wanted Preston Williams here - a player who flashed in his rookie year before getting injured… but I was sniped, one pick before!!! So I "settled" for John Brown. After a productive and healthy 2019, Brown carries his usual upside as a speedy, deep-threat. Stefon Diggs may dampen his target share, but his ADP reflects that. Good value.
14.05: Breshad Perriman - My next WR was Breshad Perriman. Awesome pick to pair with Sam Darnold if needed, but carries stand-alone value as the WR1 on his own team. Perriman showed great rapport catching YOLO deep balls from Jameis last year. Look for more of the same in 2020.
15.08: Michael Pittman Jr. - Continuing to pound WR, I went with Michael Pittman Jr. He'll be behind WR1 TY Hilton and WR2 Parris Campbell (who went a couple picks before me), but Pittman should be on the field in 3WR sets. Bench depth with decent upside.
16.05: AJ Dillon - Dillon will add RB depth with injury upside in an Aaron Rodgers lead offense. Not too bad in the 16th round.
17.08: Jalen Hurd - I was glad to take rookie wideout, Jalen Hurd this go-round. With the injury to Deebo Samuel, he will get reps to start the season. A piece of a Shanahan offense this late… paired with Jimmy G…? I'll take it!
18.05: Ryquell Armstead - As my RB6, Armstead has little stand-alone point value, but decent injury-upside. Good pick, especially if Fournette gets injured or shipped out of Jacksonville.
19.08: Reggie Bonnafon - More injury arbitrage here…. The ultimate late-round injury guy. Bonnafon will not see the field unless there is an injury to star RB Christian McCaffrey.
20.05: Jordan Akins - A "eh what the heck" pick. He's not the starter, splits time with Darren Fells, but TE depth here for free.
21.08 Dion Lewis - Running back Dion Lewis is on a new team and will likely see fewer carries than he saw last season. But he remains a talented back with 3-down, injury upside - that's what these final rounds are about.
22.05: Chase Claypool - With my final pick I went with rookie WR Chase Claypool. In a high-volume Pittsburgh offense, Claypool may luck into some decent targets. We shall see.
---