Start and Sit For Week 1
---
Fantasy Drafts are done and we're finally ready to roll up our sleeves and set up our rosters for real football! Welcome to the road to Titletown! This week, Leo Grandio (@smooth1074) and Matt Miles (@DirtyAirFC) look at who are some options to start or sit for Week 1 as we begin our weekly journey to raising a Fantasy Football Championship in 2023/2024.
Remember that you are starting your studs no matter what. We will focus on some of the tougher decisions that fantasy managers have to give you an edge to get the win for the week. Without further ado here are some options to Start and Sit for Week 1.
Starters at Quarterback
Derek Carr, QB New Orleans Saints
Stop the Carr, right now! One of the teams that was talked about more with the legal troubles of Alvin Kamara than the team itself is the New Orleans Saints. No news might be good news in the case of veteran Derek Carr. In terms of a fantasy asset, Carr has always been "fine," up until last year's drop in production. You know you'll bank on 24-27 TDs and 3500-4000 yards every year. The Tennessee Titans make a rare visit to the Superdome and bring with them a defense that was ranked best against the run last season, yet ranked dead-last against passing. Carr isn't a runner, and the Saints aren't particularly strong at running back. All of these ingredients make a fun pot of gumbo for Derrick Carr to cook up a fantasy win for quarterback streamers. -Matt Miles
Sam Howell, QB Commanders
Sam Howell showed some promise late last season, once coach Ron Rivera turned the keys over to the rookie quarterback. Now with the arrival of offensive coordinator Eric Bienemy from Kansas City, look for this offense to soar in 2023. What better way to start the season with the sacrificial lamb that is the Arizona Cardinals? The Cardinals gave up the second-most points to quarterbacks last season and that trend will continue in 2023. If you are in a deeper league or super-flex league, Howell should post mid-to-low-end QB1 numbers for this week. -Leo Grandio
Sitters at Quarterback
Daniel Jones, QB Giants
Sunday Night Football boasts a solid NFC East rivalry game, pitting the New York Giants against the Dallas Cowboys. With an implied point total of 46.5, scoring could be at a premium as these teams duel in the Meadowlands. Daniel Jones has not been able to crack the Dallas Defense, as The Giants in their past 3 matchups against the Cowboys scored six, 16, and 20 points. Despite the addition of Darren Waller, Daniel Jones is an easy fade this week. - Matt Miles
Daniel Jones, QB Giants
When you look at the final fantasy rankings for the 2022 season, you will notice that Daniel Jones was a top-10 quarterback last season. The man is a dual threat and will be a fantasy starter most weeks but for me, he is a sit for Week 1. Jones faces a tough match-up in the season opener against the Cowboys defense. In both contests last season Jones was not able to pass 250 yards passing and was held to one touchdown. If have another quarterback with a better match-up go for it, because you may not be happy with Jones's outcome after Sunday. -Leo Grandio
Starters at Running Back
Deon Jackson, RB Colts
Deon Jackson will likely get the start for the Indianapolis Colts this week. Jackson in a start last season against Jacksonville ripped apart the Jags with 10 catches and a touchdown. The risk is there for a messy committee with a potential return of Zach Moss and poached touchdowns by dual-threat quarterback Anthony Richardson. Given the state of running backs in today's fantasy landscape, you have to consider any starter, especially one with some past history against their opponent. - Matt Miles
Jamaal Williams, RB Saints
Alvin Kamara, where are you? Ah, there you are sitting at home serving a three-game suspension for some unfortunate off-field issues. That leaves Jamaal Williams ready to pounce and be the RB1 for the Saints until Kamara returns. Williams showed last season that he can not only carry the load if needed but can be a touchdown machine. In 2022, Williams illustrated that he could handle a huge workload when he rushed 262 for 1,066 yards and 17 touchdowns. For Week 1 Williams faces a Titans team that allowed over 16 fantasy points to running backs last season. Kendre Miller is still not practicing due to a hamstring injury which means even more touches for Williams. Fantasy managers should insert Williams into their line-ups as an RB2/Flex play. - Leo Grandio
Sitters at Running Back
Philadelphia Eagles Running Backs
The Philadelphia Eagles are arguably the best offensive team in the NFL on paper. Sometimes, that does not translate into fantasy production, especially when you look at a potential congressional committee of D'Andre Swift, Rashaad Penny, Kenneth Gainwell, and Boston Scott. I'm not going to tell you there's no potential fantasy value here, but I will tell you for most home redraft leagues, it's best to sit this one out until there's some clarity in this Nick Sirriani offense. - Matt Miles
Breece Hall, RB Jets
I'm a huge fan of Breece Hall, especially in Dynasty but for Week 1 you may want to temper your expectations. First of all the coaching staff have already confirmed that they will integrate him back into the offense slowly at first since he is coming back from a torn ACL injury. Secondly, the Jets did sign Dalvin Cook for a reason, meaning that touches will be split accordingly. The Jets are also playing against a stout Bills run defense, so there may not be any big holes to run through on Monday Night. Lastly, the Jets did bring in future Hall of Famer Aaron Rodgers to throw the ball, and we all know he will be eager to show the world that he still has game. I know Hall was surely drafted as an RB2 but for Week 1 you may want to throw him in as a flex if needed. - Leo Grandio
Starters at Wide Receivers
Jahan Dotson, WR Commanders
I unfortunately subjected myself to the "motivational" speech by Jonathan Gannon, and then his subsequent commentary about leaving The Philadelphia Eagles. Do you know who will be motivated this week? Jahan Dotson will be. The Washington Commanders seem to have a new lease on life post-sale and Dotson in his debut last season only caught three balls for 40 yards and a pair of TDs. With scary Terry McLaurin on the mend and likely playing as a decoy, look for Dotson to put up a top-five fantasy performance against a tanking Cardinals team. - Matt Miles
Chris Olave, WR Saints
When you think of how impressive Chris Olave was as a rookie last year, you realize that he is a stud in the making. Olave had over 1,000 yards receiving and four touchdowns while being targeted 117 times. This year he gets a major upgrade at quarterback with Derek Carr signing with the Saints over the offseason. In Week 1, Olave gets a juicy match-up against the Titans, who allowed the most points to wide receivers last season. The second-year receiver will produce WR1 numbers for the week and you can also fire up Michael Thomas as nice flex play as well. - Leo Grandio
Sitters at Wide Receivers
Juju Smith-Schuster, WR Patriots
The next Antonio Brown. The next Tyreek Hill. The next Jakobi Meyers? The replacement journeyman JuJu Smith-Schuster is on his third team in four years. Maybe things finally work out for Juju in New England, but expectations are low facing a Philadelphia Defense that Pro Football Network ranks at #5 in the league. PFN further describes the Eagles Defensive Line as a "firing squad." The Patriots O-line ranks 28th in the league out of 32 teams. JuJu will be blocking to save Mac Jones more than catching footballs from Jones this week. - Matt Miles
Marquise Brown, WR Cardinals
Marquise Brown is the unquestioned WR1 for the Cardinals. As mentioned above Kyler Murray is on IR still recovering from his torn ACL. Now with Joshua Dobbs behind center who's only been with the team a few weeks and the Commanders' defense focused on stopping Brown in the receiving game, fantasy managers will want to start other options at WR3 or flex. It is difficult to trust anyone in this offense other than James Connor. So……Move Along nothing to see here.
Starters at Tight End
Juwan Johnson, TE Saints
It's no secret that Derek Carr loves his tight ends, making Darren Waller a fantasy household name over the past few seasons. There is a secret in New Orleans that not many know about Juwan Johnson. Despite having QB-TE-RB Taysom Hill around, Johnson began quietly carving a role for himself in the evolving Saints Offense. I expect Johnson, especially with the absence of Alvin Kamara for the next 4 weeks, to expand his role and earn a starting spot on your fantasy roster. - Matt Miles
Tyler Higbee, TE Rams
Last season, Tyler Higbee was targeted 104 times, and most of those targets came from quarterbacks not named Matthew Stafford. Higbee totaled 72 receptions for 620 yards and three touchdowns. With Cooper Kupp still out with an ailing sore hamstring, the talented wide receiver has led him to get further evaluated. The door is wide open for Higbee to be a target monster this week and should post TE1 numbers for fantasy managers in Week 1. - Leo Grandio
Sitters at Tight End
Dalton Kincaid, TE Bills
Rookie tight ends love to be hyped, and we need to temper our expectations. The Buffalo Bills are facing a very good, if not the best defense in the NFL with the New York Jets. Dalton Kincaid likely will be helping block on a lot of plays, and a sub-10-point score is definitely in the realm of possibilities this week. - Matt Miles
Cole Kmet, TE Bears
At the end of last season, Cole Kmet came on strong to finish in the top 10 at the tight end position. However, due to the injuries that the Bears' receivers suffered last season, Kmet was Justin Fields' only option. Now that Darnell Mooney has returned and that they traded for D.J. Moore, there will be far fewer targets heading Kmet's way. Kmet faces a stingy Packers pass defense that averaged just 197 yards passing against them for the season. Wait for another week to deploy Kmet in your starting line-ups because in Week 1 he should be a sit unless you are in a deeper league. - Leo Grandio
Starters at Defense
Green Bay Defense
Green Bay Packers vs. the Chicago Bears is another long-time rivalry in the NFL. Bears quarterback Justin Fields and Broncos quarterback Russell Wilson were tied for being sacked the most in 2022 with 55 sacks each. The Bears' offensive line doesn't look much different in 2023, and Fields' dual-threat style of play will likely support the barrage of sacks to continue. - Matt Miles
Washington Commanders Defense
The sacrificial lamb also known as the Arizona Cardinals comes to Washington with a backup quarterback and no Kyler Murray (IR) or DeAndre Hopkins (Playing in Tennessee now) in sight. The Commanders should jump out ahead to an early lead and then start pounding the rock and the defense will start teeing off on the Cardinals' offense at will. - Leo Grandio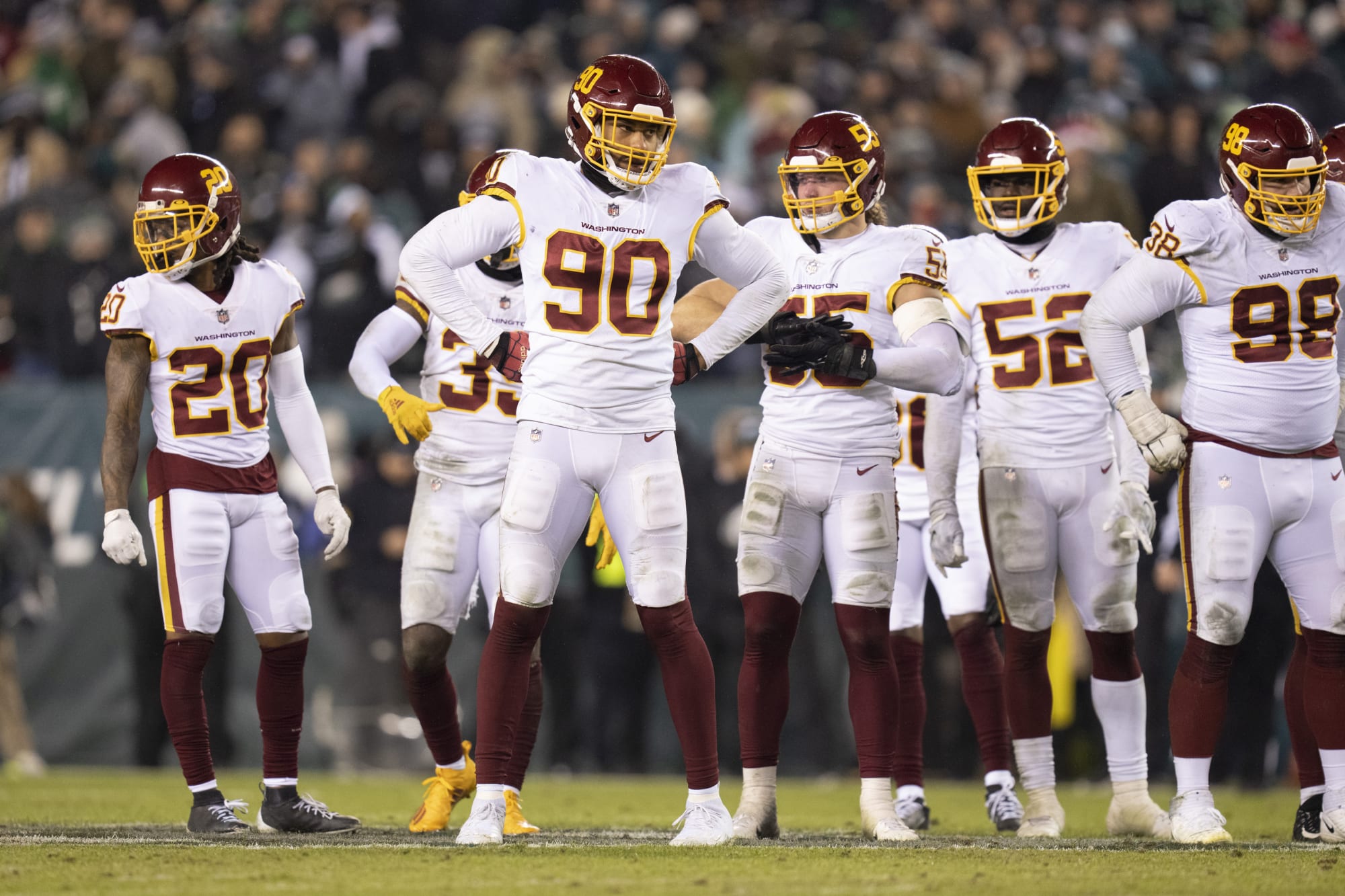 Sitters at Defense
Dallas Cowboys Defense
The Dallas Cowboys defense, though ranked first this season by Pro Football Network, might be a disappointment in the fantasy scoring column, despite a stellar record against the Giants over the past three seasons. The Giants have not allowed Daniel Jones to be sacked by a Dallas Cowboy in his career, and have only intercepted him three times, despite Jones' record of 1-6 in his career against Dallas. Real life does not equate to fantasy success in this match-up. - Matt Miles
New England Patriots Defense
The Patriots' Defense is always tough on defense and usually a great provider of fantasy points for fantasy managers, but they might run into a buzzsaw in Week 1. With the high-flying Eagles' offense coming to town, it will be difficult to tame Jalen Hurts and the boys, so look elsewhere for a defense for the week. - Leo Grandio
If you have any start or sit questions feel free to reach out to us on X @FCFantasySports.
---