Start and Sit Week 2
---
Welcome to week 2 of the 2022-2023 NFL Season! We've got a sample of how things may shape up this fantasy year, and it's time to start looking at who we should go to, and who we're saying no to. You're starting your studs no matter what. Don't get cute by sitting them over players you see here. This article focuses on who we feel can give you an edge this week.
Starters at Quarterback:
Jared Goff, QB - Detroit Lions
Jared Goff and the Detroit Lions nearly stunned the Philadelphia Eagles at home on Sunday. The former top pick was a respectable 21 for 37 for 215 yards and 2 TDs with one pick and only 1 sack. Goff was steady and found Amon Ra St Brown and DJ Chark in the end zone. Facing the 14th-ranked defense against QBs this season at home, look for a step forward from Goff this week. - Matt Miles @DirtyAirFC
Aaron Rodgers, QB - Green Bay Packers
Since 2008, Aaron Rodgers is 12-2 versus the Chicago Bears at Lambeau Field. Despite a 67.6% QBR last week, you can almost bank on Rodgers to have a sharp comeback. Allen Lazard may return this week, plus another week of cohesion with his young receivers should help. Look for this Packer to 'Discount Doublecheck' in the endzone several times this weekend. - Matt
Matthew Stafford, QB - Los Angeles Rams
Going into Week 1 everyone in L.A. was hyped to get their rings before the game. Unfortunately for Matthew Stafford, everything went downhill from him there as the Bills came to town, punched the champs in the mouth, and left LaLa land with the dub. Stafford had a horrific opening performance by connecting on 29 of 41 pass attempts for 240 yards, a touchdown, three interceptions, and got sacked seven times. That was the bad news, now here comes the good news. Stafford will be home to welcome the Falcons with open arms. Atlanta just let Jamies Winston throw for 269 yards and two touchdowns. Look for Stafford to throw for over 300 yards and three touchdowns in an excellent bounce-back game for the Rams. - Leo G. @smooth1074
Matt Ryan, QB - Indianapolis Colts
Matt Ryan had a promising debut for the Colts last week. Ryan threw for 352 yards, a touchdown, and an interception versus the Texans in Week 1. The Jaguars come into the contest after allowing Carson Wentz to resurrect his career. Wentz who has been missing for the last few years and could only be found on milk cartons lit up the Jaguars defense for 313 yards, four touchdowns, and had a couple of interceptions. Look for Ryan and Michael Pittman to hook up early and often. This will lead to Ryan's encore performance being on par with Wentz's Week 1 performance on his way to posting low QB1 numbers for the week. - Leo
SITTERS at Quarterback:
Trey Lance, QB - San Francisco 49ers
Field conditions in Chicago last week should have highlighted Trey Lance's scrambling abilities. Instead, we saw a very muted game with a 13 for 28, 164 yards, 0 TD line. This week's assignment with the Seahawks looks to be a tough match-up, as the 'Hawks kept Russell Wilson and the Broncos to just 16 points in clear weather. - Matt
Kyler Murray, QB - Arizona Cardinals
Sheesh. Without DeAndre Hopkins and Rondale Moore, Kyler Murray had a brutal first three quarters against Kansas City last week, with only garbage time salvaging his fantasy day in week 1. Moore is still questionable to return in week 2 and the Cardinal's defense is ranked near the bottom in every stat column this year. Murray is going to need too much to go right to keep up with the Raiders in a potential shootout on the road this week. - Matt
Tua Tagovailoa, QB - Miami Dolphins
Being that I'm a Dolphins fan I had a hard time writing this section of the article. Tua Tagovailoa and the Miami Dolphins showed the Patriots and the rest of the NFL last week that they are here to play! On opening day the Ravens held the Jets to nine points last week on the road. This they are home and Tagovailoa has to prove that last week was no fluke. The Dolphins quarterback should hover right under the 20-point fantasy mark on Sunday, making him a pass for me this week. - Leo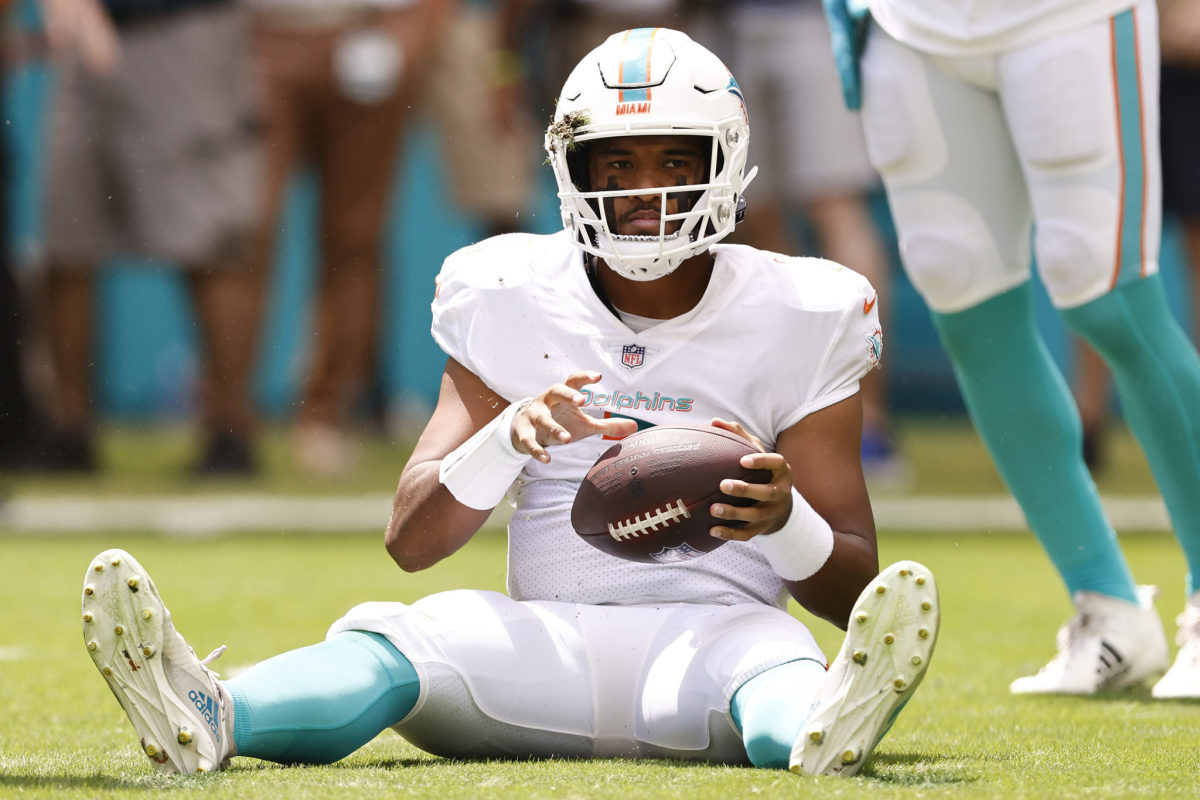 Jamies Winston, QB - Tampa Bay Buccaneers
This week Jamies Winston goes back to where it all started to face his old team the Buccaneers. Winston has the playmakers to have a breakout year but the Buccaneers have a really tough defense and they locked down Dak Prescott with ease in Week 1. Winston should only be started if necessary but don't expect too much from Winston this week. He may post mid-QB2 numbers this week. - Leo
Starters at Wide Receiver:
DJ Moore, WR - Carolina Panthers
DJ Moore is a perennial name on value lists, and it looks like Baker Mayfield can finally complement Moore's talent. Coming off of a 6-target, 3/43 week, look for the Mayfield/Moore duo to take a step forward against a Giants Secondary that let two rookie wideouts go 11/121 last weekend. - Matt
DJ Chark, WR - Detroit Lions
Dovetailing into our Jared Goff commentary, DJ Chark is on a new team that wasn't afraid to use him right away in week 1. Chark posted an impressive 8 targets, with a 4/52/1 line. Look for another solid showing against a Commanders team that gave up the 11th most fantasy points to the WR position last weekend. - Matt
Allen Robinson, WR - Los Angeles Rams
Oh boy, here we go! There was probably no bigger shock in Week 1 than Allen Robinson's performance. Mr. Robinson had a putrid of a game that saw him get two targets for one reception and 12 yards. Now we all know that this is Cooper Kupp's world but the Bills' defense did bring the heat as Stafford wished it was still the offseason. After the game, even Sean McVay acknowledged that he had to create more ways to get Robinson involved in the offense. With the Falcons in town, this should allow Robinson to have an excellent opportunity to at least produce WR3 fantasy numbers for fantasy managers. Now if the wide receiver cannot produce this week, he'll have to ride the pine until demonstrates some resemblance to his former self. - Leo
Jahan Dotson, WR - Washington Commanders
Not only can we consider starting Jahan Dotson this week but even Curtis Samuel should definitely have some Flex appeal in Week 2. With Wentz slinging it as he did prior to his torn ACL in 2017, all of the Commanders receiving weapons should see a boost in their numbers this season. Dotson was a factor in the red zone as he scored two touchdowns in Week 1. Couple that with how the Lions just got roasted by AJ Brown and you're looking at a recipe for possible good production. Dotson should be considered as a Flex option in 12-team leagues. - Leo
Sitters at Wide Receiver:
Robert Woods, WR - Tennessee Titans
Woof. We all love our underdog, comeback tales but sometimes we need to remember that not every story can be Cinderella. Robert Woods saw two targets and caught one for 13 yards. Revenge narrative against the Bills? In this economy? We need to pump the brakes on Bobby Trees and see if his situation improves. - Matt
Darnell Mooney, WR - Chicago Bears
In a game where squeegees were used in pushing water off of the field, this game might as well have been preseason Week 5. Darnell Mooney saw three targets, caught 1 for 8 yards, and was largely a run-blocker for this slop fest. Week 2 sees the Bears go to Green Bay where they have an abysmal 2-12 record in the Aaron Rodgers era. There are better options than Mooney for this week. - Matt
Cee Dee Lamb, WR - Dallas Cowboys
With Dak Prescott out for several weeks, Cee Dee Lamb's breakout season will be put on hold. Lamb was sure to be a target monster with Prescott behind center, but now with Rush behind the wheel of the Cowboys offense, you may want to abandon ship while you can. It may be difficult to bench Lamb if you don't have other options but definitely you better temper your expectations. - Leo
Tyler Lockett, WR - Seahawks
How the mighty have fallen. Tyler Lockett has been a lock to start in any line-up throughout his career when he had Russell Wilson throwing him the ball. Unfortunately, now that Wilson is in Denver, Lockett got a sample of what this year will be like with Geno Smith behind center. Lockett was surely drafted to be a WR3 or flex play by most managers but you should have better options on your team. At this point, Lockett has to prove he can have a productive game with Smith first before he can sniff the starting line-up for now. - Leo
Starters at Running Back:
Nyheim Hines, RB - Indianapolis Colts
Six catches for 50 yards is a great PPR stat for a WR3 or Flex player. Add a single rush for 6 yards and some return yardage, and you have a nice flex player. Nyheim Hines is a change of pace back that is the defacto WR3 on the Colts. As Matt Ryan gets more acclimated to a Frank Reich style of offense, Hines, the clear RB2/WR3 is only going to get used more. **Update** Michael Pitman did not practice Thursday 9/15 and was limited Wednesday, which could open up more dump-off opportunities for Hines. Start Hines with confidence this week against the Jags, where Curtis Samuel just carved them up for 89 all-purpose yards and a TD. - Matt
Darrell Henderson, RB - Los Angeles Rams
This feels like deja vu all over again. In week 1 in 2021, Darrell Henderson had 70 rushing yards, 17 receiving yards, and a TD as the clear RB1. Week 1, 2022, Henderson opened up the season with 13 rushes for 48 yards and 5 receptions for 26 yards as the clear RB1. Week 2 in 2022 is the traveling Falcons, where Henderson could shine. - Matt
Antonio Gibson, RB - Washington Commanders
During the draft season, Antonio Gibson was the Rodney Dangerfield of running backs, getting no respect from the fantasy community. Oh, how one week can change the perspective of fantasy managers. Although Gibson only ran for 58 yards in Week 1, he made his damage in the receiving game by totaling 72 yards on seven receptions. This led to a 20 PPR fantasy point day. Next up for the Commanders, are the Lions who let three different running backs rush for touchdowns and allowed the fifth most fantasy points to running backs in Week 1. Gibson is easily a PPR flex play with the upside of producing RB2 numbers in Week 2. - Leo
Jamaal Williams, RB - Detriot Lions
This is more of a deeper league Flex play, but Jamaal Williams appears to be the goal-line back for the Lions. Last week he rushed for two touchdowns against the Eagles and the Commanders allowed a couple of touchdowns themselves to James Robinson who played for the first time since tearing his Achilles last season. There are also reports that D'Andre Swift is dealing with an ankle injury and if this proves to cause Swift to miss the game, move Williams even farther up your weekly rankings. - Leo
Sitters at Running Back:
Najee Harris, RB - Pittsburgh Steelers
When a high-usage back is fighting through injury before the season starts, and has a history of such issues, you have to evaluate your risk. I know we preach starting your studs, but if you picked up say Darrell Henderson off waivers, or have a solid second option, it might be wise to use them this week if Najee Harris indeed plays, but is limited. - Matt
Breece Hall, RB - New York Jets
Patience is going to be the word with Breece Hall this season. The Jets coaching staff is easing Hall in with a less than 50% share of the workload to start the season, despite the 10 targets. The Jets travel to Cleveland to face one of the better defenses of the league with Joe Flacco at the helm. - Matt
Alvin Kamara, RB - New Orleans Saints
As mentioned before the Buccaneers' defense is tough and they lock down the Cowboys last week. Tampa Bay allowed the second-fewest fantasy points to running backs last week and Alvin Kamara only rushed for 39 yards on nine carries. On top of that, Kamara has been dealing with a rib injury making him very limited this week and questionable, to begin with. If you have another option you may want to consider sitting Kamara this week against the Buccaneers defense. - Leo

David Montgomery, RB - Chicago Bears
Another running back that had a horrendous outing in Week 1 was David Montgomery. The Bears running back rushed 17 times for 26 yards versus the 49ers last week. Khalil Herbert on the other hand was able to penetrate the Niners' defense by turning his nine rushing attempts into 45 yards and a touchdown. The match-up this week with a Packers will be another tough one for Montgomery, and with Herbert's presence, Montgomery is an easy sit for me, especially if you have other options. - Leo
Starters at Tight End:
Kyle Pitts, TE - Atlanta Falcons
The box score looked bad, but Kyle Pitts simply did not come off of the field. Another week with new QB Marcus Mariota should benefit Pitts and this week the porous Rams secondary provides a solid opportunity for Pitts to bounce back. - Matt
Dalton Shultz, TE - Dallas Cowboys
Now that Dak Prescott will be out for the foreseeable future and Cooper Rush is behind center, You have to assume that Dalton Shultz should still have his share of targets as being Rush's safety valve moving forward. The tight end did have a couple of catches for 18 yards after Rush came into the game in Week 1. The Bengals allowed Pat Freiermuth to bring five receptions for 72 yards on 10 targets. If you have Schultz start him with confidence as he will manufacture low-end TE1 numbers in PPR formats. - Leo
Sitters at Tight Ends:
TJ Hockenson, TE - Detroit Lions
One of the few Lions we're not comfortable starting is TJ Hockenson. There may be simply too many mouths to feed and a 7 target 4/38 line makes Hock a very TD-dependent play. - Matt
Robert Tonyan, TE - Green Bay Packers
In Week 1 Robert Tonyan was only targeted five times and was held to three catches for 36 yards. Tonyan's match-up this week is not much better as the Packers are set to face the Bears who have a strong front seven and will likely have Roquon Smith defending Tonyan when he going out for pass plays. Look at other options to start at tight end this week because Tonyan will have minimal success against the Bears. - Leo
Starters at Defense/Special Teams:
Pittsburgh Steelers D/ST
The Pittsburgh Steelers D/ST is a sneaky good play against the traveling Patriots this week. With 5 turnovers and 7 sacks plus a blocked kick, this unit is ready to make an injured Mac Jones' day miserable at home this week. They also face Cleveland and the Jets over the next 2 weeks. - Matt
Cleveland Browns D/ST
The Cleveland Browns D/ST just sacked their former quarterback Baker Mayfield four times and intercepted him once this past Sunday on the road. This week they are home ready to get the Dog Pound riled up for the Jets coming to town. The Jets only scored the ball nine points and turned the ball over twice while allowing three sacks in Week 1. Look for Miles Garrett to get the Browns' defensive pass rush going leading the way to some more sacks and possible turnovers on the way. - Matt
Sitters at Defense/Special Teams:
Philadelphia Eagles D/ST
Giving up 35 points to (albeit an improved) Lions team on the road isn't a good sign for a unit that was described as one of the better units going into 2022. This is going to be another shoot-out game Monday night against the Minnesota Vikings, and there are better options out there. - Matt
Philadelphia Eagles D/ST
The Eagles Defense got lit up by the Lions in Week 1 and now faces the red-hot Vikings offense. The Vikings easily manhandled the Packers in the season opener and this game should be another shootout in Philly on Monday Night Football. - Leo
Matt Miles wants you to win in fantasy football. Follow him at @dirtyairfc on Twitter!
If you would like to discuss this further or have any questions feel free to reach out to me on Twitter at @smooth1074.
---