Top 10 Rookie QBs
---
Just like that, the 2021 NFL draft is over, and, as usual, it did not disappoint! Now that we know draft capital and situations for all the rookies, dynasty leagues will become more active again as rookie drafts quickly approach. With time running out, I've compiled my top ten QB rankings to help you prepare for your upcoming drafts. You can find my rankings and some of my rationale below.
1. Trevor Lawrence - Jacksonville Jaguars
Lawrence is one of the best QB prospects of the past decade. With Jacksonville loading up on young offensive talent in recent years, I like the situation too.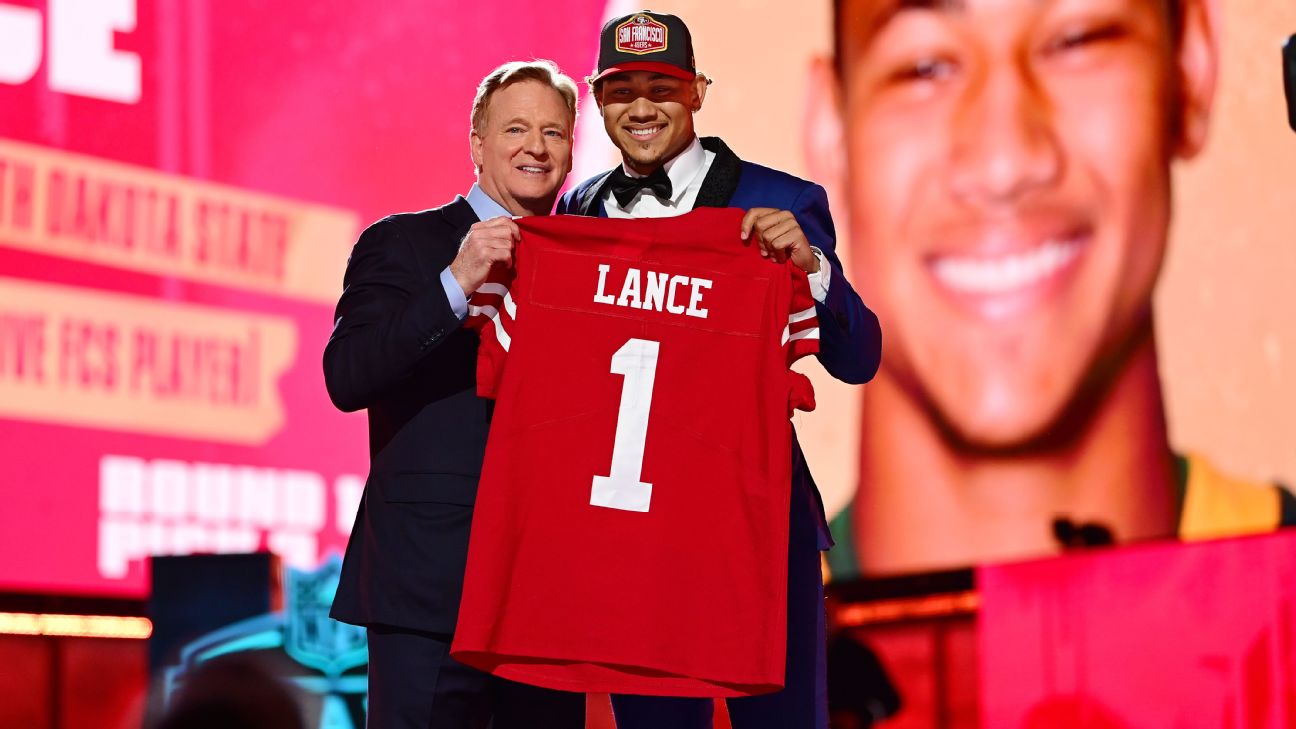 2. Trey Lance - San Francisco 49ers
I love Lance in San Francisco. He's a very raw but extremely talented QB prospect. If anyone can help him reach his ceiling, it's Kyle Shanahan. Lance will have some great weapons to work with, and he has the coveted rushing ability we all seek in fantasy
3. Justin Fields - Chicago Bears
As a Packer fan, it pained me to see Chicago wisely move up to 11 and take their QB of the future. Biases aside, I love Fields, and I think he has the skills and potential to be the best QB in this class. There are worries about his play processing speed, but if he can improve on that, look out! He, too has the rushing ability we look for in fantasy QBs.
4. Zach Wilson - New York Jets
I'm not as high on Zach Wilson as the Jets are, but it's hard to ignore him being drafted #2 overall. It appears he has all the tools to be a great QB, but I see a harder path to that level of play than for the three QBs I have above him.
5. Mac Jones - New England Patriots
You cannot ask for a better landing spot for Mac Jones. Jones is a great pocket passer and could thrive in a Bill Belichick system. The downside is that he's not much of a threat on the ground. Still, he could be a solid QB2 in fantasy for a long time.
6. Kyle Trask - Tampa Bay Buccaneers
Another near-perfect landing spot here. Trask gets to join the reigning Super Bowl champs and gets to learn from one of the greatest players of all time. You should be able to get Trask at a value and throw him on your taxi squad while he develops.
7. Kellen Mond - Minnesota Vikings
Like Trask, Mond will likely be a hold for a few years while Kirk Cousins plays out his contract. That's not a bad thing for Mond, in my opinion. He's talented but needs to do some learning behind a vet. If he ends up taking over as the starter, the Vikings have a talented offense for him to work with.
8. Davis Mills - Houston Texans
I'm not a huge fan of Davis Mills, but he could end up starting a lot earlier than we would have thought a few months ago. Mills' fate resides on Deshaun Watson and his investigation.
9. Ian Book - New Orleans Saints
Book is another guy that I'm not very high on. He makes my top ten strictly because the Saints drafted him, and if things fell his way, he could end up starting for them at some point.
10. Jamie Newman - Philadelphia Eagles
Newman did not get drafted but signed with the Eagles as an undrafted free agent shortly after the draft concluded. I like Newman as he seems to have some talent, but not getting drafted pushes him way down my board.
Overall, this is a great QB class! I expect two or three of these guys to be top 12 fantasy options for years, which is invaluable for dynasty leagues. I also wouldn't be surprised to see three or four of these other QBs being long-term starters, which provides solid fantasy value in itself. If your dynasty team needs a QB, this is the year to make a move for one of the top five guys.
Feel free to reach out and talk about where you agree and disagree. You can find me on Twitter at @corey_hietpas
---