Waiver Wire: Week 11
---
Bye weeks are almost done here with reduced teams enjoying their one-week respite, so we're starting to gear up for fantasy playoffs here in just a few short weeks! Now is the time to make sure you're going into the playoffs with the best situation you can for your team with contingency plans in case your stars get hurt on your way to playoff promised land.
There's no better way to get a leg up on your competition than to get your waiver adds set and bolster your roster for the most pivotal stretch of the season to see if you're going to be playing some bonus fantasy in Weeks 14 through 16.
Here at Fighting Chance Fantasy, we're taking a four-pronged approach with Leo Grandio covering quarterbacks and tight ends, Steve Rapin covering the running backs, Kevin Tompkins covering the wide receivers, and Corey Heitpas covering the dynasty portion!
Quarterbacks (Leo Grandio)
First of all, check to see if these quarterbacks are available and are floating around in your league's waiver wire. I would prioritize them in this order:
Ben Roethlisberger, PIT (70.6% rostered)
Joe Burrow, CIN (66.5% rostered)
Cam Newton, NE (57.1% rostered)
Matthew Stafford, DET (56.5% rostered)
On to our list!
Tua Tagovailoa, MIA
(32.3% rostered)
The Dolphins versus Chargers was indeed a high-scoring affair as many expected but Tua Tagovailoa and Justin Herbert did not light the world on fire. Both defensive secondaries held the young guns under 200 yards passing. What the Chargers defense did not do is prevent Tagovailoa from getting into the endzone. This was the second consecutive game where Tagovailoa passed for two touchdowns. What's been impressive most about Tagovailoa is that after three starts he still has not thrown an interception which bodes well in his scoring numbers. Tagovailoa has favorable match-ups in the next two weeks and should be added in all league formats especially for those fantasy managers that have their starters on bye in the coming weeks or are in need of a replacement for Drew Brees or possibly Teddy Bridgewater if he ends up missing time.
Jameis Winston, NO
(33.2% rostered)
Well Jameis Winston you wanted to go to New Orleans and learn from one of the best quarterback/coach combinations of all-time right? I hope you've been taking notes because you're up, big man. With Drew Brees out with cracked ribs and a punctured lung, it opens the door for the gunslinger to take the helm for the Saints. Winston has two of the best weapons in the league in Alvin Kamara and Michael Thomas which should help him be productive from the get-go. If Winston can play under control he could be in store for some high-scoring games. He should be added in all league formats.
Alex Smith, WAS
(3.4% Rostered)
Oh, is Alex Smith back or what? Smith almost brought the Washington Football Team back from a 14 point deficit heading into the fourth quarter behind his 390 yards performance. Lions needed a last-second field goal to hold off the hard-charging Smith and WFT offense. This week, the Bengals got shredded by the Big Ben, so look for Mr. Smith to get in on some of that action. He is definitely in play as a streaming option this week and should be added in 12-team leagues.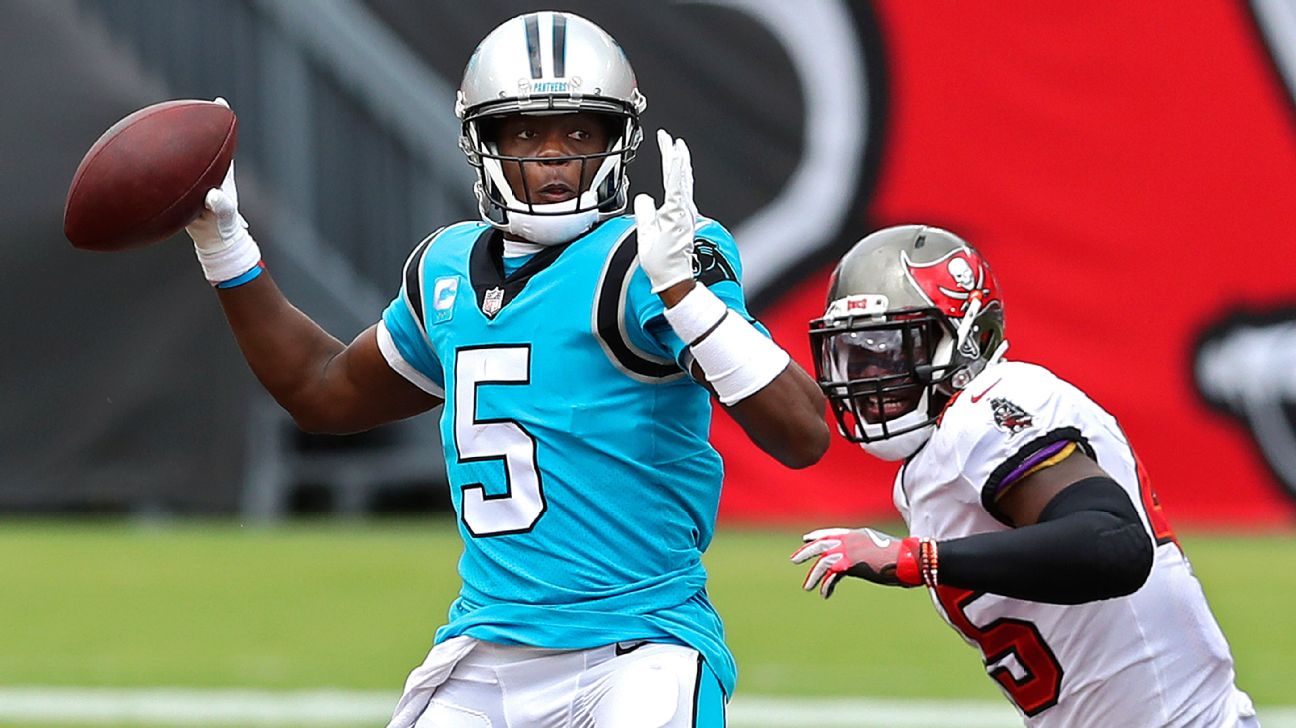 Teddy Bridgewater, CAR
(29.2% rostered)
Teddy Bridgewater continued his great play against a tough Buccaneers defense on Sunday. Though Bridgewater left the game early due to a knee injury in the fourth quarter, he was still able to produce 136 yards passing, two touchdowns, and an interception, while adding another 16 yards on the ground including a rushing touchdown. Initial reports have Teddy B avoiding a major knee injury and is currently listed as day-to-day but he does have a chance of starting this week versus the Lions. If Bridgewater is good to go for this week, he is a must-add in all leagues this week with the following two games being favorable match-ups for quarterbacks prior to his bye in Week 13. If Bridgewater were to miss this week, see below for Plan B.
Other QB in Consideration:
Taysom Hill, NO (5.0%) - Taysom Hill should see his role in the offense expand with Brees out for the foreseeable future. Hill could be the ultimate cheat code in ESPN leagues as he can be played at the tight end position and if he is named starter lookout. Hill is a must-add in two-quarterback and super-flex leagues.
Daniel Jones, NYG (17.9%) - After a rough start to the season due to a tough schedule, Daniel Jones is starting to heat up as of late averaging over 20 fantasy points a game over his last four games. Jones has a bye this week, but after that, he has four favorable match-ups that could help fantasy managers get to the finals and is a great back-up option if fantasy managers' starter has a tough match-up down the stretch.
Phillip Rivers, IND (8.7%) - The old gunslinger rides again. Phillip Rivers has been slinging like the old days. Rivers threw for 308 yards and a touchdown and is averaging 24 fantasy points a game over his last four contests. He is starting to get his weapons back and is looking like he might have a December to remember for fantasy managers.
P.J. Walker, CAR (0.1%) (Plan B) - If Teddy Bridgewater happens to be out for the Panthers due to his knee injury, P.J. Walker will be in as a starter for the Panthers. The former XFL MVP produced 1,338 yards, 15 touchdowns, and four interceptions in five games. Monitor Bridgewater's status because if he is indeed out, Walker is worth an add in two-quarterbacks leagues.
Running Backs (Steve Rapin)
Before I get to those that are below 50%, make sure that these few that are slightly above 50% rostered aren't still available on your wire.
J.D. McKissic (69% rostered) - J.D. McKissic has 29 targets over the last two weeks!
Damien Harris (59% rostered) - In PPR, Mckissic has more value, but in non-PPR, Damien Harris should be ranked ahead of McKissic.
Jamaal Williams (59% rostered) - It appears that Jamaal Williams will have a role now even with Aaron Jones back on the field and he is one of the better handcuffs in fantasy as well.
Wayne Gallman (50% rostered) - Wayne Gallman scored two touchdowns in Week 10, but a bye in Week 11 as well as Devonta Freeman's likely return in Week 12 doesn't make him a priority add this week.
Nyheim Hines
(41% rostered)
When it comes to consistency, Nyheim Hines may not be your guy, but the potential is always there for him to have a big game. The Colts seem content not giving Jonathan Taylor a bulk of the carries and Hines is always a good bet for five or so targets per game. Hines was on the field for 56% of the snaps versus only 24% for Taylor despite this being a game where Indianapolis wasn't playing from behind past the first quarter. Hines should be rostered in all 12 team leagues, especially PPR formats.
Salvon Ahmed, MIA
(6% rostered)
Who in the hell is Salvon Ahmed??? He's the guy that received 21 rushing attempts in the absence of Myles Gaskin in Week 10 and turned that into 85 yards and a score. That's who is he is! He played 76% of the snaps for Miami this week and looks to be the workhorse back until Gaskins returns. The Dolphins must have liked what they saw from him as they have now released Jordan Howard. Gaskin could return as early as Week 12, so Ahmed may not have an extremely long shelf life, but you won't find running backs with this kind of usage on the waiver wire this week.
Cam Akers, LAR
(26% rostered)
If you're looking for a back with upside, Cam Akers is your guy. I'm not going to lie to you as I think we all know that Sean McVay has utilized a threesome of fantasy football running back by committee hell, but it was encouraging to see Akers lead the trio in touches this week. I wouldn't recommend picking him up and plugging him into your lineup in Week 11, but if you are in a deep league or have room on your bench, Akers is a lottery ticket you can hope pays off down the stretch.
Kalen Ballage, LAC
(19% rostered)
Joshua Kelley was supposed to be the person who stepped up when the Bolts lost Austin Ekeler early in the season, but that role was filled first by Justin Jackson and now by Kalen Ballage. Ballage has received 33 carries over the last two games, and with Justin Jackson on the IL, it appears that this trend should continue until we see Ekeler return. It was even encouraging to see him receive six targets in Week 10, so not only is he seeing the bulk of rush attempts, he's also seeing work in the passing game. It's unclear when we see Ekeler return, but Ballage will be in flex consideration every week in the meantime.
Other running backs in consideration:
Alexander Mattison, MIN (35%)
Boston Scott, PHI (31%)
Alex Collins, SEA (0%)
Devonta Freeman, NYG (36%)
Devontae Booker, LVR (3%)
Wide Receivers (Kevin Tompkins)
First of all, check to see if these receivers are available and are floating around in your league's waiver wire. I would prioritize them in this order:
Sterling Shepard, NYG (76.8% rostered)
Cole Beasley, BUF (58.9% rostered)
On to our list!
Michael Pittman Jr., IND
(6.8% rostered)
With 15 targets in the past two weeks, leading to his first career 100-yard game last Thursday night against the Titans, Michael Pittman (in my opinion) is the best waiver add of the week, regardless of position.
Pittman's surge is something SORELY needed for the Indianapolis Colts. They've needed a playmaker for a while not with T.Y. Hilton immune to the garden-variety duster and Zach Pascal, Marcus Johnson, and DeMichael Harris not inspiring any confidence to take the next leap forward.
Pittman's schedule heading into the playoffs and the playoffs themselves is beautiful, with dates against GB, TEN, @HOU, @LV, HOU and @PIT to round out the fantasy season. He could be just getting started with his breakout, so he should be a priority add in all formats.
Jalen Reagor, PHI
(37.4% rostered)
Jalen Reagor, not Travis Fulgham, Dallas Goedert, or any other Eagles' pass-catcher, leads Philadelphia in targets over the last two weeks with 14. It doesn't seem like a ton, but that could have something to do with just how not great Carson Wentz has been lately.
That said, he's getting into the swing of things in this offense and now gets Cleveland (fifth-worst against opposing fantasy wide receivers) Seattle (the worst) back to back. If the offense can fully get right, it's in this two-week stretch and Reagor will be a big part of it if they do.
We've been waiting a bit for Reagor with the injury bug hitting him in the beginning of the season, but he should be coming on at the perfect time for fantasy managers. A priority add here.
Josh Reynolds, LAR
(6.3% rostered)
The Rams might not be passing a ton compared to previous years, but right now, Josh Reynolds is a startable asset in fantasy leagues due to his field stretching ability. He led all Rams receivers in receptions, yards, air yards, and targets in Week 10 and now gets a Tampa Bay secondary that per Andrew Erickson of PFF, ranks dead last in PFF coverage grade on passing attempts of 20 yards or more.
Reynolds has seen at least 8 targets during the last three-game stretch, so we can confidently slot him in as a WR3 for the time being. An add in all leagues seems right for the Rams' tertiary wide receiver.
K.J. Hamler, DEN
(3.6% rostered)
Now that the roles have been clearly defined in Denver, K.J. Hamler has found a ton of usage running primarily out of the slot. He's seen 10 targets for two consecutive weeks and depending on Tim Patrick's status for next week (he was ejected for fighting), Hamler could see even more work against the Miami Dolphins, whose outside perimeter presence at cornerback could benefit Hamler's usage for next week.
We know Denver will throw to their heart's content with Drew Lock at the helm, so Hamler is a quality flex play for the next couple of weeks as long as he is seeing a target floor like this.
Breshad Perriman, NYJ
(12.6% rostered)
The New York Jets may go 0-16 this season. With their remaining schedule, that's absolutely possible. With Joe Flacco still in for the Jets, we know it's going to be difficult for the Jets as currently constructed to gain any sort of neutral or positive game-script, so the Jets will throw the ball as much as they can.
The deep threat here, Breshad Perriman, started to come on for Jameis Winston and the Buccaneers right about this time last year and won people leagues. I'm not saying Perriman will win you leagues this year, but the potential is there, even in this sad spot.
Despite the Jets' play, we saw Perriman reel of a 5/101/2 line on seven targets, while finishing 11th in Week 9 in WOPR and with a 32% target share.
Don't let the Jets' sad situation steer you clear of the value here with Perriman.
Sammy Watkins, KC
(31.8% rostered)
Remember Sammy Watkins? Believe it or not, he still resides in this plane of existence.
Anytime you can get moderate-usage access to the Chiefs' offense, you have to jump on that. Watkins hasn't played a game in five weeks after a hamstring injury but is on track to finally suit up in Week 11 after a five-week layover. He's a guy who has averaged over 10.5 PPR points per game over the first five weeks of 2020, so when he's out there, he's been getting usage and production.
If Watkins is still out there in leagues, go grab him.
Other WR in Consideration:
Jakeem Grant, MIA (2.6%) - Sure, a low-end flex, but Jakeem Grant the player is electric in space and the Dolphins have made a concerted effort to getting the ball out to him with two games in a row of five targets, including a touchdown in Week 10. Worth a stash if you have the room, as his role could expand a little bit more as Preston Williams continues to miss time for the surging Dolphins.
Rashard Higgins, CLE (11.3%) - In what was essentially a repeat of the weather in Cleveland's last home game against Las Vegas, Week 10 was a weather whitewash, where only 17 total points were scored and most things can be thrown out. Rashard Higgins did lead the Browns in yards, air yards, and aDOT (15) as well as tie for the lead in receptions.
Whether you choose to throw it out or not, Higgins does have a very favorable slate coming up with Philadelphia this week and matchups against Jacksonville and Tennessee. Baker could be throwing a bit in these spots, so Higgins is a decent add in 12-team formats and a must-add in larger formats.
Marquez Valdes-Scantling (13.3%) - Flip a coin. That is literally Marquez Valdes-Scantling. In Week 10, he hit in a major way with 4/149/1 on six targets. Just keep in mind he has close to a zero floor, so if he doesn't hit in a given week, he REALLY doesn't hit. He gets a tough matchup with the Indianapolis Colts coming up but as an MVS detractor, I'll even admit he should be rostered at the very least. If you like gambling with a big house edge, MVS is the right receiver for you.
Tight Ends (Leo Grandio)
Check to see if these tight ends are available in your league's waiver wire first. I would prioritize them in this order:
Dallas Goedert, PHI (54.2% rostered)
Zach Ertz, PHI (58.4% rostered)
Mike Gesicki, MIA (55.4% rostered)
On to our list!
Taysom Hill, NO
(5.0% rostered)
Taysom Hill the " tight end" would see his value skyrocket if he is named the starting quarterback. Either way, he should see his role in the offense increase with Brees out. Hill could be the ultimate cheat code in the ESPN leagues as he can be played at the tight end and if he is named starting quarterback lookout. Tight end needy teams should add him in all leagues.
Logan Thomas, WAS
(20.2% rostered)
Logan Thomas was one of the beneficiaries of Alex Smith's explosive performance this past Sunday bringing in four receptions for 66 yards in six targets. Thomas is an ultimate floor guy as he should be hovering around 10 fantasy points the rest of the season since he is still getting targets from Smith.
Jordan Reed, SF
(15.3% Rostered)
By seeing more snaps in his second game back from injured reserve, Jordan Reed provided five receptions for 62 yards against the Saints. As predicted Reed started to outproduce Ross Dwelley by a large margin. Reed's receiving skills are undeniable and with George Kittle on IR, Reed should be added in all league formats moving forward. Just keep him in your prayers that he stays healthy. If not for being on a bye this week Reed would be my number one option at tight end this week.
Other TE in Consideration:
Robert Tonyan, GB (40.7%) - Robert Tonyan should still be rostered even though he only had three receptions for 33 yards against the lowly Jaguars last week. His floor should be as a low-end TE1 for the rest of the season.
Dalton Schultz, DAL (17.2%) - Dalton Schultz lost lots of his shine once Dak Prescott was lost for the season, but he remains a solid TE2 for fantasy managers producing double-digits fantasy points most weeks.
Trey Burton, IND (12.1%) - With three tight ends splitting the looks in the Colts offense, Trey Burton remains the one to own and can be a startable option if needed in deeper leagues. Burton can be added in 14-team leagues.
Cameron Brate, TB (1.3%), and Irv Smith Jr., MIN (4.0%) - Should both be considered to add in tight end premium leagues.
Dynasty Adds (Corey Hietpas)
Salvon Ahmed, RB, MIA
This Miami backfield has been wild all season. After adding Jordan Howard and Matt Breida in the offseason, it seemed the Dolphins had their two-down thumper and 3rd down back. Well, that didn't work out as both were playing very poorly, which gave Myles Gaskin the chance to take over, and take over he did. Unfortunately, Gaskin got injured and is now on IR. Along with this, Breida also got injured and is not playing well when healthy, Jordan Howard has been so bad that he actually got cut this past week and the other Dolphins' RBs are nothing special. This huge mess led to rookie running back Salvon Ahmed getting an opportunity to work in during week 9. He played just 44% of snaps, but he ran for 38 yards on 7 carries against a decent Arizona defense. Okay, we may be onto something here. Fast forward to week 10, and Ahmed was given the chance to be the lead back for Miami. As we all guessed, Ahmed impressed yet again and took 21 carries for 85 yards and a TD against the LA Chargers. Yes, Gaskin can come off of IR soon, but Ahmed has played really well and has seemingly earned a more permanent role in the Miami offense even when he does. For now, Ahmed has at least one more week as the lead back coming up, which makes him a priority add for me, especially since RBs have been hard to come by this year.
Jalen Guyton, WR, LAC
Jalen Guyton has been working as the 3rd receiver for the Chargers all season. He has played over 80% of snaps in 5 games and has never played less than 54% of snaps. He's been primarily used as a deep threat with minimal targets so far, but he has been making the most of these targets so far and has actually seen more usage recently. Although not fantasy-relevant yet, I believe that Guyton has a great chance at earning more consistent targets going forward as he learns, develops, and increases chemistry with Justin Herbert. Speaking of Herbert, he has been incredible so far and could definitely support a third receiver in this offense. It'll be interesting to see what happens when Ekeler returns, but I'm still adding Guyton where I can as he has a nice ceiling as the 3rd receiver for the Chargers. Go add and hold Guyton as he continues to develop and earn more targets.
Malcolm Perry, WR, MIA
(It feels weird to have two Dolphins' players as adds this week.) Malcolm Perry was a 7th round draft pick that actually played QB for Navy and then made the switch to WR for the Dolphins due to his athleticism. So far, he's seen very little action, but injuries have opened up a small opportunity for Perry to see the field and get a little work. Over the last 3 games, he's only received 4 total touches, 2 carries and 2 receptions, and has totaled just 32 scrimmage yards. You might ask, why is he an add this week? Great question! He's more of a dart throw at this point, but he could pay off really well as Tua and this young offense develops. It's possible that Perry develops well and overtakes everyone but DeVante Parker and Preston Williams on the WR depth chart as the rest of the receivers are underwhelming veterans. Along with this, Tua Tagovailoa could decide that Perry is a trusted target and establish a rapport with him. Although a long shot, if these things were to happen, Perry would provide great value as a depth WR or Flex for your fantasy team. What is Dynasty if we aren't taking shots on young talented players anyway?
You can follow Steve @fantasygeek37, Kevin @ktompkinsii, Leo @smooth1074, and Corey @Corey_Hietpas!
---