Waiver Wire: Week 12
---
Happy Thanksgiving! There's three games on the slate with NO bye weeks this week, so every team will be playing this week and then Tampa Bay/Carolina will have their bye weeks next week, the latest bye week there's ever been on an NFL schedule.
If you're on the outside looking in for your fantasy playoffs, it's crunch time. Now is the time to get those wins and do what you can to get into the playoffs!
There's no better way to get a leg up on your competition than to get your waiver adds set and bolster your roster for the most pivotal stretch of the season to see if you're going to be playing some bonus fantasy in Weeks 14 through 16.
Here at Fighting Chance Fantasy, we're taking a four-pronged approach with Leo Grandio covering quarterbacks and tight ends, Steve Rapin covering the running backs, Kevin Tompkins covering the wide receivers, and Corey Heitpas covering the dynasty portion!
Quarterbacks (Leo Grandio)
First of all, check to see if these quarterbacks are available and are floating around in your league's waiver wire. I would prioritize them in this order:
Taysom Hill, NO (86.5% rostered)
Cam Newton, NET (69.2% rostered)
Ryan Tannehill, TEN (56.2% rostered)
Carson Wentz, PHI (65.2% rostered)
On to our list!
Derek Carr, LV
(37.9% rostered)
Derek Carr was involved in a Sunday Night shootout with Patrick Mahomes and came up just a bit short but demonstrated when given a chance Carr can produce like a borderline QB1 for fantasy managers. Carr provided 275 yards passing, three touchdowns, and one interception. The veteran quarterback has two juicy match-ups for the next couple of weeks against the Falcons and Jets who are first and sixth in fantasy points allowed to quarterbacks this season, respectively. Carr is a good addition in 12-team leagues.
Jared Goff, LAR
(45.7% rostered)
What a performance by Jared Goff on Monday Night Football. Going toe-to-toe with the G.O.A.T. and a tough Buccaneers defense, Goff lit them up and outplayed the legend Tom Brady, by throwing for 376 yards and three touchdowns. Goff has favorable matchups for the rest of the season and could be used as fantasy manager's number one quarterback on a weekly basis. The last time Goff faced the 49ers, in Week 6 he produced 22.90 fantasy points with 198 yards and two touchdowns. Goff is an excellent replacement for Joe Burrow's owners and is a must-add in all formats.
Kirk Cousins, MIN
(20.6% rostered)
Kirk Cousins had quite a duel with Andy Dalton on Sunday. The Vikings came up just short for the win but Cousins did all he could to bring home a W. Cousins continued his hot play by throwing for 314 yards and three touchdowns. Cousins could be a streaming option for the next two weeks versus the Panthers and Jaguars.
Daniel Jones, NYG
(17.1% rostered)
Daniel Jones is coming off a bye but is a quarterback to consider adding this week because his rest of season schedule is phenomenal. Jones has scored over 22 fantasy points in three of his last four games and is producing points on the ground as well. He is worth an add in 12-team leagues.
Other QB in Consideration:
Andy Dalton, DAL (3.6%) - After missing time due to being concussed and on the reserve/COVID-19 list, Andy Dalton decided to show that he can still be the "Red Rifle". In his best performance as the Cowboys' starter, Dalton compiled 203 yards and three touchdowns. Dalton should be rostered in all two-QB/super-flex leagues and 14-team leagues.
Philip Rivers, IND (9.4%) - Philip Rivers has been en fuego over the last five starts. He's been averaging 291.2 yards and two touchdowns during this five-game stretch. The gunslinger's rest of season schedule is very favorable with the exception of Week 16 when he faces the Steelers. He is a must-add in 12-team leagues.
Tua Tagovailoa, MIA (38.1%) - The Broncos defense brought the heat and had Tua Tagovailoa running and making him very uncomfortable in the pocket. This was his worst performance as a starter as he only passed for 83 yards and a touchdown. The good news is there's a remedy to get back on track and that's playing the Jets who are the Dolphins' opponent this week. Don't lose faith in the rookie just yet.
Teddy Bridgewater/P.J. Walker, CAR (29.2/1.1%) - Monitor Teddy Bridgewater's status leading up to this week's contest versus the Vikings, who are allowing the ninth-most fantasy points to quarterbacks. If Bridgewater would have been confirmed to play this week, he would be slotted behind Goff in terms of priority. Should Teddy sit out again, P.J. Walker will be a must-add for two-quarter/super-flex leagues.
Jalen Hurts, PHI (0.8%) - Due to Carson Wentz's shaky play this season, Jalen Hurts may become an option in deep two-quarterbacks/super-flex leagues. Hurts is an option to add as a stash for these formats and should be owned in dynasty.
Running Backs (Steve Rapin)
Before I get to those that are below 50%, make sure that these few that are slightly above 50% rostered aren't still available on your wire.
Wayne Gallman, NYG (55% rostered) - With Devonta Freeman on the I.L., it looks like Wayne Gallman should lead the team in touches for the foreseeable future.
Salvon Ahmed, MIA (64% rostered) - Myles Gaskin should return relatively soon, but Salvon Ahmed is getting fantastic usage in his absence.
Phillip Lindsey, DEN (54% rostered) - Phillip Lindsey out-touched Melvin Gordon 16-15 in Week 11, but Gordon should still see a large role in the offense. I place Lindsey below Gus Edwards in terms of priority this week at the running back position.
Gus Edwards
(28% rostered)
With both Mark Ingram and J.K. Dobbins out this week due to COVID, it looks like Gus Edwards will see a lot of work on Thursday night against the Steelers. It isn't an ideal matchup, but the volume should be there and Edwards is always a threat to find the end zone.
Frank Gore, MIA
(20% rostered)
I can't believe it either, but here we are seeing Frank Gore on the waiver wire list in 2020. La'Mical Perine is now out with a high ankle sprain, so Gore will likely see a lion share of the work. Adam Gase loves this guy and while we all know that he doesn't have a high ceiling, if you need a player to plug in, Gore should see enough work to at least be fantasy relevant.
Carlos Hyde, SEA
(46% rostered)
Carlos Hyde's value depends solely on the health of Chris Carson. With Carson out in Week 11, Hyde saw 70% of the snaps and 14 carries compared to Bo Scarbrough who saw four rushing attempts on 18% of the snaps. Hyde turned those 14 carries into 79 yards and a score and added a couple of receptions for good measure. As of now it appears that Carson will return in Week 12, but we all know that nothing is guaranteed when it comes to coach-speak. Even if Carson does return, Hyde is one of the better handcuffs in fantasy football and should be rostered in standard-sized leagues.
Other running backs in consideration:
Alexander Mattison, MIN
Cam Akers, LAR
James White, NE
Wide Receivers (Kevin Tompkins)
First of all, check to see if these receivers are available and are floating around in your league's waiver wire. I would prioritize them in this order:
Curtis Samuel, CAR (82% rostered)
Jakobi Meyers, NE (71.7% rostered)
Corey Davis, TEN (62.9% rostered)
On to our list!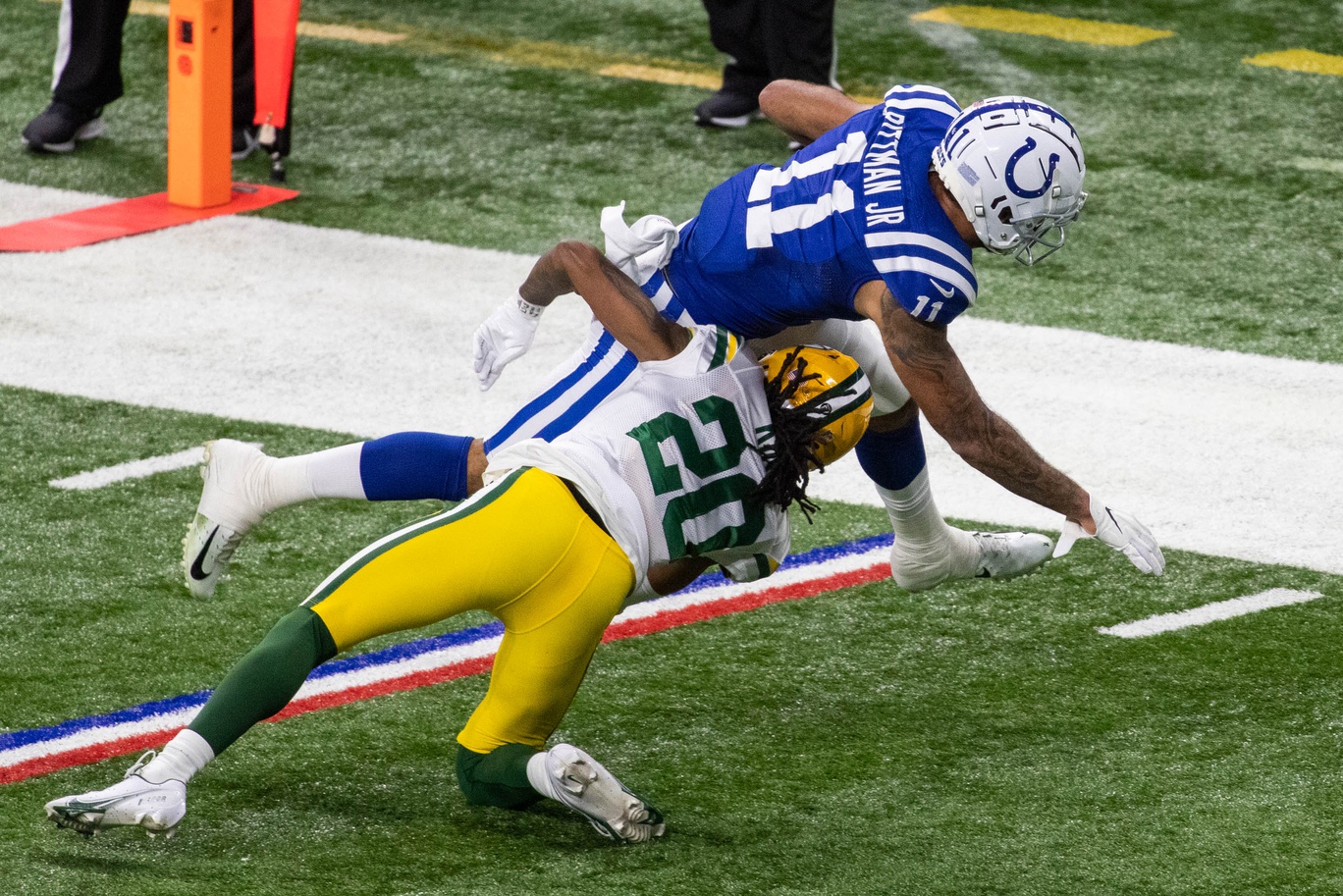 Michael Pittman Jr., IND
(41.9% rostered)
Michael Pittman has been a fixture in this column for a couple of weeks here and now is likely your last chance to pluck him off of waivers if he hasn't already been rostered. He's been the clear alpha target for Philip Rivers and the Colts the last three weeks. Pittman wasn't targeted in the 2nd half against the Packers, but that was likely because the Colts seemed to move away from the pass a bit.
Pittman has been a borderline WR2 each of the last two weeks and his upcoming schedule is a bonanza of riches heading into the fantasy playoffs, with TEN, @HOU, LVR, and HOU on tap for their next four contests. If he's not added in your league, go get him! He's a WR3 going forward.
Deebo Samuel, SF
(59.3% rostered)
With 19 targets the last three weeks before his hamstring injury, Deebo Samuel felt a similar fate to most skill-position players on the 49ers in 2020. It's been a carousel and seemingly no player has been spared, due to injury, COVID, or otherwise. At least this time, Samuel is slated to return this week in Los Angeles against the Rams. A tough matchup for sure, but he could rack up receptions in a game the Niners may have the pass more.
Before his Jones fracture suffered before the season, Deebo was slated to be the WR1 there in San Francisco, and with Brandon Aiyuk emerging, Samuel may have some pressure taken off of him not having to carry the load for Nick Mullens, Jimmy Garoppolo, or whoever is under center for the 49ers. Take a stab at the talent here and go grab him in all leagues. If he's healthy and capable, he should be at least a WR3 stalwart for your team down the stretch.
Nelson Agholor, LVR
(16.5% rostered)
Nelson Agholor has been alternating bust weeks with boom weeks and now gets two matchups where it's going to be difficult to bust: the Atlanta Falcons and the New York Jets in consecutive weeks. Against the Chiefs on Sunday night, Agholor put up a WR1 week, with 6/88/1 on nine targets, while finishing third in WOPR for Week 11, so I like him to build on that nice game here.
He's been the one target for the Raiders outside of Darren Waller you can put any kind of stock into as far as viability and stock within the offense, so he's definitely worth a pickup as a WR4 or even a flex option going forward if he keeps up this run.
Denzel Mims, NYJ
(6.7% rostered)
Seemingly discounted every week because he plays for the New York Jets, Denzel Mims is looking better and better each week and dare I say, could be making this team better now and for the foreseeable future?
Mims has been playing an average of 92% of the snaps the last two weeks, while seeing a ridiculous aDOT of 22.9 and finishing tied for sixth in WOPR this week with Keenan Allen, we're starting to see some breaking out here. Rookie fever is in the air!
So while the Jets continue to be just so bad in real-life terms, there's some pieces here to like in this offense for fantasy.
Russell Gage, ATL
(11.3% rostered)
Lying in the weeds seemingly since Week 1, Russell Gage came in while Julio Jones was out Sunday with hamstring tightness to post up a 12-target, 7/58 performance. Admittedly, we have seen Gage disappear from the offense but this could be the window for him to be relevant at a good time here into the fantasy playoff season.
Gage is cheap access to a premium passing game in Atlanta, so with both Calvin Ridley and Julio Jones banged up throughout the entirety of this season, Gage could be a worthwhile stash/add for your squads with potential in this high-volume passing game.
Jalen Reagor, PHI
(34.2% rostered)
Jalen Reagor might be the most written-about player in my column this season and with good reason. I mean, clearly I need to prove my offseason takes to be correct so I'll keep writing about him until he produces. That's how that works, right?
Anyway, Reagor gets a juicy matchup against the Seattle Seahawks, who we know is absolutely generous and in the holiday spirit when it comes to giving up yards to fantasy wide receivers. Heck, it could be the cure that ails Carson Wentz! We know the struggles of Wentz and how he's been able to get this offense going consistently.
I'm trusting the talent here and hopefully the Eagles start to round into form as they gear up for a playoff run in their four-team race for the NFC East. He's more of a WR4 right now but given the matchup against the Seahawks, I like him as a solid flex.
Other WR in Consideration:
Khadarel Hodge, CLE (0.1%) - It's been a tough stretch for the Cleveland Browns, especially in the passing game and that's mainly been because of continued bad weather at home. It's definitely affected their game scripts and made the passing game non-existent. This week, the Browns head out of Cleveland and get the struggling Jaguars, so Hodge is a nice add this week and in a pinch, startable. After this stretch of bad luck, bad weather, and a bye week, Hodge let the Browns in snaps and snap share. He put up a 3/73 line on five targets with an absurd 25.8 yards aDOT in Week 11 and could build on that going forward.
Breshad Perriman, NYJ (17.1%) - TWO New York Jets players? In this economy? Breshad Perriman caught a 49-yard touchdown past in Week 11 versus the Chargers, propping up his scoring for the week on just four targets. He's going to be a bit boom or bust each week, but with Joe Flacco throwing "YOLO"-balls each week, Perriman will continue to get targeted deep (30.2 aDOT in Week 11). We know the Jets will likely be down, so with Denzel Mims starting to solidify a more well-rounded role within the team's passing game hierarchy, Perriman can be counted on for a handful of deep targets each week with the chance to make a house call whenever he touches the ball.
Keke Coutee, HOU (0.1%) - A deep add for sure, Keke Coutee is only here because of the passing volume of the Houston Texans and also due to the fact Randall Cobb is likely to be sidelined for multiple weeks with a toe injury. He didn't bust out after Cobb left the game but did score a touchdown. We've seen Coutee be viable on several other occasions but injuries have taken a toll on his value, which even before Cobb's signing was close to nothing. That said, Coutee could be a dark horse PPR add and isn't a priority add right now, but could be on watch lists and worth a deep, deep add this week.
Tight Ends (Leo Grandio)
Check to see if these tight ends are available in your league's waiver wire first. I would prioritize them in this order:
Dallas Goedert, PHI (59.5% rostered)
Zach Ertz, PHI (58.4% rostered)
Eric Ebron, PIT (72.9% rostered)
Mike Gesicki, MIA (54.2% rostered)
Jimmy Graham, CHI (51.5% rostered)
On to our list!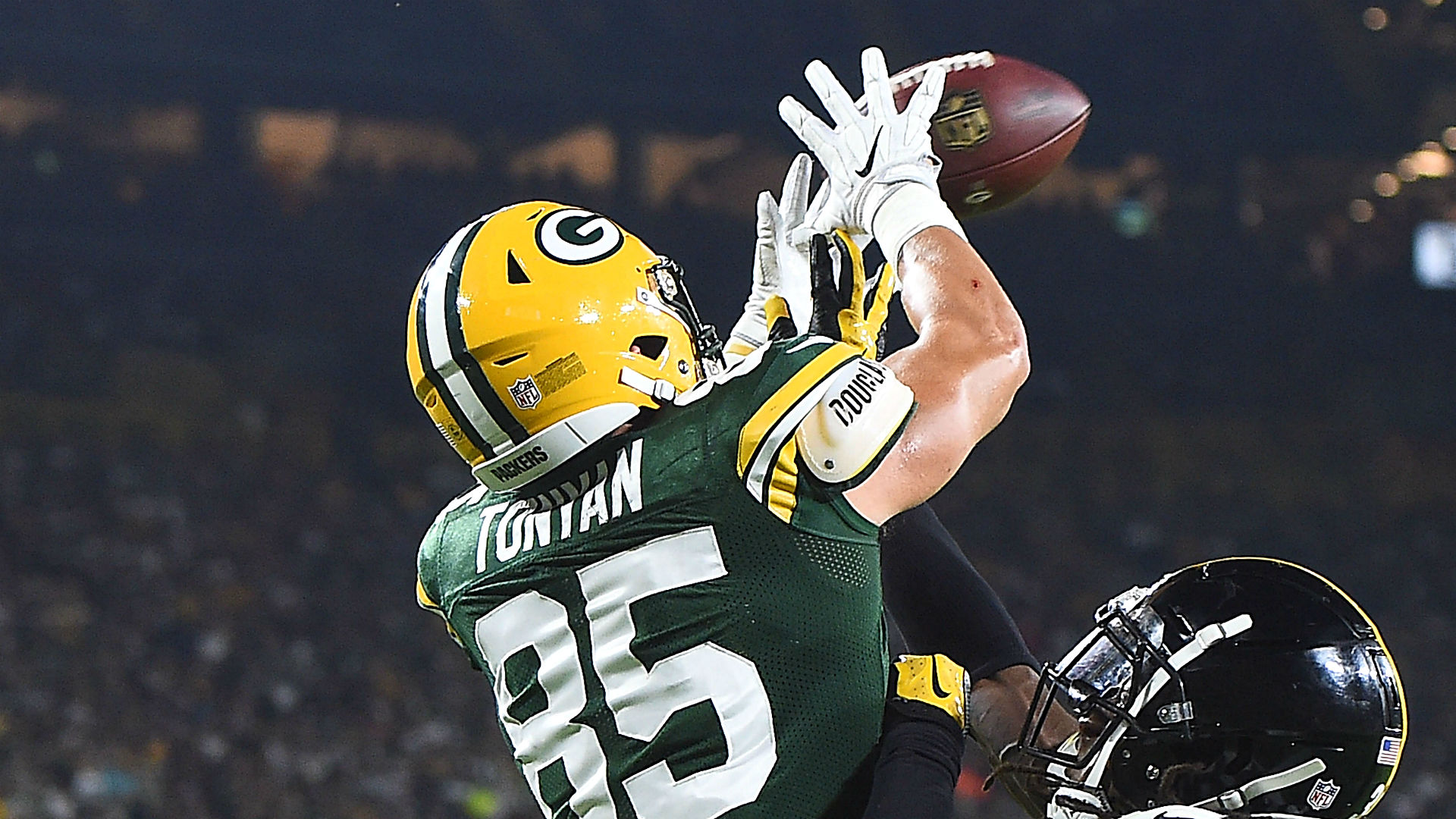 Robert Tonyan, GB
(32.7% rostered)
After being M.I.A. over the last two weeks, when Robert Tonyan had two forgettable games for the Packers he was dropped in the majority of leagues. Now it's time to scoop him back up as he showed life in his game. Tonyan caught all five of his targets for 44 yards and a touchdown. It was Tonyan's first big game with all the Packers receivers healthy and active. It could be a sign of things to come. Tonyan should be added in all league formats.
Dalton Schultz, DAL
(24.8% rostered)
Dalton Schultz continues to produce no matter what the hierarchy of the Cowboys' wide receivers seems to be, and is the safest of all the pass catchers. After averaging 7.5 targets in his previous two games, Schultz had six targets and brought in four receptions for 25 yards and a touchdown. That's now three different consecutive starting quarterbacks and he is now averaging seven targets a game over his last three games. All you can hope for from a tight end is that he gets an opportunity and Dalton is surely getting that. Schultz should be added in all league formats.
Jordan Reed, SF
(12.6% Rostered)
Prior to the bye, Jordan Reed provided five receptions for 62 yards against the Saints. He had a larger role in the offense than Ross Dwelley by a large margin. Reed has proven time and again that when healthy his receiving skills are undeniable and with George Kittle on IR, Reed should be added in all league formats moving forward.
Other TE in Consideration:
Trey Burton, IND (6.6%) - Though there's a logjam at tight end in the Colts offense, Trey Burton is the one that continues to shine. He was targeted five times by Mr. Rivers and was able to corral two receptions for 25 yards and a touchdown. Burton should be considered a tight end to target in 12-team leagues.
Logan Thomas (29.1%), - Logan Thomas had a miserable game as he was only able to bring in two receptions for six yards on five targets. Thomas had a drop and another pass batted away that contributed to this lousy performance. The one good thing about this scenario is that at least he is being targeted consistently. The tight end just needs to capitalize on his opportunities. Thomas is a streaming option this week for fantasy managers in need of some tight end help.
Dynasty Adds (Corey Hietpas)
Khadarel Hodge, WR, CLE
Cleveland's passing attack is not terribly enticing, and Khadarel Hodge has done little to nothing during his time in the NFL so far. Overall, Khadarel Hodge is not extremely interesting, but he has been getting more involved for the Browns recently. OBJ is out of course, and Landry hasn't been the same since his hip injury, which opens up snaps and targets for other WRs on the Browns. Hodge hasn't exactly seized the opportunity, but this past Sunday was promising. Hodge led the Browns in receiving yards, 73, and played 70% of snaps. He's been receiving an increase in usage the past few weeks, and the Browns have a relatively easy remaining schedule, so Hodge will have an opportunity to build on last week and carve out a consistent role in the offense. My final thought is that I don't ever expect Hodge to be a consistent starter for fantasy teams, but he could be a nice bench piece for bye weeks or injuries.
Jordan Akins, TE, HOU
I think Jordan Akins is the oldest player I'll have as a Dynasty add this season. At 28, he's not the youngest of options, but don't let his age discourage you from adding him if he's still available in your league. This is only Akins' 3rd season in the NFL, so he doesn't have the normal wear and tear of the average 28-year-old player in the league. Also, we all know how much of a wasteland tight ends are for fantasy purposes. Akins is intriguing for a few reasons. He's the starter in Houston, and he has Deshaun Watson throwing to him. Those two things alone make Akins interesting enough for a Dynasty hold. Speaking to this season, Akins is the TE27 on the year and he's missed 3 games. He's also scored 9 or more half ppr points in 3 of 7 games played so far. So, he's proving that he can produce and could be starter-worthy if he can stay healthy.
Keke Coutee, WR, HOU
It's been a while since I've thought about Keke Coutee. He's been buried on the depth chart recently and has had no fantasy appeal. Well, Cobb went down with an injury this past week, and Keke stepped in as the slot receiver. Of course, he caught a TD as everyone expected and played 58% of snaps against New England. Cobb is already ruled out for this Thursday, and Coutee is expected to be the starting slot receiver. With Cobb no longer healthy and already 30 years old, Coutee could be getting a second chance at carving out a role in Houston's offense. At the very worst, Coutee can be used as a flex for a few weeks if you're in a tough situation.
You can follow Steve @fantasygeek37, Kevin @ktompkinsii, Leo @smooth1074, and Corey @Corey_Hietpas!
---