Waiver Wire: Week 13
---
It feels like Week 12 has been going on for the last couple months here, but with the Steelers/Ravens game getting pushed back a third time to this Wednesday, we'll finally be on our way to Week 13.
Because of this, it's ever so important to check with your fantasy platform or commissioner to see how waivers will operate this week so you don't miss out on waiver claims this week that could potentially impact you making the playoffs!
There's no better way to get a leg up on your competition than to get your waiver adds set and bolster your roster for the most pivotal stretch of the season to see if you're going to be playing some bonus fantasy in Weeks 14 through 16.
Here at Fighting Chance Fantasy, we're taking a four-pronged approach with Leo Grandio covering quarterbacks and tight ends, Steve Rapin covering the running backs, Kevin Tompkins covering the wide receivers, and Corey Heitpas covering the dynasty portion!
Quarterbacks (Leo Grandio)
First of all, check to see if these quarterbacks are available and are floating around in your league's waiver wire. I would prioritize them in this order:
Taysom Hill, NO (65.4% rostered)
Ryan Tannehill, TEN (56.2% rostered)
Matthew Stafford, DET (59.1% rostered)
Carson Wentz, PHI (64.0% rostered)
On to our list!
Kirk Cousins, MIN
(20.4% rostered)
I thought the Vikings were supposed to be a running team? Well, it looks like Kirk Cousins has something to say about that. Cousins has been one of the hottest quarterbacks over the last month. The veteran quarterback has now had back-to-back 300+ yard games tossing three touchdowns in each contest. Cousins has averaged 283.3 yards and 2.8 touchdowns a game over his last four weeks. This week he has a very favorable match-up against the Jaguars who are allowing the third-most fantasy points to quarterbacks this season. Cousins is a must-add to all league formats and is a great option for those rostering Tom Brady who is on a bye this week.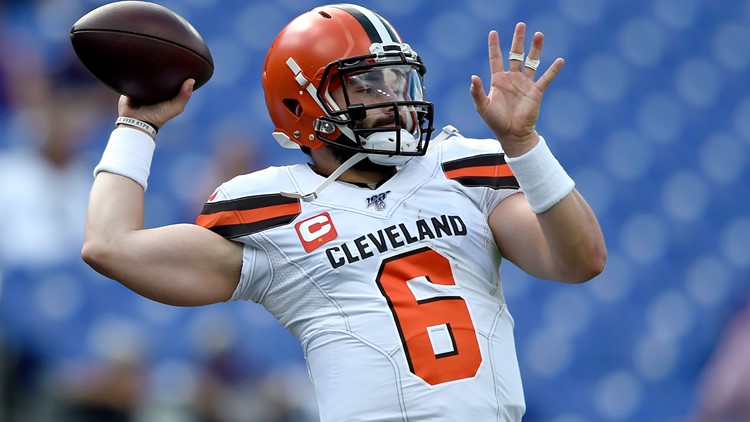 Baker Mayfield, CLE
(19.5% rostered)
After playing his last couple of games in hellacious weather conditions at home, Baker Mayfield was the hellacious one that the Jaguars had to deal with in Week 12 as he threw for 258 yards and two touchdowns. Though he lost his number-one receiving threat a few weeks ago, Mayfield is showing signs of why he was a number-one overall draft choice in 2018. This week, he tangles with the Titans who are allowing the seventh-most fantasy points to quarterbacks this season and the Titans defense will be focusing on trying to stop Nick Chubb from leaving some opportunity for Mayfield to get the passing game going once again. He is an excellent streaming option this week and is a good back-up to have for the semis and finals in the playoffs as he faces both New York clubs.
Philip Rivers, IND
(20.6% rostered)
Speaking of red-hot veterans, Philip Rivers has turned back the clock recently and has been slinging it lately as a few of his weapons have returned from the IR. Averaging 297 yards and two touchdowns per contest over his last three contests, he should have fantasy managers' attention moving forward. Rivers will be battling the Deshaun Watson and the Texans in two of the next three weeks that are sure to be high-scoring affairs. The gunslinger should be owned in 12-team leagues.
Other QB in Consideration:
Ryan Fitzpatrick, MIA (21.5%) - No Tua Tagovailoa, no problem. With Tagovailoa missing last week's game with a thumb injury, Ryan Fitzpatrick was more than happy to fill in and spank the Jets one more time this year. Fitzpatrick produced 257 yards and two touchdowns in the Dolphins 20-3 romp of the Jets. There is no word yet if Tagovailoa will miss this week's game but if he does, Fitzpatrick is an excellent streamer for Week 13 as he faces the Bengals who are allowing the eleventh-most fantasy points to quarterbacks this year.
Gardner Minshew, JAX (10.3%) - Gardner Minshew has been out since his Week 8 bye with a thumb injury, but he did return to limited practice last week for the Jaguars and has a great chance to return to behind center this week versus the Vikings. If you are in need of a quarterback for depth in deeper leagues grab Minshew now before your league mates realize he is in line to return to the field soon.
Teddy Bridgewater, CAR (30.0%) - Teddy Bridgewater was injured in his return to Minnesota. Prior to leaving the game, he was able to throw for 267 yards, a touchdown, and an interception. Bridgewater is heading to bye for Week 13 and is a quarterback to stash as a nice back-up for the playoffs with the hopeful return of Christian McCaffrey on the horizon after the break.
Jalen Hurts, PHI (1.8%) - Carson Wentz has struggled this season, and Jalen Hurts is starting to be more involved in the offense as the season progresses. Hurts is a deep add for two-quarterbacks/super-flex league formats and should be owned in dynasty leagues.
Running Backs (Steve Rapin)
I'm going to be honest, if you're looking for running back on the waiver wire that is going to save your season, I just don't see it this week. These guys may be able to help you in a bind, but this could be the nastiest week for running backs that I can remember.
Before I get to those that are below 50%, make sure that these few that are slightly above 50% rostered aren't still available on your wire.
James White, NE (65% rostered)
Latavius Murray, NO (60% rostered)
Myles Gaskin, MIA (69% rostered)
Jamaal Williams, GB (60% rostered)
Benny Snell, PIT
(35% rostered)
This report will be going out before the Wednesday game between the Steelers and the Ravens, but regardless of whether this game takes place, Benny Snell needs to be on a roster. I want to preface this by saying I don't want this to come across callous, but James Conner's battle with Leukemia is well documented, and now that he has been diagnosed with Covid-19, we don't know how he will be effected by the virus. We have seen healthy people like Ryquell Armstead be devastated by Covid-19, and with Conner potentially having a compromised immune system, there is a chance we don't see him again this season. Hopefully he is only minimally impacted and we see him back soon, but Snell should be priority waiver claim this upcoming week.
Carlos Hyde, SEA
(38% rostered)
After Benny Snell, thing's get pretty shaky this week on the wire. Chris Carson returned back from a multi-week absence in Week 12, but was out-touched by Carlos Hyde, 17-10, as well as out-snapped 41-25. What I'm guessing is that this was Pete Carroll easing Carson back into game shape, but it's something we should keep our eyes on. I'm assuming we see this flop next week and Carson get the bulk of the work, but even if that happens, Hyde is one of the better handcuffs in the league and should be on a roster in 12-team formats.
Cam Akers, LAR
(30% rostered)
There are no signs of Sean McVay moving away from the running back by committee situation in Los Angeles, but if he does decide to start giving some love to one of the three backs that are getting work, I would think that Cam Akers would be the one to see an increase in volume. Despite playing fewer snaps than Darrell Henderson and Malcolm Brown, Akers was far and away the most productive of the trio, as he went 9-84-1 and highlighted what he's capable as he ripped off a 61 yard run. This is strictly a dart throw, but if you are looking for a lottery ticket at the end of the season, Akers may give you the best odds of cashing in.
Other running backs in consideration:
Alexander Mattison, MIN
Jeff Wilson Jr, SF
Frank Gore, NYJ
Tony Pollard, DAL
Ito Smith, ATL
Wide Receivers (Kevin Tompkins)
First of all, check to see if these receivers are available and are floating around in your league's waiver wire. I would prioritize them in this order:
Curtis Samuel, CAR (75.4% rostered)
Sterling Shepard, NYG (61.1% rostered)
Deebo Samuel, SF (61.1% rostered)
On to our list!
Keke Coutee, HOU
(0.3% rostered)
The Texans have really sorted out their wide receiver group, through no actual action by the team barring one move. In the last week and change, the team placed Randall Cobb on IR with a toe injury, released Kenny Stills, and then yesterday, the league suspended Will Fuller for six games due to a performance enhancing drugs suspension.
Yikes.
Somebody has to catch passes besides Brandin Cooks in Houston, so in steps Keke Coutee to handle some of that work. He's a worthy add in all formats as besides Cooks, it looks like the brunt will fall to Coutee and Jordan Akins. Coutee has been a solid contributor when healthy as more of a PPR option than anything being primarily a slot option (seeing 61.3% of snaps in the slot), but that should provide a solid points floor with Deshaun Watson slinging the ball to him. The main worry with Coutee has always been the injury bug, but he should be able to provide a bit of relief to fantasy managers starting him in a pinch.
Denzel Mims, NYJ
(4.9% rostered)
"The Air Yards King of New Jersey"
It's not Abe Froman but it's a start.
If Denzel Mims were on any other franchise, Mims would be on every add list, every hype reel, but because he plays for the Jets, we don't hear about him as much. Honestly, that's wild, even in the NYC metro area.
Anyway, Mims has the third-most air yards over the last four weeks and Nick Ercolano has some awesome stats about the Jets' pass-catchers:
With at least 60 receiving yards in his last three games, with both Joe Flacco and Sam Darnold throwing him the ball, dare I say he's becoming… quarterback independent? Well, when all you have to do is chuck it up and let him come down with it, it's an easy choice as Mims has come down with some wild catches in his limited time.
While the upside might be capped a bit based on his offense, go get him. He's a solid floor play with potential for a boom week or two as we get into the playoff weeks.
Gabriel Davis, BUF
(1.1% rostered)
Where there's (no) smoke, there's Gabriel Davis' fire.
What has gotten into me today?
The currently smokeless John Brown, who went on IR with a foot injury, was the main impediment to Davis' emergence as a playmaker in this high-octane Bills' passing game. Davis saw a 97% snap share, a 24 yard aDOT, and a 3/79 line with a touchdown. The targets are a bit concerning with only four, but his output was good enough to land him inside the top-20 at the position in Week 12.
With Brown out multiple weeks, we can expect some boom/bust production out of Davis, but with Josh Allen tossing him the ball, we know anything can happen here. He has a few weeks of viability, though he does face San Francisco and Pittsburgh in the next two weeks, so production could be spottier here. That said, Davis does make for an intriguing flex play with upside.
Breshad Perriman, NYJ
(14.3% rostered)
For fantasy purposes, Breshad Perriman has produced to at least a WR3 level over the past three games and if you're a regular reader of this column, you know he's been a mainstay here.
Perriman saw eight more targets in Week 12, putting up 79 yards receiving on four grabs. He's the clear deep-shot receiver on this roster and with that, comes potential spike weeks, even if Sam Darnold is at quarterback, as gross as it is.
With the Jets being down quite a bit as the season winds down, Perriman is a solid back-end starter in fantasy with potential to spike weekly.
Nelson Agholor, LVR
(31.9% rostered)
Even as the Raiders were sunk into oblivion in Atlanta by the Falcons' defense (!!), Nelson Agholor was still moderately relevant, catching five balls for 54 yards on eight targets. Agholor and the Raiders should see much better days, starting in Week 13 versus the NFL's punching bag, the New York Jets.
Even with Hunter Renfrow showing some signs of life leading the team in targets, catches, and receiving yards last week, and Henry Ruggs also showing a pulse, Agholor has been the one guy you can actually trust in this offense week to week. I like him as an every-week flex play going forward, with a bump up to a WR3 facing the aforementioned Jets.
Collin Johnson, JAX
(0.1% rostered)
We're not going to confuse the "Mike Glennon to Collin Johnson" combination for the next Joe Montana to Jerry Rice, but perhaps somebody (me) was a bit hasty in anointing this receiving corps just Keelan Cole and Laviska Shenault for Week 12.
The 6'6" "skyscraper" could see increased time down the stretch as, well let's face it, the Jaguars aren't playing for anything. He led the Jags with eight targets and finished with a 4/96 line and a touchdown. I did write about him early on as somebody to keep an eye on all the way back in Week 6, so two months later, here we are.
Now whether Johnson continues to get this work remains to be seen, but it behooves the Jaguars to at least see what they have in the huge target out of UT-Austin.
Other WR in Consideration:
Mohamed Sanu, DET (0.6%) - Ever the nomad these days, Mohamed Sanu's odyssey landed him in Detroit where he spent his Thanksgiving early-afternoon catching four passes for 32 yards and a touchdown. Solid for sure, but it's clear the Lions prioritized giving opportunities to the veteran Sanu off the street over rookie Quintez Cephus. Sanu played almost half of the snaps on offense in Week 12 and ran the third-most pass routes on the Lions, both over Cephus.
With Kenny Golladay being out for a period of time, an avenue opens up for Sanu to see time with both Marvins (Jones and Hall) to potentially be fantasy-relevant as the Lions likely trail in most of their remaining contests. Saun is a speculative add for now and could be a bit of a PPR "something" towards the fantasy playoffs.
T.Y. Hilton, IND (45.4%) - Once in a while we have to check on our elderly relatives to make sure everything is okay, make sure their sheets are changed, etc. T.Y. Hilton is no exception. He must have found a duster out somewhere and snuck in some Pledge spray off of a cleaning cart because he dusted himself off to the tune of a 4/81 line and a touchdown (that wasn't called back due to a penalty this week!).
Surprised as we all are, it's not time to book your stay at this Hilton, but maybe take a peek and invest if you desperately need the help at receiver. Maybe you just lost Will Fuller as your starter? Maybe Adam Thielen as well?
The Colts face Houston twice in the next three weeks, so while the proposition of starting him is awful to stomach, at least the matchups are there for Hilton to at the very least be a solid contributor. We know he's done it in the past, so hey, we fantasy managers are nothing if not resourceful, right?
Olabisi Johnson, MIN (0.1%) - More of a short-term add than anything, but with Adam Thielen out with COVID-19, Olabisi Johnson stepped in and made his presence known on a day where Kirk Cousins threw the ball 45 times against the Panthers. Johnson reeled in all seven of his targets for 74 yards as well as being on the receiving end of a two-point conversion.
If Thielen is out, Bisi remains relevant against the Jacksonville Jaguars in an advantageous matchup across the board for the Vikings, but it's likely Cousins won't need to throw the ball 45 times in that contest. Still, Bisi should get some quality targets thrown his way as long as Thielen remains out.
Tight Ends (Leo Grandio)
Check to see if these tight ends are available in your league's waiver wire first. I would prioritize them in this order:
Dallas Goedert, PHI (77.1% rostered)
Eric Ebron, PIT (74.6% rostered)
Zach Ertz, PHI (61.9% rostered)
Mike Gesicki, MIA (61.6% rostered)
Austin Hooper, CLE (67.3% rostered)
On to our list!
Robert Tonyan, GB
(46.1% rostered)
For those fantasy managers that have stood by Robert Tonyan's side throughout that four or five games when he was producing dud performances, he has rewarded them very handsomely over his last two games. After scoring 15.4 PPR fantasy points the previous week, Tonyan had another excellent outing with five receptions for 67 yards and a touchdown. With Davante Adams getting most of the defensive attention in the secondary, Tonyan is finding room to get open, getting his groove back, and should be owned in all league formats.
Trey Burton, IND
(6.0% rostered)
Trey Burton continues to be the rock-solid tight end for Philip Rivers in the red zone. Burton has demonstrated all season that when healthy and given an opportunity, he can be a productive tight end in this league and for fantasy managers. He provided three receptions for 42 yards and a touchdown against the Titans last week. Burton has had the most targets among the three tight ends on the roster and should be a nice addition for 12-team leagues.
Dalton Schultz, DAL
(30.3% rostered)
Dalton Schultz did not find the end-zone on Thanksgiving but did catch all five of his targets for 24 yards against the Washington Football Team. Although the Cowboys battle the Ravens this week, tight ends have been productive against them this year and he can be considered as a streaming option this week.
Other TE in Consideration:
Kyle Rudolph, MIN (13.6%) - With Irv Smith Jr. out with a groin injury, Kyle Rudolph produced seven receptions for 68 yards versus the Panthers on Sunday. This week, Rudolph faces the Jaguars who are allowing the 11th-most fantasy points to tight ends this season, making Rudolph an excellent streaming option this week.
Logan Thomas (24.8%), - Logan Thomas has been a pretty consistent TE2 this season hovering around 10 PPR fantasy points per contest in four out of his last six games. He caught all four of his targets for 20 yards and a touchdown. Thomas will be facing the toughest defense against tight ends this year in the Steelers on Monday Night so expectations should be tempered this week.
Dynasty Adds (Corey Hietpas)
Isaiah Coulter, WR, HOU
In just one week, Isaiah Coulter has gone from a healthy scratch to likely 3rd on the WR depth chart for the Houston Texans. Randall Cobb was placed on IR, Kenny Stills was cut, and now Will Fuller is suspended for the next 6 games. With Coutee manning the slot, there is an opportunity for Coulter to step in as the 2nd outside WR, opposite of Cooks, and showcase his skills. Coulter has great size (6'3", 190lbs) and also had great production as an outside WR at Rhode Island (72 catches, 1,039 yards, and 8 TDs in 2019). I've liked Coulter since rookie drafts and wanted to roster him, but I couldn't justify it in most leagues with him being buried on the depth chart. Well, that problem has been solved, and now I'm adding him anywhere I can. I expect him to carve out a permanent role in the offense with the opportunity he has for at least the next 6 weeks. If Coulter is able to play well and develop a permanent role in Houston, he'll have great value as a spot-starter or flex, at least, since he'll have one of the best QBs in the league throwing to him.
Collin Johnson, WR, JAX
Snaps have been hard to come by for Collin Johnson in his rookie season as the Jaguars have a plethora of solid vet receivers and Laviska Shenault ahead of him on the depth chart. This past week was different and provided an opportunity in the sense of 81% of Jacksonville's offensive snaps for Johnson as both D.J. Chark and Chris Conley were out with injuries. Johnson took this opportunity and ran with it. He had 4 receptions on 8 targets and gathered 96 receiving yards, 46 of which came on an impressive catch-and-run TD. This is a really promising performance from the rookie and could springboard his snaps up going forward. Chark and Conley will both seemingly return soon, and this will affect Johnson's playing time in a negative way for the rest of the season. The Jaguars should be inclined to see what they have in their younger players though, and I expect to see more consistent snaps for Johnson because of their current state (1-10 record). I have confidence that Johnson will start to creep up the depth chart and wouldn't be too surprised if he starts in 3-wide sets next year.
---
You can follow Steve @fantasygeek37, Kevin @ktompkinsii, Leo @smooth1074, and Corey @Corey_Hietpas!
---