Waiver Wire: Week 14
---
The playoffs are finally here coming up in Week 14 for most of you, but for those of you looking to get into the playoffs still, this is for you as well!
If you've made the playoffs in your fantasy football league, you likely don't need a bunch of starters to pluck off of the waiver wire, but to solidify your bench and make sure you've got options should somebody get hurt or worse, the roulette wheel that is the COVID/reserve list.
Here at Fighting Chance Fantasy, we're taking a four-pronged approach with Leo Grandio covering quarterbacks and tight ends, Steve Rapin covering the running backs, Kevin Tompkins covering the wide receivers, and Corey Heitpas covering the dynasty portion!
Quarterbacks (Leo Grandio)
First of all, check to see if these quarterbacks are available and are floating around in your league's waiver wire. I would prioritize them in this order:
Taysom Hill, NO (69.1% rostered)
Ryan Tannehill, TEN (64.5% rostered)
Cam Newton, NE (61.9% rostered)
Matthew Stafford, DET (55.9% rostered)
Derek Carr, LV (51.1% rostered)
On to our list!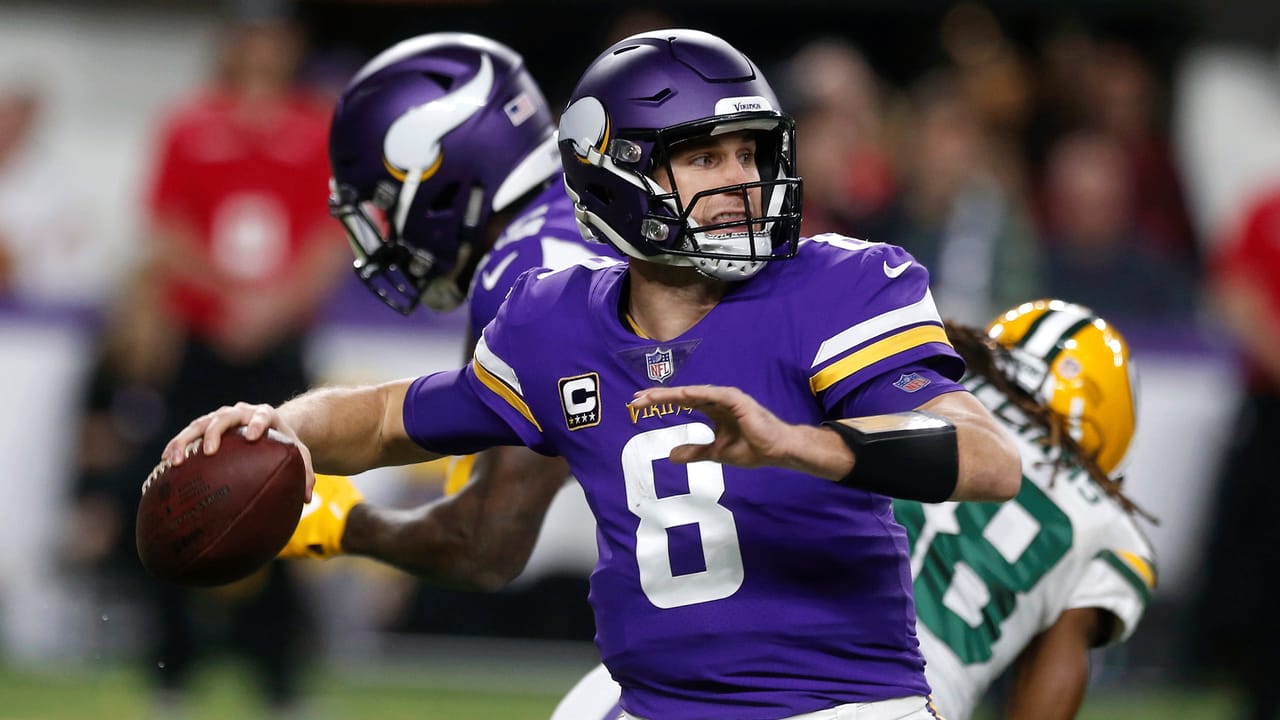 Kirk Cousins, MIN
(44.5% rostered)
Over the last five games, there have only been two quarterbacks to score more fantasy points than Kirk Cousins, Aaron Rodgers, and Deshaun Watson that's it. Cousins has been averaging 287.6 yards a game and has totaled 14 touchdowns and only two interceptions during the span. Last week he was required to throw it 43 times to prevent the Vikings from losing to the lowly Jaguars. He once again delivered 305 yards and three touchdowns with an interception. This week he will have a much tougher match-up against the Buccaneers defense but they are vulnerable through the air as they have allowed three consecutive quarterbacks to score at least 24 fantasy players. Cousins should be rostered in all formats at this point.
Philip Rivers, IND
(16.5% rostered)
If you are in need of a quarterback to pair with a starter that has tough upcoming match-ups to make for a championship run look no further than Philip Rivers. The veteran quarterback has two matchups versus the Raiders and Texans over the next two games. Both contests have shootout potential and are opportunities for fantasy managers to have a chance to make it to the finals. Versus the Texans, this past week Rivers threw for 285 yards and two touchdowns which should be his floor for the next couple of games. The only worry is that you may need a back-up plan for the Finals because the Colts have a date with the Steelers in Week 16, and they allow the second-fewest fantasy points to quarterbacks this season. Although they just allowed Alex Smith to throw for nearly 300 yards in their first loss of the season. Rivers should be owned in all league formats at this point.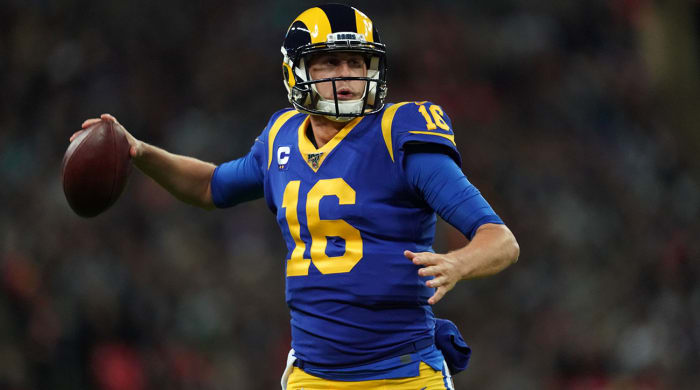 Jared Goff, LAR
(47.8% rostered)
Coming off 351 yards and a touchdown performance, one would expect Jared Goff to be higher on the list but his match-up this week versus the Patriots is highly unfavorable. The Pats' defense is starting to crank it up, as over the last couple of games they have slowed down two of the hottest quarterbacks this season in Kyler Murray and Justin Herbert. The Patriots held both of them under 10 fantasy points, which was easily their lowest scoring week of the year for these two studs. If you're adding Goff, it's for the weeks that lie ahead with favorable match-ups against the Jets and Seahawks in the semifinals and finals respectively. Goff should be owned in all league formats.
Baker Mayfield, CLE
(19.5% rostered)
Well hello, there Mr. Baker Mayfield. Mayfield was surely baking against the Titans in Week 13 as he compiled 344 yards and four touchdowns as he led the Browns to victory once again. The following two games are highly unfavorable for Mayfield with dates against the Ravens and Giants who are both top-four defenses versus quarterback fantasy production. After that, the Browns have the Jets in the finals which would be an excellent option for fantasy managers in the championship game. Mayfield is another quarterback to add to pair with your starter for matchup purposes and depth and should be owned in 12-team leagues.
Other QB in Consideration:
Tua Tagovailoa, MIA (23.5%) - Rookie Tua Tagovailoa was reinserted into the starting line-up and helped lead the Dolphins to the win over the Bengals. He passed for 296 yards and a touchdown. This week the Champs are coming to town and Tagovailoa will be needed to pass early and often to keep up with the Chiefs juggernaut offense.
Jalen Hurts, PHI (1.4%) - Jalen Hurts usage in the offense has grown to the point that Carson Wentz was benched in favor of Hurts last week. Hurts promptly sparked the offense to the tune of 109 yards, with a touchdown and an interception. The rookie quarterback should be added in 14-team leagues and if he is named the starter, he should be bumped up to be owned in 12-team leagues.
Mitchell Trubisky, CHI (13.4%) - After playing for the first time since Week 3, Mitchell Trubisky produced 242 yards and three touchdowns versus the Packers last week. This past week against the Lions, Trubisky passed for 267 yards and a touchdown. The quarterback could be used as a streamer with a favorable game this week against the Texans who are allowing the eleventh-most fantasy points to quarterbacks this season.
Teddy Bridgewater, CAR (25.6%) - Keep an eye out for Teddy Bridgewater's status coming off the bye as he injured his knee but there has been no news on the severity of his injury. Should he be ruled as healthy, Teddy B should be added in 12-team leagues.
Priority List quarterbacks to add in two-quarterbacks/super-flex leagues: Sam Darnold, Drew Lock, Mike Glennon, Brandon Allen, and Colt McCoy.
Running Backs (Steve Rapin)
Cam Akers, LAR
(53% rostered)
We are seeing a glimpse of what Cam Akers is capable of as he rattled off 72 yards on 21 rushing attempts and scored in a 38-28 victory over the Cardinals, which was similar production to what we saw last week. Maybe the best sign is that he was on the field for 63% of the team's offensive snaps versus 27% in Week 12, and maybe Sean McVay is ready to trust the rookie down the stretch. All signs are pointing up for Akers, so make sure to prioritize him as much when entering your waiver claims this week.
Ty Johnson, NYJ
(2% rostered)
Frank Gore suffered a concussion early in Week 13 and that opened the door for the Jets to see what they have in NFL sophomore, TY Johnson. Johnson didn't disappoint as Adam Gase gave him 22 rushing attempts which he turned into 104 yards and a touchdown. Concussions are very unpredictable so we don't know when Gore will return, but let's be honest, at this point does Adam Gase really have any reason to go back to the 37-year-old running back even when he returns? Methinks not. Johnson should continue to see a lot of volume and could be a decent flex play this week as the Jets take on the Seahawks.
Adrian Peterson, DET
(49% rostered)
As a (sometimes) fan of the Lions (it's hard...very hard), I hate to see the reports out of Detroit that D'Andre Swift is struggling to recover from his concussion. It wouldn't surprise me at all if we didn't see Swift again this season, and that could mean the Lions continue to feed Adrian Peterson the ball. He's had 15 carries and scored two touchdowns in consecutive weeks and while he won't always find the end zone twice, he should be a decent fantasy option as long as Swift is sidelined.
Other running backs in consideration:
Ito Smith, ATL - Todd Gurley dealing with a knee issue.
Carlos Hyde, SEA - Carlos Hyde battling a foot injury.
Peyton Barber, WAS - He sucks but could hope for a touchdown.
Sony Michel, NE - Received ten carries in Week 13.
Benny Snell, PIT - James Conner expected back, but you never know.
Wide Receivers (Kevin Tompkins)
First of all, check to see if these receivers are available and are floating around in your league's waiver wire. I would prioritize them in this order:
Jamison Crowder, NYJ (74.6% rostered)
Brandon Aiyuk, SF (63.6% rostered)
Cole Beasley, BUF (58.2 rostered)
Corey Davis, TEN (54.4% rostered)
On to our list!
Keke Coutee, HOU
(12.4% rostered)
I'm not overly enthused by the waiver wire options this week, as there are a lot of the same names we've seen over the past few weeks, but there's still usable options this week. That includes Keke Coutee, of whom we were wondering how he would shake out in this post-Will Fuller world among the Texans' pass-catchers. Suffice it to say, Coutee's 141 yards on eight catches were good enough for WR7 (as of Tuesday).
Coutee is not going to do what he did against the Colts every week and I certainly doubt he does this week at Chicago against the Bears, but he should be a usable PPR option for your playoff run despite the tough matchups against the Bears this week, Colts next week, and followed by a cushy opponent in the Cincinnati Bengals for Week 16.
Tim Patrick, DEN
(15.5% rostered)
We can say what we want about the Drew Lock/Pat Shurmur "YOLO/DGAF" offensive revolution (or devolution in most sober circles) but it's been great for Tim Patrick. All Patrick has done (aside from the Kendall Hinton experience in Week 12) is post up double-digit fantasy points in every game since Week 9. Since Courtland Sutton went down, he's been operating as the defacto "Sutton" in this offense.
While the Broncos don't have the greatest opponents coming up for fantasy playoff purposes (@CAR, BUF, @LAC), we know in likely negative game-scripts that the Broncos will throw, throw deep, and do both of those things some more. It's science.
I'm very happy to fire up Patrick as a WR3 with upside during these playoff weeks.
Chad Hansen, HOU
(0.0% rostered)
Chad Hansen has bounced around quite a bit in his football odyssey. A nomadic journey started at Idaho State, to Cal-Berkeley, then to the Jets as a fourth-rounder, to the Patriots, Titans, Broncos, and Saints' practice squads, and now here with the Texans, where he's been a practice-squad fixture in Houston since 2019. Hansen got his first game action since 2017 this past Sunday and took full advantage with a 5/101 performance.
Now the opportunity was certainly there, where he was on the field for 92% of snaps. I can see this as something to build on going forward, so I don't mind adding him in spots where I have room as somebody who with this type of snap count, with Deshaun Watson throwing to him, could potentially be a playoff asset. Hansen may not win you a league, but he can contribute.
He's a WR4 option right now if he can stay on the field and run that share of routes with the opportunity for more as his feet get wet.
Nelson Agholor, LVR
(29.2% rostered)
Nelson Agholor could have had a much bigger impact on Week 13 as Derek Carr did miss him on a couple of deep shots which could have flipped his fantasy output. He still received 11 targets, which was second on the team next to slate-flipper Darren Waller and his 200(!) receiving yards.
The Raiders get to host the Colts in Week 14 and with this kind of target share and with Waller able to command so much attention, that could open things up the Raiders' secondary and tertiary options behind Waller. I like him as a volume-based WR3.
Collin Johnson, JAX
(0.4% rostered)
The rapport is clear here with Mike Glennon to Collin Johnson, who has a combined 14 targets in his last two games. While he didn't score a touchdown this week against the Vikings, he stayed very active with another six targets, four catches, and 66 yards.
The 6-foot-6 skyscraper could really breakout against the second-worst defense against fantasy wide receivers, the Tennessee Titans, in Week 14. I'm content in rolling Johnson out there as my WR3 with big-time upside.
Henry Ruggs, LVR
(33.2% rostered)
So full disclosure: I'm not putting a ton of stock into last-second touchdowns that account for most of a week's fantasy output. The touchdown referenced was a 46-yard game-winning touchdown caught by Henry Ruggs against what can best be described as a rather dubious defensive call to send basically an all-out blitz that was the straw that broke the camel's back in getting Jets' defensive coordinator Gregg Williams fired on Monday.
Ruggs ended the day with 3/84 and a touchdown, so while yes, we can't exactly chalk all of that line up to make him a must-start going forward, his Week 13 and previous game have been some of the best usage and output over the past two months.
If you want to roll the dice on a boom or bust option in Week 14, the Raiders get the Indianapolis Colts and he could certainly put up usable numbers as a flex option, just know there is plenty of risks involved, and worse yet, a zero-point floor with Ruggs.
Allen Lazard, GB
(29.8% rostered)
Allen Lazard saw four targets and accrued 50 receiving yards in Week 13 operating as the third pass-catcher in this Packers' offense. Anytime you can receive passes from a prospective MVP candidate in Aaron Rodgers, you have to take heed of that as a fantasy manager.
The next three games on the slate for the Packers include the Lions, Panthers, and Titans, so with winnable and pass-friendly matchups on the horizon, Lazard should be at worst a flex option into the fantasy playoffs.
Gabriel Davis, BUF
(4.6% rostered)
With John Brown being out and place on injured reserve for the last two weeks, Gabriel Davis has a touchdown in both contests that Brown has missed. Davis has been a WR2 in each week against the Chargers last week and now against the 49ers last night. I'm just honestly not sure it can be counted on in fantasy but I've been wrong many times and will continue to be. What's not wrong is that Davis is taking advantage of the opportunity afforded to him.
Davis sees the Steelers at home for Week 14, who will no doubt be an angry bunch after losing to Washington on Monday night. He'll be a dicey flex but with full-time snap share afforded to him, he's going to get chances to make a mark on that vaunted Steelers defense.
Tight Ends (Leo Grandio)
Check to see if these tight ends are available in your league's waiver wire first. I would prioritize them in this order:
Robert Tonyan, GB (63.4% rostered)
Mike Gesicki, MIA (65.0% rostered)
Zach Ertz, PHI (62.8% rostered)
Noah Fant, DEN (76.8% rostered)
George Kittle, SF (71.5% rostered)
On to our list!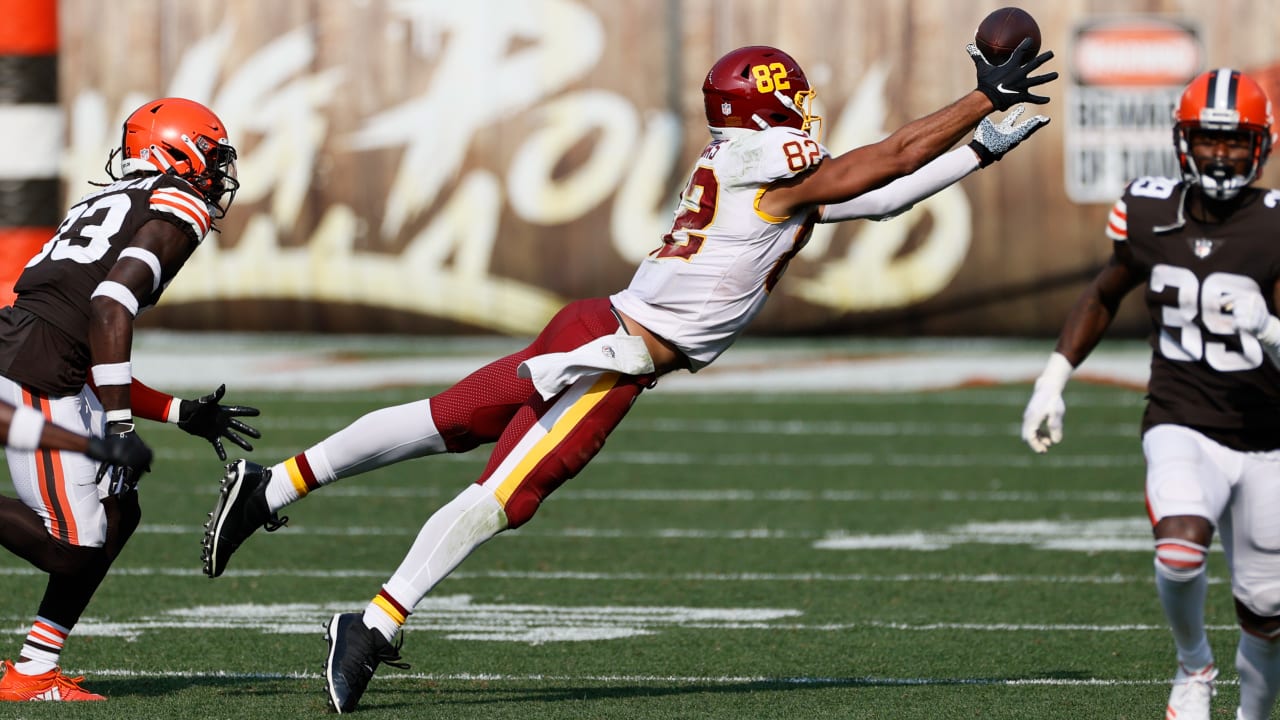 Logan Thomas, GB
(25.4% rostered)
Finally, Logan Thomas put together a complete game for a change and took advantage of all his targets. Thomas caught all nine of his targets for 98 yards and a touchdown. It was his fifth touchdown of the season. What made this game memorable was his performance that helped the Washington Football Team pull off the upset of the then-undefeated Pittsburgh Steelers who were number one defending the tight end position. Thomas continues to be targeted by Alex Smith and should be owned in all league formats.
Jordan Reed, SF
(14.8% rostered)
On Monday Night, Jordan Reed was silent for most of the night but when called upon he made plays. Reed was targeted four times and brought in three receptions for 32 yards and a garbage-time touchdown. He may be needed to protect Nick Mullens from that Washington Football Team's tough front seven. He should be a nice addition for 12-team leagues.
Other TE in Consideration:
Anthony Firkser, TEN (5.4%) - Anthony Firkser is strictly a tight end to add if Jonnu Smith were to miss another game due to his knee injury. While subbing for the injured Smith, Firkser produced 10.2 PPR fantasy points, with five receptions for 51 yards across his seven targets. If Smith sits out again, add Firkser to 14-team leagues as he will be facing the Jaguars who are allowing the seventh-most fantasy points to tight ends this year.
Cole Kmet, CHI (0.5%) - Cole Kmet is a highly touted rookie who was drafted by the Chicago Bears in the second round of this year's NFL Draft and has plenty of potential to be a top-notch tight end. The Bears may be finally ready to unleash him in the NFL. Last week he was targeted seven times and caught five receptions for 37 yards and a touchdown. Kmet should be added in 14-team leagues and must be owned in tight end premium leagues and dynasty leagues.
Drew Sample, CIN (0.8%) - Over the last two games with Brandon Allen behind center, Drew Sample has averaged six targets and provided 11 receptions for 89 yards. In deep PPR formats, Sample is a name to consider for tight end needy teams.
Dynasty Adds (Corey Hietpas)
Van Jefferson, WR, LAR
After the Rams drafted Van Jefferson in the second-round of the 2020 draft (57th overall!!!), it seemed to be clear that they had their new WR3. Well, that hasn't been the case so far as the WR3 role has been Josh Reynolds' to lose this season, which hasn't happened yet. Reynolds has played more snaps in all but one game so far, and he has 61 targets on the season compared to Van's 21. There seems to be hope for Van's dynasty value though. Van finally outplayed and outperformed Reynolds this past week against the Arizona Cardinals. Van played 48% of snaps and had four catches on five targets while Reynolds played 46% of snaps and only had one catch on one target. On the season, this is an anomaly, but it is promising either way. The more important factor for Van, in my opinion, is that Reynolds is in the last year of his contract. It's likely the Rams are easing Van into his future role as the WR3 and we'll see him take that over entirely starting next year. Even if the Rams bring Reynolds back, it's hard to imagine that they continue playing him over Van, who is the better prospect. If Van is available in your league, make him a priority add this week as better days are almost sure to come.
Lynn Bowden, WR, MIA
The Dolphins are in need of playmakers, especially with all the injuries. Lynn Bowden Jr. hasn't played much this season, yet, but he was finally given an opportunity against the Bengals. He played 45% of snaps and had five total touches for 52 scrimmage yards. He was more effective as a receiver, which seems to be a good thing since the Miami backfield is fairly crowded. On top of that, besides Devante Parker, the Dolphins don't have consistent receiving threats, so that would be an easier path to playing time for Bowden. Bowden has a few other things working in his favor too: he's young and has high draft capital (80th overall), and he is very athletic and versatile. After playing QB at Kentucky, he was drafted as an RB by the Raiders and is now listed as a WR for the Dolphins. With the lack of weapons on the offensive side for the Dolphins, I expect Bowden to see more playing time the rest of this season, and if he can continue to produce, he will solidify an offensive role going into next year. (Bonus for those in Sleeper leagues: Bowden is listed as an RB/WR.)
---
You can follow Steve @fantasygeek37, Kevin @ktompkinsii, Leo @smooth1074, and Corey @Corey_Hietpas!
---