Waiver Wire: Week 2
---
In the aftermath of Week 1, Fighting Chance Fantasy has you covered for your Week 2 waiver wire needs. Whether you need a replacement for Marlon Mack or Blake Jarwin who are unfortunately done for the year due to season-ending injuries or just have under-performing stars. Hopefully, you may find some answers below that will get you back in the win column.
Here at Fighting Chance Fantasy, we're taking a three-pronged approach with Leo Grandio covering quarterbacks and tight ends, Steve Rapin covering the running backs, and Kevin Tompkins rounding out the wide receivers!
Quarterbacks (Leo Grandio)
First of all, check to see if these quarterbacks are available and are floating around in your league's waiver wire. I would prioritize them in this order:
Joe Burrow (75% rostered)
Jimmy Garoppolo (52% rostered)
Daniel Jones (62% rostered)
On to our list!
Gardner Minshew II, JAX
(14.9% rostered)
Even though Gardner Minshew was mainly considered an afterthought during draft season, he illustrated Week 1 that he definitely can be useful for fantasy squads. In Jacksonville's upset victory over the Colts, Minshew threw for 173 yards and three touchdowns. With the Jaguars defense setting the stage weekly for the Jaguars to be chasing points, Minshew is a must-add in 12-team leagues to have as a back-up for when your starter has a bad match-up or if your streaming quarterbacks.
Teddy Bridgewater, MIN
(15.5% rostered)
If Week 1 is any indication of how Teddy Bridgewater will play in coach Matt Rhule's new offense, this is going to be a memorable season. For a quarterback that was once considered to possibly never to play again, it was great to see his once-promising career get back on track. Not only did Bridgewater pass for 270 yards and a touchdown with a 2-point conversion, but he also added 26 yards on the ground. Teddy B should be added to 12-team leagues and streamers alike, as he will face the Buccaneers in Tampa Bay which is predicted to be a high scoring affair.
Mitchell Trubisky, CHI
(2.7% rostered)
For a quarterback that seemed like he was trying to be run out of town by his team, Mitch Trubisky showed on Week 1 that he's not going anywhere for the time being. Everyone assumed that when Nick Foles was brought in during the offseason he would be starting quarterback. Unfortunately for Foles, Trubisky used all his weapons and produced 242 yards and three touchdowns. The most important stat from Sunday's contest for Trubisky is that he had no interceptions, which is a great start for the young quarterback. Trubisky is a must-add for 14-team leagues and super-flex leagues if he is still in the waiver by chance. He's a streaming option with a juicy match-up at home with the Giants.
Other QB in Consideration:
Ryan Tannehill, TEN (32.6%) - Ryan Tannehill continued where he left off last season by leading the Titans to victory. The veteran got all most if his weapons going on Monday night and finishing up with 245 yards and two touchdowns. Definite add to all formats.
Kirk Cousins, MIN (21.2%) - Kirk Cousins threw for 264 yards, a touchdown, and an interception while running for 34 yards. He is a streaming option as he will face a Colts defense that just allowed three touchdowns to Minshew.
Philip Rivers, IND (20.2%) - The veteran Philip Rivers played like his usual gun-slinging self by passing for 363 yards, a touchdown, and three interceptions. Could be a streaming option for 12 to 14 team leagues.
Running Backs (Steve Rapin)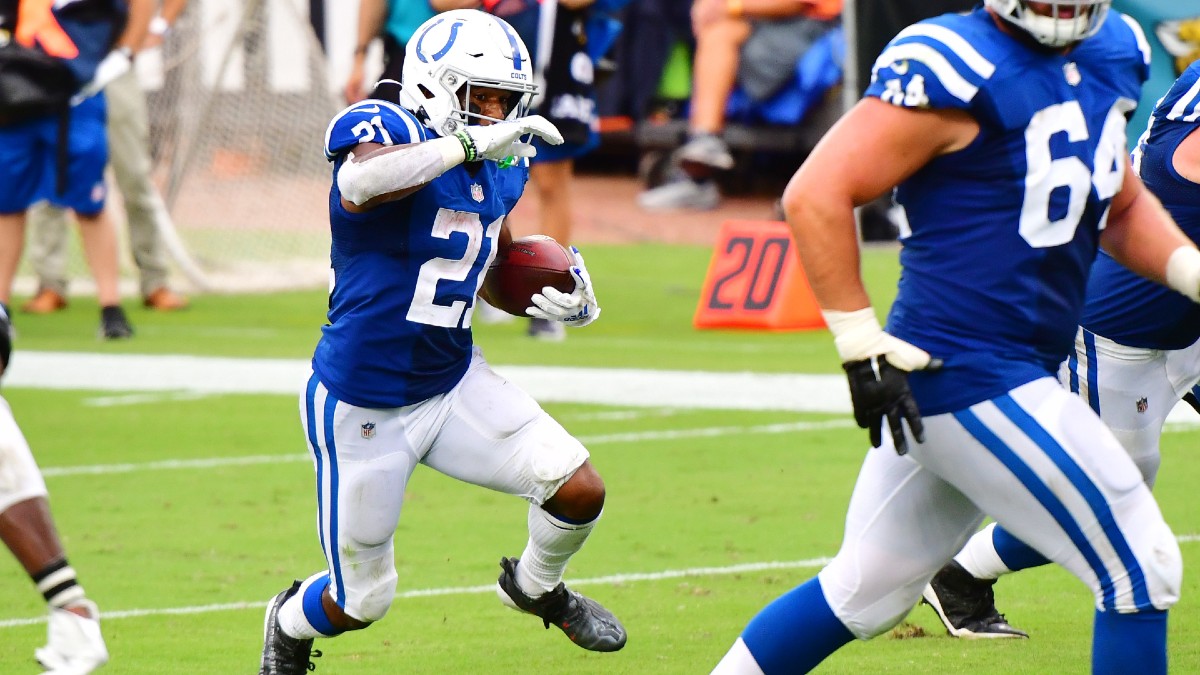 Nyheim Hines, IND
(36.7% rostered)
With Marlon Mack confirmed lost for the season, Nyheim Hines becomes my top target on the waiver wire for Week 2. Yes, head coach Frank Reich has declared rookie Jonathan Taylor as the team's starting running back, but Hines will carry a large role as well. Last season, now-Colts quarterback, Philip Rivers dumped off the ball to his backs on 174 of his 591 pass attempts (29.4%) and with Taylor not being known for his receiving abilities, Hines should be in line for a lot of action. In Week 1, Hines saw eight targets and turned that into eight receptions for 45 yards and a score, but also saw seven rushes for 28 yards and added another touchdown. As they ease the rookie into full-time action, Hines should see plenty enough work to be in your lineups every week, especially in the PPR format.
Benny Snell, PIT
(14.6% rostered)
Going into the season we all knew that James Conner would be used as a bell cow by the Steelers, but that you should have his insurance policy (Benny Snell) in place as Conner tends to get banged up from time to time. Well, it only took three drives for Conner to get injured on Monday Night Football. Once Snell came in he took over the running back duties and never looked back. He rushed 19 times for 113 yards. Roethlisberger had the next most rushing attempts in that span with three. Heading into Week 2, monitor Conner's status because Snell would be an instant RB2 in this offense should Conner be out of the line-up. Snell is a must-add in all leagues.
Malcolm Brown, LAR
(7.9% rostered)
We assumed that the Rams would take a cautious approach installing rookie Cam Akers into the game plan and that held true as Malcolm Brown shined in Week 1. Brown played on 44 of the team's 73 snaps (60%) while Akers was in for only 24 snaps (33%) and Brown rushed for 79 yards and two touchdowns on 18 carries. While I expect Akers to get more involved as the season progresses, I expect Brown to continue to get work the first half of the season and be in flex consideration depending on the matchup.
Alexander Mattison, MIN
(45% rostered)
The Vikings number two running back, Alexander Mattison is owned in 58 percent of leagues in ESPN and only 45 percent in Yahoo, but in my opinion, those numbers should be much, much higher on both sites. Not only is Mattison arguably the best handcuff in fantasy football, but it looks like he may see enough work on a weekly basis where he could be in flex consideration in 12 team leagues or larger, especially when injuries and bye weeks begin to hit. In their Week 1 matchup against the Packers, Mattison rushed six times for 50 yards and added another four receptions for 30 yards. While Cook is healthy, don't expect too many games, but Mattison has the potential to be a league winner if Cook ever goes down.
Chase Edmonds, ARI
(36.1% rostered)
If Mattison is the best handcuff to own in fantasy football, Chase Edmonds could be in the running for second place. Edmonds was on the field for 34 percent of the team's snaps and had six rushing attempts for 26 yards and five targets that translated into three catches for 19 yards and a score. Like Mattison, he will be hard to trust on a weekly basis, but could see just enough work to be played if you are in a pinch. His true value comes if lead back Kenyan Drake ever misses any time, in which Edmonds would be in RB1 consideration.
James Robinson, JAX
(29.1% rostered)
I would have James Robinson higher up on this list, but I just worry what this Jaguars' backfield will look like once everyone gets healthy. Robinson saw good volume in Week 1 as he had 16 attempts for 62 yards, but he saw limited work in the receiving game (only one target), and he only averaged 3.88 yards per carry. Ryquell Armstead is on the COVID reserve list with an unknown return date, and both Dare Ogunbowale and Devine Ozigbo are on the IR and could return as soon as Week 4. Add that to a tough matchup against the Titans in Week 2, and I worry that Robinson won't have long term value in most leagues.
Other RB in Consideration:
Joshua Kelley, LAC (11.3%) - Before the season it was a question as to who would be the backup to Austin Ekeler, and Joshua Kelley looks to have won the competition. He put up a line of 12/60/1 and was on the field for 27 percent of the team's snaps.
Carlos Hyde, SEA (11.9%) - It looks like Carlos Hyde will have a role in the Seahawks' offense as he had seven rushing attempts in Week 1 versus six for Chris Carson. Don't be fooled, Carson is still the back to own, but Hyde could have limited value depending on the matchup.
Adrian Peterson, DET (21.3%) - Personally, I'm staying away from Adrian Peterson, but you can't overlook the team giving him 14 rushing attempts, as well as three targets while he's only been on the team a week. I think Swift will cut into this as the season unfolds, but AP could have short term value. Kerryon Johnson looks like his days in Detroit may be numbered...
Jerick McKinnon, SF (17%) - If you play in a PPR league, Jerick McKinnon could be someone you add if you need depth at running back as he could see a good amount of work for the 49ers...while he's healthy, that is.
Peyton Barber, WAS (1.3%) - Peyton Barber had 17 rushing attempts and scored two touchdowns in Week 1, but I'm not buying it. He averaged 1.7 yards per carry and was on the field for 29 snaps, versus 31 snaps for JD McKissic and 18 snaps for Antonio Gibson. This isn't a recipe for success.
Josh Adams, NYJ (0.1%) - This is another situation I'm avoiding, but if you are desperate or in a very deep league, Josh Adams could see a run with Le'Veon Bell sidelined with a hamstring injury. We know what Frank Gore is at this stage of his career and he isn't winning you a fantasy championship. You might as well invest in the unknown and cross your fingers.
Wide Receivers (Kevin Tompkins)
Parris Campbell, IND
(29.8% rostered)
Admittedly, the Colts are unlikely to throw the ball 46 times each week to allow for multiple pass catchers to be relevant in Indianapolis, but Parris Campbell tied with T.Y. Hilton for the team lead in targets with 9 in Week 1 and did much more with them than Hilton did with a 6-71 line. Surprisingly, Campbell out-snapped all Colts receivers on Sunday; surely Frank Reich kept the hot hand in Campbell out there. Campbell is a guy we didn't see much of in 2019 but with Philip Rivers at the helm, and his propensity for peppering the slot with targets, Campbell is going to feast on volume. After Hilton, it's anybody's guess, so the 2019 second-rounder from Ohio State could find himself in an incredibly advantageous position. He's a priority add in every format.
Robby Anderson, CAR
(31% rostered)
"Teddy Bridgewater doesn't throw deep!"
Welp. Week 1 is certainly a small sample size for Robby Anderson (6-115, TD on 8 targets), but Teddy was slinging it quite a bit yesterday and Robby might be the next breakout candidate to get away the clutches of Adam Gase. Okay, maybe not breakout. Relevant? Possibly. With the other threats in the Panthers' offense, Anderson could prove to be a quality deep threat if Teddy's deep ball rate and aDOT continue on the Week 1 pace. He gets the edge over Curtis Samuel right now, so add him and if you need a receiver; he's certainly worth flex consideration.
Mike Williams, LAC
(48.4% rostered)
So much for that shoulder injury, right? Mike Williams looked like the most athletic and talented player on the field when the Chargers were on offense. The worry coming into Week 1 was that he would receive limited snaps due to his sprained AC joint, but he turned his 9 targets into 4 receptions for 69 yards. We know Williams has the talent and first-round pedigree and with the Chargers in need of a deep threat, Williams fills that void in a big way. He's worth a speculative add, but his AC joint could flare up a bit in the next couple weeks so keep an eye on that.
Anthony Miller, CHI
(37.9% rostered)
Primarily filling the slot role in Week 1, Anthony Miller turned in a 4-76 line on 6 targets, including the game-winning touchdown with under two minutes left in Sunday's win against the Detroit Lions. The 3rd-year receiver from Memphis is the easy #2 target for Mitch Trubisky (or whoever is at QB) and should be able to continue to produce alongside Allen Robinson in this Bears offense. He gets very soft defenses at home vs. NYG, and at ATL up next, so Miller can certainly keep this start going. Hopefully, you can reap some of those benefits on your roster with an add in all formats.
Laviska Shenault, JAX
(6.7% rostered)
"Producer… roll the clip!"
Laviska Shenault has been highly touted throughout the abbreviated offseason as somebody the Jaguars can use in a variety of ways. He did just that with 3-37 on 4 targets with a touchdown. He played the 3rd most snaps among the receivers in Jacksonville behind D.J. Chark and Keelan Cole (for some reason) so the brass clearly wants him to succeed right away. Shenault possesses not only much more talent than the non-Chark receivers but much more utility, as he's been used very creatively in the backfield as well as lining up as a receiver. With likely negative game scripts bound to surface for the Jags, Shenault could be a garbage-time hero on fantasy rosters for 2020. Speculative add if he's out there in your free agency pool.
Corey Davis, TEN
(3.9% rostered)
A Corey Davis tweetstorm is what we need on September 15th, day of our Lord:

Other WR in Consideration:
Tight Ends (Leo Grandio)
Check to see if these tight ends are available in your league's waiver wire first. I would prioritize them in this order:
Dallas Goedert, PHI (56% rostered)
Jonnu Smith, TEN (60% rostered)
Chris Herndon, NYJ (52% rostered)
On to our list!
O.J. Howard, TB
(4.9% rostered)
Gronkowski who? Howard went from a forgotten man in Tampa Bay last season, to being targeted six times by Tom Brady. With those six targets, he hauled in four receptions for 36 yards and a touchdown. Howard should be considered the number one tight end on the Buccaneers' roster and be a must-add in 12-team leagues especially for all the Blake Jarwin owners who lost him, for the year with a torn ACL.
Logan Thomas, WAS
(0.6% rostered)
Thomas (the one-time quarterback) seems to have finally arrived as a tight end. With the departure of the injury-prone Jordan Reed and the retirement of Vernon Davis, Thomas was the last man standing. The tight end was targeted eight times by Dwayne Haskins and caught four passes for 37 yards and a touchdown. Thomas is only two percent owned and can be added in 14-team leagues or tight end premium leagues.
Greg Olsen, SEA
(8.9% rostered)
Old reliable still getting it done. The free-agent veteran who has contemplated retirement the past two years has joined forces with "Mr. Unlimited" Russell Wilson and had a productive game in his debut. Olsen was targeted four times and caught all four balls for 24 yards and a score. The tight-end can be added in 12 to 14 team leagues, especially if it's a tight end premium league.
Other TE in Consideration:
Jack Doyle, IND (40.6%) - Doyle was targeted four times by Rivers and brought in three receptions for 34 yards. Must own in all formats.
Jimmy Graham, CHI (10.3%) - With the help of Trubisky, Graham was able to turn back the clock and produced three receptions for 25 yards and one touchdown on seven targets. Streaming option and must in 14-team leagues
Jordan Akins, HOU (0.6%) - Akins caught both of his targets for 39 yards and a touchdown. The tight end will touchdown-dependent moving forward.
You can follow Steve @fantasygeek37, Kevin @ktompkinsii, and Leo @smooth1074!
---