Waiver Wire: Week 3
---
Week 2 needs to be dubbed "Sunday, Bloody Sunday", in the vein of U2.
It was just a monstrous week for injuries and it was difficult to come out of the week unscathed as we lost Saquon Barkley (torn ACL) and Courtland Sutton (torn ACL) for the season, Christian McCaffrey (high ankle sprain) Parris Campbell (knee), Raheem Mostert (sprained MCL), Drew Lock (shoulder), Jimmy Garoppolo (high ankle sprain), Tevin Coleman (knee sprain), and a host of others.
I haven't even mentioned players that may miss time but could have lingering week to week injuries like Davante Adams (hamstring), Tyrod Taylor (chest), and Will Fuller (hamstring).
Here at Fighting Chance Fantasy, we're taking a four-pronged approach with Leo Grandio covering quarterbacks and tight ends, Steve Rapin covering the running backs, Kevin Tompkins covering the wide receivers, and Corey Heitpas rounding out the adds in Dynasty formats!
Quarterbacks (Leo Grandio)
First of all, check to see if these quarterbacks are available and are floating around in your league's waiver wire. I would prioritize them in this order:
Joe Burrow, CIN (71% rostered)
Jared Goff, LAR (62% rostered)
Daniel Jones, NYG (55% rostered)
On to our list!

Ryan Tannehill, TEN
(34.5% rostered)
No A.J. Brown, no problem. Ryan Tannehill did not have his number one option in Week 2, but he sure got the rest of his teammates involved to the tune of 239 yards and four touchdowns. Five pass-catchers caught two or more balls and three of them caught touchdowns. Add the Titans' quarterback who has another juicy match-up in Week 3, when the Titans face the Vikings who have allowed five passing touchdowns in the young season. Should be owned in all leagues.
Gardner Minshew II, JAX
(19.5% rostered)
As mentioned above, Gardner Minshew and Tannehill were involved in a shoot out in Nashville. Minshew threw for 339 yards and three touchdowns and two interceptions. With the Jaguars facing the Dolphins on Thursday Night Football Minshew should have another great outing, as the Dolphins just got thrashed by Josh Allen. Should be owned in 12-team leagues and is an excellent streamer this week.
Derek Carr, LV
(12.6% rostered)
After a mediocre Week 1, Derek Carr went toe-to-toe with Drew Brees on Monday Night Football to lead the Raiders to a win in the Inuruagal first game in Las Vegas. Carr seemed to get everyone involved with his dissection of the Saints' defense as 11 different players having at least one catch. The quarterback passed for 282 yards and three touchdowns. Fantasy managers can add for depth in 12-team leagues but he does have a tough match-up the next couple of weeks with games versus the Patriots and Bills.
Other QB in Consideration:
Baker Mayfield, CLE (23.7%) - With the help of Odell Beckham, Baker Mayfield finally had a productive game by producing 214 yards and two touchdowns. Should be added for 14-team leagues with the upcoming contest with the Washington Football Team who will be focusing on stopping the run and should open up some passing opportunities for Mayfield.
Mitchell Trubisky, CHI (11.7%) - For a second straight week, Mitchell Trubisky proved that he's the right quarterback for the job by leading the Bears to victory behind his 190 yards, two-touchdown performance. You can add Trubisky in 14-team leagues and a great streaming option for Week 3 with a possible shootout in Atlanta versus the Falcons coming.
Running Backs (Steve Rapin)

Mike Davis, CAR
(6% rostered)
With Christian McCaffrey looking like he will miss 4-6 weeks, Mike Davis is my top waiver wire target for Week 3. While not known for his receiving chops, Davis lit up the box score as he caught all eight of his targets for 74 yards. Davis immediately enters RB2 territory and is a must-own player, and while I wouldn't add him in ten or 12-team leagues, Trenton Cannon could be a target in deeper leagues.
Darrell Henderson, LAR
(33% rostered)
With the rash of injuries that occurred in the NFL, we can't overlook the Rams backfield as Cam Akers left the game with a rib injury and Malcolm Brown suffered a finger injury. However, even before the game, NFL Network reporter, Mike Garafolo reported that Darrell Henderson would see a larger role in the offense in Week 2. Regardless of whether it was due to the injuries or part of the game plan, Henderson delivered to the tune of 81 yards on 12 carries and also found the end zone. He also saw three targets in the passing game, which is very encouraging should one, or both, of the other backs miss any significant time. Sean McVay has this team rolling right now and Henderson could be a major benefactor.
Jerick McKinnon, SF
(24% rostered)
Whereas Mike Davis isn't known for being a good receiver out of the backfield, the same isn't the case for 49ers running back Jerick McKinnon. McKinnon was brought into San Francisco by Kyle Shanahan to enhance their efficiency on receiving downs, but injuries to date have prevented him from being a major producer. Now that Raheem Mostert and Tevin Coleman are dealing with injuries, it looks like the "Jet" should have a very large role in the offense in the interim. I wouldn't be surprised to see Jeff Wilson share some of that load, but especially in PPR leagues, McKinnon should be an instant fantasy producer with a great matchup against the NY Football Giants in Week 3.
Joshua Kelley, LAC
(39% rostered)
Fourth-round rookie running back, Joshua Kelley confirmed that he will have a major role in the Chargers' offense as he followed up his 12-60-1 performance with a very impressive 23 rushing attempts in Week 2. While he didn't find the end zone this week, it appears that head coach Anthony Lynn doesn't want Austin Ekeler to be the bell cow back in LA, so I expect Kelley's role in the offense to remain fairly consistent. He isn't a must-play on a weekly basis, but Kelley is someone who could be played in your flex position if you are dealing with the plethora of injuries coming out of Week 2.
Myles Gaskin, MIA
(15% rostered)
During this preseason, many felt that Jordan Howard would lead the Dolphins in rushing attempts and Matt Breida would the primary receiving down back. No one told Myles Gaskin this news as he is the leader on the team in rushing attempts, rushing yards, and targets. Unfortunately, this has the makings of a running back by committee as Jordan Howard and Matt Breida are still getting enough work to stifle Gaskin's growth. Howard is also stealing all of the goal-line work, so while Gaskins has some value particularly in PPR leagues, he's not a must-start on a weekly basis at this point.
Other RB in Consideration:
Devonta Freeman, FA (6%/1%) - As of the time of posting this, Devonta Freeman still has yet to sign with an NFL team, but with the rash of injuries we saw in Week 2, I can't imagine it's long before he's signed. He is meeting with the Giants on Tuesday, but he may have just earned himself a little more money as competition for his services has just gone up.
Dion Lewis/Wayne Gallman, NYG (6%/1%) - Personally, I don't want either of these guys, but with Saquon being lost for the season, they should both be rostered. Wayne Gallman was a healthy scratch this week, but that won't be the case going forward with no Barkley as I see him getting a share of carries, with Dion Lewis handling just enough to limit his value and also taking care of receiving duties. In PPR leagues, put Lewis first in the pecking order, and if you are one of the dinosaurs who still play in non-PPR leagues, rank Gallman higher.
Additional Note:
With so many players going down, you should take a look at your waiver wire to see if any of the stud handcuffs of healthy backs are still available. If this week taught us anything, it's that injuries can happen at any time, so stashing a player like Alexander Mattison (45% owned), Chase Edmonds (42% owned), Tony Pollard (31% owned), or Carlos Hyde (18% owned) if you have room on the end of your bench, could save you the headache of fighting your league mates for these players if, or when, the lead back on their team goes down.
Wide Receivers (Kevin Tompkins)
First of all, check to see if these receivers are available and are floating around in your league's waiver wire. I would prioritize them in this order:
Robby Anderson, CAR (86.2% rostered)
Deebo Samuel, SF (79.8% rostered)
Golden Tate, NYG (62% rostered)
Corey Davis, TEN (46.5% rostered)
Allen Lazard, GB (44% rostered)
On to our list!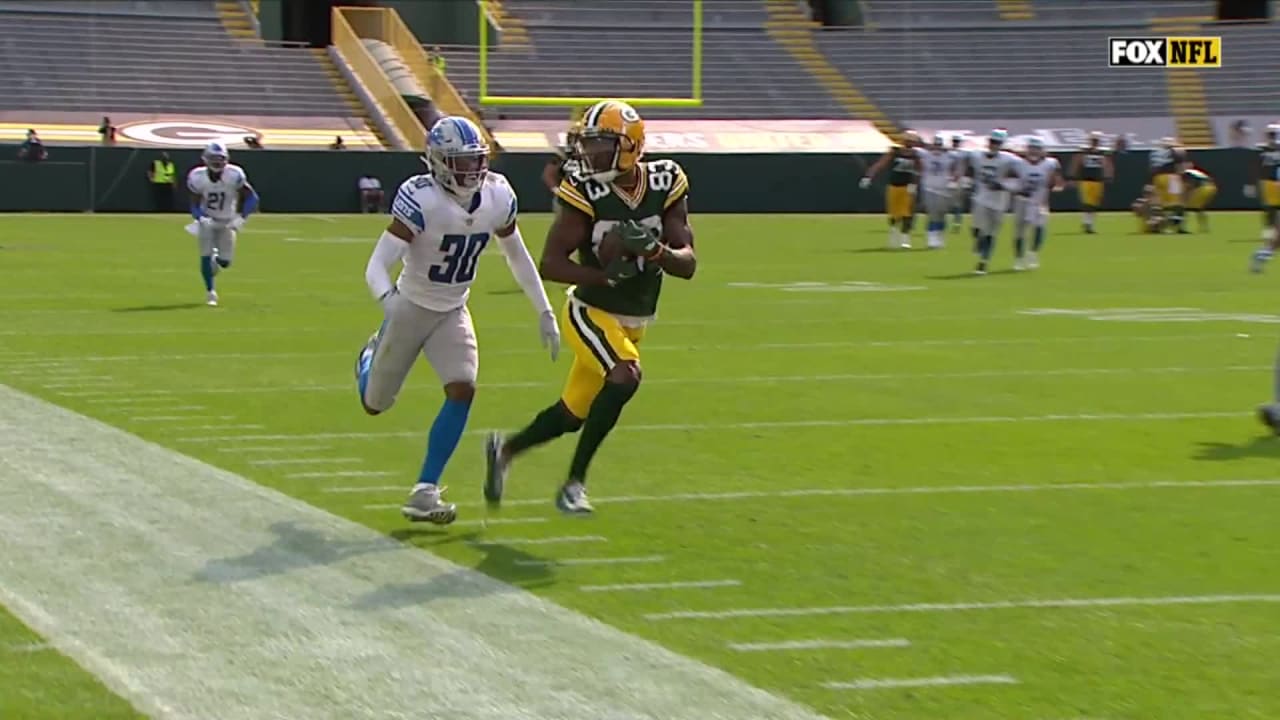 Marquez Valdes-Scantling
(23.6% rostered)
After Davante Adams, it's anybody's guess who the WR2 is in Green Bay. It may very well be Aaron Jones, he's certainly looked like a wide receiver with the way he's been catching passes in 2020. As far as an ACTUAL wide receiver, it just might be Marquez Valdes-Scantling. Consider the fact that MVS had two games over 55 yards receiving and has now done that in his first two games in 2020, and is now seeing an 18.5% target share. MVS is the obvious deep threat in the Packers offense with his long speed and 6'4" frame, but coupled with the fact that of his 13 total targets, six of them have been for 20+ yards. He's also among the leaders in the outset of 2020 with 3.03 yards per route run.
Simply put, when MVS is on the field, he's always a threat for a deep gain or high-value target. Rodgers is looking for him, and if Davante Adams were to miss time with his hamstring injury, MVS is the one to target in this receiving corps. He's a priority add for all leagues.
Michael Pittman Jr., IND
(16.9% rostered)
Parris Campbell left Sunday's contest with a PCL injury and is now out indefinitely. That opened up things for Michael Pittman, who led the Colts in routes run and total snaps among wide receivers on Sunday. It's a next man up kind of thing, but Pittman is a different type of receiver than the smaller, quicker guys employed like a T.Y. Hilton or Parris Campbell. That said, he's worth a priority add and can be used right away in Week 3, as the Colts will see the New York Jets' terrible secondary and could play immediate dividends for your lineup if you're needy at receiver.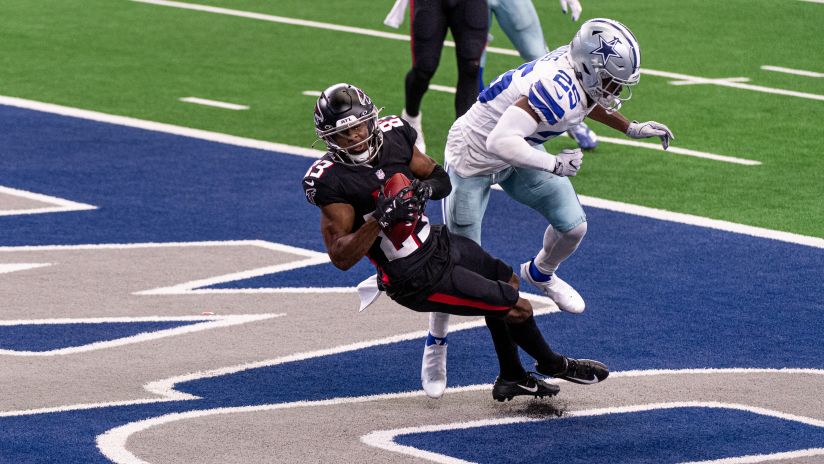 Russell Gage
(27.9% rostered)
It's very crude to think about it this way but with the way the Atlanta Falcons are passing the ball and the distribution of said targets, one pass-catcher will be left out of the fun each week. That said, Julio Jones was left out of the fun in Week 2, but only because a Russell Gage PASS was not caught by Jones for a touchdown. Gage has been fantastic for the Falcons, seeing a 23% target share despite being the WR3 on the Falcons, but that's what heavy pass volume and a bad defense will do for you.
Gage continues to be productive and as such, he should be rostered in much more than 28% of leagues. He'll be a popular add this week after this two-game sample size and can be started as a FLEX in 12-team leagues or if you're needing a receiver. Tre'Quan Smith, NO
(23.8% rostered)
Admittedly, I was worried about Tre'Quan Smith heading into Week 2's Monday Night tilt. We've seen this song and dance before from him, where he's had the opportunity in the Saints offense to take that next step and then squanders it. In Week 2, Smith showed that he's turned a corner.
Smith was one of the main beneficiaries with the loss of Michael Thomas, leading the Saints in routes run, and pacing the receivers' group in targets (seven) and receiving yards (86). Something else to consider is Smith's notable comparison to Thomas in terms of slot snaps (11) and strikingly similar aDOT (9.6 for Smith, 9.0 for Thomas). Clearly, Smith was used just the same as Thomas was and Smith delivered.
With Thomas coming back, we'll see how this shakes out, but I'm pretty confident that Smith has a consistent role in this offense from a real-life AND fantasy perspective. Snap up Smith in all formats. If Thomas misses Week 3 against the Green Bay Packers on Sunday night, Smith should be in line for another WR3-type game or better.
K.J. Hamler, DEN
(1.5% rostered)
A sneaky pickup for a player who made some waves after Drew Lock got hurt, K.J. Hamler tied for the lead in targets (seven, all with Jeff Driskel at QB) as well as leading the Broncos in routes run (32). Add in the fact that Hamler also accounted for 22% of the air yards share and an aDOT of 16.6 and we're really working with something here. With Courtland Sutton also suffering a significant knee injury, that shifts the landscape in Denver considerably.
Jerry Jeudy becomes the main route runner in Denver and would likely get bumped up to a full-time player, going from 60% routes run to 85-90%. Hamler ran a route on 40% of dropbacks and still commanded that 22% air yards share. If Hamler gets more involved and can attain a 70% route run share? That's somebody that even with a backup quarterback in Driskel (or Blake Bortles, whom the Broncos signed today) is absolutely interesting in fantasy. While he's more of a speculative add in the grand scheme, I'm going to nab Hamler wherever I have room because the potential for him is very juicy.
Keelan Cole, JAX
(3.2% rostered)
With very beatable matchups on tap for the Jacksonville Jaguars through the air over the course of the next four weeks (Thursday @ JAX, @ CIN, @ HOU, DET), it makes sense to lock up the usable targets of Gardner Minshew and somewhat surprisingly, Keelan Cole has been just that over the two weeks of 2020. He's led the Jaguars pass-catchers in targets and is second in routes run at the position next to D.J. Chark.
Seemingly out of the doghouse from last season, Cole has stepped up his game after showing some promise in 2018 to be a viable threat in the receiving game for the plucky Jags. He's a bit of a deeper start at WR, even as a FLEX, but you could do worse than to start him if you need somebody. He's at the very least highly involved in the offense and that's what you want. Snap him up in most formats.
Other WR in Consideration:
Tight Ends (Leo Grandio)
Check to see if these tight ends are available in your league's waiver wire first. I would prioritize them in this order:
Jonnu Smith, TEN (68% rostered)
Mike Gesicki, MIA (68% rostered)
On to our list!
Jordan Reed, SF
(9.3% rostered)
When healthy, Jordan Reed is one of the best tight ends in the league. After getting clearance from doctors for numerous concussions that Reed has suffered, he received the golden opportunity to start for the injured George Kittle, and boy did he deliver. Reed posted seven receptions for 50 yards and two touchdowns. Reed should be owned in 12-team leagues even if Kittle returns as the 49ers receiving core needs all the help they can get.
Drew Sample, CIN
(0.2% rostered)
On Thursday night, Joe Burrow was getting his groove in the passing game by throwing to eight different receivers. The tight end position received 11 targets in total, but unfortunately, C.J. Uzomah got injured and is now out for the year. Drew Sample stepped right in when Uzomah got hurt and the Bengals never missed a beat. Sample was targeted seven times and he provided four receptions for 45 yards. Sample should be added to 12-team leagues and is a must own in tight end premium leagues.
Mo Alie-Cox, IND
(1.2% rostered)
Subbing for the injured Jack Doyle, Mo Alie-Cox made his presence felt, as he posted five receptions for 111 yards on six targets. The former college basketball player used his big frame to remind Philip Rivers how it felt like to play with Antonio Gates again, who was also a former college basketball player. With the possibility of Doyle missing a few games, Alie-Cox is a must-add in all leagues.
Other TE in Consideration:
Dalton Schultz, IND (1.8%) - Schultz came in as Blake Jarwin's replacement and the Cowboys had a seamless transition, as Schultz had 10 targets and brought in nine receptions for 88 yards and a touchdown. Must add in 12-team leagues.
Tyler Eifert, CHI (5.2%) - Eifert was targeted six times by Minshew and caught three receptions for 36 yards and a touchdown. Eifert can be added in 14-team leagues.
Dynasty Adds (Corey Hietpas)
Darnell Mooney, WR, CHI
Darnell Mooney has carved out an early role in the Bears offense. He's had 3 targets, 3 receptions, and over 35 yards receiving in both games this season. This week, he also hauled in his first TD of his NFL career. With his production through two weeks, Mooney is pushing for more playing time and targets. The Bears passing game isn't spectacular, but Mooney is worth an add anyway as he is already pushing Anthony Miller for the WR2 role in the Bears' offense. He should be a priority add in Dynasty leagues.
Gabriel Davis, WR, BUF
The Bills love their young rookie WR Gabriel Davis. His stat line through two weeks is uninspiring for the most part (3 targets, 2 receptions, 22 yards, 1 TD), but he was able to reel in his first NFL Touchdown this week on an impressive catch in the end zone. The Bills want to get him involved, and I expect his role to grow as the season progresses. Cole Beasley and John Brown are 30-year-old vets, and Davis has the opportunity to grab a big role in this offense for years to come.
Harrison Bryant, TE, CLE
Harrison Bryant has not had a lot of opportunities yet, but his role has grown with the Njoku injury. Harrison is more of a bench stash at this point since he has yet to earn more targets, but this could change quickly with the Stefanski offense. 2-TE sets are a staple, and with Njoku out, Bryant should be running more routes. Along with this, he's already gaining a lot of trust through his impressive blocking. That's how to get on your team's good side as a rookie TE. I'm not very comfortable starting him right now, but Bryant seems like a guy who could break out in the back half of this year and be a consistent starter as early as next year. If you have an extra bench spot you aren't sure what to do with, Bryant is your man.
Gus Edwards, RB, BAL
Gus Edwards has never had a huge role in the Baltimore offense, but he's always been extremely efficient with the workload he has received. This trend continued in week 2 as he took 10 carries for a team-high 73 yards against the Houston defense. The Baltimore RB room is going to be hard to decipher every week, but Gus is a nice addition for an upside play when it's likely the Ravens will be leading most of the game. Looking ahead, Gus is a restricted free agent after this season, but it wouldn't be surprising if he ends up on a different team as the Ravens have their back of the future in Dobbins. This would be great for his outlook as it's likely he'd get a bigger workload almost anywhere else.
You can follow Steve @fantasygeek37, Kevin @ktompkinsii, Leo @smooth1074, and Corey @Corey_Hietpas!
---