Waiver Wire: Week 4
---
Welcome to the Week 4 waiver wire column! Week 3 was very interesting with great matchups, rookies starting to show out, and a tie from the Eagles and Bengals. I wonder if Donovan McNabb now knows how ties work?
Here at Fighting Chance Fantasy, we're taking a four-pronged approach with Leo Grandio covering quarterbacks and tight ends, Steve Rapin covering the running backs, Kevin Tompkins covering the wide receivers, and Corey Heitpas rounding out the adds in Dynasty formats!
Quarterbacks (Leo Grandio)
First of all, check to see if these quarterbacks are available and are floating around in your league's waiver wire. I would prioritize them in this order:
Ben Roethlisberger, PIT (68.7% rostered)
Joe Burrow, CIN (53.0% rostered)
Matthew Stafford, DET (67.0% rostered)
Gardner Minshew,JAX (56.0% rostered)
On to our list!

Jared Goff, LAR
(37.6% rostered)
Jared Goff has now produced 30 plus fantasy points for two straight games. Prior to Week 3, many fantasy managers were hesitant to start Goff against the Bills tough defense, but he rewarded those who had the cojones to start him by throwing for 321 yards and two touchdowns and an interception. He has another juicy match-up this week against the Giants who just got carved up by 49ers' back-up Nick Mullens. If you have an underperforming quarterback it might be time to pull the trigger and add Goff. He should be owned in all leagues.
Baker Mayfield, CLE
(20.75% rostered)
The Browns have proven to be a run-first team, and Baker Mayfield threw for a pedestrian 156 yards for Week 3. The yardage is average but where it gets interesting is that it's the second week in a row that Mayfield has thrown for a couple of touchdowns. This week the Browns travel to Dallas to face the Cowboys. This game has shootout written all over it. Russell Wilson just torched the Cowboys defense and Mayfield will have to throw it to keep the Browns in it. Should be owned in 12-team leagues.
Justin Herbert, LAC
(15.5% rostered)
Two games played two games with over 300 yards passing, not bad for a rookie. Justin Herbert is making the Coach Anthony Lynn think twice about wanting to re-insert Tyrod Taylor once he gets healthy. Ever since Herbert has been behind center this office has opened up in huge. This week he threw for 330 yards, one touchdown, and an interception. For those fantasy managers in a deeper league, Herbert is a great add and must-own in dynasty.
Other QB in Consideration:
Derek Carr, LV (13.9%) - Carr had another productive game by compiling 261 yards and two touchdowns. He will have to wing it this week in order to keep up with the Bills offense at home. Check the status of Henry Ruggs and Bryan Edwards because they both might be out for Week 4.
Ryan Fitzpatrick, MIA (8.8%) - Fitzpatrick has tempered Tua Time for now in Miami with his play over the last two weeks. Last week versus the Jaguars Fitzmagic combined for 198 total yards (160 yards passing and 38 yards rushing) and three touchdowns. This week the Dolphins face off against the Seahawks at home and he will be a great streamer as the Seahawks have been allowing 308 yards passing a game.
Nick Foles, CHI (0.9%) - Well Mitchell Trubisky thank you for the memories. Foles took over for the benched Trubisky and proceeded to throw for 188 yards and three touchdowns. Foles has already been named the starter going forward and is must-own in two-quarterback leagues.
Nick Mullens, SF (0.9%) - For those fantasy managers in a pinch in deeper leagues, Mullens has proved that he can be useful when needed. With Jimmy Garoppolo nursing an ankle sprain, Mullen could be a stream option in deeper leagues.
Running Backs (Steve Rapin)
Myles Gaskin, MIA
(47% rostered)
I'm not quite sure how it's still the case that more people roster Jordan Howard than Myles Gaskin in fantasy leagues (55% vs 47%), but that should change after this week. Gaskin is clearly the workhorse back in Miami and at this point in the season, needs to be owned in all leagues. He has 38 rushing attempts versus 16 for Howard and 15 for Matt Breida, and has 18 targets on the year compared to only two for Breida and zero for Howard. Howard may steal some of the short yardage work, but Gaskin has become a borderline RB2 and needs to be scooped up right now.
Carlos Hyde, SEA
(19% rostered)
After Chris Carson suffered a minor knee sprain in Week 3, Carlos Hyde could be in line for a lot more work. This is a situation to monitor as it's still unclear how much time, if any, Carson will miss, but keep an eye on practice reports this week and stay tuned to Fighting Chance Fantasy for updates throughout the week. However, even as a fill-in back for a week or two, the Seahawks are an offense that you want as many pieces of from a fantasy perspective and Hyde would immediately be in RB2 consideration as they take on the Dolphins in Week 4 who are 26th against the run, giving up 4.9 yards per carry on the season.
Other RB in Consideration:
Jeff Wilson Jr., SF (23%) - Jeff Wilson Jr. may not be a threat to rush for 100 yards, but when he's on the field, there is always the chance he finds the end zone. Tevin Coleman is on the IR and if Raheem Mostert once again sits out in Week 4, Wilson could have some appeal in deeper leagues.
Brian Hill, ATL (3%) - When Brian Hill ripped off his 35 yard run in the second half of the Falcons Week 3 matchup versus the Bears, fantasy Twitter was ready to annoint him the new lead back in Atlanta. However, reality then set back in and Gurley showed why you can't dismiss him as dead quite yet. Hill could have some flex appeal in deep leagues and is one of the better handcuffs to roster in fantasy, but don't count on seeing enough of him to be consistently fantasy worthy unless Gurley misses any time.
Rex Burkhead, NE (12%) - I'm not buying it. Yes, Rex Burkhead had a great game as he scored three total touchdowns, but that was on six rushing attempts and ten targets. Let's not forget that when James White comes back, he will likely assume the largest role in the receiving game and Sony Michel is around to steal carries. Cam Newton also hurts all of the back's value near the goal line and Bill Belichick loves to mess around specifically with your fantasy team, so personally, I'm only adding Burkhead if I'm desperate in Week 4.
Wide Receivers (Kevin Tompkins)
First of all, check to see if these receivers are available and are floating around in your league's waiver wire. I would prioritize them in this order:
Deebo Samuel, SF (79.8% rostered)
Russell Gage, ATL (67.8% rostered)
N'Keal Harry, NE (63.7% rostered)
Corey Davis, TEN (61.8% rostered)
LaViska Shenault, JAX (46.6% rostered)
On to our list!
Justin Jefferson
(38% rostered)
One of my favorite sayings as it regards to players passing others on the depth chart, "two ships passing in the night", applies here more than ever with Justin Jefferson. Jefferson had been playing behind Bisi Johnson in regards to snaps, but now:
Not only did Jefferson run 29 pass routes total, of that, but 75% of those were also in the base offense and was targeted on 9 of 17 pass routes in that formation, accounting for his stat line of seven catches, 175 yards, and a touchdown. Add in two red-zone targets, an end-zone target, and the overall snap share (79%) and you're looking at the #1 waiver claim of the week for wide receivers.
Going forward, his snaps and pass routes should remain pretty static, certainly over the likes of Bisi Johnson and Tajae Sharpe. The Vikings needed a second pass-catcher in the worst way outside of Adam Thielen and obviously, while Jefferson was drafted in the first round to be just that, it's great to see Jefferson assert himself in Week 3.
Jefferson has some matchups to exploit in the next few weeks as the Vikings go on the road at Houston, to Seattle, and then returning home to face the Falcons. Jefferson could be in WR3/flex consideration for those matchups and potentially more as the bye weeks kick off in Week 5. Simply, he needs to be added in all formats.
Brandon Aiyuk, SF
(21.3% rostered)
Yes, there's definitely a trend with the wide receivers to add this week. It's rookie fever and we've got to lean into it. Brandon Aiyuk took advantage of some of the attrition that hit the 49ers' pass-catchers in Week 3, posting 21.1 fantasy points on a five reception, 70 receiving yard day on eight targets. He was also a factor on designed runs, leading to his touchdown. His usage in Week 3 reminded me of somebody last year on his own roster, Deebo Samuel, so the more creative pieces that Kyle Shanahan has, obviously the better.
Aiyuk isn't just a gadget player though, as he totaled 73% of snaps on Sunday, as well as receiving three red-zone targets and two end-zone targets. Those high-leverage touches are going to turn into fantasy gold here and that usage should boost your confidence in adding him this week as a priority addition.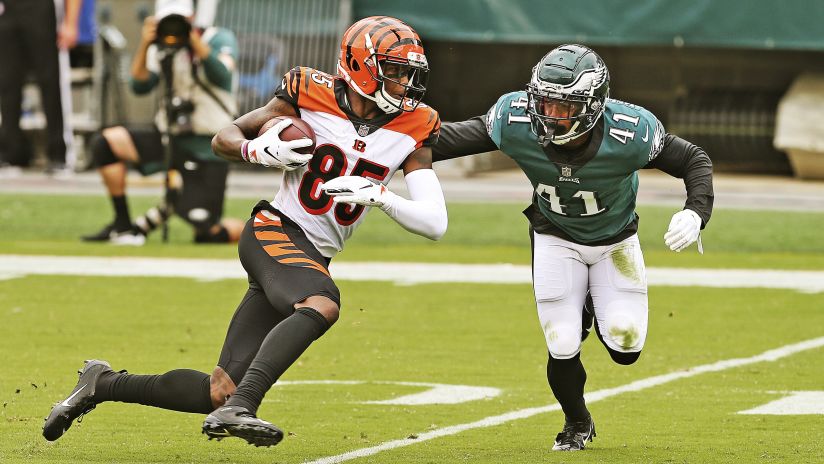 Tee Higgins, CIN
(9.2% rostered)
Curiously in the inactive list for Week 3 was John Ross, who was deemed a healthy scratch and the subject of Twitter rumblings of a trade. That did not come to fruition, but something else happened that could be some tea leaves as it pertains to the Cincinnati target hierarchy. In the absence of Ross, Tee Higgins was targeted nine times, caught five balls for 40 yards and caught two touchdowns. Say what you want about Ross, but the fact that a former first-round wide receiver was a healthy scratch says a lot about his current standing in this offense.
There's a path here for Higgins to be the third target in this offense, because after Drew Sample's Week 3, we don't know if he's quite ready for prime-time just yet. The Bengals are going to be much more competitive than anybody gives them credit for with Joe Burrow, so gravitating towards Higgins, the first pick in the second round in the 2020 NFL Draft, could pay some dividends as a clearly talented player in this sought-after rookie receiver class.
Higgins is worth an add in all formats as an upside target to stash away.
Allen Lazard, GB
(50.9% rostered)
Well then, I guess the WR2 hot potato landed on Allen Lazard this week. From what Aaron Rodgers noted in the post-game interview, the Saints rolled coverage to Marquez Valdes-Scantling, so that left Lazard as the main beneficiary of Davante Adams being out for Sunday night's game. Lazard brought in six of his eight target for a whopping 146 yards and a touchdown.
Even if Davante Adams comes back in Week 4's potential shootout with Atlanta, Lazard is still a top add. With the way the Packers are scoring points, both MVS and Lazard are startable flex options this week and after the Packers' Week 5 bye.
K.J. Hamler, DEN
(6.7% rostered)
While the volume for K.J. Hamler didn't hit as we (I) thought it would as profiled last week here, he still remains a one-play touchdown waiting to happen. That said, the opportunity was definitely there, as he played the most snaps and ran 44 pass routes, the most on the Broncos in both categories. While Jerry Jeudy was active, the team may be easing him back in after a rib injury and a questionable designation for Week 3, but the confidence in Hamler cannot be ignored.
While Tampa Bay may have been a tougher matchup, a Thursday night tilt with the New York Jets could prove to be a big time spot for the diminutive Hamler. He's a solid pickup in 12-team leagues with sneaky starting ability in your flex should you be down players.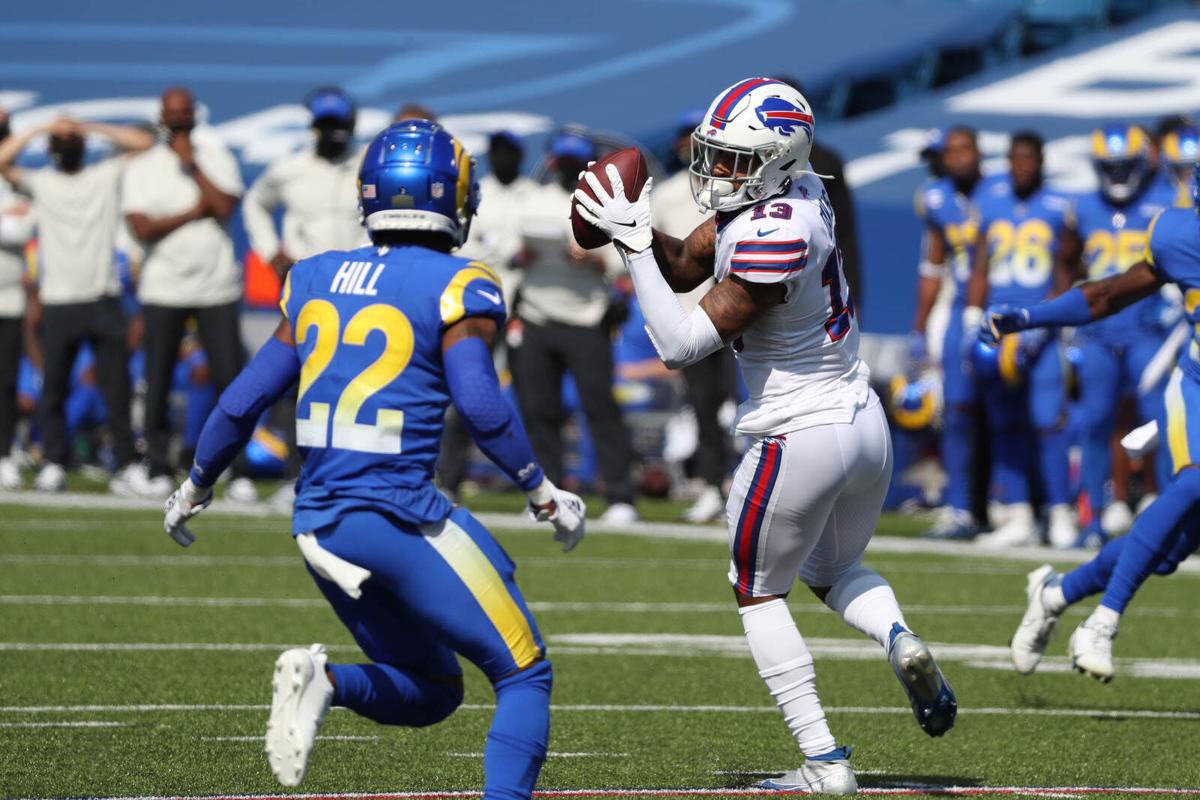 Gabriel Davis
(0.3% rostered)
John Brown exited Sunday's contest with the Los Angeles Rams with a calf injury, so in stepped rookie Gabriel Davis to finish out Week 3 with the second-highest snaps among Bills' receivers. Profiled in last week's column by our own Corey Heitpas, nobody was realistically starting Davis, but he crept up on Stefon Diggs' 14.9 fantasy points with 12.1 of his own, tallying four receptions for 81 yards.
If Brown misses any time, Davis becomes at the very least, interesting. Davis created a lot of buzz in some of the offseason activities as one to watch and now, he at least has much more attention on him now that he produced in a pretty sizable way. Davis is a speculative add right now with potential for more should Brown' calf injury linger on for a week or more.
Other WR in Consideration:
Tight Ends (Leo Grandio)
Check to see if these tight ends are available in your league's waiver wire first. I would prioritize them in this order:
Jonnu Smith, TEN (72.0% rostered)
T.J. Hockenson, DET (72.0% rostered)
Mike Gesicki, MIA (68% rostered)
Rob Gronkowski, TB (67.0% rostered)
On to our list!
Dalton Schultz, DAL
(24.1% rostered)
After an explosive Week 2, Dalton Schultz came back down to earth to the tune of four receptions for 48 yards on six targets. The Seahawks are top five in defending tight ends this season and they proved that once again. Schultz should continue to see five-plus targets a game going forward in this high pass volume offense and is a must-own in 12-team leagues.
Eric Ebron, PIT
(24.4% rostered)
After being talked up during training camp news and underperforming in the first two games of the season, Eric Ebron finally got it going. Another big target in a great offense, Ebron was targeted seven times and provided five receptions for 52 yards and a touchdown. With Diontae Johnson in the concussion protocol, Ebron should see plenty of targets until Johnson returns and is an excellent streaming option for Week 4. Should be added in 12-team leagues and must own in tight end premium leagues
Mo Alie-Cox, IND
(8.6% rostered)
Jack Doyle returned from injury and was not targeted at all in the contest. Mo Alie-Cox out-snapped Doyle 36-32 and caught all three of his targets for 50 yards and a touchdown. It appears that the Colts will use the physically gifted Alie-Cox going forward and will face the Bears defense that has allowed two touchdowns to tight ends so far this season. Alie-Cox is a must-add in all leagues.
Other TE in Consideration:
Logan Thomas, WAS (19.1%) - Thomas was targeted by Dwayne Haskins seven times but only brought in four receptions for 31 yards. Rumors are starting to swirl that Haskins might be replaced by Kyle Allen who is more familiar with the offense, which might improve Thomas's prospect even greater.
Jimmy Graham, CHI (13.3%) - When Foles got inserted as starter Graham became one of the beneficiaries. Graham was targeted a whopping 10 times. He converted them to six receptions for 60 yards and two touchdowns. Could be the start of a return to glory for the veteran.
Greg Olsen, SEA (8.8%) - Another turn back the clock player is Olsen, who caught five receptions for 61 yards on six targets. Could be an option for those fantasy managers in deep leagues or tight end premium leagues.
Dynasty Adds (Corey Hietpas)
Olamide Zaccheaus, WR, ATL
With injuries to both Julio and Russell Gage, Zaccheaus had some time to shine against the Bears. He performed well as the default WR2 gathering 4 catches on 6 targets for 41 yards. With injuries to both Julio and Gage, Zaccheaus could have even more opportunity when the Falcons play the Packers Monday night. This game should be high scoring, and Matt Ryan will likely be throwing a lot. Zaccheaus is an interesting flier that could be flex worthy for at least a few weeks.
J.J. Taylor, RB, NE
The positive is that Taylor received a team-high 11 carries this past Sunday in a game that New England ran for 250 yards. The negative is that the New England backfield has been a murky situation for some time now and will continue to be for at least the rest of the year. There is a chance for Taylor to gain a consistent role in the backfield going into next year though as both James White and Rex Burkhead are in the last year of their contracts. There is still going to be competition for touches even if they move on from White and Burkhead, but the potential is there for Taylor and he is worth stashing in the event he seizes the opportunity.
Foster Moreau, TE, LV
Foster is more appealing in dynasty leagues with deep rosters. He's battling both Darren Waller and Jason Witten for targets, but he's shown he has receiving upside when given the opportunity. Right now, Foster is an intriguing player to stash and hold until his role grows. Waller and Witten are not getting younger, and I believe the role will be slowly shifting to Foster over the next year or two. You could definitely do worse for an end-of-bench stash.
You can follow Steve @fantasygeek37, Kevin @ktompkinsii, Leo @smooth1074, and Corey @Corey_Hietpas!
---