Waiver Wire: Week 6
---
It's Tuesday, but yet Week 5 is literally going on right now. No, really. The Bills and Titans are getting towards the end of the second quarter. That game was moved to Tuesday because of COVID, so in some formats like Yahoo, waivers have been moved to Thursday. Be sure to check out your league host to see if anything has changed regarding waivers running for your particular league.
Here at Fighting Chance Fantasy, we're taking a three-pronged approach with Leo Grandio covering quarterbacks and tight ends, Steve Rapin covering the running backs, and Kevin Tompkins covering the wide receivers!
Quarterbacks (Leo Grandio)
First of all, check to see if these quarterbacks are available and are floating around in your league's waiver wire. I would prioritize them in this order:
Joe Burrow, CIN (67.0% rostered)
Gardner Minshew, JAX (56.5% rostered)
Matthew Stafford, DET (61.1% rostered)
On to our list!
Jared Goff, LAR
(47.1% rostered)
In Week 4, Jared Goff went off on the Washington Football Team for 309 yards and two touchdowns with one interception. Goff passed the ball around and targeted seven different receiving options. This week, they face a division foe in the 49ers, who have been depleted on defense with many injuries and just got torched by Ryan Fitzpatrick for 350 yards and three touchdowns in San Francisco. Goff is a must-own in all formats going forward.
Teddy Bridgewater, CAR
(42.6% rostered)
Teddy Bridgewater continued his hot play by smoking the Falcons for 313 yards and two touchdowns. This week, he finally got D.J. Moore going and continued to target Robby Anderson early and often. Teddy B has a tough match-up this week against the stingy Bears defense that's allowing the second-fewest fantasy points to quarterbacks this season. Bridgewater should be owned in 12-team leagues.
Justin Herbert, LAC
(35.3% rostered)
Justin Herbert has been setting the league on fire ever since he's taken over for the injured Tyrod Taylor. In a Monday Night battle with Drew Brees, the rookie performed like a season veteran tossing for 264 yards and four touchdowns almost leading the Chargers to victory. Herbert has averaged 299 yards and just over two touchdowns in four games. If it was not for the Chargers being on a bye this week, Herbert would be higher on the list. He's a must-add in all league formats.
Andy Dalton, DAL

(0.1% Rostered)
Very unfortunate news for Dak Prescott going down with a season-ending ankle injury. He was having an amazing season and it's very sad to see him get hurt. Due to Prescott's misfortune, Andy Dalton is all of sudden on the fantasy football map again. He will inherit an amazing cast of weapons for his disposal and will start off with being a QB2 with the potential to be a QB1 as the season progresses. He came into the game and threw for 111 yards on 9-for-11 passing. Dalton is a must-own in all formats.
Other QB in Consideration:
Ryan Fitzpatrick, MIA (19.9%) - As mentioned above, Ryan Fitzpatrick continues to play well and is a good streaming option this week as they face-off against the Jets this week at home.
Derek Carr, LV (15.9%) - Derek Carr had another phenomenal week against the Chiefs throwing for 347 yards and three touchdowns. Should be owned in 12-team leagues but does have a bye this week.
Alex Smith, WAS (0.2%) - Alex Smith saw his first game action since his horrific life-threatening leg injury that he suffered on November 18, 2018. Filling in for injured new starter Kyle Allen, Smith threw for 37 yards on nine completions. For two-quarterback leagues, Smith is an excellent speculative add as he may be the starting quarterback for the Washington Football Team sooner rather than later.
Running Backs (Steve Rapin)
This is probably the softest week in terms of running backs so far this season. Those that are a little bit above 50% ownership on Yahoo that you should see if they are available first would be:
Chase Edmonds, ARI (64% rostered)
Cam Akers, LAR (64% rostered)
Damien Harris, NE (54% rostered)
Alexander Mattison, MIN
(41% rostered)
Dalvin Cook has already been ruled out for Week 6 in a premium matchup against the winless Falcons and that means very good things for Alexander Mattison. With Cook going down in Week 5, Mattison was able to turn 20 carries into 117 yards and added three receptions on three targets. The Falcons have been surprisingly good against the run this season, only surrendering 3.8 yards per carry, but they have given up the most receptions to opposing running backs (43) and the volume should be there for Mattison to be a borderline RB1 this week. However, the Vikings have a Week 7 bye and it's likely Cook will be back in Week 8, so while Mattison sill should be a stud this week, don't necessarily expect a long-term fantasy producer unless Cook suffers a setback or another injury.
Justin Jackson, LAC
(44% rostered)
Last week Justin Jackson was the number two running back on my waiver list and what do you know, it looks like he's number two for the second straight week, albeit he's gone from 6 percent ownership last week to 44 percent this week. I'm guessing he goes well over 50 percent after his Week 5 performance against the Saints. Everyone thought that Joshua Kelley was going to be the guy in L.A., but this week Jackson out-snapped Kelley (42-25), had more rushing attempts (17-11), more targets in the passing game (6-1), and out-produced him (104-35 yards). He looked great all-around and with Austin Ekeler still poised to miss several weeks, Jackson should be owned on all rosters in standard-sized leagues.
J.D. McKissic, WAS
(6% rostered)
I wouldn't recommend adding J.D. McKissic in non-PPR leagues, but if you need an injury/bye replacement for your PPR team, McKissic could be a decent dart throw. He's had eight targets now in consecutive weeks and scored double-digit fantasy points in both those games. He doesn't have a huge upside, but he is a warm body in a sea of injury and bye week carnage that we call the NFL.
Frank Gore
(12% rostered)
I don't like typing this any more than you like reading about Frank Gore, but the fact of the matter is that Adam Gase is a big dummy and while he's there, Gore should have a decent-sized role in the offense, especially if the Jets are successful in trading away Le'Veon Bell as they are rumored to be shopping him. I only advocate making a claim for him if you are desperate, but he has 64 carries through five games and that includes nine this past week with Bell back in the lineup. You could also consider a small FAAB bid on Lamical Perine as he could see some action, but then again, that would mean that Gase would have to think logically and give his rookie playing time over the 60-year-old veteran, and I don't know if logic is the best word to use to describe their head coach.
Wide Receivers (Kevin Tompkins)
First of all, check to see if these receivers are available and are floating around in your league's waiver wire. I would prioritize them in this order:
Tee Higgins, CIN (41.8% rostered)
Brandin Cooks, HOU (60.8% rostered)
Mecole Hardman, KC (37.5% rostered)
Cole Beasley, BUF (32.1% rostered)
Marvin Jones, DET (71.7% rostered)
On to our list!
Laviska Shenault, JAX
(32% rostered)
D.J. Chark was hurt with an ankle injury and left the game, which led Kevin Tompkins-favorite and noted "Grown Ass Man" Laviska Shenault to lead the Jaguars in every receiving category but the touchdowns last week. His seven catches, 79 yards, and eight targets as we said led the Jaguars and continues his upward ascent each week higher and higher into weekly rankings and eventually, your hearts.
The Jaguars tend to spread the ball around a little bit, but as good friend Curtis Patrick from Rotoviz shows, his maybe "gimmicky" ways are fading as Shenault finds his footing as a true wide receiver.
As the receiver with unquestionably the most upside outside of Chark (and maybe including too), Shenualt should be a priority add on to your rosters in all leagues. I've written about him in this space numerous times, but it's reaching a fever pitch now. Don't wait.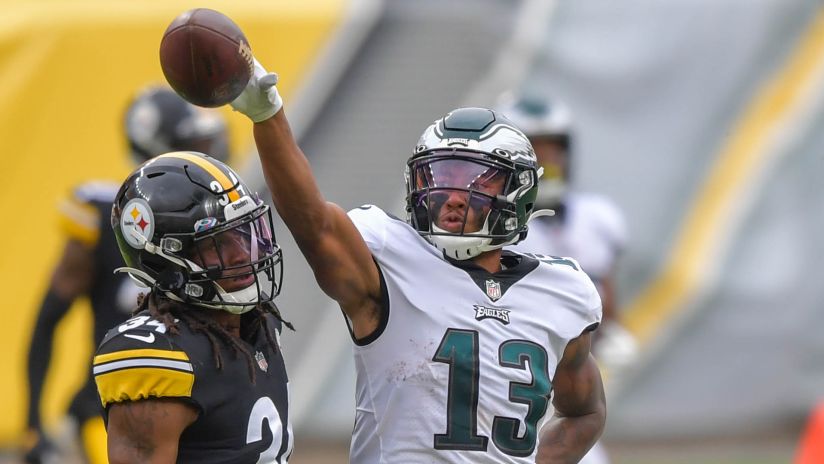 Travis Fulgham, PHI
(0.2% rostered)
Travis Fulgham, who has already bounced around a bit after being drafted in 2019 to the Detroit Lions, to a cup of coffee with Green Bay (who could have used him!), and now to Philadelphia, is lying a bit in the weeds thanks to the magnificent week by the aforementioned Claypool. Fulgham had 13 targets with a 10/152/1 line. Nobody else on the Eagles had more than six targets.
This could be an aberration or it could be legitimate and that's what makes it difficult for fantasy managers to put in FAAB claims on Fulgham. Once some of the receivers come back for the Eagles (DeSean Jackson, Alshon Jeffery, Dallas Goedert, etc.), where would Fulgham fit in the pecking order? Fulgham has absolutely earned targets and an extended look after this outing, but I'm tempering expectations a bit here after an absolutely monster week.
If you're a needy fantasy manager at wide receiver, putting some of your free agent budget into Fulgham is necessary, the jury is still out on him as a long-term contributor for 2020. There's a lot that has to break his way to be a consistently relevant option in fantasy.
Chase Claypool, PIT
(41.7% rostered)
What a Week 5 from Chase Claypool! 7/110 and three touchdowns through the air plus one on the ground. Absolutely astounding and nobody saw it coming (except the person who won the Milly Maker on Draftkings, apparently.)
That said, Claypool should be the top claim on waivers if he isn't already owned. He possesses league-winning upside in an excellent passing offense with a great distributor. If Diontae Johnson misses more time (this time, with a back injury), then Claypool is at the very least, a high-upside WR3.
Something to look out for though is the target distribution in Pittsburgh, but if Claypool is balling out (we can't expect four touchdowns each week… can we?), then that should take care of itself. Leagye-winning upside like this needs to be rostered in every league.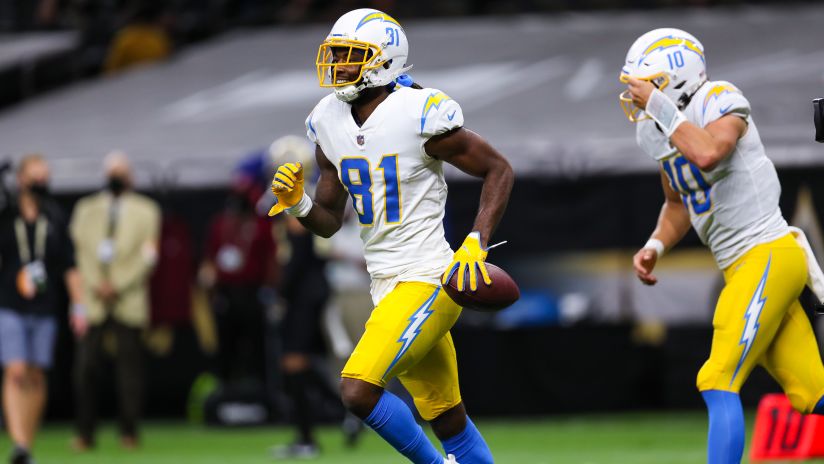 Mike Williams, LAC
(34.6% rostered)
Keenan Allen left the Monday night contest with a back injury, and while we don't know the severity of Allen's injury for next week and potentially the weeks ahead, Mike Williams took clear advantage of that with a 5/109 line, adding two touchdowns on eight targets. A narrow target tree gets even more narrow without the Chargers' long-time star Allen, so Williams needs to step up and be that guy along with Hunter Henry. We know what Williams can do, he's an absolute matchup nightmare for defenses. He just needs the opportunity to do so. If he can retain this kind of usage (Overall WR4 for Week 5 with tonight's Bills/Titans contest to go), then the sky's the limit for the 2017 first-rounder.
Preston Williams, MIA
(36.8% rostered)
Preston Williams was a sought-after commodity in the double-digit rounds of drafts this past summer as a big-time sleeper, somebody who out-targeted and out-produced 2019 post-post-post-post hype sleeper DeVante Parker before Williams fell to a season-ending ACL injury. Before Week 5, he had been largely disappointing, but this past Sunday against the 49ers, he was the "San Francisco Treat", taking a 32-yard pass from Ryan Fitzpatrick to the house for a touchdown and ending the day with 106 receiving and four receptions.
Perhaps Miami realized Preston had been in the house the entire time? Let's hope so, because Miami gets the Jets at home with some schedule shuffling due to COVID. Preston Williams should be owned in every league on talent alone, but hopefully, this performance in Week 5 is something to build on for the second-year receiver from Colorado State.
Christian Kirk, ARI
(41.6% rostered)
Remember those days where Christian Kirk was solidly involved in the Cardinals offense every week? They just might be coming back! Kirk caught a touchdown on an otherwise underwhelming day for fantasy (3/19 on five targets) in Week 4, but in Week 5, he tied for the team lead in targets with DeAndre Hopkins with seven targets, five catches, and 78 yards.
The Cardinals get a silver-platter matchup with the Dallas Cowboys who even without Dak Prescott should be able to make this a pass-fest. Kirk leads the Cardinals in aDOT (16.8) this season, as well as taking an 18% target share the last two weeks and ranking second on the team in terms of receiving yards the last two weeks.
Now is a good time to get your Kirk shares under wraps, so snap him up if he's been dropped in your league. He's a solid flex play for Week 6 and we'll see if he builds on the last two weeks against the Cowboys, who have allowed the third-most fantasy points against the wide receiver position in fantasy thus far.
Other WR in Consideration:
If this sneaky Raiders team is going to put up points through the air, it won't all be just from Darren Waller. Add n' stash for Week 7.
Johnson caught a touchdown in Week 5 and while he's not going to be the top option in Jacksonville anytime soon, he could have a red-zone role and gain a smattering of targets each week. Speculative add but the athletic profile is intriguing.
Tight Ends (Leo Grandio)
Check to see if these tight ends are available in your league's waiver wire first. I would prioritize them in this order:
Jared Cook, NO (68.8% rostered)
Mike Gesicki, MIA (66.3% rostered)
Dalton Schultz, DAL (56.0% rostered)
Jimmy Graham, CHI (53.4% rostered)
Rob Gronkowski, TB (65.0% rostered)
On to our list!
Robert Tonyan, GB
(48.4% rostered)
Robert Tonyan is coming off a bye and is still owned in less than 50% of ESPN leagues. Just in case you forgot about him let me remind you, as last week he destroyed the Falcons for 98 yards and three touchdowns on six receptions. He may have a tough match-up this week against the rising Buccaneers defense but he is a must-own tight end in all formats.
Eric Ebron, PIT
(37.6% rostered)
Eric Ebron had a very pedestrian game versus the Eagles last week as it was all about Chase Claypool going off on them in Week 5. Ebron does have a very favorable match-up this week against the Browns who are giving up the fourth-most fantasy points to tight ends this season. Ebron can be added in 12-team leagues and a great streaming option for Week 6.
Other TE in Consideration:
Dallas Goedert, PHI (26.9%) - Dallas Goedert is still on injured reserve but if you have an IR spot open on your roster he's a great addition for later this season.
Trey Burton, IND (0%) - Looks like there's been a Trey Burton sighting in Indianapolis. The once-promising tight end seems to become relevant again. If you're desperate and in need of a tight end in deeper leagues, or TE premium, Burton may be an option for you.
Gerald Everett, LAR (0.5%) - Speaking of sightings, there's been a Gerald Everett sighting as well. The explosive athlete totaled four receptions on four targets for 90 yards which led the team. The four receptions matched his total for the season. Everett is a speculative add in deep dynasty leagues for now.
You can follow Steve @fantasygeek37, Kevin @ktompkinsii, and Leo @smooth1074!
---