Waiver Wire: Week 7
---
It's Tuesday and there's no football... what is going on here?
Hopefully, we can get back to a little bit of scheduling normalcy here with a Thursday, Sunday, and Monday pace that we've gotten used to and had to adjust off of.
A quartet of teams are off this week, which includes the Ravens, Colts, Jaguars, and Vikings, so as usual, we need to plug in some useful players to fill those gaps.
Here at Fighting Chance Fantasy, we're taking a four-pronged approach with Leo Grandio covering quarterbacks and tight ends, Steve Rapin covering the running backs, Kevin Tompkins covering the wide receivers, and Corey Heitpas covering the dynasty portion!
Quarterbacks (Leo Grandio)
First of all, check to see if these quarterbacks are available and are floating around in your league's waiver wire. I would prioritize them in this order:
Ryan Tannehill, TEN (53.4% Rostered)
Carson Wentz, PHI (51.2% rostered)
Jared Goff, LAR (50.4% rostered)
Joe Burrow, CIN (50.0% rostered)
On to our list!
Justin Herbert, LAC
(45.6% rostered)
Justin Herbert is coming off a bye so he may still be available in your waiver wire. When we last saw young Herbert he was lighting up the Saints defense on Monday Night for 264 yards and four touchdowns. The rookie has been phenomenal so far this season and he has a favorable match-up this week as the Jaguars travel to LA this week. Jacksonville has given up the eighth-most fantasy points to quarterbacks this season. Although Herbert is still missing Austin Ekeler in the line-up he has plenty of weapons at his disposal going forward and should be owned in all leagues.
Teddy Bridgewater, CAR
(34.7% rostered)
Teddy Bridgewater had a rough outing as many predicted that he would have against the Bears defense. Chicago did not allow the Panthers offense to get going as they have over the past couple of weeks. This week Bridgewater should get back on track with Panthers facing the Saints, who are giving up the second-most fantasy points to quarterbacks. Prior to the bye they just allowed Herbert to look like an All-Pro. After this week Bridgewater has another juicy match-up with the Falcons again, so he is a great start for the next two weeks. Teddy B should be owned in all league formats.
Jimmy Garoppolo, SF
(20.6% rostered)
After getting embarrassed by the Dolphins defense in Week 5 when he passed for just 77 yards and two interceptions, Jimmy Garoppolo had a wonderful bounce-back game versus the Rams on Sunday Night Football. He threw for 268 yards and three touchdowns. With Raheem Mostert likely heading to injured reserve, the 49ers will probably continue to open up the offense and which is great news for Jimmy G. This week Garoppolo and the Niners head to his previous place of employment to battle the Patriots. Could be a high scoring affair in Foxboro. Garopppolo could be added in 12-team leagues.
Other QB in Consideration:
Tua Tagovailoa, MIA (5.9%) - Well looks like TUA TIME is now, one of the most highly anticipated starting debut will happen in Week 8, as Tagovailoa has just been named the starter for the Miami Dolphins after their Week 7 bye. Add him now before it is too late.
Derek Carr, LV (22.5%) - Over his last four games, Carr has averaged 300.75 yards and 2.5 touchdowns. Has a tough match-up this week versus the Buccaneers but could be useful in deeper leagues.
Phillip Rivers, IND (8.3%) - Rivers turned back the clock this week. He threw for 371 yards and three touchdowns. The Chargers are on a bye this week but Rivers has a favorable match-up after the break with a game against the Lions who give up the tenth-most fantasy points to quarterbacks.
Andy Dalton, DAL (24.4%) - Dalton had a shaky debut as the Cowboys starting quarterback, but he has a chance to get his groove on this week as he will face the Washington Football Team who are giving up the seventh-most fantasy points to quarterbacks this season.
Running Backs (Steve Rapin)
Justin Jackson, LAC
(50% rostered)
Some may have forgotten about Justin Jackson since the Chargers were on their bye week last week (we Americans have very short attention spans) and that has still led to him being rostered in only half of Yahoo leagues. Everyone thought that Joshua Kelley was going to be the guy in L.A., but in Week 5, Jackson out-snapped Kelley (42-25), had more rushing attempts (17-11), more targets in the passing game (6-1), and out-produced him (104-35 yards). He looked great all-around and with Austin Ekeler still poised to still miss several weeks, Jackson should be owned on all rosters in standard-sized leagues.
La'Mical Perine, NYJ
(20% rostered)
Frank Gore may have had more rushing attempts than La'Mical Perine, but the rookie was on the field for 58 percent of the snaps compared to 35 percent for Gore, and that has me intrigued. The Jets are a god damned shit show, so they might as well try and feature their young running back and see what they have in him. Will Adam Gase do that? Probably not since he's good at defying all sense of logic, but I'm going to roll the dice and hope that Perine becomes the featured back in this system.
Boston Scott, PHI
(16% rostered)
It appears that Miles Sanders will miss this week's contest against the Giants, so that provides Boston Scott with a potential chance to shine. The G-Men are not the best matchup as they are only giving up only 3.9 yards per carry, and I'm not convinced that Corey Clement won't play a role in the offense as well, but with even if it's for a bye week/injury replacement, running backs are in high demand. It doesn't appear that Sanders will miss more than this week, so be warned that Scott may not be a long-term solution for your fantasy team.
Other running backs in consideration:
JaMycal Hasty, SF (1%): Raheem Mostert suffered a high ankle sprain in Week 6, and JaMycal Hasty saw nine carries for 37 yards. While Mostert looks to miss some time, we could see Jeff Wilson back this week and Tevin Coleman sometime in the next few weeks, leading to a muddled 49er backfield.
J.D. McKissic, WAS (14%): Over the last three weeks, J.D. McKissic has had eight, eight, and six targets and could be a potential deep-league PPR play in Week 7.
Gio Bernard, CIN (6%): It looks like Joe Mixon escaped serious injury as he left this last week's game against the Colts for a bit in the first half so we will have to see practice reports this week to see if will miss Week 7. If Mixon misses the game against the Browns, Gio Bernard will be a very good play against the Browns. If Mixon plays, Gio is still one of the better handcuffs to own in fantasy football.
Wide Receivers (Kevin Tompkins)
First of all, check to see if these receivers are available and are floating around in your league's waiver wire. I would prioritize them in this order:
Brandin Cooks, HOU (86.4% rostered)
Deebo Samuel, SF (80.3% rostered)
Henry Ruggs, OAK (63.1% rostered)
On to our list!
Tee Higgins, CIN
(58.5% rostered)
Last call on Tee Higgins.
I typically don't go over the 50% rostered threshold this week, but it's a bit of a thin week this week and I wanted to profile guys that could be still hanging around in leagues.
Higgins hasn't seen less than seven targets in his last four games, he's scored double-digit fantasy points in his last three games, and for some reason, isn't rostered in a clear majority of fantasy leagues. Higgins had his best catch and yardage day with a 6/125 line on eight targets.
Higgins also played the most snaps out of any Bengals receiver with 59, so it's clear he's a full-time player and with his immense upside, needs to be rostered YESTERDAY. It's likely your last shot if for some reason he's still out there in free agency.
Travis Fulgham, PHI
(53.3% rostered)
With a solid day at the office, buoyed by a jump-ball touchdown towards the end of the Eagles' Week 6 tilt with the Ravens, Travis Fulgham's 6/75/1 line paced the Eagles' pass-catchers in each counting stat, including being tied with Zach Ertz in targets with 10.
Fulgham is on a bit of a roll here and can start to be trusted as a low-end WR3 in most weeks. He does face James Bradberry and the Giants on Thursday, but I'd put some trust into him based on the sorry state of the Giants defense and the necessity of the Eagles to throw in this one with Miles Sanders and probably Zach Ertz out as well. If he's not rostered, he absolutely should be in all leagues.
Mike Williams, LAC
(50.3% rostered)
Even if Keenan Allen is back in against the Jaguars after the Chargers' Week 6 bye, Mike Williams still presents a dynamic deep threat for Justin Herbert. For Williams, all it takes is one deep target to make his week, and he did much more than that against a typically strong New Orleans secondary with a 5/109/2 line in Week 5.
Williams is absolutely worth a waiver claim as he can be a high-upside WR3 the rest of the way barring injury or anything unforeseen with the Chargers' passing attack. If Keenan Allen is out, that target tree narrows even more and boosts Williams' profile.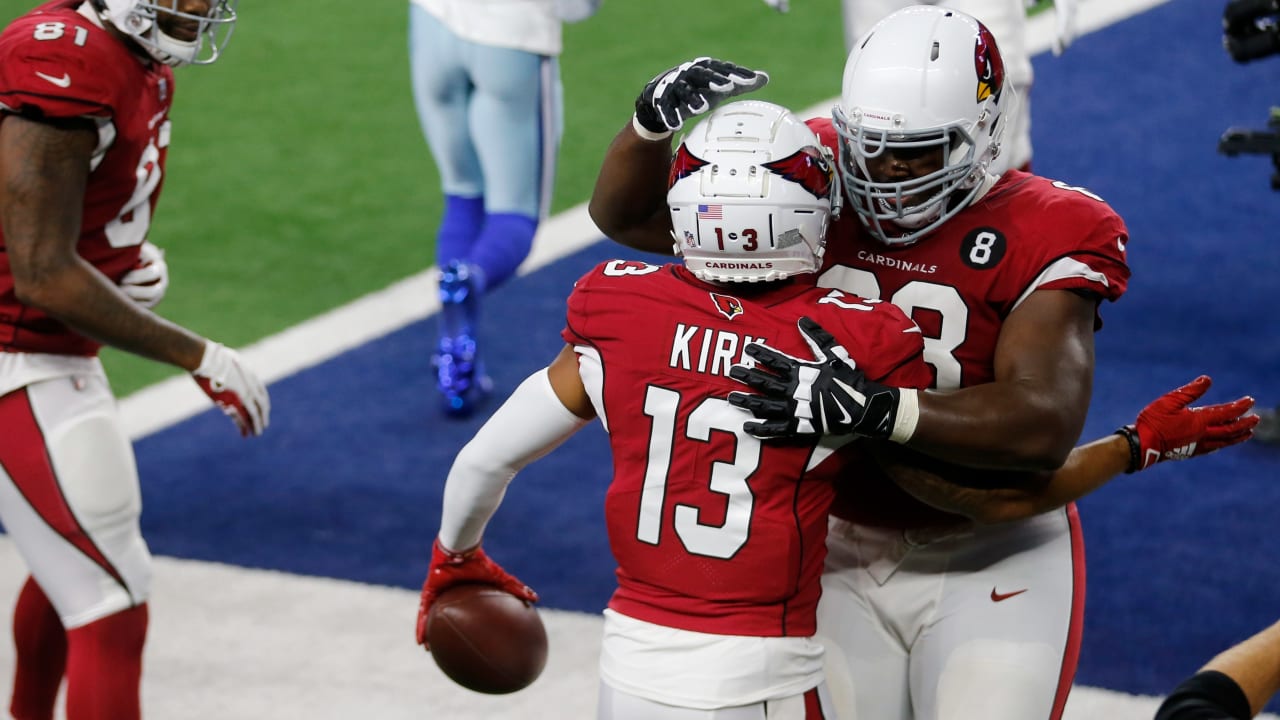 Christian Kirk, ARI
(47.5% rostered)
If you're wondering why Christian Kirk managed three targets but still had his best game of the season last night against the Cowboys, step in line. I'm not even sure myself.
Kirk scored twice on 86 yards receiving and only two catches. A quality day for the speedster, but there always seems to be something up with Kirk as far as why he's not rostered more or given respect.
Kirk was awesome and now gets the Seattle Seahawks, the worst pass defense in the entire league. Teams also throw an average of 47.8 times against the Seahawks as well.
If Kirk is still out there, scoop him up. He can be played as a WR3 this week in a dynamite matchup where he should be able to roast Shaquille Griffin (Kirk's likely coverage in Week 7) and the Seahawks in a high-scoring affair.
Preston Williams, MIA
(44.8% rostered)
Even though the Dolphins have their bye week this week, Preston Williams is starting to get involved in this offense and should certainly be added in most if not all formats. He saw only three targets, catching a touchdown in Week 6, but that's not the whole story of why we're adding him.
DeVante Parker has been in and out and in and out of lineups this entire season with multiple ailments and, like clockwork, Parker exited the game in the final quarter of play with an apparent groin injury. If Parker were to miss time, Wiliams would absolutely be viable but the wild-card in the entire situation is the quarterback situation. Tua Tagovailoa will make his first start at home against the Los Angeles Rams, so we could see a bit of a change in offense. How that will work remains to be seen, but if Williams is the #1 option if Parker misses time, then no matter what, Williams would have solid fringe WR3/flex value with upside.
Tim Patrick, DEN
(41.6% rostered)
With two consecutive 100-yard games, Tim Patrick is looking like the receiver to own right now in Denver. Granted, it's Denver, but as long as he's producing, and bye weeks are happening, Patrick can absolutely find his way into starting lineups in the next few weeks.
He should stay involved, but it's hard to predict more 100-yard games when players like Noah Fant and K.J. Hamler return to action, along with the maturation and progress of Jerry Jeudy as a rookie.
Patrick should be added in deeper leagues.
Other WR in Consideration:
Breshad Perriman, NYJ (15.4%) - The Jets are starting to get players resembling NFL talent back into the fold for whatever they plan on doing the rest of the season. Breshad Perriman is far and away the best perimeter receiver on their roster currently, so he should be in play as a bye-week flex option moving forward. If he catches fire like he did last season, awesome. Perriman's four catch, 62-yard effort on eight targets shows that Joe Flacco is plenty interested and capable of getting him the ball. A deep stash in 12 and 14 team leagues.
James Washington, PIT (8.8%) - With Diontae Johnson out, Chase Claypool led the wide receivers in snaps in Week 6, but garnering one more snap than JuJu Smith-Schuster was James Washington, who put forth a solid 4/68/1 line against the Browns. If Smith-Schuster is unable to produce, the Steelers will need somebody who can, and that's Washington. Definitely worth a flier as a back-end bench stash if he can keep his run going. He was plenty viable at this stage last season and could easily reproduce similar viability in 2020.
Keelan Cole, JAX (20%) - Keelan Cole has had some solid, usable weeks this season, with no less than five targets in every contest so far in 2020. With three touchdowns and a handful of catches leading up to Week 6, he was the de facto WR3 in Jacksonville behind D.J. Chark and Laviska Shenault. After Week 6, Keelan Cole knocked down the door with six catches for 143(!) yards on nine targets. This coupled with a down week in production from Shenault could go hand in hand, but Cole is absolutely a part of this offense and here to stay.
Cole is a deeper flex play, but with injuries hitting the two aforementioned receivers ahead of him through this first portion of the season, Cole would be a solid WR3 if either Chark or Shenault misses any time. The Jags are on bye but can be added for the weeks ahead if you have the room on your bench.
Tight Ends (Leo Grandio)
Check to see if these tight ends are available in your league's waiver wire first. I would prioritize them in this order:
Jared Cook, NO (65.8% rostered)
Robert Tonyan, GB (64.8% rostered)
Ron Gronkowski, TB (65.0% rostered)
Jimmy Graham, CHI (53.4% rostered)
Dalton Schultz, DAL (53.1% rostered)
On to our list!
Dallas Goedert, PHI
(28.3% rostered)
After being on the injured reserve list for a few weeks, it appears that Dallas Goedert is coming back at the right time. Zach Ertz has suffered an ankle injury and looks like he is headed to injured reserve himself for three to four weeks. With this news, Goedert becomes an instant TE1 not only for the Eagles but especially for fantasy managers. He is a must-own tight end in all formats.
Trey Burton, IND
(5.2% rostered)
Looks like Trey Burton's career has had a rebirth in Indianapolis this year. The once-promising tight end was non-existent in 2019 due to injury. He has steadily seen his usage increase over the last three games. This week he was targeted fives and caught four receptions for 58 yards and a touchdown. Burton also added a one-yard touchdown run. He's a must-add in 12-team leagues even though he is on a bye this week.
Darren Fells, HOU
(5.0% Rostered)
When given the opportunity, Darren Fells has performed well as the starting tight end for the Texans. With Jordan Akins out with an ankle injury and in concussion protocol, Fells has scored in two consecutive games but this past week was targeted seven times and brought in six receptions to go along with the touchdown. If Akins continues to sit Fells is a great addition in deeper and tight end premium leagues.
Other TE in Consideration:
Logan Thomas, WAS (10.1%) - Logan Thomas has been averaging four targets a game and coming off a 42 yard and touchdown performance. He has a favorable match this week as the Cowboys allow the eighth-most fantasy points to tight ends the year.
Irv Smith Jr., MIN (6.0%) - Irv Smith Jr. finally showed off his potential in the last couple of weeks, with Kirk Cousins finally targeting the talented tight end more often. Has a bye this week but is a solid add in deeper and tight end premium leagues.
Anthony Firkser, TEN (0.2%) - When Jonnu Smith got hurt in Week 6 it allowed for Anthony Firkser to get an opportunity to shine with eight receptions for 111 yards and a touchdown. Monitor Smith's status, but either or the tight ends have a tough match-up this week versus the Steelers.
Adam Shaheen, MIA (0.0%) - For super-duper deep leagues and dynasty, Adam Shaheen is a name to remember as he is super athletic and has a touchdown in two consecutive games, and is starting to be more involved in the offense.
Dynasty Adds (Corey Hietpas)
Tim Patrick, WR, DEN
It's time to start considering Tim Patrick as an every-week flex play. After a few disappointing seasons, he is finally producing in year 4. He has played 65% or more of snaps every game this year and his season-low in targets is 4. On top of playing time, he is racking up a ton of yards as he's gone over 100 yards in each of his last two games. Even though he's getting all this playing time because of injuries, I believe Patrick has value beyond this year as he is showing that he is a very talented player. He might be rostered in your league already, but I'm in a few dynasty leagues where he is still available. He is a must-add and should be priority 1 this week for dynasty leagues with larger rosters.
Albert Okwuegbunam, TE, DEN
Albert O made his NFL debut in week 6 against the Patriots, and it was promising. He was inconsistent as he caught only 2 of his 6 targets, but he still received 6 targets in his first NFL game. Of course, he only got this amount of action because of injuries, but Albert is a talented young TE, and the Broncos love his athleticism per training camp reports coming out of Denver earlier this year. Adding Albert now is a preemptive add and hold as he will not be heavily involved in most games this year, but he is too talented for the Broncos to keep him on the bench for too long. If you have space on your bench, I highly suggest adding Albert O now and reaping the rewards later.
Ja'Mycal Hasty, RB, SF
The 49ers' running back room continues to be crowded, even with a banged-up Mostert and Tevin Coleman. After Mostert left the week 6 game against the Rams, JaMycal Hasty was called upon to carry the load and chew some clock down the stretch. Hasty played only 20% of snaps, but he was given 9 carries and gained 37 rushing yards. Jerick McKinnon played 37% of snaps but only had 6 carries and 2 receptions. Hasty was used over McKinnon at the end of the game as it seems the 49ers are intent on managing McKinnon's workload. This week might have been enough from Hasty to earn more touches going forward, but both Mostert and Jeff Wilson will be back from injury soon, which means Hasty could also be buried on the depth chart again. Nonetheless, Hasty is worth an add in dynasty leagues with deep rosters to see what happens with his role in the coming weeks.
You can follow Steve @fantasygeek37, Kevin @ktompkinsii, Leo @smooth1074, and Corey @Corey_Hietpas!
---