Waiver Wire: Week 9
---
An admittedly lean week here in Week 9 for waiver wire pickups. With the trade deadline passed in the afternoon of today, nothing of note happened aside from Isaiah Ford being traded to the Patriots in a rare inter-division trade, and DeAndre Washington headed to Miami as well, likely based on news that Myles Gaskin will be out for several weeks with an MCL sprain.
Here at Fighting Chance Fantasy, we're taking a four-pronged approach with Leo Grandio covering quarterbacks and tight ends, Steve Rapin covering the running backs, Kevin Tompkins covering the wide receivers, and Corey Heitpas covering the dynasty portion!
Quarterbacks (Leo Grandio)
First of all, check to see if these quarterbacks are available and are floating around in your league's waiver wire. I would prioritize them in this order:
Ryan Tannehill, TEN (72.8% rostered)
Joe Burrow, CIN (72.3% rostered)
Ben Roethlisberger, PIT (68.6% rostered)
Matthew Stafford, DET (59.5% rostered)
On to our list!
Derek Carr, OAK
(47.9% rostered)
Derek Carr had a very pedestrian 115 yards and a touchdown. The Browns seemed to be stuck in the mud since they could not really get nothing going in the air or ground. Carr was not needed to bail the Raiders out as he only had 24 passing attempts. This week he will get to battle the Chargers who are allowing the seventh-most fantasy points to quarterbacks. The Chargers are scoring in bunches this year and with Justin Herbert at the helm, so Carr will have to be slinging it around in order to keep the Raiders in it. Carr should be added to 12-team leagues.
Jared Goff, LAR
(38.7% rostered)
The Miami Dolphins defense was battering Jared Goff around like a piñata last week and caused him to have four turnovers for the day. That didn't stop Goff from throwing for 355 yards and a touchdown. He will have a bye this week to shake off the sense of being shell shocked. Once he returns from the bye, Goff will face the Seahawks who are giving up the second-most fantasy points to quarterbacks this season. Goff should be owned in 12-team leagues.
Tua Tagovailoa, MIA
(25.5% rostered)
As mentioned above, the Dolphins defense took over last week's game versus the Rams. Their teeing off exhibition overshadowed Tua Tagovailoa's underwhelming performance and his 93 yards passing and one touchdown showing. One good thing about Tagovailoa's performance is that he did not throw an interception. Tagovailoa will definitely get a chance to display his talent this week as he has to keep up with the high-octane Cardinals' offense and Kyler Murray. Tua should be added to 12-team leagues.
Other QB in Consideration:
Drew Lock, DEN (5.1%) - It's Drew Lock's turn to shoot for QB1 numbers this week as he faces the most generous team for quarterbacks this season the Falcons. Lock is coming off an excellent outing against the Chargers as he produced 248 yards passing and three touchdowns. Lock is starting to creep up into the must-own category, so if you need a backup quarterback in a 12-team league Lock could be your guy.
Nick Mullens, SF (0.4%) - Nick Mullens will get the start for the foreseeable future with the news that Jimmy Garoppolo will be out some time with an ankle injury. Mullens has shown glimpses of being fantasy relevant when called upon in the past. Subbing for Garoppolo last week when Jimmy G left the game with the ankle injury, Mullens came in and threw for 238 yards and two touchdowns. Mullens is a must-add in two-quarter backs leagues or 14-team leagues.
Kirk Cousins, MIN (21.1%) - Detroit gives up the 11th most fantasy points to quarterbacks this season. Kirk Cousins is a good streaming option this week for fantasy managers that have their starter on a bye this week.
Kyle Allen, WAS (2.3%) - Kyle Allen is like an in case of an emergency break glass quarterback. He is a deeper league two-quarterback league option this week. The last time he battled the Giants he threw for 280 yards and two touchdowns.
Jake Luton, JAX (0.2%) - The Jaguars have already ruled Gardner Minshew out for Week 9 due to an injured thumb. This opens the door for rookie Jake Luton to take over as the starter. Luton threw 2,714 yards, 28 touchdowns, and only three interceptions in his senior season. There have been rumblings from the coaching staff, that Minshew may be holding the offense back, so a great showing by Luton may lead to more starting opportunities going forward.
Running Backs (Steve Rapin)
Matt Breida, MIA
(18% rostered)
Out of nowhere, we now find out that Myles Gaskin will miss the next three weeks (or more) with a sprained MCL and that means that Matt Breida will likely see a majority of touches for the Dolphins. Jordan Howard could go from being a healthy scratch to seeing some playing time, but I don't see him taking over this backfield. This make Matt Breida the top running back target for Week 9.

JaMycal Hasty, SF
(42% rostered)
The Niners backfield has been a walking M*A*S*H* unit this season and that continued this week as Tevin Coleman returned from injury...only to leave the game again due to an injury. Raheem Mostert still isn't back and Jerick McKinnon is dealing with some "tired tootsies", so it looks like JaMycal Hasty should get plenty of work this week against the Packers. McKinnon will likely still see some work in the passing game, but look for Hasty to have a good week against the Packers whose defense is giving up a juicy 4.7 yard per carry.
Zack Moss, BUF
(55% rostered)
While it looks like Buffalo has every intention of making this a true running back by committee situation, that doesn't mean that Zack Moss and Devin Singletary aren't flex considerations on a weekly basis. Moss had his breakout game in Week 8 as he turned 14 carries into 81 yards and two scores in a win against the Patriots. There could be a little more volatility each week as they could alternate fantasy production, but Moss has shown that he can contribute and has the upside for even more as we head to the second half of the season.
Damien Harris, NE
(48% rostered)
While he may have zero involvement in the passing game, Damien Harris has performed very well over the past two weeks, averaging over six yards per carry (26-160-1). The Patriots pass game has been anemic as of late, so Harris should see plenty of work going forward as the running game gives the Pats their best chance to move down the field.
Other running backs in consideration:
DeeJay Dallas, SEA (25%): With Chris Carson and Carlos Hyde out for Week 8, DeeJay Dallas made the most of his opportunity as he found the end zone twice. If Carson and Hyde miss Week 9, look for Dallas to once again carry the load for the Seahawks.
Gus Edwards, BAL (30%): While Mark Ingram is out, J.K. Dobbins and Gus Edwards are both being used heavily. Edwards has seen an average of 15 rush attempts in their last two games while scoring in each.
Nyheim Hines, IND (29%): Don't let the two touchdowns fool you, Nyheim Hines only had five carries and five targets in the pass game. He can be used in PPR leagues if you need help due to injuries or bye weeks, but just don't expect this type of performance going forward.
Dexter Williams/Tyler Ervin, GB: With Aaron Jones unlikely to return this week and with Jamaal Williams and AJ Dillon out due to being exposed to Covid, the Packers will likely have to rely on Dexter Williams and Tyler Ervin. Look for Williams to possibly see a majority of carries while Ervin sees some work on passing downs.
Wide Receivers (Kevin Tompkins)
First of all, check to see if these receivers are available and are floating around in your league's waiver wire. I would prioritize them in this order:
John Brown, BUF (63.6% rostered)
Emmanuel Sanders, NO (60.9% rostered)
Jerry Jeudy, DEN (61% rostered)
Christian Kirk, ARI (60% rostered)
On to our list!
Darnell Mooney, CHI
(6.2% rostered)
I wrote about Darnell Mooney many moons ago.
(Editor's note: Kevin.)
Well then, all Mooney has done since Week 6 is put up the eighth-highest average depth of target (aDOT) in the NFL at 17.9 yards (among WR with six targets or more). Oh, and THIRD in air yards. In the entire league. YEAH.
The Bears are looking to Mooney on deep shots, and if he can connect a bit more than he has with Nick Foles (or whoever is back there), then Mooney could be the pass-catching option in the Bears offense to roster in fantasy football besides Allen Robinson. With six targets in three of his last five games, Mooney is getting more and more play in this offense. He gets a quality matchup this week with a Titans secondary that can't stop anybody (fifth-worst in fantasy this season against the wide receiver position) so I like him to keep his streak of solid performances going.
Corey Davis, TEN
(52.4% rostered)
This year's DeVante Parker? Well... possibly. Not to the same degree but figure this:
Say what you want about the stink Corey Davis has had on him for the last couple of seasons, but now that he has a legitimate quarterback throwing him the ball, Davis has been rock-solid when healthy and in the lineup.
This is likely your last shot at Corey Davis in fantasy, so don't delay. Offer ends Wednesday! He's at worst a WR3 the rest of the way. He DEFINITELY deserves to be rostered in much more than what basically is half of fantasy leagues.
Jakobi Meyers, NE
(0.9% rostered)
Look, I get it. It's tough to dig this deep into bad passing games to find beauty in negative spaces. It's bleak. It's a COVID year. It's 2020 in a nutshell.
You don't really want to roster a Patriots wide receiver that isn't named Edelman, but Jakobi Meyers has asserted himself the last two weeks, with 16 targets the last two weeks, with 10 in Week 8 versus the Buffalo Bills. Meyers led the team in targets both weeks, he's been a fringe WR3/WR4 option both weeks, so now he gets the New York Jets, who haven't stopped a soul. Even in a matchup pitting arguably the two most bereft, barren fantasy offenses you'll find in the NFL, Meyers could be a sneaky flex play for Week 9. He's getting the work, he should still see that work even if N'Keal Harry comes off of concussion protocol. Don't be afraid.
Curtis Samuel, CAR
(45% rostered)
As a playmaker in admittedly a lower-end volume offense, Curtis Samuel got quite a bit of run in the Panthers' offense last Thursday night, scoring two touchdowns. He's gotten a lot more of the slot work now that Seth Roberts is now in Green Bay. OC Joe Brady loved Samuel in the offseason, calling him "a perfect fit for our offense". I mean, better late than never?
With Christian McCaffrey coming back, it's hard to find the kind of upside Samuel flashed last Thursday, but he could become relevant with the talent he has if he's used in the way Brady described him. He's a speculative add right now with potential for more.
Quintez Cephus, DET
(0.2% rostered)
We haven't seen much of Quintez Cephus since Week 2's performance with three targets and three catches. That's mainly because after that, Kenny Golladay was back in the saddle as the lead dog for the Lions. Certainly, as we would expect.
Here in Week 9? Well, the Lions visit the Minnesota Vikings and likely do it without the aforementioned Golladay, who will be week to week with a hip injury. Cephus, not Marvin Hall, will be the direct backup to Golladay and with plenty of field-stretchers and smaller slot receivers available for Detroit, the one thing they don't have is an "X" receiver, a position in which Cephus would fit the bill. Don't chase low-target potential in Marvin Hall. Chase targets and unique skills (among healthy options) in Cephus. Right now, Cephus is a speculative addition, but could pay some dividends later on as the season winds down.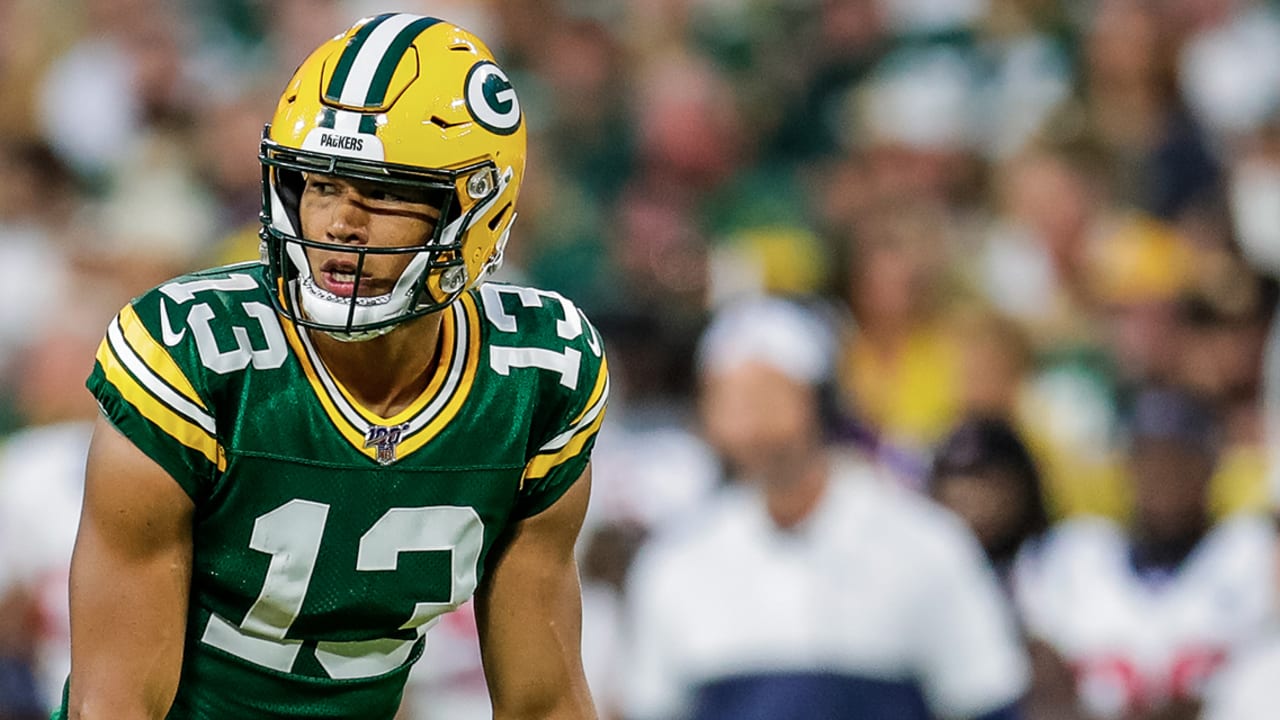 Allen Lazard, GB
(32.3% rostered)
Green Bay needs a wide receiver so badly not only for the offense but for just the fact someone HAS to take some pressure off of Davante Adams. Allen Lazard is such an upgrade over the, well, mediocre talent that currently litters the Green Bay wide receivers room outside of Adams. Lazard started to practice during the lead-up to Week 8, so if he can suit up in Week 9, he's going to be startable against the San Francisco 49ers who are absolutely banged up on Thursday night. Going forward, with health, Lazard would be in the WR3/flex conversation for the remainder of the season.
Other WR in Consideration:
Denzel Mims, NYJ (8.4%) - Why target Denzel Mims three times when you can target "random man" Braxton Berrios to a "Crowder-ian" 11 times?
Questions like these were shouted into the void after the dust settled Sunday after the Chiefs pummelled the Jets 35-9 in Week 8. Likely (definitely) by me.
There will be better days for Mims, but they may not come this week. If you have the bench space, I don't mind Mims here, he has the athletic profile you're looking for in an "X" receiver and you won't get him cheaper than now.
Michael Pittman, IND (6%) - Michael Pittman made his return to the Colts lineup in Week 8 and came away with one target, one catch, and six yards.
While nothing about that line screams "ADD", T.Y. Hilton's fantasy prospects have been swirling in the toilet bowl for the last several weeks. Compound that with Hilton's groin injury being a week to week concern and we're looking at an opportunity opening up for Pittman in this Colts' passing offense. Given the second-round draft capital the team spent on Pittman this past April, it would behoove the organization to see what they have in Pittman over such "exciting" options like Zach Pascal and Marcus Johnson. Pittman could get this opportunity and run, starting this week vs. Baltimore and with a string of awesome matchups on the horizon (HOU 2x, LV, TEN 2x, GB), Pittman could have intriguing flex value the rest of the way.
Tight Ends (Leo Grandio)
Check to see if these tight ends are available in your league's waiver wire first. I would prioritize them in this order:
Jared Cook, NO (70.1% rostered)
Hayden Hurst, ATL (70.6% rostered)
Eric Ebron, PIT (51.2% rostered)
On to our list!
Dallas Goedert, PHI
(47.9% rostered)
In a surprising move by the Eagles, the team decided to activate Dallas Goedert off the IR before this week's bye. Even though Goedert only had one catch for 15 yards in was nice for him to get the rust off now, so then after the bye he is ready to put up TE1 numbers the rest of the way. This will be your last opportunity to add him now because after this waiver run and bye he will be surely be owned in all leagues.
Robert Tonyan, GB
(47.9% rostered)
The faith in Robert Tonyan appears to have been shaken by fantasy managers as they have made him available in under 50% of ESPN fantasy leagues this week. If you stuck with Tonyan he came through for you last week with five reception for 79 yards on seven targets. Tonyan will continue to be productive in the Packers offense and should be owned in all leagues.
Jordan Reed, SF
(2.6% Rostered)
With the breaking news that George Kittle will be out eight weeks and possibly for the rest of the season with a foot injury, Jordan Reed's return for the IR could not have come at a better time. Reed will be walking into a major role for the rest of the season as he was productive while Kittle was out earlier this year. Reed is a must-add in all formats and as you pick him up, pray a couple of Our Fathers and Hail Marys so he can stay healthy for the rest of the season so we could all see what he can do. Also, Ross Dwelley may be an option in super deep leagues as a Kittle replacement as well, especially if Reed has any kind of set back.
Other TE in Consideration:
Trey Burton, IND (15.9%) - Another week another double-digit performance by Trey Burton. Jack Doyle and Mo Allie-Cox were more involved in the offense this past week but I will stick with Burton as the tight end to own in this offense as he is the most proven pass catcher of the three. Burton is a must-add in 12-team leagues.
Logan Thomas, WAS (11.8%) - Logan Thomas is coming off a bye and is another great replacement for Kittle owners. He's the only tight end in Washington that is producing and is coming off back-to-back double-figure fantasy points outings.
Dalton Schultz, DAL (23.3%) - Dalton Schultz is another tight end that has rewarded the fantasy managers that have stuck with him through a rough patch of games. Schultz had six receptions for 53 yards on eight targets this past week versus the Eagles. The tight end has a tough match-up this week against the Steelers but he can be a nice addition in 14-team or deeper leagues.
Harrison Bryant, CLE (29.2%) - While Austin Hooper has been out over the last couple of weeks, Harrison Bryant has illustrated that he's a tight end that should be considered to stay relevant in the offense moving forward and may make David Njoku expendable at the NFL trade deadline. Bryant could be added in 14-team leagues and especially in dynasty leagues.
Albert Okwuegbunam, DEN (0.8%) - For deep leaguers and dynasty managers Albert Okwuegbunam is a player to add as he remains involved in the offense. If Noah Fant were to go down with an injury Albert O would skyrocket up the rankings. This week he faces the Falcons who give up the most fantasy points to tight ends, so he has some streaming appeal as well this week.
Dynasty Adds (Corey Hietpas)
Jace Sternberger, TE, GB
Early in the season, Jace Sternberger was struggling with drops and was relegated to a small role with minimal targets. This has changed recently as Sternberger has been getting more snaps, targets, and receptions over the past two weeks. He looks to be more confident and over the drops issue that we saw earlier this season. As a result, he has earned more targets and snaps in the Packers' offense and is producing when given the opportunity. I like Jace as an add and hold as his role is likely to continue increasing. The stat lines haven't been too impressive yet, but I expect that to change in the near future.
Auden Tate, WR, CIN
Auden Tate has been one of Joe Burrow's favorite targets going back to training camp, and that showed this past Sunday. Tate caught all 7 of his targets for 65 yards and earned praises from coaches afterward. Brian Callahan, the Bengals OC, says that Tate "has a role that needs to expand and we'll expand it". He's still just the WR4 on the Bengals for now, but he still played 45% of snaps on Sunday. Tate has earned Burrow's trust and seems to have the inside track for the WR3 role once the Bengals choose to move on from AJ Green. This could mean great fantasy days are in Tate's near future.
Marquez Callaway, WR, NO
The Saints are forever searching for a WR2. Michael Thomas and Emmanuel Sanders have both been injured, and this opened up a huge opportunity for the other younger WRs on the Saints roster to stand out and earn a larger role. Before his injury, Marquez Callaway seized the opportunity as he gathered a combined 12 receptions on 16 targets for over 100 yards over his last two games. Unfortunately, he got banged up and didn't play against Chicago, so he didn't have a chance to add to these totals. Even with Thomas and Sanders coming back from injury, there are snaps to be had for the other WRs, and I'd bet on Callaway to have earned more.
You can follow Steve @fantasygeek37, Kevin @ktompkinsii, Leo @smooth1074, and Corey @Corey_Hietpas!
---