Week 2 DFS Value Plays
---
Whoa, Week 1 was a doozy! Many players were impacted by injuries, there were some surprising inactives (Trey Sermon, whyyyy?), and there were simply some teams who blew the doors off their matchups. Luckily for you, DraftKings set the Week 2 salaries before the craziness happened. So let's take advantage of it and look at some players who have criminally low salaries this week.
(Salaries are from DraftsKings' Classic 13-Game slate for September 19, 2021.)
QUARTERBACKS
Jameis Winston @ Carolina Panthers ($6,100)
I'm not going to take a victory lap, nor am I going to pick Winston every week, but there is no denying that he outperformed expectations last week against the Green Bay Packers and their vaunted secondary. He didn't throw for a massive number of yards or a huge number of times, but when he did, he made it count with FIVE, yes five, touchdowns. This week, he's set to face a Carolina Panthers defense that looked lukewarm against rookie quarterback Zach Wilson, allowing 289 yards and two touchdowns. This Panthers defense also ranked in the bottom-ten against the tight end position in 2020, making me think the Winston to Juwan Johnson connection is very likely to happen again. I love Jameis at this salary.
Baker Mayfield vs. Houston Texans ($6,000)
Baker may have lost the game Sunday against the Kansas City Chiefs, but he looked every bit like a contender against the perennial Super Bowl darlings. His average depth of target was fourth overall among quarterbacks in Week 1 at 10.4 yards, behind only Jordan Love, Justin Jefferson, and Derek Carr, with Carr being the only one who threw the entire game. Despite winning the game against the Jacksonville Jaguars in Week 1, the Houston Texans still allowed 25 fantasy points to rookie quarterback Trevor Lawrence, with three interceptions and an offensive line made of Swiss cheese. Mayfield should return his salary in a big way in Week 2.
Joe Burrow @ Chicago Bears ($5,800)
As far as fantasy points go, Joe Burrow didn't necessarily dazzle us in Week 1, but he looked healed and ready to go against the Minnesota Vikings. He posted a 128.8 quarterback rating and hooked up with college teammate Ja'Marr Chase for a beautiful long bomb touchdown. The Chicago Bears allowed 30 fantasy points to Matthew Stafford in Week 1, giving up chunk plays and blowing coverage left and right. The Cincinnati Bengals have a trio of stud wide receivers in Chase, Tee Higgins, and Tyler Boyd, and there's no way this Bears defense is going to be able to cover them all. Capitalize on this slash sale.
WIDE RECEIVERS
Tee Higgins @ Chicago Bears ($5,400)
I have to lead off with Tee Higgins after talking up Burrow in the quarterback section. Chicago's secondary is extraordinarily bad. There were memes upon memes made after their horrible blown coverage against Cooper Kupp and the other Rams' receivers on Sunday night. Higgins was a little underwhelming in the season opener against the Minnesota Vikings. Still, some of that could be attributed to dehydration, as he had to go to the locker room for an IV in the second half. It also should be more difficult for Joe Mixon to run as much as he did against the Vikings this week because of the Bears' strong defensive line, so I'm looking for a heavier passing presence in Week 2.
Corey Davis vs. New England Patriots ($5,300)
It looks like the preseason hype wasn't for show. Corey Davis WENT OFF Week 1 against the Carolina Panthers, finishing with 97 yards on five receptions and two touchdowns. In addition, the New England Patriots' secondary looked a little suspect last week against the Miami Dolphins, allowing 142 yards and 20 fantasy points to their wide receivers. Zach Wilson has had time to develop a rapport with Davis during Elijah Moore's absence in the preseason, and with such an anemic offense, Wilson will have to throw A LOT.
Christian Kirk vs. Minnesota Vikings ($5,000)
While all the off-season hype was around rookie Rondale Moore, Christian Kirk made his presence known in Week 1. Kirk caught all five of his targets for 70 yards and two touchdowns, and while I don't expect him to find the end zone twice in back-to-back weeks, he does have a favorable matchup against the Minnesota Vikings this week. In Week 1, the Vikings allowed 196 yards to the Cincinnati Bengals wide receivers, and the Arizona Cardinals have a better quarterback in Kyler Murray. So look for more big things from Kirk in Week 2.
Nelson Agholor @ New York Jets ($4,800)
Nelson Agholor shined in Week 1 against the Miami Dolphins, racking up 72 yards on five targets and finding the end zone. It looks like the big journeyman is a favorite target of rookie quarterback Mac Jones, and he has another favorable matchup this week against a bad New York Jets defense. In Week 1, the Jets allowed 163 yards to the Carolina Panthers wide receivers, and this week they have to try and cover Jonnu Smith and Hunter Henry in addition to the receivers. Agholor looks to be the primary beneficiary of this matchup, and, as Jakobi Meyers has yet to be used in the red zone, I think Agholor hits paydirt.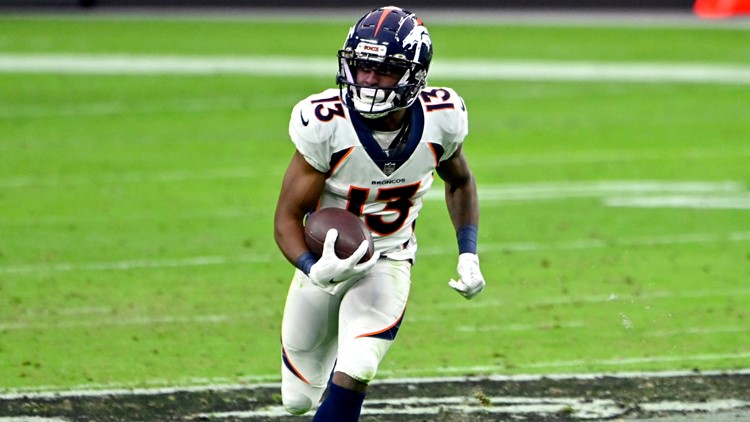 K.J. Hamler @ Jacksonville Jaguars ($3,800)
Jerry Jeudy went down Week 1 with a terrible high-ankle sprain, opening the door for K.J. Hamler to have a more significant role in the Denver offense. In Week 1, Hamler tied with fellow wideout Tim Patrick in numbers of targets, third behind only Jeudy and tight end Noah Fant. The Jaguars' pass defense is atrocious, allowing 26 fantasy points to Texans wide receivers in Week 1 and a perfect quarterback rating when throwing to the slot. There is still some debate about who will assume the bulk of the work between Hamler and Patrick, but Hamler is more of a slot receiver. Even if he doesn't find the end zone, his target share should generate a good return on his salary.
RUNNING BACKS
David Montgomery vs. Cincinnati Bengals ($6,100)
Yes, I know the $6,100 salary isn't exactly a doorbuster sale, but David Montgomery looked great against a really tough Los Angeles Rams defense in Week 1, and that was with a bad quarterback under center. Montgomery only rushed 16 times, but he still amassed 108 yards and a touchdown against Aaron Donald and company. This Bengals defense is improved from last season, but they're still not as good of a run defense as the Rams. If Matt Nagy wants to control the game script, he will run Montgomery and keep Andy Dalton in a game manager role. All things point to a favorable fantasy return this week for Montgomery.
Elijah Mitchell @ Philadelphia Eagles ($5,000)
This one is kind of a no-brainer after Raheem Mostert announced he was undergoing surgery to repair a torn meniscus, right? Despite the Shanahanigans in San Francisco, it does seem that Mitchell is going to be the lead back, at least for the foreseeable future. Last week against the Detroit Lions, Mitchell put up 104 yards on 19 attempts and found the end zone. The Philadelphia Eagles defense allowed over 100 scrimmage yards to a very inept Atlanta Falcons backfield, so expect Mitchell to go wild.
Javonte Williams @ Jacksonville Jaguars ($4,400)
The highly touted rookie running back didn't do much in Week 1, but I expect this to change this week against the Jacksonville Jaguars. Last week, the Jaguars allowed 160 yards to the running backs in a messy Houston Texans backfield, and the Denver Broncos have a much better line. In addition to that, the game script should favor Williams, as I expect the Broncos to jump out to a big lead and then use a run-heavy scheme to work the clock. It's Javonte season, y'all!
TIGHT ENDS
Jared Cook vs. Dallas Cowboys ($3,900)
By now, everyone should know that I'm a Dallas Cowboys fan, but even I know that they struggle (and that's putting it mildly) against the tight end position. Last week against the Tampa Bay Buccaneers, Dallas allowed 90 yards and two touchdowns on eight completions. In Week 1, Cook held his own against a good Washington Football Team defense, averaging 11.2 yards per reception on five grabs. This game should also be a shootout; the over/under is currently sitting at 55.5, meaning there will be plenty of fantasy points to go around.
David Njoku vs. Houston Texans ($3,600)
David Njoku didn't get the most looks last week against the Kansas City Chiefs, but boy when he did, he smashed! The big tight end racked up 76 yards on just three receptions in Week 1, making me think he will obliterate the Texans this Sunday. The Houston Texans allowed 46 yards and six receptions to James O'Shaughnnsey last Sunday, so I don't believe they are equipped to handle the matchup against Njoku. Odell Beckham has also been ruled out for this week's matchup, leaving Njoku to reap the benefits of the vacated targets.
Well, there you have it! Follow me @Britt_Flinn on Twitter and let me know what you think. Good luck!
---