Welcome to Valuetown: Robert Woods
---
Kevin Tompkins continues his new series called "Valuetown" where he brings you some of the best values you can find during your fantasy football drafts. He's going to meld draft strategy with player analysis to give you the most bang for your buck when drafting your winning team for the 2020 NFL season!
Welcome back and thanks for reading! If you didn't check out the first iteration of "Valuetown", this series will feature two key components:
The draft strategy which leads to selecting the player
The analysis of the player
The beginning write-up for Valuetown focused on an early draft strategy where I took RB-RB-RB and landed on Calvin Ridley. Today, we'll move later into the draft and focus on another certainly worthy wide receiver that you can select as your WR1 and feel good about it. Starting today and from now on in the series, we'll complete the draft afterward so you can see the full team construction after making that pick instead of selecting the player and leaving the draft minus the context.
LATE DRAFT STRATEGY (PICK #10)
So we all know the "consensus 6" of this year's 1st round... until "Stafford F150" decided to be somewhat contrarian and take Davante Adams over Alvin Kamara at 1.06. Not egregious, but hey, you'll see that sometimes in drafts. Anyway, we see DeAndre Hopkins and Derrick Henry come off the board after Kamara to find out pick waiting for us at 1.10, Joe Mixon.
Mixon could be a holdout candidate later on in training camp and towards preseason, but for right now, he represents a quality value in the second tier of running backs. Mixon's stock could boost considerably if Joe Burrow comes in as starting quarterback and has success in Year 1.
We only have four picks until our next one at 2.03, so we don't have to sweat a lot here for a running back. Luckily, Austin Ekeler is available here. He's going to likely top out at 150 carries but 100 targets again isn't out of the realm of possibility. Ekeler has security with his new contract and they aren't going to pay him to sit around. He's not Duke Johnson.
We have quite a few picks until our next one at 3.10, so we play the waiting game.
Finally, after what seemed like an eternity, it's our turn at 3.10. After seeing a few running backs go from the middle to late 2nd round, we see a slew of wide receivers plus two quarterbacks go, as well as Zach Ertz (for some reason). At 3.10, I had to make sure this player that hadn't gone yet wasn't a mistake or glitch. A very polarizing player in some respects, but as our RB3, I'm completely happy to scoop him up here in Raiders RB Josh Jacobs.
Jacobs could realize some lofty RB1 aspirations if he can add some receiving work to his repertoire. Keep in mind Jacobs was RB13 after Week 15 and was slated for 280+ touches if he hadn't missed 3 games. He's going to get every opportunity and if he can add that receiving work, he can easily end 2020 as an RB1. As an RB3 on this squad? That's stealing.
With the four picks between the Jacobs pick and our next, it's time to target our first wide receiver. We see two backs come off of the board as well as two stud receivers.
At 4.03, we have a target in our sights, so we take none other than...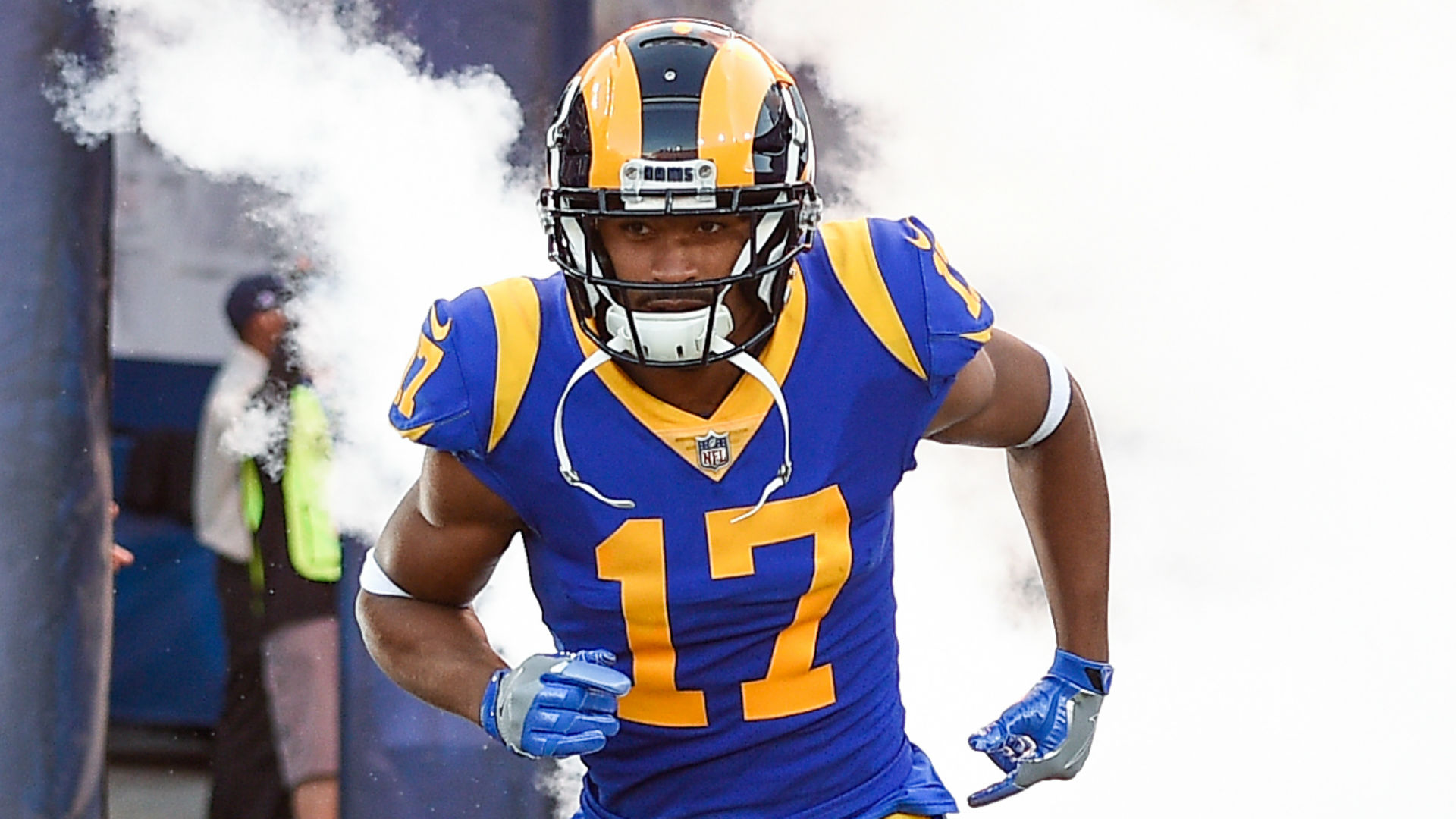 Robert Woods, WR, LAR
ADP:
Pick 4.11 / WR19 (Fantasy Football Calculator)

My ranking:
WR10 (Fighting Chance Fantasy's PPR Rankings)
Overview
After being seen as an unsexy "third wheel" of the Rams' wide receiver trio of 2018-2019, Robert Woods has a very solid chance of being the top target-getter in Los Angeles for 2020. Woods was a middling receiver for the Buffalo Bills and even in his first year as a Ram in 2017, but 2018 was the start of Robert Woods being a PPR darling in fantasy. He continued this in 2019 repeating the 85+ receptions and 1100+ receiving yards.
"That's great and all Kev, but why do you have him at WR10? Why do you recommend him as a WR1 for 2020?"
I'm glad you asked.
Scheme and Personnel
The Rams employed "11 personnel" (one running back and one tight end) almost exclusively, to the tune of 85% on passing downs from Weeks 1-8. During this stretch:
Weeks 1-8:
Cooper Kupp was WR5 with an 85.8% snap share (21 PPR fantasy pts. per game)
Robert Woods was WR31 with a 94.5% snap share (12.3 pts. per game)
After the Rams' Week 9 bye last season, the Rams installed more "12 personnel" looks, which is one running back and two tight ends with two running backs. This was a startling shift in philosophy mid-season, as their offensive line was in shambles and needed at the very least, an extra blocker to help out in protection.
Now while the Rams did use 11 personnel with a top-10 usage from Week 10-17 (80% on passing downs), they did ramp up their usage of 12 personnel quite considerably, to 17% usage. What did this increased usage help to do for the Rams' receivers?
Weeks 9-17:
Kupp was WR30 with a 75.3% snap share (12.9 PPR fantasy pts. per game)
Woods was WR10 with a 92.2% snap share (19.2 pts. per game)
Another important factor is the distribution of red-zone targets.
Tyler Higbee and Kupp easily paced the Rams in red-zone targets in 2019, while Robert Woods had just 9. Also important to note though that 7 of those 9 red-zone targets came from Week 13 onwards. Whether this is a new and burgeoning trend in concert with the Rams' change in scheme remains to be seen, but it's certainly worth noting and could have a role to play in the touchdown regression Woods has coming to him for 2020.
Robert Woods is most certainly due for some touchdown regression in 2020 and the Higbee/Kupp stranglehold on the red-zone targets should come down a bit as well to normalize the situation there. A point can be made that Woods is just not a touchdown scorer, with a career-high of 6 in 2018. Even if he comes up to the 5-6 mark, coupled with his "just a bit" rushing floor (115 yards rushing last season and a touchdown), it's only going to help his cause for finishing as a WR1 in 2020.
Will the Rams keep using 12 personnel with the frequency they did last season? Their personnel moves seem to foreshadow continued use. Their lone offensive line moves were retaining LT Andrew Whitworth, who will turn 39 years old at season's end, G/C Austin Blythe, and added only a 7th round pick to the reinforcements. Additionally, the Rams did draft TE Brycen Hopkins in the 4th round of this year's NFL draft, which could signify the last season for TE Gerald Everett as he's a free agent at the end of 2020. This could also signify the TE they want in their 12 personnel along with Higbee.
The last thing I'll note is the vacated targets in the Rams offense, which accounts mainly of the departed Todd Gurley and Brandin Cooks, both in Atlanta and Houston, respectively. 126 targets (20.6%) are up for grabs and while it's unfair to divvy them up to Woods, Kupp, and Higbee, it at the very least keeps a nice, stable floor to the target share that Woods had last season (23.4% target share / 140 targets). The Rams defense, even with Jalen Ramsey and Aaron Donald, doesn't figure to be very good at stopping the offenses in their division, let alone the rest of their scheduled opponents.
Conclusion
Robert Woods has been a steady under-the-radar fantasy option for owners the last couple of seasons, but finished WR14 last season in PPR and WR11 before that in 2018. So Woods has finished as a WR1 in fantasy before and that situation was as part of a trio of receivers in an elite offense. While the situation certainly isn't the same in 2020, the offensive scheme and supporting data leads me to believe that Cooper Kupp may come off the field more often than one would think, leaving Woods to soak up all the opportunity he can muster. He's at a 4th round ADP in redraft leagues and an immense value compared to Cooper Kupp, who is going a full round earlier at WR11. If you follow me on Twitter (which you totally should!), you'll know I speak about him ad nauseam, but he's my favorite value in ALL of fantasy football. I want him on all of my teams. If you get into the 4th round (or maybe the 5th!) and Woods is available, don't hesitate. Set and forget.
The Remainder Of The Draft
As I stated before, at the end of each Valuetown article going forward, I will continue the draft to see what kind of team we can finish out with for some context:
After Woods, I waited through the meat of the 4th and 5th rounds but ended up with an ascendant talent as our WR2 in D.K. Metcalf, who could be the #1 in Seattle as soon as this season. 4 picks later, we take a quarterback that I have ranked as QB3 in the 6th, Cowboys QB Dak Prescott. With no big values jumping out, I figured I'd take a positional advantage with Dak and he has overall QB1 upside. Woods' mate TE Tyler Higbee was the pick and he should pick right up where he left off last season in the Rams' offense. Rounding out the starters was one of my favorite high-floor options at receiver, Jets slot maestro Jamison Crowder. The rest of the picks are below as well as on the draft board above.
Who is the next exit to Valuetown? Find out soon!
Kevin Tompkins can be found on Twitter @ktompkinsii as well as on his podcast with Scott Fish Bowl 9 winner Gary Haddow on multiple podcast platforms including Spotify, Google Podcasts, Apple Podcasts, and more! Subscribe on YouTube as well to watch the two live-stream each week!
---